"Diana" and "Cheek to Cheek" Reviews.
Two Shows.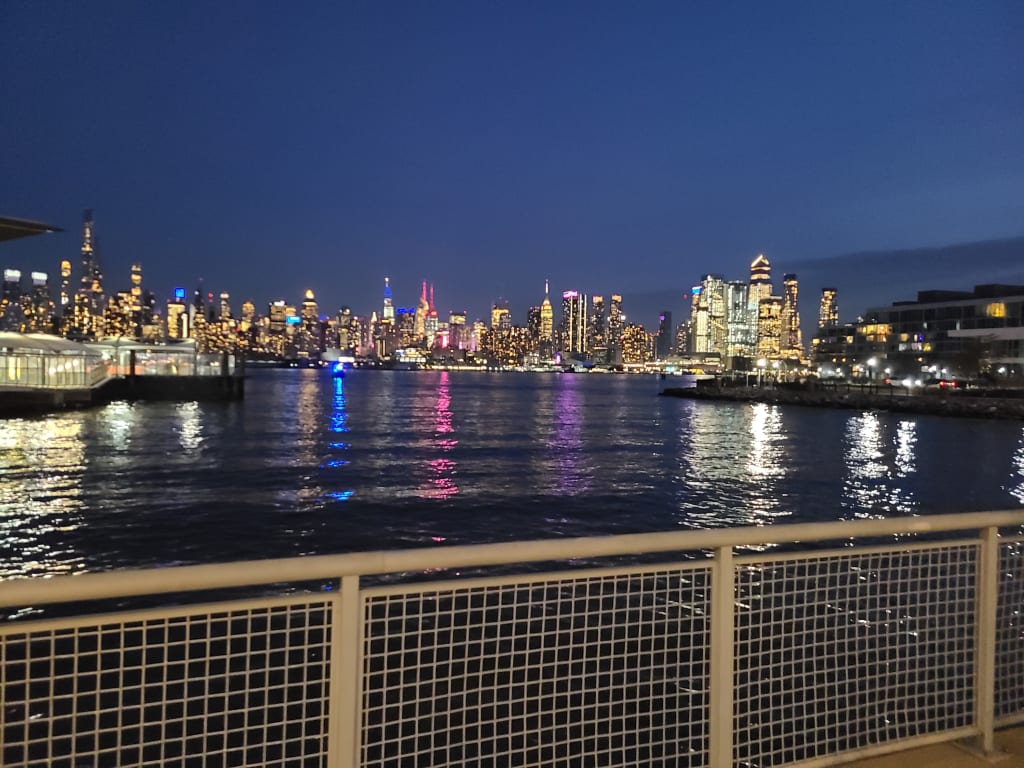 "Diana" The Tale of Two Musicals.
"Diana" at Longacre Theatre has one good Act and one bad one. In what has really good costumes by William Ivey Long, and not just Diana's costumes but also the Ensemble cast as well as Charles and the Queens and most everyone else who graced the stage. The scenic design by David Zinn was also catchy and lively as was the lighting by Natasha Katz.
The show opens with photographers snapping pictures, broader based lights hit us full force and Diana (Jeanna De Waal belts out the shows first song, "Underestimated". De Waal was fantastic in her role, however, some songs were weakly written by Joe DiPietro and David Bryan; even though some of the songs never really landed, the show still could have been really good if the direction of the musical was better. Christopher Ashley could have had a more resonant end to a good first act, instead "Pretty, Pretty Girl" ended with a whimper. Other than a miscast of the Queen (Judy Kaye), the cast itself was very good. Roe Hartrampf who made his Broadway debut in "Diana" was both believable and the perfect antagonist to his wife. Erin Davie as Camilla too was very effective as the woman who would not let Charles go. Davie was a pleasant foe to Diana, elegant in her own right, Camilla was every bit as classy as Diana and it would have been better if the rivalry was played out in a deeper way than mere fencing among the two woman.
The performance had equal amounts of good songs as bad in the first Act and the same can be said for the second Act. Up Beat songs like : ""This Is How Your People Dance", "Snap, Click", "She Moves in the Most Modern Ways" and "I Miss You Most on Sunday's" really package the musical nicely; the back drop of Buckingham Palace and the unraveling of the plot made it fun to watch. The beginning of the second Act went for cheesy camp when it had a romance novelist brought into the forefront; she was Diana's favorite writer, Barbra Cartland. The show further went into soap opera mode when James Hewitt, Diana's lover is transferred to Germany leaving her alone once again and further isolated from Charles as well as the Queen Mother.
In trying to be a little something for everybody, "Diana" leaves the audience wanting more of one thing or another. The book touches on Diana after giving birth; her battle with post partum depression, when her marriage is failing she suffers from bulimia. We only gets little tidbits of this, however. We never fully understand why Charles loves Camilla so much; what is her attraction? The direction never clears this up for us and neither does the book. The book also never shows just how jealous at times Charles becomes over how Diana is loved by the people of the United Kingdom, nor are we able to see the true relationship of Diana and the Queen. In a sense we only get the Cliff Notes on the lives of all the characters in this musical. Sarah Spencer, Diana's sister could have been used to bring out more of what Diana was as a person, instead we get little snippets of what they were like together, how Diana interacted with her sibling.
In what is turning out to be a challenging Broadway season, "Diana" like so many other shows this year is only half complete. Half the songs are good, half the story is told; things that should have been brought into light are mostly omitted, things that are less important are focused on more. The songwriting is underwhelming as is the book and direction.
"Cheek to Cheek" St. Jean Theatre.
"Cheek to Cheek" by the York Theatre Company is a revue of Irving Berlin's music. In York's temporary digs, the Theater at St. Jean, the musical flashes back, and forward on Berlin's life as a lyricist, music writer and even touches on points about his life. Born on the Lower East Side of Manhattan, Berlin never had any musical training, his auto dictum is quite remarkable considering all that he did in his lifetime. As a nine time Academy Award nominee, it was "White Christmas" that landed him his first and only Academy Award. Unlike most writers, Berlin not only wrote for Hollywood but for Broadway as well and often went to where work was most plentiful; a good thing as well because Hollywood would cool at times towards movie musicals. Through his savvy negotiations Berlin was able to get top billing for any movie in which he wrote the music for; whether RKO or FOX Studios, Berlin commanded more than all writers during his time in Hollywood.
"Cheek to Cheek" is an entertaining musical, albeit for an older audience who grew up with his work and it was evident Sunday when I reviewed this show; the audience was old, very old. But you did not have to be old to enjoy it, however, the singing for the most part was very good; only to be usurped by the phenomenal at times dancing. The show mid way unfortunately became to familiar ... songs and the dancing became all to similar. Berlin, unlike Sondheim songs sound to alike for the most part and never really branch out. Sure we had "The Piccolino" and "The Yam" and they were the new thing at the time and yes, Berlin did front the idea of "Ragtime", that dance was the major reason why people listen to music because it had such an affect on the public. This was precisely why the word dance was a major part of his titles in his songs.
Over The Course of his writing years, Berlin wrote for people like Al Jolson, Fred Astaire, Ginger Rogers, Bing Crosby and Danny Kaye. There was no question that Berlin in his prime was the most sought after songwriter on both coasts. James Morgan captures the element with his staging; the stage wings of theater, only these wings show moving pictures of Berlin, rain fall and the various actors who performed in his movies. The deft lighting of Jason Kantrowitz often gives off the various feelings of Cabaret, a Jazz Club and the splendor of that by-gone Hollywood era. The band backing up this show also give this variation a vibe; whereas the trio of drums, bass and piano standout better, the five keep up with the hard dancing that the cast performs throughout the 80 intermission less minutes.
The show opens nicely with "Blue Skies", a Jazzy number that gets the audience in the mood for Mr. Berlin and his music.; "Let Yourself Go' is an excellent follow up to the opener; here Melanie Moore, Phillip Attmore and Jeremy Benton put on a performance like the old time great of yester year that graced the silver screen. For the first eleven songs "Cheek to Cheek" rolls along; the show begins to have too much familiarity after "The Yam". It may have been better if music director David Hancock Turner chose the songs differently, certainly perhaps in a different order. Rob Berman too would have better served this musical with some different dance numbers as they too became mundane to watch. The six actors made the best of it in that they really all danced well, the costumes of different eras helped and supported this musical. Nicole Wee for the most part had the costumes on the mark.
In "Cheek to Cheek" we get a smattering of the life of Berlin, his music and the legend of both Hollywood and Broadway; the cast, the musicians for the most part all give this show a warm and fuzzy feeling. Director Randy Skinner was careful and concise in how he visioned this show. Skinner made good on a book that was not consistently strong. If the show went more into Berlin's life, or if it had a more versatile song selection, "Cheek" could have been great rather than just enjoyable.
About the Creator
I have been writing on theater since 1982. A graduate from Manhattan College B.S. A member of Alpha Sigma Lambda, which recognizes excellence in both English and Science. I have produced 12 shows on and off Broadway. I've seen over700 shows
Reader insights
Be the first to share your insights about this piece.
Add your insights