Carly Rae Jepsen - Dedicated Side B: Album Review
Side B is the next thing for artists...maybe.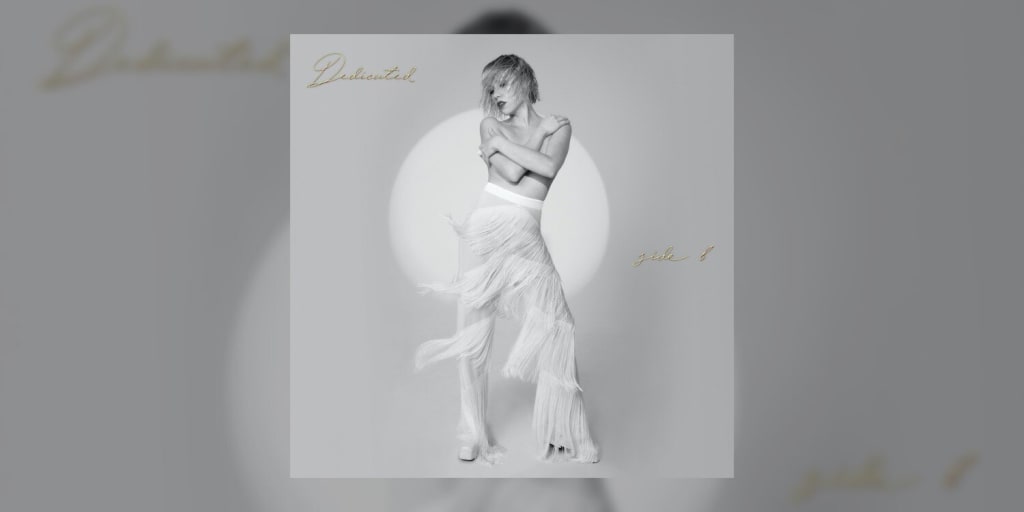 Source: Albumism
It's been a while since I last uploaded an album review, but I am back! (Clearly, I have nothing else to do...)
From annoyingly catchy Call Me Maybe to infectious 80s pop banger I Really Like You, Carly has been developing her career as an indie-pop queen. Her third album "E∙M∙O∙T∙I∙O∙N" was one of the most pivotal releases not only for her career but also for the pop music industry that was in need for a cult classic album, of which fused modern pop sounds with a little spice of the 80s. The album was not only praised by her fans but also by a bunch of music critiques as one of the best pop albums in the 2010s, if not, in the century.
Dedicated Side B was released exactly a year later of the A-side "Dedicated" as she did for E∙M∙O∙T∙I∙O∙N Side B. Dedicated still contained some fun singles such as "Now That I Found You," "Too Much" and "Party For One". Dedicated Side B, on the other hand, features as energetic as the Side-A and it even offers a guest appearance by Bleachers.
The tone and sound of this Side-B project continue to explore 80s pop and even going further, infusing modern sounds with funky, dance and R&B melodies. Lyrically, Carly mainly sticks to her depiction of chasing love but also sings details of her love relationships explicitly. The album opener "This Love Isn't Crazy" is an instant ear-grabber with a hint of dance influence that could easily make it as one of her signature sounds. While the same theme is explored repeatedly, a track like "Felt This Way" and "Heartbeat" celebrate being in love with her partner and the production of these songs hit the peak of the album with smooth synth melodies layered subtly under the vocals.
More interesting cuts can be heard in the later entries. "This Is What They Say" somewhat manages to bring a soulful feature to the track with a catchy chorus "This is what they say, falling in love supposed to feel like" – it's an instant highlight of this album. Also, "Let's Sort Things Out" is a charming throwback track that reminds us of one of The Bangles tracks with its busy drums and Carly's vocal delivery works well on this track. Another standout track is a disco-ish "Summer Love" where she sings a desperate encounter with her love interest to conduct a typical one-night stand on a hot summer night. I mean, what could go wrong? Getting drunk at a party with your boy/girl you fancy? The answer is: Why not?
The album's only featured artist Bleachers bring "Comeback" a great flavour in terms of production with a glossy synth melody that Jack Antonoff, as a producer shines int his track. At this point on the album, you will be listening to post-breakup songs which weren't explored in the previous effort Dedicated. "Solo" the second last song is easily the best track on this album as anthemic as "Party For One" Carly sings "So what if you're not in love? Don't go wasting your nights getting' so low" It is yet another celebratory song for singles out there feeling crappy about their love lives (including myself). You should immediately add this song to your "I am single playlist" – Yes! I said it.
Overall, this new instalment by miss Carly again sticks the landing quite well with its familiar themes and very strong production elements throughout. Hey! She even has a Christmas tune at the very end (I am not even kidding). This Side-B project is, in fact, can stand alone; however, it doesn't shine as bright as the previous collection of B-side songs like E∙M∙O∙T∙I∙O∙N B-Side.
Rate 3.5 out 5
To stream this album:
album reviews
About the author
Hiya! I am a music composer, singer-songwriter. Just like anybody who is in love music, I listen to tons of music. I love travelling too! So I will be sharing my stories of music and reviews!
Instagram: luigi.kdc
Reader insights
Be the first to share your insights about this piece.
Add your insights