Brooklyn hip hop artist, Curanderx://. releases 1st album
Gloomy, gritty, gravelish it's Ideological Frameworks.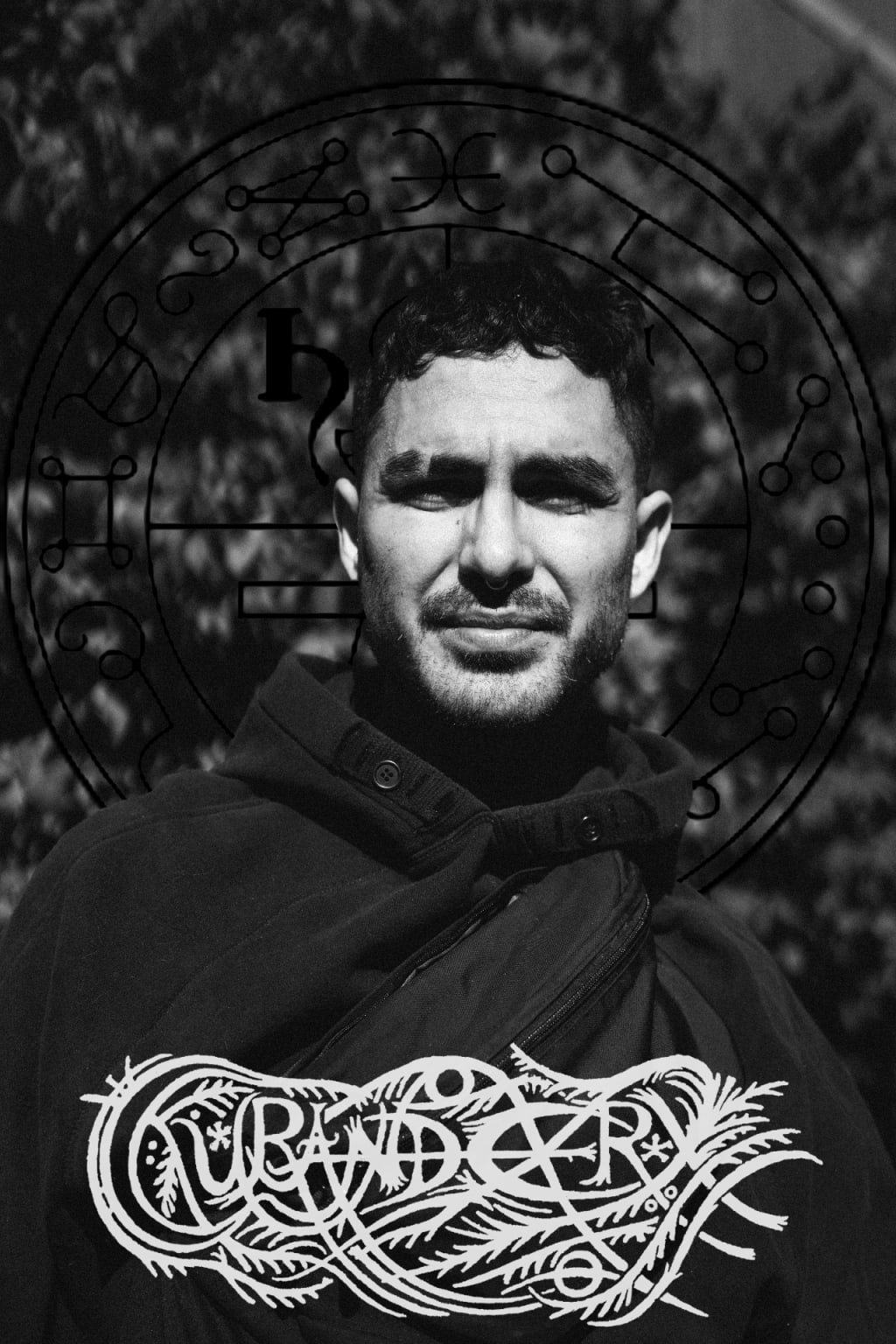 Curanderx://. is the moniker of Esteban Gaspar Silva, and his style is cryptic and noticeable from the first bite. I tend to assume it is related to IT, with all these symbols in his name and the album title. The release refers to relevant online culture with all the different fonts and built-in mysteries.

The entirety of the release is composed, recorded, and mixed by Curanderx himself, and it possesses a certain definite taste. All the vocals are always somewhat distorted, creating an uncanny valley atmosphere. The beats and music are also unsettling, rooting in darker and occult hip hop, imagine the SESH crew, but with less desperation and more depression. Wildly abstract lyrics, deconstructed melodies, and monotonous trap FX - this is your recipe for the Ideological Frameworks.

Sometimes you get a Lil Ghostmane, a Lil Dalek, a lil of every conscious (and for that matter unconscious) rapper; at times it's a bleak surrogate baby of Kanye and Lil Peep.
Q: Tell us a little bit about "Curanderx"?
Curanderx:// is a project forged out of a desire to create the kind of music I desire, it's an expression of hope as much as desperation. I started the project as a means for exploring complex emotion with a whirlwind of sounds and textures blending inspirations from a variety of genres, theories, and poetry.
Q: How long have you been creating music?
I have been writing music for well over a decade now although previously with the intentions of playing in bands or other projects. It has only been a recent development (past 2 years or so) to create music from start to finish on my own.
Q: Do you have a preferred genre?
I have always had an eclectic taste for different genres. Ultimately I like music that makes me feel something, music that is unique, music that makes me look or think about the world in a slightly different way.
Q: Is this your 1st album release … "Ideological Framework". Tell us a little bit about it.
Ideological Frameworks was initially a mixed collection of experiments recorded over a span of almost 4 years. I initially had no intention of formally releasing the tracks but then was approached by Solium, a cassette label based out of France, who encouraged me to get the tracks properly mixed and mastered. Soon enough these tracks became a cohesive collection that felt like a snapshot of a time period of self-discovery.
Q: What was your creative process like? Where did the ideas come from?
Most of the tracks were created at home with just my laptop and a bass guitar. Often I start with a sample or texture I'm interested in exploring and would just create an interesting beat for it based on whatever I had been listening to that week. I take pride in being derivative. I like thinking of my music as a weird collage of sounds I like.
Q: Were there any challenging aspects to writing and/or recording the album?
Working alone is hard for me. There were a lot of times that I would feel stagnant or uninspired or unable to fulfill my own expectations. It was incredibly challenging finding motivation to continue working on something during the awkward period in which an initial draft is arising but it's not quite what I want it to be.
Q: The featured song "TH_" What's behind the name?
TH_ is pronounced Thunderscore. I saw that name as a joke in some nerdy online linguistic group I'm a part of. I felt that it was appropriate in conjunction with the thunder-like sounds at the beginning of the track and as an aesthetic ode to being online.
Q: In terms of the overall composition, do you have a favorite song on this album and why?
Def either TH_ or 𝔬 ⓞ 𝐎 𝓞 Ø O σ 𝑜 𝕺 𝕠 ᵒ. In both songs, I really got to experiment with sounds and structure in a way that feels successful for me. By that, I mean that I felt I made bold choices, for both songs, outside of my comfort zone to ultimately produce something I didn't feel totally capable of. That feels amazing honestly.
I also feel that thematically I got to really explore a lot of complex emotions I, along with everyone else, was having at the start of 2020.
Q: What song do fans seem to favor?
En(capsule)ated really seems to resonate with people. It makes sense, it's a sad song about loss from drug abuse. It has become an immense issue as people feel alienated by the demands of modernity. It was the first track that really kicked of this project to which I feel indebted. It's not as experimental as other tracks, but it definitely was an experiment for me in songwriting and production.
Q: Is there a message in your music?
My music, as the name implies is very political, but also highly emotional. I enjoy shrouding meaning through elaborate metaphors and wordplay but ultimately I'm pretty overt about it being my own connection to anti-capitalist theories, occult symbolism, and psychological inquiry.
Q: Do you have any other plans relating to this release? A video?
I have some vague video plans with some friends in the works right now. Also as I mentioned previously there is a label that wants to physically release this album on cassette. I'm very excited about that. The art and packaging are incredible.
Q: Do you, or would you like to, perform live?
That's my "New Year Resolution" I have a few shows lined up that have already been postponed due to Covid, but in due time I have a live set I've been working on that I'm really excited to present for people.
Q: Which of your songs is, or do you think would be, fun to perform live?
Any track where I play bass guitar on. En(capsule)ated, 𝔬 ⓞ 𝐎 𝓞 Ø O σ 𝑜 𝕺 𝕠 ᵒ, TH_. I also have some new tracks I'm excited about.
Q: Do you create music for yourself or for fans?
Ultimately both. I write songs that I want to listen to, but I also want to connect with others on emotions and concepts that are complicated.
Q: What would be your ideal press headline, either now or in the future? In which publication? Why?
Curanderx:// Was Right published by The New York Times. I'm not sure what that means but it sounds profound. Actually, I just want some college student to refer to me in an academic setting, that sounds very cool.
Q: Would you like to travel to other countries to perform your music? If so, what would be your first stop?
I'm trying to set up a show in Berlin for April right now, I've never been there, but I've heard it's gorgeous. Also, I want to play in my home country, Mexico.
Q: Who inspires you musically?
I'm really into the growing scene of experimental rappers like JPEGMAFIA, clipping., Lil Ugly Mane, Backxwash, etc. I'm also a huge sucker these days for people making cool and complicated synth music and contemporary composers. The list is really endless. hmu for a playlist.
Q: Other than fame & fortune, is there something you hope to achieve through music?
I just want people to connect with what I'm trying to say. I want people to also be inspired. I want people to look and think of the world differently.
Q: What is your favorite/best outlet to connect with your followers Instagram, Spotify, FB, Twitter, iTunes? How would you want them to follow?
Instagram is probably the best way, but my Twitter is a chaotic mix of more of what I do daily.
Q: Are you currently working on any projects we should look out for?
I am currently working on both my live set as well as a totally new album I'm excited about. I will probably take my time and release it sometime in 2023 but still, it's pretty far along already.
Q: Is there something you would like to say, that I didn't cover?
In reference to the previous question I'm also really excited to collaborate with a ton of musicians I know. I love working with others especially people who don't typically make the kind of music that I make. Also, be yourself.


visit mysoundMusic for more talent, more music, more videos ...
DJMcTom

Lovetron - 1st Video off of "Lifestyles of a Schizophrenic" feat Full Circle.

Produced by Rob on Bass.
feature
About the author
Music Fan plus Talented Musicians and Artist equals mySoundmusic
Reader insights
Be the first to share your insights about this piece.
Add your insights