Blog: Maren Morris - 'GIRL' World Tour
Royal Albert Hall, London - 31st May 2019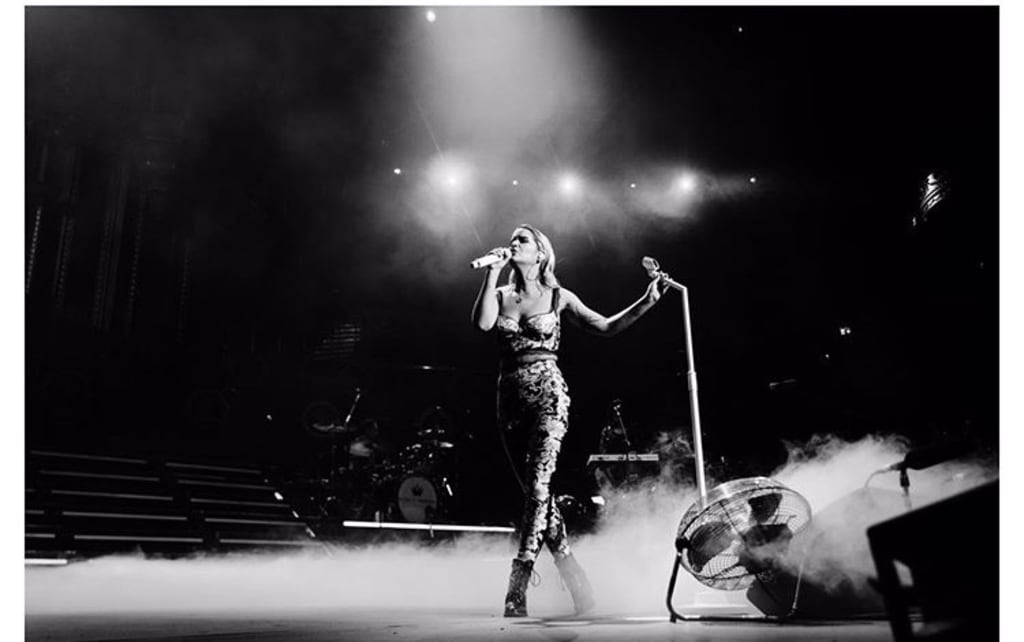 Photo Credit: Instagram - @christiantierney
Let me start by saying, there is no other music venue in the world like the Royal Albert Hall. It's 100 plus year history is so present in every inch of its proximity. All and any genre of music can fill the auditorium and sound incredible, but there is just something about Country music at the RAH that makes it go right through you. In my opinion, the only other style that can match the sound there is classical. On Friday night, Maren Morris played to a crowd of over 5,000 fans, of which I think you would struggle to find someone who didn't enjoy it.
The night started with support from Texan Country star Raelynn, who sang her famous hits such as "God Made Girls," "Tailgate," "Rowdy," and "Love Triangle" - a song that put her on the map in Nashville as a leading songwriter and artist. She co-wrote the song with fellow The Voice alum Nicolle Galyon, and Jimmy Robbins, a frequent collaborator with RaeLynn, as well as Maren Morris herself. I can only imagine the feeling of opening up for someone, it must be daunting as the chances are the audience aren't there to see you, and half the time they don't even turn up for it. But RaeLynn played to a packed-out crowd and created a perfect atmosphere to start the night. Singing an acoustic set with just two band members, Katlin Owen and Matt Nelson, her vocals were paraded beautifully, and made her RAH debut flawless. On speaking to Nelson, he described the night as "absolute magic" and the venue as "so beautiful." It is amazing to know that it feels as incredible for them up on stage as it does for us watching.
After a short break, it was time for Maren Morris to take to the stage. As the lights turned town and the band entered the stage, the sound of the crowd crept up and up, and on those first strums of the guitar played the introduction to "GIRL," Morris rose from behind the neon steps that enlightened the middle of the stage. It was only fitting that they started the show with "GIRL"—the title track from the album, and of course the name of the tour. An abundance of fans singing didn't fade out Morris' vocals as she hit the high notes without breaking a sweat. "The Feels" was up next, getting everyone up on their feet dancing, followed by Hero favourite "80's Mercedes" and "A Song for Everything."
Before singing "A Song for Everything," Maren explained how this is undeniably true, and how she has always found music to get her through every emotion, the song mentions legendary artists such as Coldplay and Bruce Springsteen, and it is no doubt that one day she will be on the same level as them, who knows, someone may write a song about her someday. Swiftly after, Morris sang "Common," her duet with Grammy winner and The Highwomen bandmate, Brandi Carlisle, and she made the song sound just as good whilst singing for the both of them. Following this, she spoke about how her and her husband, fellow Country star Ryan Hurd, have just surpassed (survived) one year of marriage, and their meeting after a break up was just what she needed. This is all reflected beautifully in the song "To Hell & Back," which is one of my personal favourites from the new record. The purity and heart in the lyrics combined with the harmonic melody and Maren's honest vocals, make the song a tearjerker and a hit.
Picking up the pace again, Morris performed "All My Favourite People," another duet from GIRL, featuring CMA winning duo Brothers Osborne. RaeLynn joins her onstage for a jam, and as the song dissolves, so do certain members of Morris' band. She then swaps her electric guitar for an acoustic one, and sings her very first number one, "I Could Use A Love Song"—a heartfelt and candid track about something we all need sometimes. As the crowd subdued, Morris introduced her special guest and surprise of the evening, One Direction's Niall Horan. Maren opened for Niall on his last tour, and for his debut album, they recorded a song together, "Seeing Blind." With Niall and his guitar in hand, they sang the duet, to the overwhelmed crowd—many of whom you could tell were big Niall fans. A swift exit from Horan, and the return of the rest of the band, Morris then places herself laying down on the centre step of the staircase. Another personal favourite of mine, "Make Out with Me" was next to be performed. How she can lay flat on her back on tiny stairs and still have flawless vocals is beyond me. She subsequently continues to hit incredible notes as she tells the crowd to "get this moving" and plays two new tracks, "Gold Love" and "Flavour."
Morris then recruited back to her Hero days, singing "Second Wind" in a mash up with Beyoncé's "Halo." This has been a fan favourite for many years and became her typical closing song on the Hero tour. For the second surprise of the night, Morris then introduced a string quartet to the stage. Back in November, I was lucky enough to attend a listening party for the new album, and when Morris was told she could have strings featured, she took it and ran with it. The quartet joined her on stage for "Good Woman," and "Once," right before she sang her new single, a simply candid song of love, "The Bones." Morris then once again had the entire venue up on their feet as she sang the prudent and desirable hit, "RSVP" which was penned by frequent collaborator and "Pontoon" legend, Natalie Hemby. Without a second to spare, the band played straight into "Rich" a song which undoubtedly has the audience screaming from the top of their lungs. For the third chorus, Morris leaves it up to the audience, and then, as the band proceed with the melody of the song, Morris introduces them individually: lead guitarist Bennett Lewis, guitarist and keyboardist (and the most beautiful man in the world) Eric Montgomery, keyboardist, cellist and all-rounder Matt Butler, drummer Christian Paschall, and star in her own right, bassist Annie Clements. You can tell Maren has loyal fans, as everyone seems to know all the members of the band, and each of them gets an enormous cheer (Annie especially).
After one last chorus of "Rich," Morris speaks about the song that changed her life, "My Church." It was the song that changed everything for her and made her the artist she is today. Back in 2016, she played the Spotlight Stage at Country 2 Country festival at The 02 in London, and now here she is, headlining the Royal Albert Hall, a "bucket list moment" for her, and so many artists. As she strums her guitar and belts out the holy lyrics to the song, a wave of emotion hits me, and I can only picture how overwhelming and incredible this moment is for her, and for us to witness. The audience raise their arms and clap their hands together in unison to the beat of the song, and on the final note, Morris lifts her head, thanks the crowd and exits the stage. An immediate rush of feet stomping, and cheering starts as they await her return for the encore.
One by one, the band returns, and the intro of "Shade" is played. A powerhouse song from GIRL, Morris sings the best she has all night, and prepares herself for one last song. "The Middle" by Zedd, featuring Morris and music duo Grey, was one of the biggest songs of 2018, and skyrocketed Morris from Country star to Megastar. Her faultless vocals gave the song an edge that it wouldn't have had otherwise, and her singing it live and slightly stripped back gives the lyrics a bigger meaning and a new lease on life. She ended with the powerhouse song, and left the audience standing on their feet wanting more. As she exited the stage and the audience dispersed, you could hear a beat in the chatter of the audience, as people left praising the show and still singing down the street.
It is hard to fault a performance as good as Morris', and every time I see her perform, she just gets better and better. Her vocal talent is undeniable, and she possesses a refined confidence that never disguises itself as cocky. Maren knows how to put on one hell of a show, and with a killer band and astonishing hits, it is a night that will be hard to forget.
If I had one criticism, it would be that I would have loved her to end with one of her songs, rather than "The Middle," but that is a personal opinion from someone who has been a fan of hers from the start. Even non-Country fans would have walked into that arena and sung along to "The Middle," so it is no surprise she wanted to go out with a bang.
Like what you read? Follow me on instagram for daily Country content and to be the first to hear about my new posts—@behindthesounds_.