Best Guitars Under $500
Unleash your inner rock star while keeping your wallet intact. Check out our list of the best electric guitars under $500.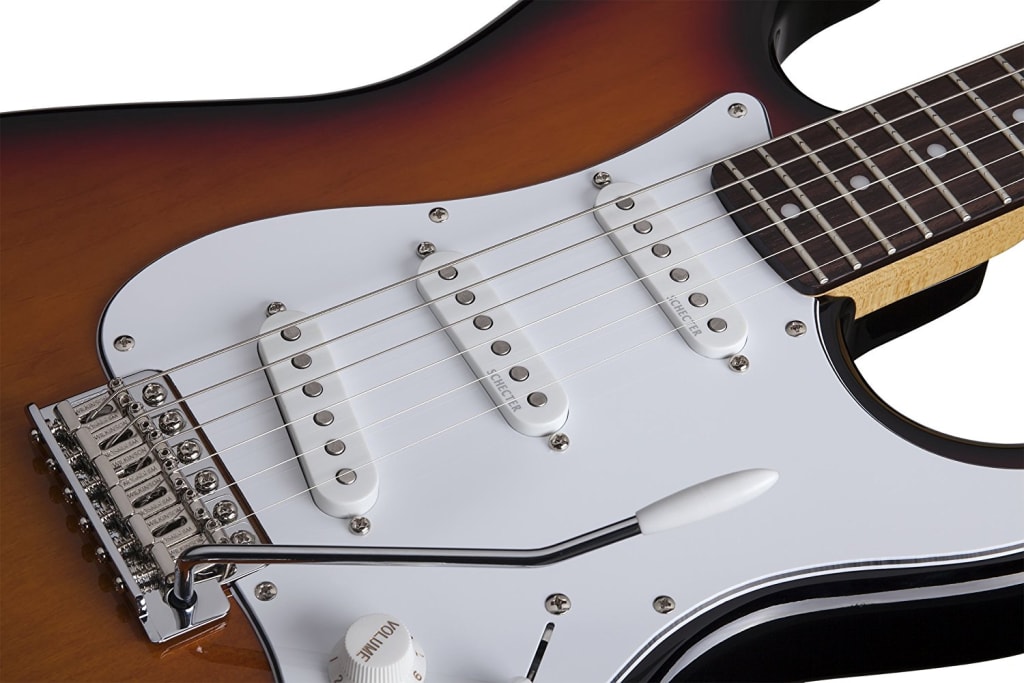 If you love the idea of playing an electric guitar, you're not alone. It's awesome and always will be. Getting a quality electric guitar isn't easy, especially when you have a limited budget—and let's be real, all aspiring rock stars have a budget.
Looking for super cheap guitars will not bode well for the sound quality. Chances are, you probably won't have luck finding a new guitar under $100 that doesn't sound terrible, or break after the first play.
A good rule of thumb is to set a budget that's under $500, if you want to have a good, but affordable electric guitar. Even then, finding good ones can be difficult. We did some scouting to find the best guitars under $500 for you—and here's what we discovered.
Schecter has long been known for its quality electric guitars; and currently, they're one of the top competitors of pricier brands like Fender. That's why most people who are looking for guitars under $500 almost instinctively turn to Schecter.
The Omen Extreme-6 guitar is one of their top picks. For people looking for a Thin C-necked guitar with a beautiful rosewood fingerboard, this price can't be beaten.
Its gorgeous basswood top and high versatility are what makes this a head-turner—and what makes it one of the best budget electric guitars on the market.
Ibanez guitars are infamous for being pricey, but not this one! Currently priced at $499, this just squeaked under the budget for a list of the best guitars under $500.
This beautiful piece of equipment has a mahogany body, a Tree of Life design, a super-fast Wizard III neck, and jumbo fretboards for bigger hands. Of course, this guitar also has the sound quality that Ibanez is known for, too.
No matter how you slice it, it's a great guitar.
Most people recognize Yamaha as the makers of quality electronics and waterskis. Believe it or not, that techy pedigree is what makes Yamaha the makers of some of the best guitars under $500. Their guitars are remarkably accurate, fast, and high-quality.
If you're looking for a standard Stratocaster that won't let you down, Yamaha's got your back. Their Pacifica line was specifically launched with a budget-hunter's needs in mind. That's why they're so popular and why they've become a mainstay in music schools.
Most people know Paul Reed Smith to be the choice brand of a number of famous guitarists—including Carlos Santana. There's ample reason for that. Their instruments are known for having a powerful voice, wonderful builds, and sounding incredible presence on stage.
This particular PRS guitar has an all-mahogany body, plus specialized HFS and Vintage Bass pickups. This means you get amazing performance versatility, all at a budget-friendly price.
Though it may look a bit funky, this quirky matte black guitar by Cort is one of the best guitars under $500 you'll find. A comfortable build, kill switch, height-locking heads, and locking tuners are what make this an incredible find without a rock star price tag.
The neck pickup, in particular, is great for rhythm. So, if you're looking an instrument that can also aid you with rhythm, the Cort can really work in your favor.
If you're looking for guitars under $500 but really want to keep things as affordable as possible, look no further than the Epiphone SG Special. This gorgeous electric guitar is under $200, and gives you all the basics you need to learn guitar or play a gig.
Sure, it's only got 22 frets, but it's a perfect starter guitar that can work with both solos and regular band play. Fans who love humbucker pickups will enjoy the SG, simply because it's designed to give you that much-loved growl.
That being said, this is not a guitar for people who are looking for serious professional-quality guitar work. However, for a beginner, you can't get better for the buck.
A hollow body electric guitar? An affordable one? Yes—it's possible; and Epiphone did it while keeping quality intact. This gorgeous, hollow body guitar is electric and has been designed to give you a very powerful, yet distinctive single coil tone.
This particular design is perfect for cutting back on feedback issues, as well as getting a perfectly country-style twang to your music. If you want a rustic vibe, this is the guitar you need.
Looking for something a bit more badass, and more rock-ready? Dean has a number of guitars under $500 that are worth checking out. Dean's humbucker pickups are included in the build of this guitar. Along with this great addition, the ML XM also has a three-way switch, an adjustable bridge, and die-cast hardware.
It's also got a beautiful-yet-sturdy maple neck, and epic opportunities for shredding on its 22-fret build. Oh, and it looks cool, too. Very cool. You might need to invest in a cool guitar pick just to make sure it all matches.
Without a doubt, one of the most obvious picks for guitars under $500 would have to be the Epiphone G-400 Pro. It's just legendary, particularly when it comes to versatility and tuning options.
With the G-400 Pro, you get separate controls per pickup, a coil tap, Wilkinson tuning machines, and comfortably wide frets. It's a great choice for all playing levels, and is ready to play right out of the box!
Love a Les Paul guitar? Well, Gibson has got you covered with one of the most impressive electric guitars under $500. Admittedly, the only reason this is within budget is due to the sales that the company has been throwing to clear out its stock. Otherwise, this would be a $900 instrument.
This is a guitar that owns a mahogany body, a rosewood fretboard, a maple neck, and a rustic maple top. What sets this guitar apart from all others, though, is its G-force automatic tuning system. In other words, having this guitar will mean that tuning will be much easier!
About the Creator
Detroit-born Buddy Brown is a 80s hair metal fan who loves cars, games, and sports. When he's not drinking PBR while listening to Downtown Brown, he's playing Grand Theft Auto or working on his El Camino.
Reader insights
Be the first to share your insights about this piece.
Add your insights