Another Sad Indie Girl (Dying from Cancer) Playlist
to answer your question, it was the misery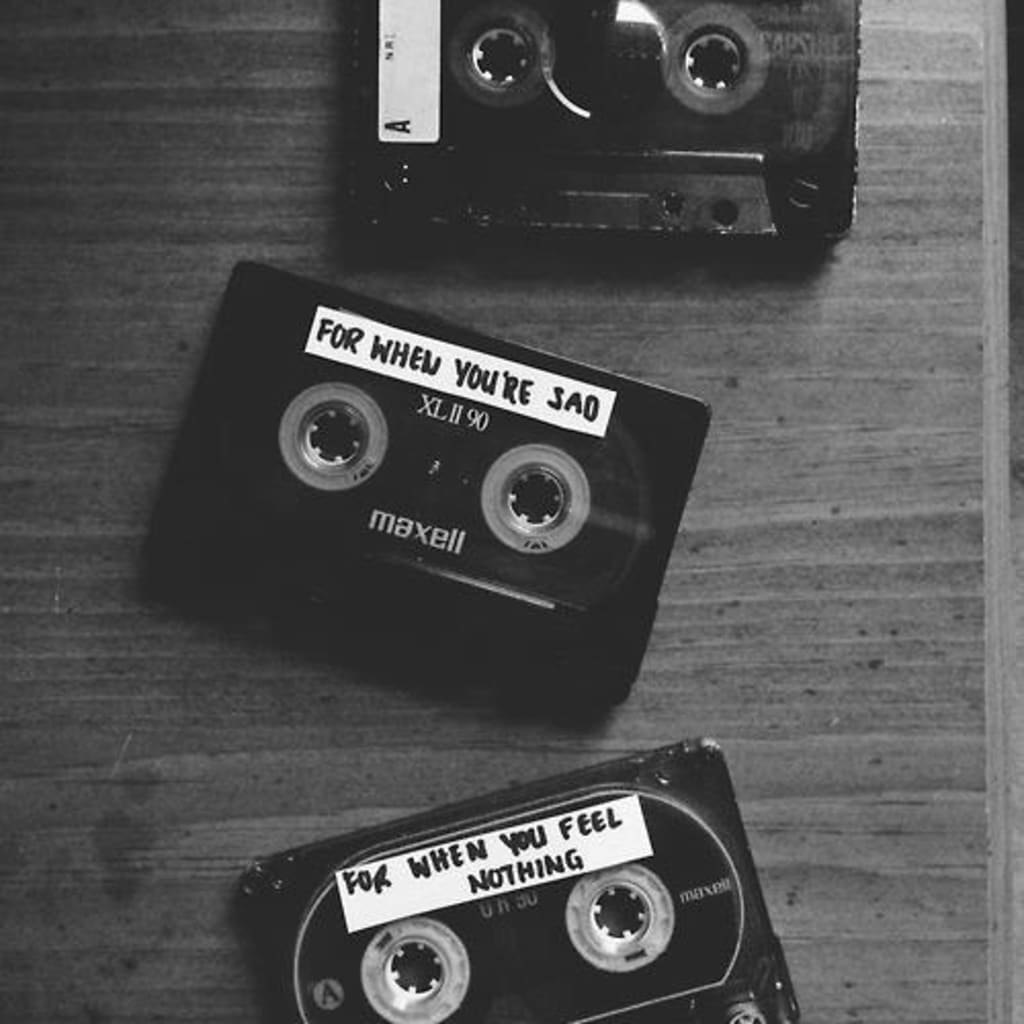 1. "In the Lost and Found" (Honky Bach) Elliott Smith
When I moved home to West Virginia two summers after I was diagnosed with terminal brain cancer (but really, I was), you were the first guy who responded (like, actually responded intelligently) to my messages on Tinder. After I told you I loved Elliott Smith, you confessed he happened to be one of your favorites as well.
I hate to say it, but this was all I needed: your professed musical taste and your inability to respond to my messages promptly.
The intermittent reinforcement kept me coming back for more, just like I once did with my favorite songs on scratched CDs.
You should have been nothing more than a B-side, but I made you the star of my seasonal playlist.
We met up a couple of times, and I still didn't get it. I wasn't your type; I was a booty call. Then one day you told me we were frrraaaaands. I asked if a 13-year-old girl had invaded your body and purchased a caramel frappuccino.
You didn't laugh.
I thought I was in love.
In like, at least.
You were not.
I finally stopped signing my texts xo.
2. "You Worry Me" Nathaniel Rateliff & The Night Sweats
You weren't my type, but I decided to try new things.
You are a mechanic. I am a professor.
We had nothing in common except for one important life lesson: We had both relearned to walk in our 30s.
Mine was because of a brain tumor, yours an Army casualty.
You told me you loved me on our first date.
As I struggled to roll down the window of your truck and find nonexistent air in the humid Ohio summer, you unzipped your pants. You drove us around drunk, and I was scared.
When I finally got home, you sent me a rap song about becoming your girlfriend. I sent you a Nathaniel Rateliff video, and you were confused.
Sometimes you still call, and I don't answer.
3. "Pretty Girl from Cedar Lane" The Avett Brothers
Okay, not all sad songs have to be slow and downtrodden.
The same goes for stories.
The same goes for relationships.
I've known you for over a decade. Though it was never anything official, we have always had a connection. We consistently got together before I left for grad school, and I didn't yet understand why we couldn't be a thing once I moved twelve hours away.
I grew up, got over it, and we stayed friends.
You forgave my antics.
Years later, I didn't recognize you at the elevator. The cowboy boots made you taller. You had glasses now. The brain tumor did this weird thing where it prevented me from recognizing faces.
Anyway.
I got drunk. I cried a lot. You held me.
You came to visit me before I went for another MRI, and we hooked up like teenagers in the graveyard of my hometown. Again, we never became anything official, but I know we will always care about one another.
I don't know why this song reminds me of you.
You've always been one of my favorite tracks.
4. "Furr" Blitzen Trapper
We never met.
You and I talked about music on Snapchat, and I thought I struck indie platinum when I discovered we both loved Blitzen Trapper.
The insistence on only using Snapchat to communicate should have been a yellow flag, but I didn't care. I could tell you weren't serious about anything, so I eventually saw you as a distraction we both needed, that song in the background you play to get your mind off anything too real.
You liked talking about the stars as much as music.
You would get excited and tell me you were going to send me a newd (a brand new one!), and then text the same one you Snapped three weeks ago. I think you were high a lot. My sister and I called you Dirty Dabs Derek, but in a loving way.
You made me laugh.
I hope you are well.
5. "Breezeblocks" alt-J
You don't really deserve a spot on this playlist, but you made our breakup miserable. You wanted people to see you caring for the girl with cancer. You pushed me and then lied about me to everyone we both know. You manipulated mutual friends until they stopped talking to me altogether, all the while texting me and begging for me to come back to you.
But you don't tell anyone about that.
We both like this song, and that's probably all we have in common now.
6. "Nothing to You" Two Gallants
Sometimes I am a terrible person.
You and I both like this relatively obscure band, and you were so easy to talk to through text.
You seem to have a lot of emotional intelligence.
You are funny, love cats, and have your life together.
Your mistake? You bought my memoir before you knew me well enough.
I panicked. I freaked out. I didn't know what to say or do.
We were also on completely opposite schedules. I was getting ready for bed while you were waking up.
These are the excuses I give. Honestly, I don't know why I disappeared.
We also never met, but I feel bad about it all the same. Was this ghosting since we had never seen one another in person?
I think so.
Sure, reading about my life before I could fully explain myself made me feel like a record with too deep of a groove, damaged in some way, but I should have said something.
I really should have.
7. "Lover, You Should Have Come Over" Jeff Buckley
You introduced me to Jeff Buckley, and that's the only nice thing I can really say about you.
It's something, though, right?
Okay, I will own my part: I was young. You dumped me. I got mad and poured a beer on you. In your kitchen. In front of your friends. I also smashed a cigarette on your shitty apartment rental carpet.
Oops.
I don't hope anything for you because I'm sure you are well. Things were always easy for you, and you have always had a ton of support.
I'm not sure if anyone told you, but I'm dying of brain cancer.
8. "Pretty Pimpin" Kurt Vile
I had been obsessed with you since I was 16 and you were 25.
Twenty years later, someone gave you my number while I was in the middle of radiation. Time passed, and I didn't die yet. I reached out and wanted to see what might happen.
At first, our relationship seemed like soulmates, the perfect mixtape I never thought I could make as a teenager in the 1990s when I pined for you next door.
You told me I was the most beautiful woman in the world. I was perfect. You wanted to buy me a house. I should have recognized the signs of love bombing, but I thought this was my last chance at romance.
You came to visit and took my phone. As I watched, you scrolled through each of my Facebook friends and deemed who was appropriate and who was not. You decided every male on my friend list was interested in me and, therefore, needed to be blocked. Full of shame and tired of 6 a.m. phone calls where you screamed obscenities at me before you left for work, I deactivated Facebook completely.
I sighed with relief, as if I was breathing before shouting a monster ballad chorus, yet this failed to satisfy you.
You didn't want to discuss my MRI results because you had too much laundry. I sobbed in the shower at a crappy hotel room as you stonewalled me. I listened to Kurt Vile and tried to focus on my promising MRI.
You then searched through my past catalog and switched to retroactive jealousy since you didn't have any present options.
My breaking point came when you made another 6 a.m. phone call and yelled at me because I dated a Black man when I was in grad school. As if that wasn't racist enough, you didn't use the word Black.
Yeah, you used that word.
Then you tried to blame PTSD for your overt racism.
It took me exactly two days to get over you, and the only reason it took that long was because of rain. I couldn't toss the stuff you gave me in the shared neighborhood burn pile until the weather dried up.
Throwing it away wasn't good enough.
9. "Can I Call You?" Marlon Williams
You and I dated for three years.
Afterward, we became friends. Best friends. And then, one day, you were done.
You accused me of things. Said I was emotionally abusive. When I asked for examples to work from and correct this behavior, you told me there were too many examples to count. As this seemingly came out of nowhere but happened to occur at the same time when you got a new girlfriend you openly called extremely jealous, I had my suspicions.
I was also hurt. I helped you through the worst times of your life. Now that I had a terminal illness and needed you, where did you go? Sure, my terminal illness had drug on like a bloated album, but wasn't that a good thing? I wasn't dead yet. Couldn't you be happy for me?
You had lied and behaved in toxic ways while we were together and friends, but we discussed both of our transgressions. We had forgiven one another. And now that was just gone?
I guess so.
I tried to call you, and you didn't pick up. I waited and asked if I could talk. You said sure, and we set up a time. You changed your mind. I said you were playing a game, and you said you're right.
I listened to more Marlon Williams.
10. The National "I Need My Girl"
This one is all mine.
Everyone needs a sad song that reminds them of no one.
I can visualize this guy's pain, and that's enough for me.
11."Say Yes" Elliott Smith
I have a thing with playlists: They should always end with the same artist you start with; this gives the playlist some finality. A true stopping point. Never the same song, though, because you need to end on a different note.
I'm back in Ohio.
Different song, different person.
You can't give up. You can't project your past relationships onto other people. You can't give up on love, even if you're dying.
Sometimes, you have to say yes.
You have to keep pressing play.