Album Review- ACCEPT -Rise of Chaos (Nuclear Blast Records)
Can metal legends live forever or is this one lineup change too many?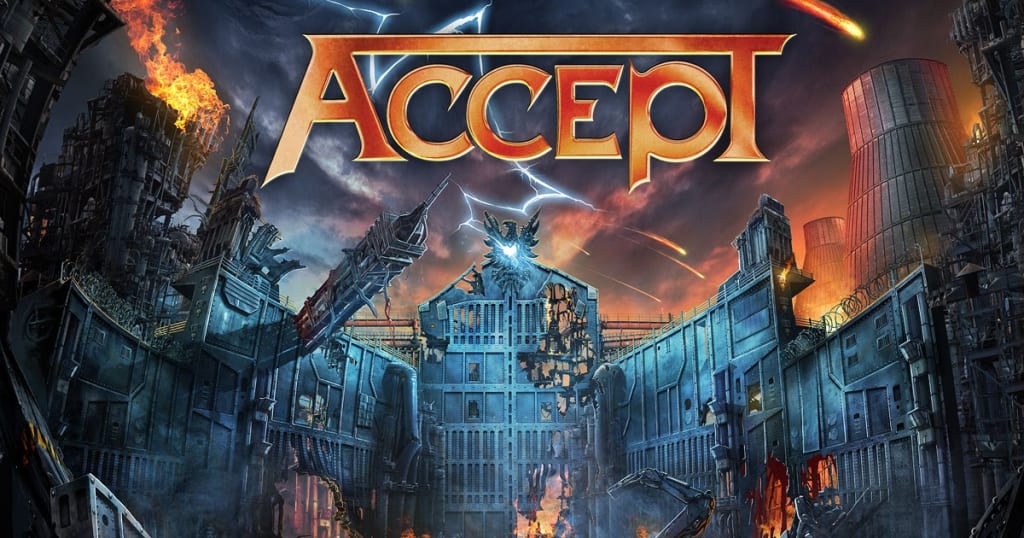 Legendary German metal stalwarts Accept have just released their new album Rise of Chaos, the follow-up to their 2014 release Blind Rage and their first since yet another lineup change. On the final track "Race To Extinction," vocalist Mark Tornillo sings, "We can change this story, adapt and compromise, balance is mandatory, open your eyes. Is this the race to extinction... a race to the end." He's singing about deeper world issues of course, but in the opinion of some longtime fans, he might as well be singing about his band and their place in the 2017 metal landscape.
The band has bid auf weidersehen to drummer Stefan Swarzmann and guitarist Herman Frank who played on the last three, mostly well-received albums featuring singer Tornillo on vocals, which were Blood of the Nations (2010), Stalingrad (2012), andBlind Rage (2014).
This brings us to the band's new album, The Rise of Chaos," and the current lineup (the sixteenth overall) of Accept with singer Tornillo, longtime bassist Peter Baltes and guitar legend Wolf Hoffmann holding down the fort and welcoming new guitarist Uwe Lulis (ex-Grave Digger, Rebellion) and new drummer Christopher Williams.
Metalheads were almost universally blown the hell away by Tornillo's performance on these last few albums; he did more than simply fill the void of fan favorite, longtime frontman Udo Dirkschneider. That, coupled with the intensity and overall quality of Accept's modern day material (all produced by the great Andy Sneap) raises the stakes of each new album and magnifies even the slightest deviation or perceived disappointment. Some felt, perhaps erroneously, that the last album Blind Rage was a step backwards into more commercial territory and that, coupled with the lineup change, had a few fans worried.
Worry not, Accept fans, because it is readily apparent on Rise of Chaos" that both Sneap and the band have once again put their collective horns up and shoved hot, molten metal directly up the asses of our often stagnant metal universe.
The album opens with "Die By the Sword," a straight-up screamer and surely one of the best songs of Accept's long and storied career. Too high of praise? I am just getting started and so is Accept. "Hole in the Head," coming next, is snarlingly angry both aurally as well as lyrically. The title track follows and provides more of the same, all centered around some of the best riffs Hoffmann has ever put to wax and belied by a great thumping freight-train of bass and drums. While the lyrics of some of these songs might strike some as predictable, metal-cliché or even cheesy, the music on this album is non-negotiably amazing. The guitars and melodies really stand out as both technically amazing and earworm-memorable on these first few tracks, luring you into an album that just gets better with each consecutive listen.
Just as with the other recent albums, there is very little, if any, filler on Rise of Chaos. Some of it has to do with the songwriting, some with Wolf's killer leads and lastly some of it simply has a shit-ton to do with how Mark Tornillo's individual vocal performance jibes perfectly with Sneap and Hoffman's intuitive sensibilities. They seem to just have an understanding of what makes this band work. Mark Tornillo is no spring chicken, he's a metal veteran himself (of east coast proto-thrashers T.T. Quick fame) and while he's often still thought of as "the new guy" by some, he is a smart, accomplished singer and songwriter in his own right. Tornillo's performance achieves a perfect storm here on Rise of Chaos, turning in performances that stand on their own merit while never straying from the Accept sound you remember from headbanging classics like "Balls To the Wall" or "Metal Heart." It's as if he and the band are not forcing the fans to choose between being Team UDO or Team Tornillo, it's all one big glorious legacy without deviation.
The middle portion of the record continues to cook on tracks like "Kool Aid," an odd title at first glance but easily the best and catchiest track on the entire affair which is lyrically based on the 1978 Jamestown cult mass suicides. Good luck getting this song out of your head once you've heard it a couple times, something that can be said of most all of Rise of Chaos. Accept steamroll track after track with unrelenting tempos and pure metal all the way through to the terrifying finish on the final and possibly prophetic last track, the afforementioned "Race to Extinction" which features some of the best lyrics on the entire record.
One last word about the lyrics, I actually appreciate the fact that these German hard and heavy metal gods aren't afraid to have some fun. There's a snarky, smartass sense of humor to much of this material, never more evident than on one of my favorite tracks,"Analog Man," a song my teenage daughter would absolutely play at my wake should I take an unexpected dirtnap.
Tornillo's grizzly voice snarls "I was born in a cave, when stereo was all the rage, gatefold vinyl and eight tracks ruled the world. Now there's flat screens in 3D, my cell phone's smarter than me. I can't keep up, my brains are beginning to burn."
As someone who wishes he was listening to Rise of Chaos on vinyl or cassette himself, I get it, Mark... and I'd buy your latest on either format. This should be considered with a few other standouts from this past year (like the latest Bodycount) not only for many "Best of 2017" blogs but for Grammy consideration.
I cannot recommend this highly enough. Pick up Rise of Chaos here:
album reviews
metal
About the author
I've been writing about rock music and interviewing my favorite bands since I was 15.. Not much has changed, ask my wife.
Reader insights
Be the first to share your insights about this piece.
Add your insights