Album Review — Dirkschneider
Live-Back to the Roots-Accepted on Vinyl, DVD/Blu-ray and CD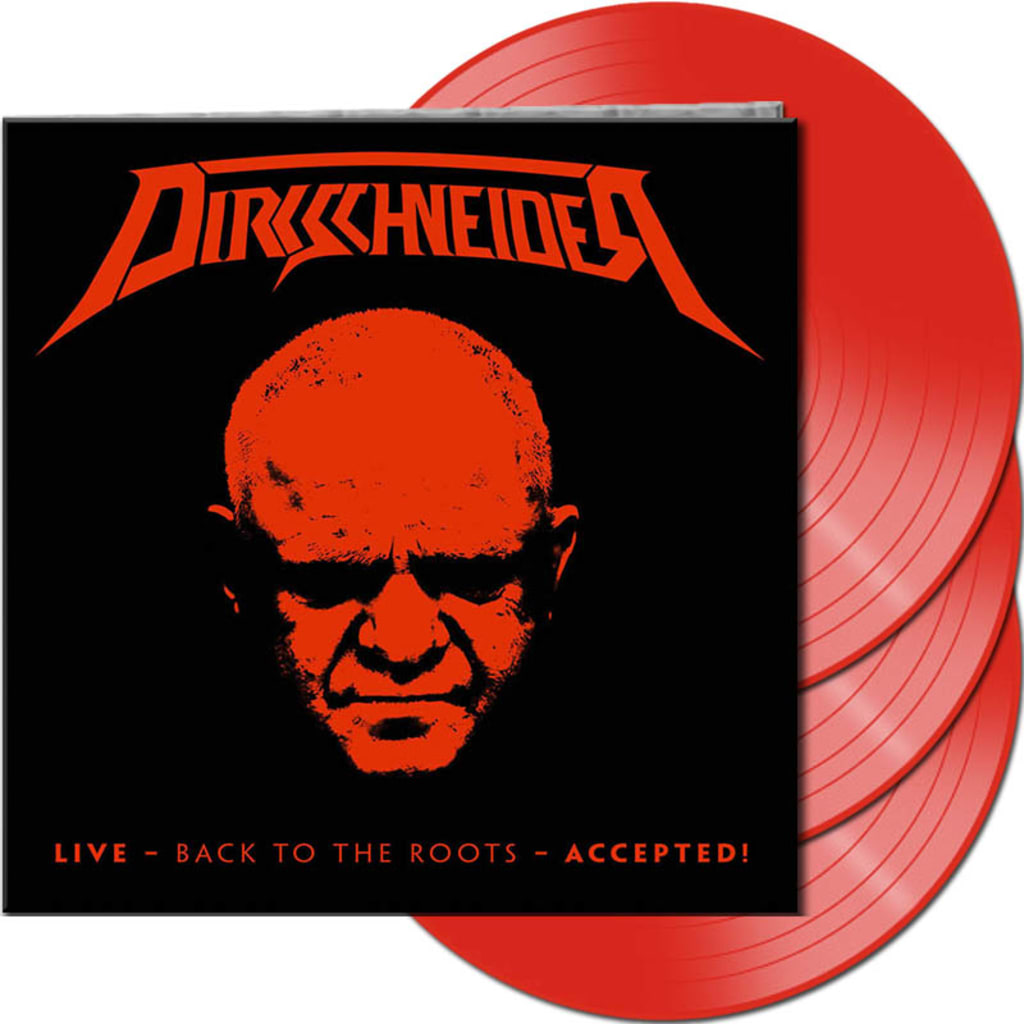 Triple disc red vinyl!
Available now on all formats (well, okay not cassette) is this live document of heavy metal icon Udo Dirkschneider and his current band kicking all sorts of ass on his legendary Accept back catalog. This title is actually a reissue of last year's CD release but with the added bonus of a DVD/Blu-ray (more on that later) as well as extra tracks and some special new colored vinyl variations.
I've recently seen this band actually do this type of set at an intimate venue so it is refreshing that the material captured here definitely sounds undoctored and authentic rather than Accepted and Reworked in the studio. This album and Udo's band are fantastic on this record and will most likely stir another round of boozed up discussion amongst metallians as to whether or not the modern day Accept (fronted by ex TT Quick vocalist Mark Tornillo) or the one led by its former screamer Dirkschneider is the better band.
The truth is that Dirkschneider and his band's Accepted album (on AFM records) already provoked a bit of a response via a somewhat similar live album that Accept released earlier this year on Nuclear Blast Records called Restless and Wild. That album, and the performance by Tornillo, certainly threw down the gauntlet and proved that Accept's new singer not only kicked ass on the new material but also did quite well with the classics.
Having said that, and with all due respect to Accept and guitarist Wolf Hoffman, I honestly do prefer hearing Udo singing these songs. Even though Udo's voice has changed slightly over the years, having gotten deeper and maybe even a bit more grizzly, it's still fantastic and one of the most recognizable voices of classic metal.
With both UDO and Accept having recently released terrific modern studio albums it could be argued by some that focusing so much on the past is something of a step backward for all involved. I call bullshit on that because I personally never get tired of hearing the "hits" from Udo and the new band certainly has a stick of dynamite up their ass on these live recordings.
There actually is one studio track here, that being the bonus track, a fairly straight, no shockingly straight forward cover of Frank Sinatra's "My Way." Having interviewed Udo in the last few years it's safe to say that he would probably cue up his heartfelt and full-throated take on "Ol Blue Eyes" before any of the other heavier hitting tracks presented here but you can't fault Mr. D for that. At his age, he's more than earned his right to kick back and croon, particularly since the other 20 plus tracks here are exhaustively energetic and heavy.
The production here is crisp, with great guitar tone and punchy bass and drums and Udo himself singing as if he's feeding off the enthusiasm of both the band and the crowd. Whether it's classics like "Fast as a Shark", "Metal Heart", the obligatory "Balls to the Wall" or deeper cuts like "London Leatherboys" or my all-time favorite "Son of a Bitch" you won't find much to bitch about as an Accept fan.
Throughout the duration of this collection, Udo's predominantly young and hungry 2017 Dirkschneider band (not sure why they no longer use the band name UDO) sound fantastic and prove that Udo can still keep up with anyone. The guys in the band may not have the legacy, pedigree, or recognition that their namesake leader possesses but judging by the crowd response and their technical prowess, that may soon change.
As stated, the major draw to this version of Back to the Roots-Accepted is the Blu-ray or DVD and it is nothing short of spectacular. The audio and video quality of the visual counterpart of this album clearly illustrates the overall attention to detail AFM Records has historically lavished on the UDO catalog.
The fact that the two CD package even comes with a DVD or Blu-ray is tempting but the old school purist in me is still recommending the badass triple vinyl as the preferred way 80s metal misfits should purchase this affordably priced gem. Luckily you have your choice of several different color variations of the vinyl album and a beautiful gatefold sleeve. Get your precision German engineering fix and pick up Back to the Roots- Acceptedhere.
80s music
album reviews
About the author
I've been writing about rock music and interviewing my favorite bands since I was 15.. Not much has changed, ask my wife.
Reader insights
Be the first to share your insights about this piece.
Add your insights