A Playlist For Statehood Day
On February 14, singles in Arizona can opt out of Valentine's and celebrate Statehood Day with friends instead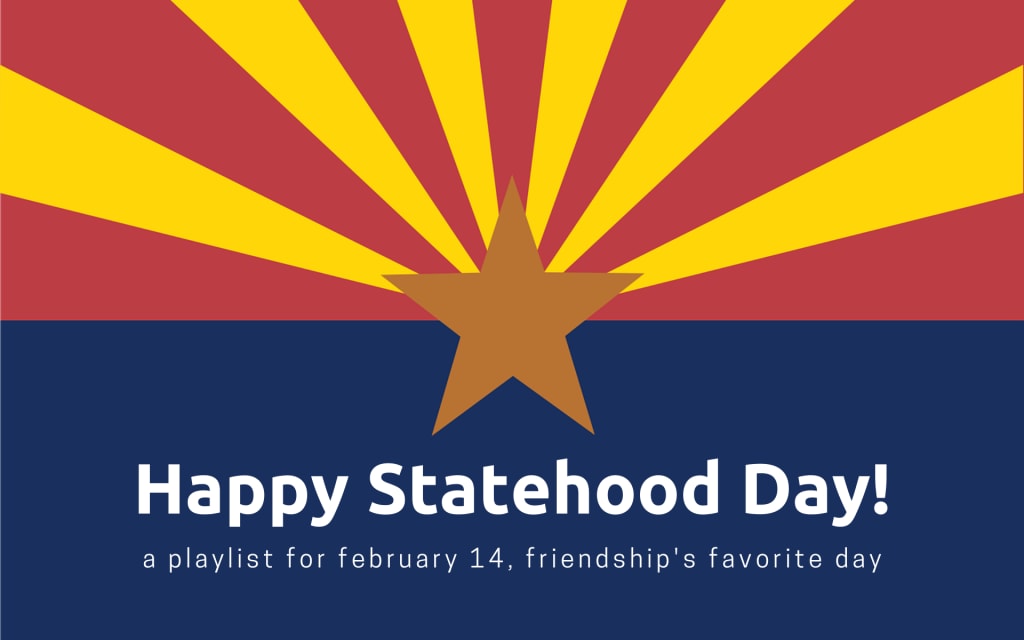 It's no secret that teenagers are typically very concerned with dating and romance - which makes Valentine's Day a rough time for lonely high schoolers. Fortunately, I grew up in Arizona, where Valentine's Day is not just a holiday about romantic love and coupledom. It's also Statehood Day!
Arizona became the 48th state on February 14, 1912. The last of the contiguous 48 to make the transition from territory to state, Arizona's decision to pin its five-pointed star to the red white and blue was politically complicated and related far more to issues of senatorial representation than anything to do with Cupid's shenanigans.
Fortunately for singletons across the state for generations to come, the relatively arbitrary date of Arizona officially joining the Union allowed for an alternative holiday to spring up. Every year, while those lucky enough to be partnered were off on dates, the rest of us would host Statehood Day parties.
It's a sort of tongue-in-cheek tradition, choosing to celebrate something very silly so we can make a show of opting out of the sugary pink Valentine's Day nonsense. But it was also a very needed outlet for those of us who felt alone or frustrated with our lack of romantic prospects. Instead of wallowing in the unique melodrama of adolescent singlehood, we could distract ourselves with Arizona-themed snacks, movies, and crafts.
As I think back on my memories of cactus cupcakes and western movie marathons, I realize just how special and important these Statehood Day get-togethers really were. While Valentine's Day puts the spotlight on a specific type of love (namely, romantic love), we Arizona kids were choosing to celebrate a different type of love.
The Greeks called it "philia," and today, most of us English speakers would just call it "friendship." Despite the fact that platonic love is what forms communities, supports families, and carries us through all the stages of life, it's not as celebrated or honored in our calendar or our media as romantic love. That's why, instead of bitterly rejecting the entire concept of Valentine's Day and bitterly refusing to do anything fun, it made a lot more sense for the kids I grew up with to find a way to enjoy friendship and togetherness in a different way.
Long before Leslie Knope blessed us with Galentine's Day, Arizona Statehood Day was a friendship-focused alternative to Valentine's Day, one that let us focus on the people who enriched our lives in and have some themed fun that didn't serve as a reminder of our singleness.
In honor of Arizona Statehood Day and the excuse it gives us to do something else on Valentine's Day besides bemoan our lack of a partner, here are some of my favorite songs about friendship:
Shawn Wasabi - ANIMAL CROSSING feat. Sophia Black
Animal Crossing is a game all about friendship. You make friends with characters in the game who can have conversations and trade gifts with you, and you can even invite your real-life friends to visit you!
So it's no surprise that the song "ANIMAL CROSSING" is just as friendly, welcoming, and sweet. It's all about playing Animal Crossing and befriending the villagers who visit to do things like collect seashells and eat peaches.
Taylor Swift - seven
This song, from Taylor Swift's 2020 album Folklore, captures the almost magical quality of friendships formed between young girls. Who among us hasn't formed a deep soul bond with another kid at summer camp or on a family trip? And who could forget the otherworldly intimacy of elementary school besties, all sleepovers and shared secrets?
From the perspective of a seven year old girl, Taylor sings about the daydreams that children share, like running away to India together or or sailing off to become pirates. Though the song is wistful and acknowledges the way these childhood connections often fade away with adulthood, it also honors the power these friendships have over our memories.
Though she's most famous for her songs about romance and its dangers, "seven" isn't the only Taylor Swift song to honor friendships - honorable mentions for this spot include "It's Nice To Have A Friend" and "22."
The White Stripes - We're Going To Be Friends
Conjuring images straight out of a Norman Rockwell painting or a 1950's sitcom, "We're Going To Be Friends" is a wholesome ode to childhood friendships. There was a time in all of our lives when our world revolved around school bus rides, arithmetic homework, and giggles on the playground. Back then, we made friends easily, and the friendship was uncomplicated.
Although this song works as a standalone story about the first few days of school, it also contains references to other works by The White Stripes and was paired with a music video that many fans consider to be a metaphor for the journey of parenting.
Lana Del Rey - This Is What Makes Us Girls
There's more than one side to friendship, especially the opaque, complicated world of female friendships. Growing up as a girl among other girls doesn't just mean fun Statehood Day parties or summertime swing sets - it also means fights over boys, mutually assured self-destruction, and truth or dare games with real consequences. Here, the characters are in their teens, making "This Is What Makes Us Girls" by Lana Del Rey a darkly adolescent view of friendship.
In "This Is What Makes Us Girls," Lana Del Rey's narrator croons about having a "new best friend" to cry over boys and get into trouble with. Reminiscing about the intense enmeshment and drama of her girlhood friends, she muses on the way girls focus even their own friendships on male attention, learning to understand themselves through the lenses of others.
Spoon - The Way We Get By
Shifting ahead from the heady days of high school to a vignette more familiar to the early-twenties crowd, "The Way We Get By" is a classic. An anthem for the days that feel simultaneously aimless and significant, this Spoon single is a story of getting by with a little help from our friends.
Swerving between clandestine joint smoking and experimental dance, "The Way We Get By" always takes me back to the days when I had no money and no clue what I was doing, and neither did any of my friends. We just did our best to have a good time and be there for each other. As the song exhorts, we believed "in the sum of ourselves."
The Decemberists - Apology Song
In any given friendship, someone's gonna mess up. We have lots of scripts for romantic partners when it comes to having fights, making up, or deciding to part ways - but it's rarer to see a pair of friends in the media working through issues together.
"Apology Song" by The Decemberists is exactly what it claims to be. Initially, the song was written to be played over the phone to the singer's real life friend Steven, whose bike was stolen. Eventually, it turned into an actual Decemberists release, giving music lovers everywhere a short song they can turn to when in the awkward position of needing to apologize to a friend.
Fall Out Boy - Grenade Jumper
Pop punk, the genre that launched Fall Out Boy, is absolutely packed with songs about friendship. "Grenade Jumper," from the band's first album (and my parents' least favorite), is addressed directly to a friend of the band named Chris. Despite the specificity of the song, the sentiment expressed is relatable no matter who you are.
Honest, nostalgic, and unapologetically shouty, "Grenade Jumper" honors the loyalty of of long-term friendships. Shared dreams, funny memories, and even mistakes are all covered. Singing along to this pop-punk look at lifelong friendship might even inspire you to call and catch up with your own Chris.
Kimya Dawson - I Like Giants
It's fitting that Kimya Dawson would cap of this playlist, since I was introduced to her music by one of my very best friends, my college roommate. "I Like Giants" was written about one of Kimya's friends, Canadian cartoonist Geneviève Elverum.
Like most of Kimya's music, "I Like Giants" is cheerful and serious, balancing bright ukulele and kindergarten-teacher vocals with lyrics about the big fears and feelings that characterize the human experience. "I Like Giants" is about the way our friends hold us up and advise us when we're facing the complexities of life.
There you have it - a friendship themed playlist for a Statehood Day spent with good music and great friends. On a day when it seems like all anyone can sing about is romantic love, these tracks remind us how varied the spectrum of love truly is.