A Legacy of Musical Souls
"When the doors are shut in the streets, And the sound of grinding is low; When one rises up at the sound of a bird, And all the daughters of music are brought low." ~Ecclesiastes 12:4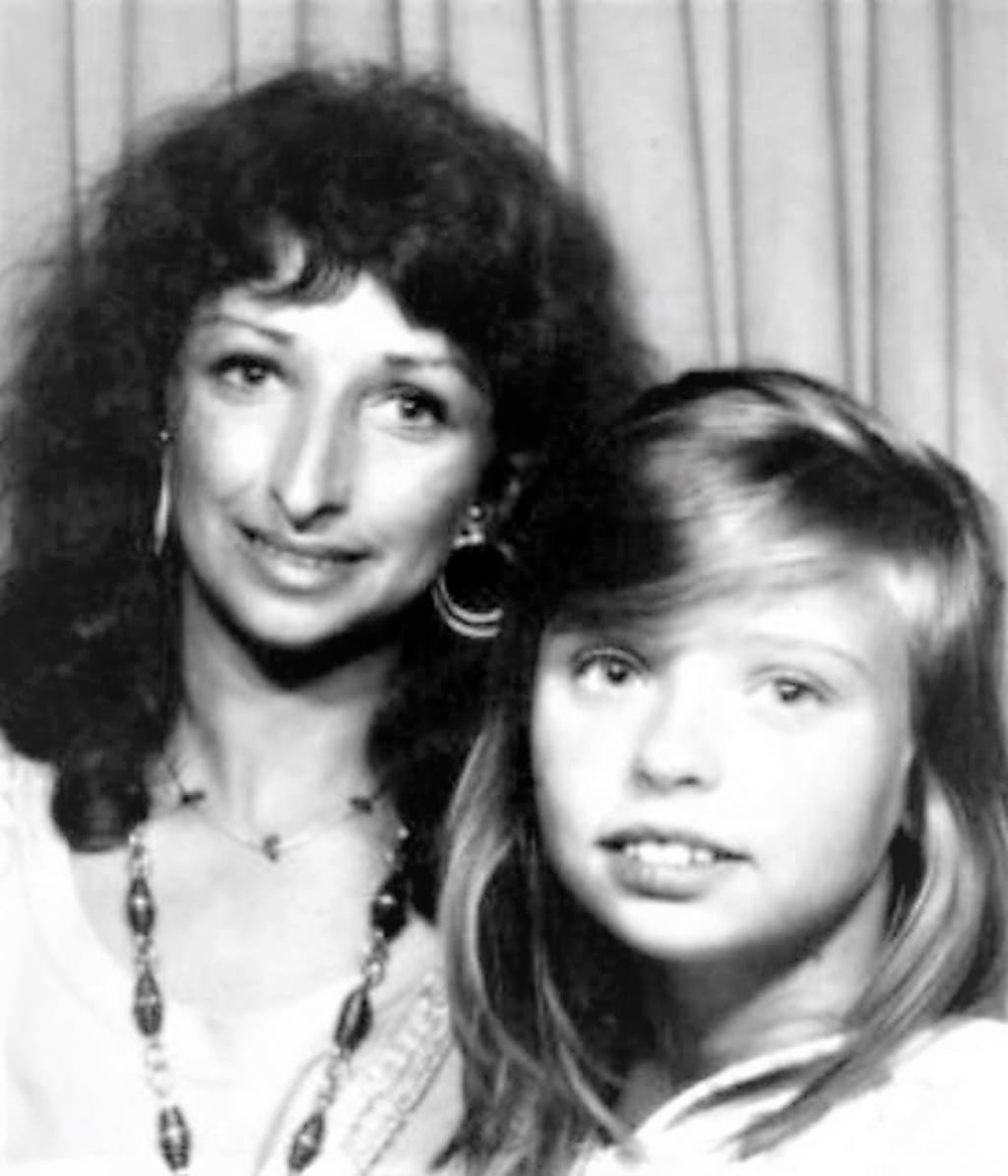 Me and my mom
INTRODUCTION
My earliest memory in life is the sound of my mother's voice singing "My Bonnie Lies Over the Ocean", which you can hear done well by clicking the link below. It doesn't capture that maternal warmth my mother had, but it is a beautiful rendition of the song.
My name is Veronica, nicknamed Roni, so my mother always changed the words to, "My Roni Lies Over the Ocean".
By the time I was five, my mother had embarked on her singer/songwriter career, and there was no holding her back. I followed in her footsteps as an adult and we recorded some beautiful music together, which you will see throughout this piece.
A PAIR OF SONGBIRDS:
As a child, I listened to my mother singing every day; whether it was while she was cleaning and doing household chores or dragging me out to a gig. By the time I was fifteen, I had become just like her in that regard. If I was awake and not otherwise engaged in anything important, I was singing. I took a class called Chorus my first year in high school to try and learn to sing better.
The teacher always put me in the soprano section, but it was too much work for me. The day that I approached her to see if I could sing with the tenors, she had me sing the song we had practiced that day, ("It's Too Late" by Carol King, my version linked below). This teacher caught the fact that something was wrong with my vocals and told me to have my parents take me to a doctor. Not enough air was escaping for me to "project" when I sang.
I was diagnosed with throat cancer. Luckily for me, it was benign, so they decided not to operate. The doctor told me that at that time, laser technology just wasn't as good as he knew it would be one day and he wasn't ready to risk me losing my vocal ability altogether. So, I was "allowed" 150 words per day, and took speech lessons.
I have a musical family so for many years it was agony to see them playing music together and not having anything to offer. Years sped by and anytime I was asked to sing with the rest of them, I would sing something easy then lie and say my throat hurt to get out of it because I believed I would never sing again. My step-dad taught me how to play a few chords on the guitar so that I could participate and for a while, that was okay with me.
Flash forward 16 years, you'd find me divorced, with two little boys, trying to make a living on minimum wage. My brother was a pastor of a small church and called one day to ask me to help him lay carpet in the sanctuary. He was called away for a while and I was so overwhelmed by the acoustics in the building that I just had to try and sing. The only religious song I knew at the time was "Amazing Grace". I don't know what overcame me, but I sang that song with a power I never knew I had. My brother was so impressed he asked me to sing at church that Sunday, and I've been singing ever since. Every time I hear "Amazing Grace", I'm transported to that time when my gift became my calling. This is the song as I sang it in church that Sunday morning.
Not long after I started singing at church, opportunities opened up to sing at parties and coffee shops and pretty soon, I was writing my own songs and competing in local songwriter competitions. I managed to put together a band, with my mom singing backup and playing tambourine and my dad playing an alternating rhythm guitar. Dad had a couple of friends who joined and soon enough we were off to the studio to record.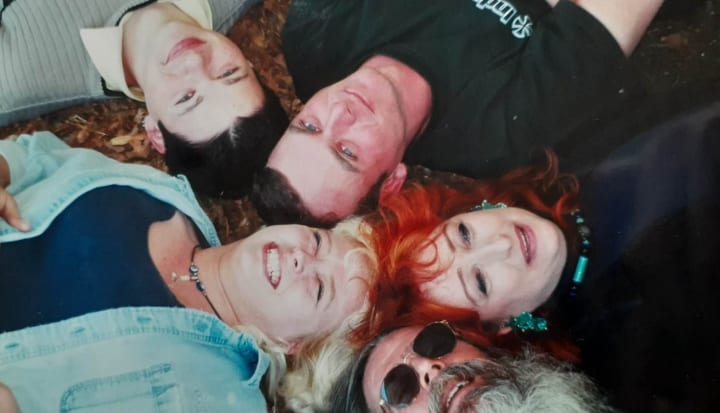 One of my favorite things to do though, was practice at the "Band-house" with my mom and dad and a couple of friends. I don't think a single practice ever got by us that we didn't convince my mother to sing "Midnight Special" for us. She was the most amazing tambourine player I've ever known.
We routinely booked ourselves to gigs at pirate festivals and had to learn a host of pirate songs. They sounded awful in band practice, but we somehow always managed to pull it off on stage. After a while, I did a lot of those shows by myself because mom's memory had begun to slip and she just couldn't remember her lines. BUT, she was always there cheering me on and sometimes could be convinced to come sing backup on the few songs of mine that we did.
In the background of all the shows and the band practices, my mother was always with me. A lot of parents, I guess, tell their children to get a real job; to get their feet on the ground and get their head out of the clouds... but not my mother.
Mom believed that I could do anything I put my mind to, and encouraged me to do just that. I won't lie to you though, there were times when she was just terrible about my singing. She'd tell me what was wrong or how bad I sounded. I never let that stop me, and it seemed to enforce in her that I was doing precisely what I was built to do. So when the time came for me to record, my mother jumped in it with both feet to help me achieve my dreams.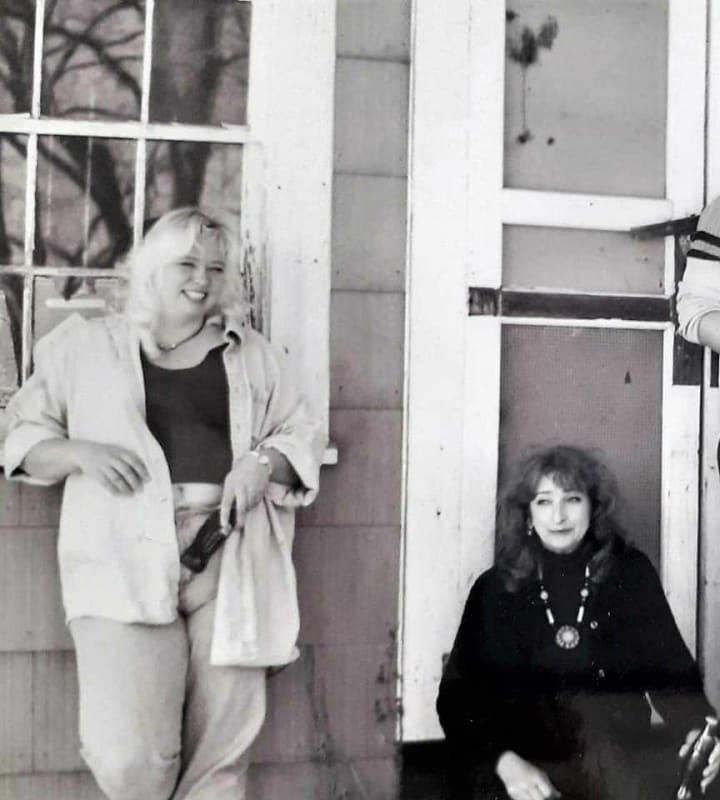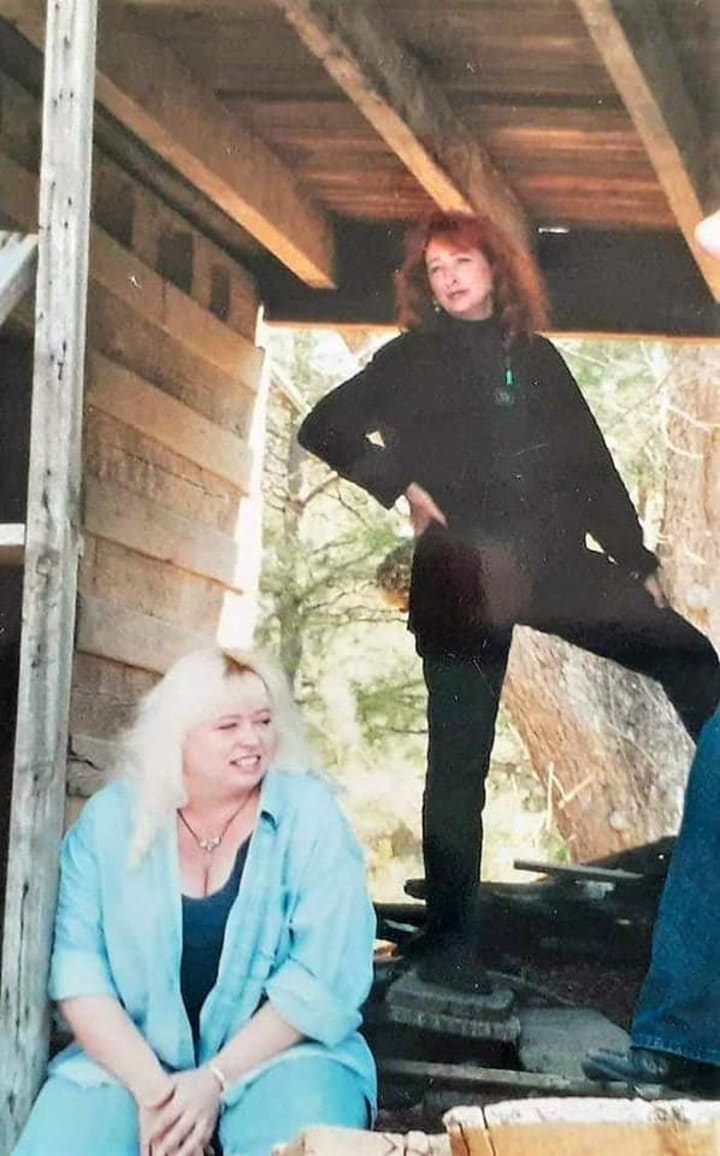 The first song I recorded with my mom was one of our old favorite cover tunes. Mom used to sing with this song to the radio when I was a kid and I won't ever forget what it meant to me as an adult every time I heard it come on the radio. So, as a musician, I was dying for a remake. The original song was done by Bobbi Gentry but this our rendition. Fondly titled "OBJ", you will find it linked below. You can hear mom's backup vocals and some pretty awesome tambourine work.
My mother, Irene Dyck, had a singing career under a couple of stage names. The first one I remember was Lucy Ardor, but eventually she went with "Irene Ardor", and that's pretty much where she stayed until later in life. When I was first divorce, I wrote a song about how painful that experience had been and my mother did a phenomenal job on the the backup vocals. The song was called "Daybreak". You can find it here: https://www.reverbnation.com/RonniRight/song/23694352-daybreak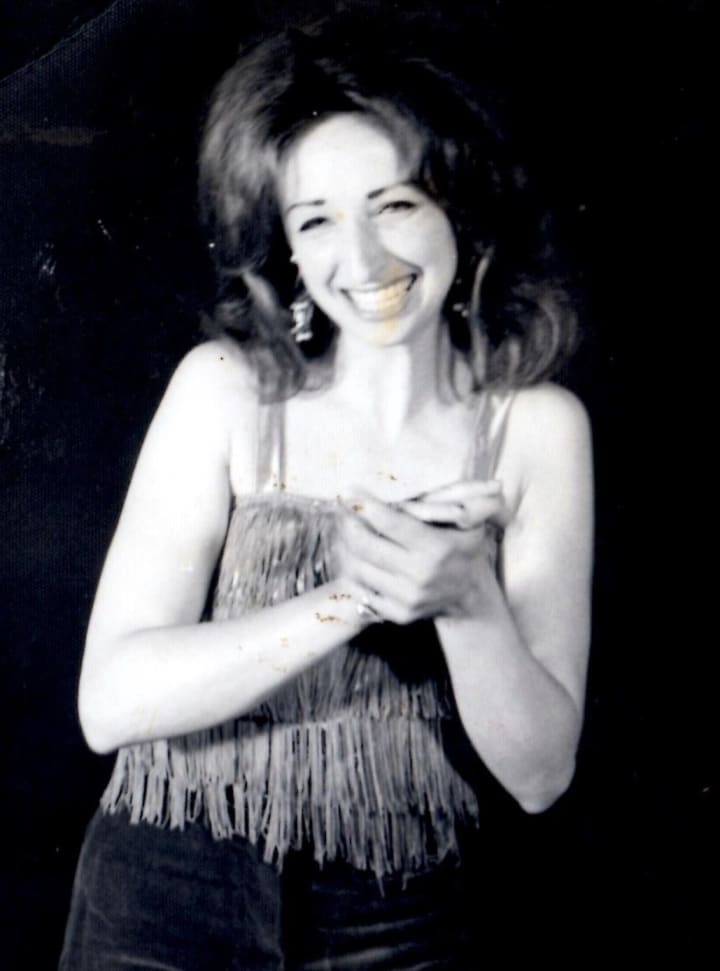 During my musical career, I burned my candle down at both ends until the wick was almost ash; constantly running from work to gigs, to kids functions and school. It was an absolute mess, but every moment I spent on stage made it worth it.
Then over time, there were long nights in cruddy hotel rooms, when I would have given anything to have someone to talk to, someone I could call. It was usually too late to call the kids or m parents by the time I got done singing. I'd leave off singing and people wanted more. They wanted me to take time sitting at their table, going to breakfast with them, following them on social media. It was a long and tiring road; giving all that was in me and never feeling as though it would ever be enough. One night, after begin stalked for weeks, I finally came to rest at a small hotel in Jesup, Georgia. It was late, but the guy I had been calling "boyfriend" for a couple of months had said to call him anytime.
He wasn't happy to hear from me. In fact, he had no problem telling me not to call him any more. I wrote a song about what it's like to inadvertently seduce people with your voice, give them the special gift that you have inside you, and to always feel it wouldn't be enough. You can hear it by clicking the link below.
I hit a new low not long after that and was homeless. Earlier in my life, before my singing career started, I lived in Savannah, Georgia, where there's a larger than normal homeless population so I was no stranger to the condition. I had met a man who said his name was "Profit", which I found more than a little ironic.
Every day for a little over a year, any time I saw him he was walking around talking to himself, and would usually hold up a sign promoting good feeling vibes like, "Love one another", "Kindness is free", and "Jesus Saves".
One morning, it was particularly cold out and his sign said "I'm hungry and I'll work for food." I pulled over and bought him breakfast and it was a real eye-opener. He was something of a prophet in tattered clothes and our visit stuck totally left my head until one of the things he told me that day actually happened. (They've all happened since then.)
When I found myself homeless, I finally understood a lot of what Profit was talking about, and I reached out for help to a local recue mission. They gave me free lodging, food for my children, and helped me get a job and get on my feet. Once things were in order, I wrote a song about Profit to raise awareness about the homeless condition and the proceeds for the sales of the single, went to the mission that saved my life. You can listen to the song, "Profit the Prophet" below.
I made another run at stardom before it was over and actually booked a couple of tours. When the time came for me to sign a recording contract with a high-level indie label, I had to turn it down. I was 39-years-old and had lived on the East Coast my entire life. Everyone and everything I knew was here. I would have had to move to the West Coast to accept the contract, and the money they were offering would have gone a long way at home, but not out there.
I had to decline.
I recorded and self-produced my own album, with my mom singing backup and shaking tambourine for me. My dad played electric guitar and the songs actually got a little radio play on local channels. My mom was diagnosed with Alzheimer's and Dementia and the fall came swiftly. There were two songs thet I wrote, that everytime I hear them come up on the playlist, I remember how lucky I was to have the mother I had. They were: "Rooms of the soul", and "Going Back". You can find them at the link below.
I realized after a time, that it was enough for me that the songs just got made. I went to work as an accountant, falling back on my degree, and am resigned to playing my guitar at family functions and an open mic now and again... and that's just fine with me. If you'd like to listen to the music I made with my mom while she was still alive and with me, simply click the link below. The angel voice behind me is mom's and I am so grateful to have the gift of a musical legacy to remember her by.
I may post another one of these, with the songs from the album and explain the stories behind each one. I'd like to give a warm thank you to Mariann Carroll, (linked below) for reminding me how precious this time was with my mother, and for suggesting that I write this article and share the beautiful songs that my mother and I recorded together. It truly was a remarkable gift and I am so glad I can share it with all of you!
About the Creator
I'm a mild-mannered project accountant by day, a free-spirited writer, artist, singer/songwriter the rest of the time. Let's subscribe to each other! I'm excited to be in a community of writers and I'm looking forward to making friends!
Reader insights
Outstanding
Excellent work. Looking forward to reading more!
Top insights
Easy to read and follow

Well-structured & engaging content

Heartfelt and relatable

The story invoked strong personal emotions

Expert insights and opinions

Arguments were carefully researched and presented
Compelling and original writing

Creative use of language & vocab

On-point and relevant

Writing reflected the title & theme

Excellent storytelling

Original narrative & well developed characters

Eye opening

Niche topic & fresh perspectives

Masterful proofreading

Zero grammar & spelling mistakes
Add your insights