A "Conspiracy" worth listening to.
Tobias Hoffmann's album, Conspiracy, named to Jack Bowers' Best Jazz Albums of 2022 (allaboutjazz.com)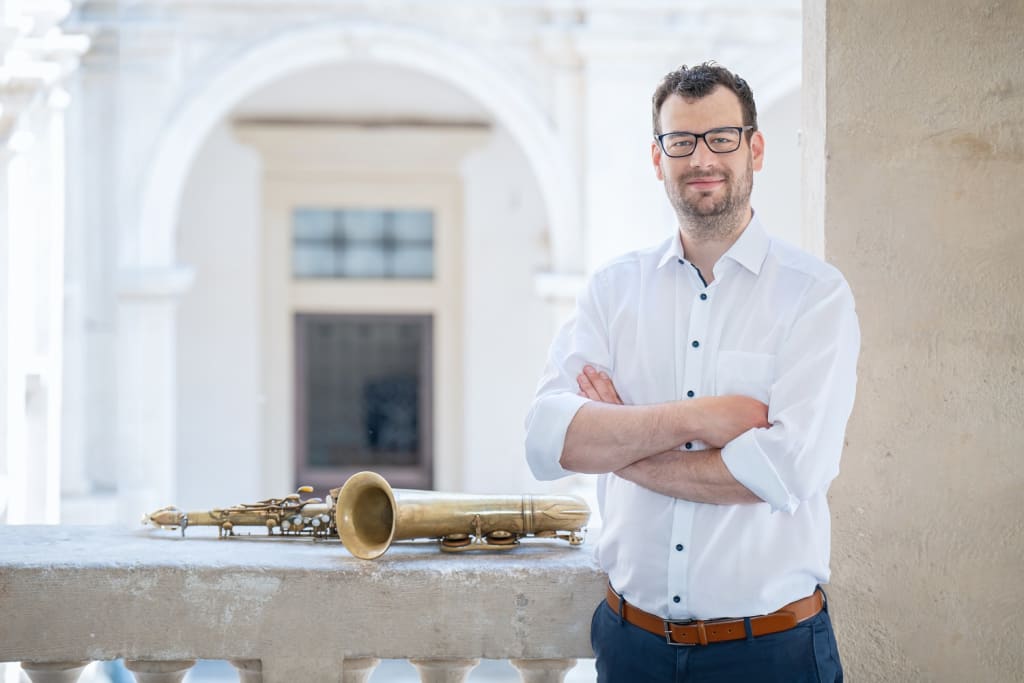 September 2022, Mons Records released a new album from multi-award-winning saxophonist, composer, and arranger Tobias Hoffmann titled "Conspiracy." 

Under the motto, things just keep getting bigger, this recording follows his 2019 release "Retrospective" recorded with a nine piece band and this time features a full big band.

Tobias stated that throughout his journey in music "… there have been two hearts beating in my chest: on the one hand that of the saxophone player and on the other that of the composer and arranger."

When you first listen to this recording it becomes clear that on "Conspiracy" Tobias has been able to merge these two hearts into one. (press release)

"Conspiracy" has recently been named in Jack Bowers' Best Jazz Albums of 2022 (allaboutjazz.com)
Track Listing:
01 Conspiracy (07:12min) 02 Elegy (2:08min) 03 December Song (07:36min) 04 Awakening (09:36min) 05 Relentless (08:38min) 06 Trailblazers (07:53min) 07 Renegade (08:20min) 08 Impostor Syndrome (09:50min) 09 Who Knows Intro (04:31min) 10 Who Knows (06:50min)

What 1st drew you to music?
What drew me to music, and still does, is the possibility of expressing emotions without words and creating soundscapes that the listener can relate to in their own way.
The influence of sounds in music and the timbres of instruments have always fascinated me. For example, I find it very interesting that certain sounds evoke certain emotions. I love it when I can let myself fall into the sound of music.
Tell us a little bit about yourself. Your (music) background?
I come from the Stuttgart area (Germany), where I grew up and went to school. After graduating from high school, I studied at various European universities. Now I live in Graz (Austria) and work as a composer, arranger and saxophonist.
I started with recorder in elementary school and then learned saxophone. We had a pretty decent big band in our school and after a while I was able to play in the band, which brought me to big band music and music in general.
A little later, I started playing in the jazz ensemble at our local music school. There I learned more about improvisation and the jazz repertoire and started playing the first concerts and gigs.
I also remember listening to my parents' old tapes. It was mostly rock music like Led Zeppelin or Queen or the music of Bob Dylan. I think both influenced me in a way, even though I never played that kind of music.
Do you have a preferred genre?
I don't really have a favorite genre. I love jazz music, especially large scale jazz, and that's probably the music I listen to the most. But I also like to listen to many other and different genres like rock music or even classical music. I think for me it's more important if there is something in that music that I can relate to and that touches me. The genre is secondary.
This is exciting, you recently released a new album "Conspiracy" …what inspired it?
When COVID came into the world and we had the first lockdown, I decided to use that time as productively as possible and get more involved with writing music and especially writing music for jazz orchestra.
But after a while, I started to wonder what I was writing this music for. I think it is very important for the development as a composer to play and/or record your music to get a certain kind of feedback. Either of the players or the audience.
So I decided to record the music and put together my own band. In a way, it was a pretty drastic step, but on the other hand, the pandemic also had positive aspects. Since there wasn't as much going on, a lot of musicians had a lot of time on their hands and were eager to play and collaborate with other people. I could really feel that energy when we got together to rehearse and record.
Were there any challenging aspects to writing and/or recording the album?
One of the biggest challenges was actually recording the music. We recorded the album in August 2021, when we were still dealing with Covid-19 restrictions. It wasn't clear for a long time whether we would actually be able to record the album or not. I'm glad it worked out in the end.
Another challenge was finding the right musicians for my music. My music can be very demanding and makes high demands on the musicians. And, of course, it's always a challenge to finance such a large jazz orchestra.
Musically, one of the biggest challenges was to have a common thread running through the recording while having the necessary variety of styles, timbres, shapes and orchestrations in the music.
Do you have any other plans relating to this release? A video? A special concert?
I just released a new video in which we combined music for jazz orchestra with contemporary dance. I've never done anything like this before, and I'm very happy with the result. The video can be watched on YouTube.
In terms of the overall composition, do you have a favorite song on the album and why?
I can't really decide which song is my favorite. They are all my "babies" and I can't decide on one in particular. I think there's something I like in every single song.
Do you produce/create music for yourself or for fans?
I think it is a mixture of both. I mostly write music for myself but of course I am very happy if my audience likes what I am writing.
What song do fans seem to favor?
The most popular songs are "Trailblazers," "Impostor Syndrome" and "Conspiracy," according to the evaluation of streaming services.
What do you value more, creativity, or perfect execution?
I think they go hand in hand and can't go without the other. At least for the music I write and try to create. It may be different for other musicians and also other genres, but I can hardly choose one over the other.
I think creativity is the source of musical ideas in composition and improvisation, but without the ability to execute them, they can't fully come to life. For me, they are a kind of ying and yang.
Has your musical journey had a deliberate direction, or did it simply evolve in whatever direction it found?
It developed more or less in the direction it found. For me it was always a mixture of external influences and decisions I made consciously. But of course I've always tried to follow my inner voice and go in the directions I thought I could best express myself.
Share a magical moment or a crazy experience that has happened during your career.
I can share the memory of what it was like to rehearse and play the music of "Conspiracy" for the first time. I had quite a lot of stress organizing the production. But when we played the first notes together, all the stress fell off me and I could relax and just enjoy making music together.
Where have you performed? What is your favorite and/or least favorite venues?
I have performed at various venues in Europe but, I don't really have favorite or least favorite venue.
Would you like to travel to other countries to perform your music? If so, what would be your first stop?
I would like to travel more often to other countries and perform my music there, and I hope that more opportunities will arise in the future. It's interesting to perform abroad and see how the audience reacts to my music. But I don't have a specific first stop in mind. Wherever life takes me, it would be a great first stop.
What would you be doing right now if it wasn't for your music career?
I would probably become a teacher at a high school or work as a political scientist.
Other than fame & fortune, is there something you hope to achieve through music?
I'm not sure I have a specific message I want to convey through my music or something else I would like to achieve. All the different songs have individual messages and stories behind them. However, I am happy if I can contribute to raising awareness of either jazz music in general or the specific themes that are the inspiration for the compositions.
How do you feel the Internet has impacted the music business?
The Internet has turned the music business upside down and changed it in many ways, both positive and negative. I think it's never been easier to access all kinds of music from all over the world and expand your musical horizons. It's easier to address your fans directly and connect with your audience worldwide. At the same time, new distribution channels have made it easier for everyone to release music.
What is your favorite/best outlet to connect with your followers Instagram, Spotify, FB, Twitter, iTunes? How would you want them to follow?
For me personally, it's Instagram and Facebook where I'm most active and interact the most with my followers. But Spotify is also becoming more and more important and I'm happy about everyone who follows me there as well.
Last but not least, my homepage is an important tool for me to network, inform about my activities and get in touch with others. I appreciate the personal exchange with my followers. So feel free to write to me.
Are you currently working on any projects we should look out for?
One of the projects I'm working on right now is a tentet with my fellow pianist Viola Hammer and trumpeter Jakob Helling. We premiered in November 2022 and will be releasing the videos from that concert in the next few months. I'm also writing new music that I hope to record in the near future.
Is there something you would like to say, that I didn't cover?
I really want to thank the musicians who participated in the recording and brought my music to life. Without them, it wouldn't have turned out the way it is now. And of course to all the other people who have helped me in so many ways along the way and without whom this CD would never have been recorded.
Reader insights
Be the first to share your insights about this piece.
Add your insights