A captivating interview with TAIN aka MainTain Beat$
ARTISTIC & INNOVATIVE, flamboyant , multi-genre, current, trend setting, always out of the box ... TAIN.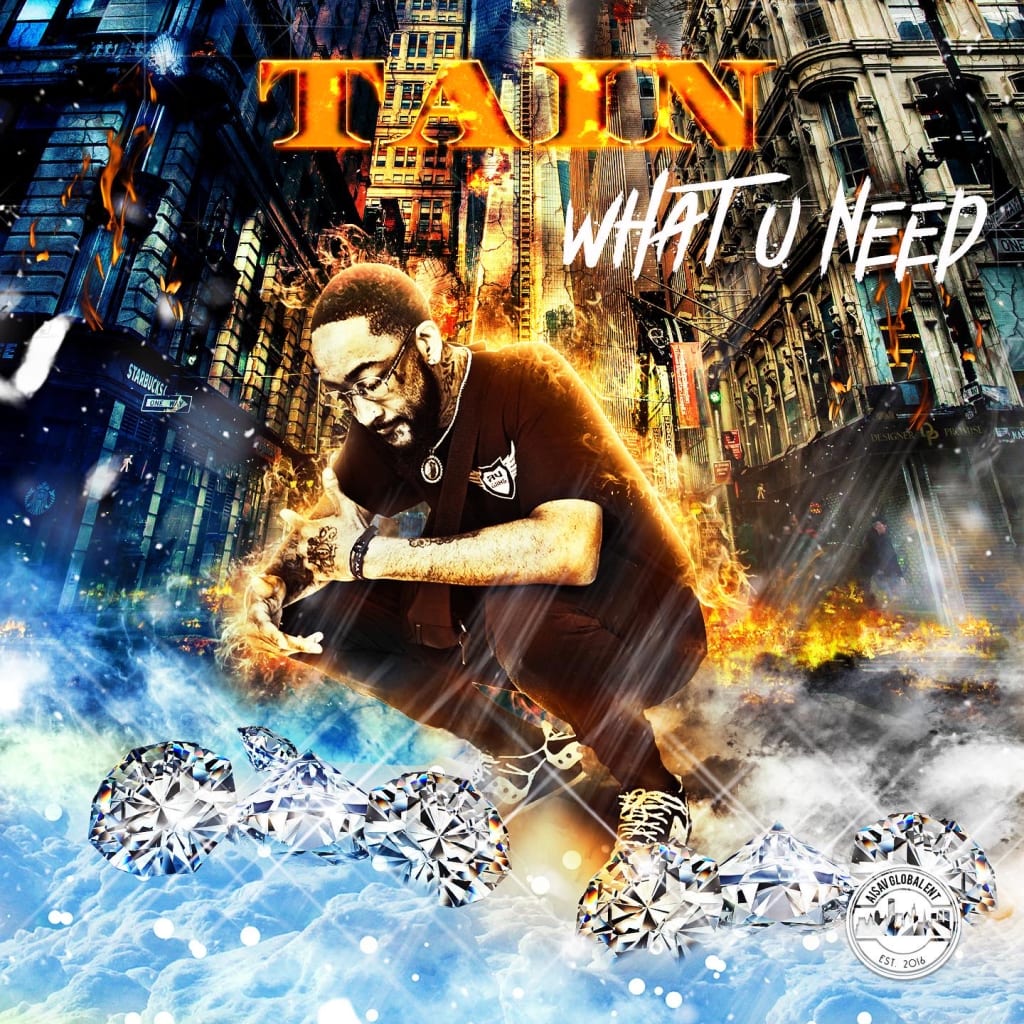 According to his bio, TAIN first came on the music scene as a hip-hop artist in 2007. While living in Virginia, he began exploring his talents with music and wordplay. He joined a group called The Rich City Screw and performed in places all throughout Richmond.

"I remember the first show I did with them was at a restaurant and all the people there loved it," he said. "after that I knew it was my calling. Shortly after that I did an underground song called 'pull up to the club.' I knew the song was dope, but I didn't realize how much people liked it until I did a small show with about 50-to-60 people and they all knew the words. From that moment on I knew this was something I'm supposed to do."

What U Need is TAIN's most recent song release now available on all music platforms. TAIN took the time to answer our questions.
Q: Tell us a little bit about yourself. Do you come from a musical family? Your (music) background?
No, but I come from a family of hard dedicated workers. My mom has been a nurse for 20+ years and my father an asbestos worker for 20+ years, so just a family of hard workers.
Q: May I ask how you arrived at your artist's name? Give us the scoop.
Well, when I first started, my name was MainTain to go with my production name MainTainBeat$ but I took the main off because I didn't want to be looked at as Maintaining. I want to be looked at as an elevator and one of the greatest.
Q: Are you signed to a label, or would you like to be?
I'm signed to my own label, ThaAvGlobal Ent. I rather own my masters rather than somebody else own them. It might take a little longer... taking the stairs rather than the elevator but it will be worth it.
Too much gets put into being signed. Yeah, a machine behind you helps a lot and the title, that's not what I do music for.
Q: Do you write your own music, or do you collaborate?
I write 100% all of my music and make most of my production or my team and I "The Emmakulates" get the job done but I paint 100% of my pictures with my brush and my paint.
Q: Tell us about your new single, " What U Need".
Well, What U Need came along while I was working on beats with my bro Makk. He kept pressing me about doing something with it. I'm talking really on my top about the sample and, at the time, I was waiting for something that I could have as a comeback punch because I took some time off raising my kids and being a father and put music to the side but it kept, and keeps, calling me with the motivational pushes from my bro Makk.
I made the beat and truly felt it was time for a comeback but with an undeniable vengeance.
Q: Do you have any other plans relating to this release? A video?
Yes, the What U Need animation video will drop in the beginning of April. I can't wait for you guys to see that!
Q: Do you write and release or do you plan each release? Any plans for an EP or album?
Yes, every move is done strategically. You have to play chess and always try to stay 10 steps ahead. I have an EP releasing at the end of the year but until then I will be flooding the music scene with videos singles and shows.
Q: Has your musical journey had a deliberate direction, or did it simply evolve in whatever direction it found?
Like I was saying earlier, my journey has been crazy, especially with Covid. My journey has been delayed by just trying to live regular and provide for my family, in these hard times, to the point where I couldn't afford to pay for, or do anything with music. Kids don't ask to be here and I can't allow my kids to grow up how I had to. My son played a big part, as well, telling me I need to get back to it and pushing me to, so now I'm here making it count.
Q What is the best song you ever released and why?
I think it has to be What U Need. I stopped producing a lot of my music but started back doing it and it gave me the drive and the push I needed and put me back on the mount to make other plays and I'm from VA so Missy being sampled is only right.
Q: Do you create for yourself or for a fanbase?
For both. It's how I feel and I know there's so many that can relate and will relate. Music is my life and I know that it's others that don't even do music that has the same love and passion so I just wanna give them what they need.
Q: Which of your songs do fans seem to favor?
I have a song called "SummerFine" and "Love me Not" which I will be releasing a video for both later on this year.
Q: Do you, or would you like to, perform live?
Would love to but Covid has really put a dent in that so I try to do as much as I possibly can while being safe.
Q: Which of your songs is, or do you think would be, fun to perform live?
What U Need, the beat is crazy and I know my performance would even be crazy especially doing it with Missy in the near future.
Q: Share a funny moment or positive experience that has happened during your career.
Well, years back, I was with a group in Richmond VA called "Rich City Screw". I dropped this song and flooded MySpace with it, lol. MySpace. We had a show with other Richmond acts and when I performed the song the whole crowd knew the hook and was saying the hook for me. It really it blew my mind but was a sign to me that this is what I'm suppose to be doing and I keep getting called back to it.
Q: Who inspires you musically?
My kids and the people who count on me to make it on the same path as me, in the same car as me, you feel me. They need me to make it as bad as I need to and waking up not being in the spot, I want to be in, just motivates me to go harder.
Q: What's more important to you fame, or credibility?
Both. Getting the credit being great at what you do and getting recognition and the credit you deserve is as important.
Q: If one artist were to perform at your party, who would get the call?
Me, everybody else I would call to perform are no longer with us (Pac Big Nip)
Q: Other than fame & fortune, is there something you hope to achieve through music?
I want and going to be considered one of the greatest to do it in rap and production wise. I wanna and will be mentioned with Kanye, Dr Dre, Diddy, Teddy Riley and Timberlands of music.
Q: What is your favorite/best outlet to connect with your followers Instagram, Spotify, FB, Twitter, iTunes? How would you want them to follow?
All the social media platforms but Instagram definitely. Just hit me up. I will def reply and show love, listen and support when I can.
Q: Did I forget to ask something? Something you would like to say, that I did not address.
www.ThaAvGlobalEnt.com get familiar we coming! What U Need out now music video April 11th.
interview
About the author
Music Fan plus Talented Musicians and Artist equals mySoundmusic