8EEZ Playlist: Pet Shop Boys
A UK Synthpop/Dance Duo with a Big Secret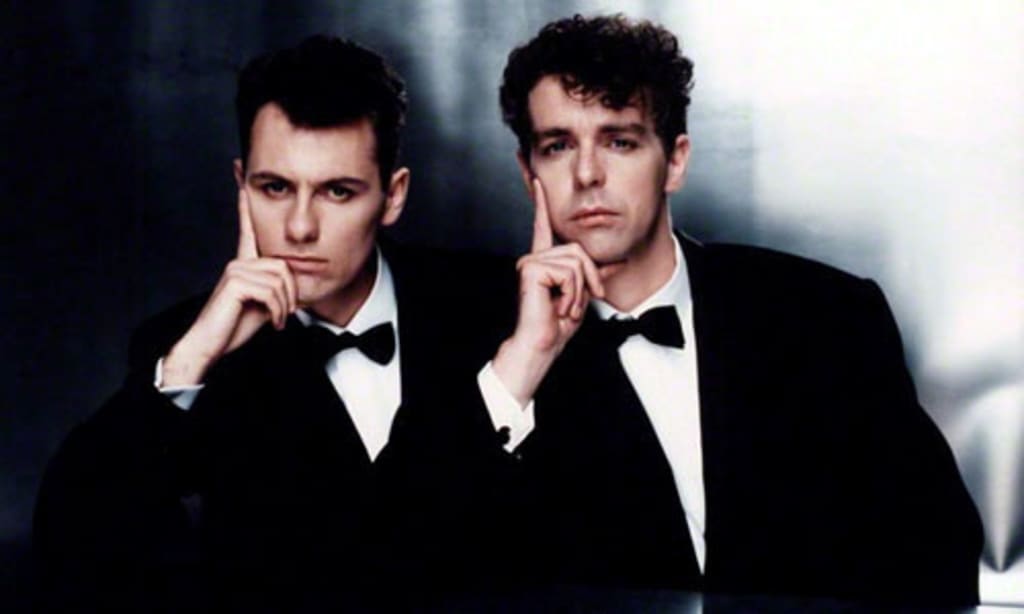 Hello, one in all in Boogie Wonderland.
Another request from my friend Calvin "Oates" Cherry is to cast the spotlight on one of the most influential new wave/dance/pop duos to come out of the UK. Neil Tennant, vocals/keyboards/guitar, and Chris Lowe, vocals/keyboards, both formed in London and derived their name from a few friends that worked at a pet shop near the borough of Ealing.
They formed in 1981 — Tennant himself toiled as a music critic and journalist, but his taste for musical genres, particularly in the realm of dance/disco kept him pursuing his true passion: playing and writing music. Along with Lowe, they spent the better part of three years honing their craft, writing, producing, and cutting dance/beat-driven music that reflected the urban underground, both in the UK and the States.
1986 would be their breakout year. Their album Please was released to little fanfare, but their first single, "West End Girls", made its way atop the Billboard Hot 100 as well as the dance/disco chart. "Opportunities", their follow-up single, would also crack the top ten, but had a far edgier sound than its hip hop inspired debut.
Actually would be released a year later. "It's a Sin" was the first single and a smash, despite causing controversy over its perceived anti-religious lyrics. The song itself was actually delineating Tennant's sexual orientation (he's gay) and the abuse and flack he endured hiding it. "What Have I Done to Deserve This" cushioned the blow later, as it was a breezy, dancey track that served as a "tri-et" with 60s pop diva Dusty Springfield. A synthy new wave cover of Willie Nelson's country ballad "Always On My Mind" would go top five, and they would produce for artists as diverse as Boy George and (gasp) Liza Minnelli.
Here's the list by my buddy Oates.
Cherry's Picks:
5. "Paninaro" (1995)
Originally released in 1986 as a B-side to their hit "Suburbia" (see my list), it went through a remix makeover in '95 and gained even more popularity. The song alludes to an Italian subculture known mostly to their youth who congregate in restaurants, as well as their choice in couture.
4. "How Can You Expect to Be Taken Seriously" (1991)
A thumping club jam reported to be about the lead singer of the group Transvision Vamp. Not a very big hit for the Boys, unfortunately.
3. "West End Girls" (1986)
Their first hit and their only Number 1 here in the States. While rap music artists were becoming a more present force on the charts, it was this song that may have been the first official rap song to go to Number 1.
2. "What Have I Done to Deserve This?" w/ Dusty Springfield (1988)
Poppy, infectious, danceable gem that had the added bonus of being a collaborative effort with 60s iconic singer Dusty Springfield. Went to Number 2 on the pop charts, the highest chart hit they had since "West End Girls" while not going to the top.
1. "Domino Dancing" (1988)
A Latin-flavored, freestyle dance cut produced by Lewis Martinee of Expose fame. A terrific track that didn't quite make my top five, but it's in my top ten.
My List:
5. "Suburbia" (1986)
Dance-y new wave track about life in Los Angeles, based on a 1984 documentary, directed by Penelope Spheeris; oddly the one who directed the comedy Wayne's World (1992).
4. "It's a Sin" (1987)
Autobiographical dance/rock hit that uses religious doom-and-gloom sound effects and even catechisms to great effect. Never dawned what the song was about until I read about Tennant's "coming out" story. Being gay myself, it seemed (and still does) to strike a strong chord with me.
3. "West End Girls" (1986)
The disco-vibe with the rap/hip hop sensibilities are what makes this song memorable. Blondie's "Rapture" seems to be the main inspiration — at least, to me.
2. "Opportunities (Let's Make Lots of Money)" (1986)
An edgier industrial dance/rock/new wave that was a far cry from their debut smash hit, but I loved every minute of it, and it's still a staple in my 80s playlist today. Also, had more than at least one video on MTV rotation.
And...in brief,
1. "What Have I Done to Deserve This?" w/ Dusty Springfield (1988)
The ONE PSB song that manages to be listened to by me more than any other. "How am I gonna get through?" was a question I often asked myself all throughout life. That may be why it resonates to this day. Dusty Springfield added the cherry on this musical sundae. End of story.
All's well that ends well. Next up? It's a band that had the record for the longest week a song DIDN'T go to Number 1!