Playlists
8EEZ Playlist: Duran Duran
More than Just a Pretty Boy Band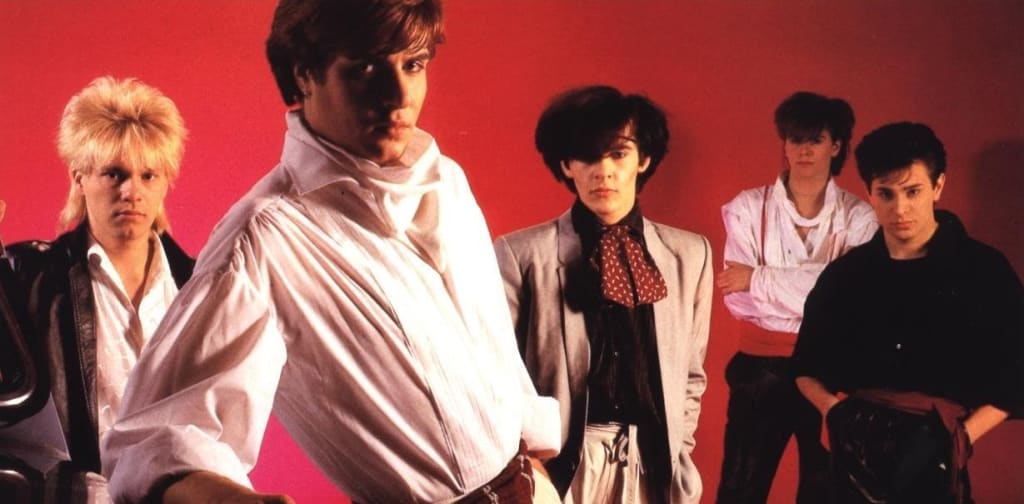 Hello, music lovers of the world!
Another spotlight by me and my best bud, Oates, is on a popular music act from the 1980s UK invasion. They were a five-man band out of Birmingham, England (the line-up has changed since) who mixed it up with glam, punk, new wave, disco, rock and yes, even hip hop, and haven't flinched ever since!
Named after a character in the space-age sex odyssey Barbarella, starring Jane Fonda, the original lineup as follows: Lead singer, Simon Le Bon. Keyboardist, Nick Rhodes. Bass guitarist, John Taylor. Drummer, Roger Taylor and their then-main guitarist, Andy Taylor. All at one point, billed as the Fab Five, alluding to their popularity being similar to the Beatles. Also, matching the initial 'four' in their pin-up good looks and sheer sex appeal that made girls swoon (and I'm sure, many guys too). As a band, they also took the music video format and turned it on its ear with some of the most eye-popping, energetic, even sexually-provocative; let's not forget, super-deluxe-expensive videos, ever. By the time the 80s drew to a close, they were THE most successful UK band of the 1980s.
The band members have all had side music projects to various degrees of success, but two members dropped out and they became a trio for a spell; their followup albums all have sold well, but their success waned into the early 90s. But, in 1993, with new guitarist Warren Cuccurullo, they had a comeback hit with "Ordinary World." In 1995, they even experimented with hip hop; doing a cover of Grandmaster Flash's seminal anti-cocaine ode, "White Lines," along with singer Melle Mel.
As of now, they're a four-member band with the original line-up, sans Andy Taylor. Another fun little fact: NONE of the Taylors are related, therefore—NOT a family music act!
My buddy Oates has the first list.
Cherry's Picks
5. Reach Up For The Sunrise (2004)
A throwback dancey new wave/rock hit finding the Durans sounding as great as they did back in the 80s—and featured the original five-man group lineup.
4. Ordinary World (1993)
Their comeback hit; a slow rock ballad with more emphasis on acoustic instrumentation than their usual high-gloss production. Went all the way up the Number 3 on the Billboard Hot 100, and would be their final top-10 hit.
3. Save a Prayer (1982)
This synthey new wave ballad was the followup to their debut smash, "Hungry Like the Wolf" in the UK, but, the song didn't chart until 1985; still, it would be a top-20 hit.
2. A View to a Kill (1985)
Their second US Number 1, and so far, the ONLY theme to a James Bond thriller to ever reach the pole position.
1. New Moon On Monday (1984)
Off their seminal Seven and the Ragged Tiger album (1983), this post-disco/new wave jam would be the group's second release off that album. It would take two more to land the group their first Number 1 here in the states. See my list for details.
My Picks
5. Union of the Snake (1983)
The third single off the Seven and the Ragged Tiger album had the same post-disco grooves as "New Moon." Credit goes to Chic founder and mega-producer Nile Rodgers who would boost Madonna's and David Bowie's careers.
4. The Wild Boys (1984)
Pulse-pounding rock/dance/new wave track was the only recorded track for their live album Arena and was, at the time, the MOST expensive music video shot to date (Michael and Janet Jackson's 1995 video for their duet, "Scream," would still be the record holder). Directed by "Highlander" auteur, Russell Mulcahy, and featuring an arsenal of visual effects, elaborate sets, dancers, and even a windmill that nearly ended Le Bon's life when he was strapped to it. The title and content were lifted from a 1971 William S. Burroughs novel.
3. Is There Something I Should Know? (1983)
This is a "just because" for me. Catchy, danceable new wave cut has been a playlist staple of mine since I first heard it. Top-5 hit in the late-summer of 1983.
2. Girls on Film (1981)
This was their first real hit, despite "Hungry Like the Wolf" being the first official US hit. This rock/dance/romantic song officiated the group in their homeland, but got many eyebrows raised when their randy, controversial, partial-nudity-ladened music video premiered, got heavy rotation and helped to cement the group's popularity here in the states.
And... for no other reason than I just felt like it!
1. The Reflex (1984)
Their first Number 1 stateside and the last off the Seven and the Ragged Tiger, pulling the same feat that Daryl Hall & John Oates Voices did where the last hit song went to the top. The remix is the final cut heard on radio. The equally popular video finds the Duran boys in concert entertaining quite the crowd with Jumbo-Tron imagery of S&M playing ad nauseum. A toe-tapping, hip-swaying, dancey/rock tune that keeps on giving. Question that I've always had—WHY is the reflex a lonely child waiting in the park. Love this song, despite the cryptic, almost non-sensical lyrics.
So far, this is the first mismatched list we've ever had! All songs aren't the same! Therefore, we've all given you, dear reader... an official PLAYLIST! (cheers, confetti, trumpet fanfare, etc. etc.)
Thank you and good night. Next up? A trailblazing duo born in a pet shop.