5 Black, Female Artists You Haven't Heard Of (Yet)
Add these to your February playlist.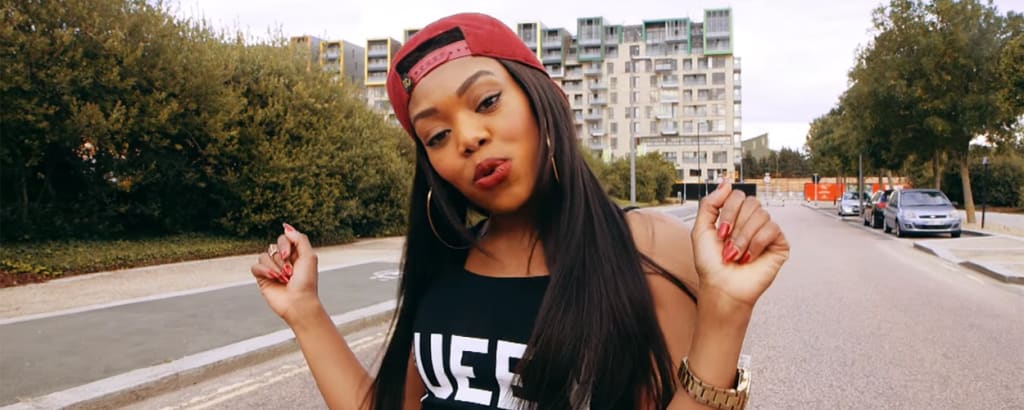 Lady Leshurr in Queen's Speech
2020 saw the Black Lives Matter movement literally shake the world.
It was smack bang on the news, ruffling feathers on the internet, coming out your best mate's mouth, spread across your newspapers, acted on in the streets: it was everywhere. You'd have to be on a desert island to have missed BLM.
In their battle against police brutality and racially motivated violence, an estimated 26 million Americans took part in BLM protests, making it officially one of the largest movements in the country's history.
Furthermore and with good timing, 2020 also celebrated the 10th anniversary of the United Nation's Women's Empowerment Principles, an ambitious set of principles set up to help women become successful in business and to encourage more gender-equal workplaces the world over.
With these principles in place many countries have strived to improve the workplace for women and for ranging ethnicities too. From here on in 2021, we have started to see the green shoots of equality starting to rise up out of the ground. Perhaps for the first time, both black and female talent is being recognized for its strong contribution to everyday society and people's lives around the world.
One area of the workplace however is still evolving and changing.
The music industry, notoriously and for years past, has often dealt black women a bad hand. A recent study by the BBC found that many live music venues refused to cater to black music or 'urban' music as they called it, due to prejudiced views about safety. Without the ability to perform live, it can be tough for a musician to create a following and pave their way into making a career at all. The music business has never been easy but if you're black and female, it can feel like the odds are against you in a very male dominated, white world.
Times however, are starting to change for the better. 2017 saw hip-hop became the most popular genre of music in America. Music streaming sales are predicted to hit $131 billion by 2030, with black music dominating much of the sales. Black talent such as Drake, Kendrick Lamar and The Weeknd are said to be fueling much of the rise.
The UK where I live, much like the US, has started to take black music very seriously. London in particular is well known for being the birthplace of grime music, a complicated but fantastic fusion of hip-hop, dancehall and garage born out of the streets of the south-east. Dizzee Rascal, Stormzy and Wiley, all award winning, black musicians have made grime a household name.
But what of the black women making music?
There are plenty. You just don't know it yet.
In celebration of the contributions they have made to popular music, here are 5 black, female artists you haven't heard of (yet). Have your Spotify at the ready for these gamechangers.
Lady Leshurr
Sounds a bit like: Missy Elliott, Lil Wayne, Eminem
If you've worked in any British school these past few years, it's quite possible you've heard Lady Leshurr being hummed or rather enthusiastically rapped in the corridors. The multi-talented rapper, singer and songwriter from Birmingham wowed young people everywhere with her catchy, sometimes hilariously catty approach to relationships and everyday life as a British teenager, backed up with impressive one-take videos of her strutting (sometimes literally) through the middle of the street. In one video she even rides a camel along a main road and holds up very confused traffic. It sounds crazy but Lady Leshurr has no problem in pulling it off to make it an all round suave affair.
It's no doubt that her hugely popular Queen's Speech series earned her a whopping 1.8 million subscribers on YouTube and Spin's award "2015's crowning freestyle". I royally encourage you to listen.
Song To Check Out Now: Queen's Speech 4
Songs For Your Playlist:
Queen's Speech 5
Queen's Speech 6
D.I.V
TeaMarrr
Sounds a bit like: Lorde, Billie Eilish, Big Maybelle
With her silver hair and teacups, TeaMarrr is as instantly recognizable as she is a gifted musician. Never have I witnessed a musician so casually sipping tea on stage from an elegant teacup as I have with TeaMarrr, never ever would I consider it to be cool, but hell she makes it cool.
Already earning herself upwards of 4 million hits on YouTube, the Haitian-American has an otherworldly presence, successfully combining the three genres of pop, R&B, and hip-hop together to create an almost ethereal sound to complement her celestial style.
Her lyrics are no doubt well loved because they are relatable, brazen and at times cheeky, easy enough to relax to at home or on the commute, but still more than welcome at anyone's party.
Song To Check Out Now: Chasing Amy
Songs For Your Playlist:
One Job
Kinda Love
Tick (feat. SiR)
Jorja Smith
Sounds a bit like: Amy Winehouse, Sam Smith, Alicia Keys
Perhaps not so widely known to the rest of the world, in the UK at least Jorja Smith is something of a rising star. As young as eight years old she was fluent at the piano and oboe, quickly earning herself a music scholarship at the prestigious Aldridge School in England. It probably comes as no surprise to many that Jorja's career as a musician took off with lightning speed: within two years of releasing her debut album, she won the Brit Critics' Choice Award and was also nominated for the Grammy Award for Best New Artist. If you're not jealous by now, there's something wrong with you...
Jorja's sound is a subtle mix of modern jazz, thoughtful soul and electronica, easy enough to listen to on a sunny afternoon in the garden with friends. She's exceptionally smooth and sophisticated - again I'm super jealous - it's no wonder the likes of Drake and Stormzy want to work with her.
Song To Check Out Now: By Any Means
Songs For Your Playlist:
Come Over (feat. Popcaan)
The One
ChloexHalle
Sounds a bit like: Aaliyah, Missy Elliott, Grimes
Chloe and Halle Bailey are probably the most fortunate sisters in the world. Not only are they beautiful alongside being gifted at both singing and acting, they happened to be talent-spotted by Beyoncé herself after a YouTube video of them went viral. Queen Bey was all too proud to become their official mentor and signed them to her own label. With her help the duo produced two albums within two years.
From Atlanta, Georgia, the talented sisters cite themselves as self-taught musicians who write and arrange all of their songs in their home studio. Their music is fresh a take on R&B with strong but harmonious beats; I rather like listening to it when I'm getting ready in the morning. I'm looking forward to seeing what 2021 holds for these two - look out for Halle as Ariel in The Little Mermaid.
Song To Check Out Now: Do It
Songs For Your Playlist:
Forgive Me
Ungodly Hour
Busy Boy
VanJess
Another sister duo, Ivana and Jessica Nwokike began their musical career on YouTube with performing cover songs. Their cover of Drake's Headlines launched them into stardom when it went viral, and they were quickly teamed up with a manager and a recording studio.
Their YouTube account has come a long way from their humble beginnings of school talent shows and cover songs; their more recent content is suitably looking more to be a plethora of beautifully shot music videos and boasting over 24,500,000 views.
Whilst both sisters were born in the US, they spent much of their childhood in Nigeria before moving to California in their early teens. Their music carefully splices together warm influences from their time spent in both America and Nigeria with some subtle influences that remind of Janet Jackson in her hey-day. If you're looking for feel-good R&B with a hint of 90's nostalgia to brighten your February, then look no further.
Sounds a bit like: Lauryn Hill, Janet Jackson
Song To Check Out Now: Addicted
Songs For Your Playlist:
Through Enough ft GoldLink
Touch The Floor ft Masego
Adore