20 Most Influential Musicians of All-Time
The ones that others aspire to be...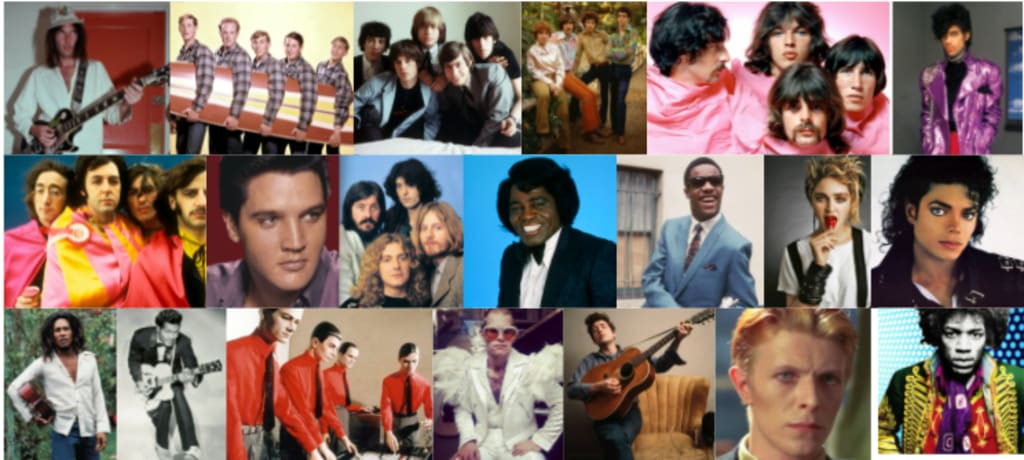 I compiled this list using four sources. I used the most recent 'Most Influential Musicians' lists published by Rolling Stone Magazine and The Dig. I also used the All-Time best selling artists list on wikipedia and awarded points to the 40 best selling musicians. Last I used a list compiled from AllMusic showing the musicians that have the most musicians listed as 'Followers.'
From each of these four sources I devised a point system then added all the points together and came up with this list.
Before we move on to the Top 20 here is s list of a few that just missed the 20 Most Influential: Johnny Cash, The Clash, Miles Davis, Aretha Franklin, Marvin Gaye, Kinks, Joni Mitchell, Nirvana, The Who, Frank Zappa (I would argue that some of these belong in the Top 20 - but this is the way the numbers added up).
20. Elton John
Known For: Flamboyant fashion, over-sized or crazy colorful eye glasses. Piano player. Sold more than 300 million records making him one of the best selling musicians of all-time.
Nicknames/Other Names: Reginald Kenneth Dwight, The Pinball Wizard, Rocket Man, Sharon, Reggie, Sir Elton
Famous Songs: "Daniel," "Your Song," "Rocket Man," "Don't Let The Sun Go Down On Me," "Bennie and the Jets," "Philadelphia Freedom, I Guess That's Why They Call It The Blues, his 1997 re-recording of "Candle in the Wind" in tribute to the untimely passing of Princess Diana, and way too many more to list.
19. Chuck Berry
Known For: Early pioneer of rock and roll. Recognizable guitar style. Rockabilly guitar. Clever lyrics.
Nicknames: Father of Rock and Roll, The Prime Minister of Rock 'N Roll
Famous Songs: "Maybellene," "Roll Over Beethoven," "Too Much Monkey Business," "Rock and Roll Music," "Sweet Little Sixteen," "Johnny B. Goode."
18. Prince
Known For: The color Purple. Multi-instrumentalist that would often play every instrument on his albums as well as write all the songs and produce the entire project. His flamboyant, androgynous persona and wide vocal range, which included a far-reaching falsetto and high-pitched screams.
Famous Songs: Purple Rain, When Doves Cry, Little Red Corvette, Raspberry Beret, I Would Die 4 U, 1999, Delirious, I Wanna Be Your Lover, Let's Go Crazy, Take Me With U, Kiss, Paisley Park...
Other Names: The Artists (Formerly Known as Prince) (TAFKAP), Camille, Joey Coco, The Kid, Alexander Nevermind, Jamie Starr, Tora Tora, Christopher Tracy, His Royal Badness, one of his most famous names was a symbol, often referred to as the Love Symbol.
17. Bob Marley
Known For: Bringing reggae to the forefront of the music scene. A pioneer of Reggae music. He was the first Jamaican artist to achieve international superstardom. His distinctive vocal style. Infusing spirituality into his music. Increasing visibilty of the Jamaican culture. Dreadlocks.
Famous songs: "Three Little Birds," "I Shot the Sheriff," "Stir It Up," "Get Up, Stand Up," "No Woman, No Cry," "Roots, Rock, Reggae," "Exodus," "Jamming," "Is This Love," "Could You Be Loved Buffalo Soldier," "One Love"
Other Names: Tuff Gong, Donald Marley
16. Kraftwerk
Known For: being innovators and pioneers of electronic music. They developed a synthpop style that went on to influence many in the late 1970s and into the 1980s and onward. They have had a huge influence on today's Electronic Dance Music (EDM). Their music is often referred to as robot pop. They have influenced a diverse range of artists spanning several genres including synth-pop, hip hop, post-punk, techno, house music, ambient, and club music. In 2021, Kraftwerk was inducted into the Rock & Roll Hall of Fame in the early influence category. Journalist Neil McCormick wrote for NME that The Beatles and Kraftwerk are the two most important bands in music history.
Famous Songs: "The Robots," "Autobahn," " Neon Lights," "The Model," "Radioactivity," "Trans Europe Express," "Pocket Calculator," "Computer Love," "Musique Non-Stop," "Tour de France"
15. Neil Young
Known For: His classic mega-hit "Heart of Gold" from his enduring classic album Harvest. Many critically acclaimed albums including: Everybody Knows This is Nowhere, After the Gold Rush, Harvest, On The Beach, Rust Never Sleeps, Old Ways, Freedom, Ragged Glory, Harvest Moon, Mirror Ball, Homegrown. Young is considered one of the greatest songwriters of all-time. Has been inducted into the Canadian Music Hall of Fame and the Rock & Roll Hall of Fame. Known for his guitar work, deeply personal lyrics and signature high tenor singing voice.
Nicknames: Godfather of Grunge, Don Grungio, Shakey
Famous Songs: "Mr. Soul," "Broken Arrow," "Cinnamon Girl, "After the Gold Rush," "Only Love Can Break Your Heart," "Southern Man," "Heart of Gold," "Are You Ready For The Country," "Old Man," "Alabama," "The Needle and the Damage Done," "Cortez the Killer," "Long May You Run," "Like A Hurricane," "Comes A Time," "Lotta Love," "Powderfinger," "Little Thing Called Love," "Get Back To The Country," "This Note's For You,"'Rockin' in the Free World," "Let's Impeach the President," "Living With War
14. James Brown
Known For: Being a main originator of funk music. His unique vocal screams, shouts, and grunts. His energetic live performances. A trademark feature of Brown's stage shows, involved him dropping to his knees and clutching the microphone stand in his hands, prompting the show's longtime MC, Danny Ray, to come out, drape a cape over Brown's shoulders and escort him off the stage. Brown's backup singers continued TV.
Nicknames: Godfather of Soul, Mr. Dynamite, Soul Brother No. 1
Famous Songs: Papa's Got A Brand New Bag," "I Got You (I Feel Good)," "It's A Man's, Man's, Man's World," "Cold Sweat," "Say It Loud - I'm Black and I'm Proud," "Living in America"
13. Stevie Wonder
Known For: Being a child prodigy. Playing harmonica. In 1963, at the age of 13, his song "Fingertips" reached #1 on Billboard's Hot 100 Singles chart, making him the youngest artist ever to top the chart. His albums Innervisions (1973), Fulfillingness' First Finale (1974) and Songs in the Key of Life (1976) each won the Grammy Award for Album of the Year. He has sold more than 100 million records. He's won 25 Grammy Awards, the most by a solo artist. He helped shape soul and R&B music into the 1970s album era.
Other Names: Stevland Hardaway Morris, Stevland Hardaway Judkins, Eivets Rednow, Little Stevie Wonder, Nappy Wonder
Famous Songs: "Fingertips," "Uptight (Everything's Alright)," "For Once In My Life," " My Cherie Amour," "Signed, Sealed, Delivered, I'm Yours," "Superstition," "You Are The Sunshine of My Life," "Higher Ground," "You Haven't Done Nothing," "Boogie On Reggae Woman," "I Wish," "Isn't She Lovely," "Love's In Need Of Love Today," "Master Blaster (Jammin')," "I Just Called To Say I Love You," and many more.
12. Madonna
Known For: Regularly reinventing herself. Pushing the boundaries of artistic expression in mainstream music. Saavy businesswoman. Maintaining control of her career. Generating controversy with risque fashions, her music video, and song lyrics. Has sold more than 300 million records worldwide
Other Names/Nicknames: Queen of Pop, Esther, M, Maddy, Madge, Mo, Nonnie, Queen of Reinvention, The Material Girl
Famous Songs: "Like A Virgin," "Like A Prayer," "Material Girl," "Crazy For You," "Papa Don't Preach," "Vogue," "This Used To Be My Playground," "Ray of Light," "Music"
11. Velvet Underground
Known For: Lou Reed. Dark and provocative lyrics. Early influencer of punk rock, new wave, and alternative rock. many musicians have covered The Velvet underground songs including Glen Campbell, Morrissey, U2, David Bowie, Cowboy Junkies, Joy Division, Nirvana, REM.
Famous Songs: "Femme Fatale," "I'm Waiting For The Man," "Heroin," "White Light, White Heat," "Candy Says," "Sweet Jane," "Pale Blue Eyes," "Rock and Roll," "Sister Ray"
10. Beach Boys
Known For: Vocal harmonies. Youthful themed lyrics. Early originator of the California sound. Their album Pet Sounds. Brian Wilson. Sold more than 100 million albums. Inducted into the Rock and Roll Hall of Fame in 1988.
Famous Songs: "Surfin' USA," "Surfer Girl," "Fun, Fun, Fun," "I Get Around," "Help Me Rhonda," "California Girls," " Barbara Ann," "Good Vibrations," "Kokomo"
9. Michael Jackson
Known For: Thriller. The Moonwalk. One white glove. The Jackson 5. plastic surgery. High pitched voice. Four octave range. Perfect pitch. Most awarded music artist in history. Married to Elvis Presley's daughter, Lisa Marie Presley 1994-1996.
Nicknames/Other Names: The King of Pop, John Jay Smith, MJ, Michael Joe Jackson, The Gloved One, Applehead, Mike, Uncle Doo Doo, Space Michael
Famous Songs: "Ben," "Don't Stop 'Til You Get Enough," "Rock With You," "Thriller," "Billie Jean," "Beat It," "Bad," "The Way You Make Me Feel," "Man in the Mirror," "Black Or White"
8. Pink Floyd
Known For: The Wall - the album and the film. The Dark Side of the Moon has been on Billboard's Top 200 Albums chart for 963 weeks which by far is the record for the most weeks on that chart and is also one of the world's best selling albums with 45 million copies sold. One of the first psychedelic rock groups. Has sold more than 250 million records worldwide, making them one of the best-selling music artists of all time.
Nicknames/Other Names: Floyd, PF, Sigma 6, The Abdabs, The Megadeaths, The Tea Set, The Pink Floyd Sound
Famous Songs: "See Emily Play," " One Of These Days," "Us and Them," "Money," "Brain Damage," "Have A Cigar," "Shine On You Crazy Diamond," " Wish You Were Here," "Dogs," "Another Brick In The Wall (Part 2)," " Hey You," "Comfortably Numb," "Learning To Fly," "On The Turning Away," "Take It Back
7. Rolling Stones
Known For: Mick Jagger, Keith Richards, "Miss You" paved the way for other rock musicians such as Rod Stewart ("Do Ya Think I'm Sexy") and Kiss ("I Was Made For Lovin' You"), to record disco influenced rock songs. They have sold more than 240 million records worldwide. One of the most enduring bands of all-time with their first release in 1963 and most recent in 2021.
Other Names: The Rollin' Stones,The Glimmer Twins, The Stones, Dirty Mac, The Kings of The City
Famous Songs: "I Can't Get No Satisfaction," "Get Off Of My Cloud," "Paint it Black," "Ruby Tuesday," "Jumpin' Jack Flash," "Honky Tonk Women," Brown Sugar," "Angie," "Miss You"
6. David Bowie
Known For: Reinventing himself, The Berlin Trilogy, Tony Visconti, Iggy Pop, Brian Eno, Lou Reed, Tin Machine, Labyrinth, More than 100 million records sold worldwide
Nicknames/Other Names: David Robert Jones, David Jones, Davie Jones, Major Tom, The Thin White Duke, Ziggy Stardust, The Starman, Aladdin Sane, The Picasso of Pop, The Master of Reinvention, The Chameleon of Pop, The Man of a 1000 Faces
Famous Songs: "Space Oddity," "Young Americans," "Changes," "Fame," "Golden Years," "Heroes," "Fashion," "Let's Dance," "China Girl," "Blue Jean"
5. Jimi Hendrix
Known For: Innovative guitar work, The Jimi Hendrix Experience, Band of Gypsys, Are You Experienced, Axis: Bold As Love, Electric Ladyland, The 27 Club
Other Names: Johnny Allen Hendrix, James Marshall Hendrix, Jimmy James, Buster, Young Jimmy, The Bat
Famous Songs: "Are You Experienced," "Purple Haze," "The Wind Cries Mary," "Little Wing," "Foxy Lady," "Fire," "Castles Made Of Sand," "Bold As Love," "Crosstown Traffic," "Voodoo Chile"
4. Elvis Presley
Known For: Tupelo, Mississippi. 500 million records sold worldwide. Best-selling solo music artist of all-time. gyrating hips. A pioneer of rockabilly. Sun Records, Sam Phillips, RCA Victor. The Jordinaires. Colonel Tom Parker. Aloha From Hawaii. Graceland. Most gold and platinum certified album by RIAA. Most charted albums in the US. Most #1 albums by a solo artist in the UK. Most #1 by any act in the UK.
Nicknames: The King, The King of Rock and Roll, Elvis the Pelvis, Fire Eyes, Big E, Tiger Elvis, Alan, Memphis Flash, Tupelo Tornado, Tigerman, King of Hillbilly, Jon Burrows, Mr. Sideburns, The Hillbilly Cat, The Cool Cat, The King of Western Bop, Mr. Hound Dog, The Vibrating Valentino, Ol Snake Hips, The Tennessee Troubador, E, EP
Famous Songs: "Heartbreak Hotel," "Don't Be Cruel," "Hound Dog," "Blue Suede Shoes," "Love Me Tender," "All Shook Up," "Jailhouse Rock," "It's Now Or Never," "Are You Lonesome Tonight," "Little Sister," "Return To Sender," "Can't Help Falling In Love," "Suspicious Minds," "Burning Love," "Way Down"
3. Bob Dylan
Known For: Regarded as one of the greatest songwriters off all-time. Poetry. Philosophy. Raspy singing voice. Folk music. Sold more than 125 million reçords. Recipient of 10 Grammy Awards. Received the Nobel Prize in Literature.
Other Names/Nicknames: Robert Allen Zimmerman, Shabtai Zisel ben Avraham (Hebrew name), Elston Gunnn, Blind Boy Grunt, Bob Landy, Robert Milkwood Thomas, Tedham Porterhouse, Lucky Wilbury, Boo Wilbury, Jack Frost, Sergei Petrov, Zimmy
Famous Songs: "Blowin' in the Wind," "The Times They Are A Changin'," "Mr. Tambourine Man," "All I Really Want To Do," "Like A Rolling Stone," "Positively 4th Street," "Rainy Day Women #12 and 35," "Just Like A Woman," "All Along The Watchtower," "Lay Lady Lay," "If Not For You," "Knockin' On Heaven's Door," "It Ain't Me Babe," "Tangled Up In Blue," "Hurricane," "Mozambique," "
2. Led Zeppelin
Known For: An originator of hard rock and heavy metal. Impacted the development of album oriented rock (AOR) and stadium rock. Robert Plant, Jimmy Page, John Bonham, and John Paul Jones. Up to 300 million records sold. Led Zeppelin IV. Five albums certified Diamond in the US. Best selling band of the 1970s in the US and worldwide. The Rock and Roll Hall of Fame states that Led Zeppelin was as influential in the 1970s as the Beatles were in the 1960s.
Nicknames: Zeppelin, Zep, LZ, Led Zep, Led Z, The Zep, Architects of Rock, Kings of Rock, Masters of Rock
Famous Songs: "Stairway To Heaven," "Achilles Last Stand," "All My Love," "Black Dog," "Dancing Days," "Dazed and Confused," "D'yer Mak'er," "Fool In The Rain," "Good Times, Bad Times, "Immigrant Song," "In The Light," "Kashmir," " Living, Loving Maid (She's Just A Woman)," "Moby Dick," "No Quarter," "Over The Hills and Far Away," "Ramble On," "Rock and Roll," "Since I've Been Loving You," "The Song Remains The Same," "Tangerine," "Ten Years Gone," "Trampled Under Foot," "When The Levee Breaks," "Whole Lotta Love," "You Shook Me," "Your Time Is Gonna Come"
1. The Beatles
Known For: John, Paul, George, Ringo. Most influential band of all-time. Liverpool. Beatlemania. British Invasion. Incorporating electronics into popular music. 600 million units sold worldwide. The Beatles are the best selling musical entity of all-time. Most #1 albums in the UK. Most #1 hits singles in the US. Countless musicians have achieved chart success with covers of Beatles songs.
Other Names/Nicknames: The Quarrymen, The Silver Beatles, Fab Four, Mop Tops, The Fabs, The Greatest Band in History, The Four Lads From Liverpool, The Four Headed Monster, The Boys
Famous Songs: "I Saw Her Standing There," "Love Me Do," " Do You Want To Know A Secret," "All My Loving," " I Want To Hold Your Hand," "She Loves You," "A Hard Days Night," "I Should Have Known Better," "Can't Buy Me Love," "I'll Follow the Sun," "Eight Days A Week," "Help!," "Ticket To Ride," "Drive My Car," "Norwegian Wood (This Bird Has Flown)," "You Won't See Me," "Nowhere Man," "Michelle," "In My Life," "Taxman," "Eleanor Rigby," "Here, There and Everywhere," "Yellow Submarine," "Good Day Sunshine," "Got To Get You Into My Life," "Sgt Pepper's Lonely Hearts Club Band," " With A Little Help From My Friends," "Lucy In The Sky With Diamonds," "A Day In The Life," "Magical Mystery Tour," " Your Mother Should Know," "I Am The Walrus," "The Fool On The Hill," "Hello Goodbye," "Strawberry Fields Forever," "Penny Lane," "All You Need Is Love," "Back In The U.S.S.R.", "Dear Prudence," " Ob-La-Di, Ob-La-Da," "While My Guitar Gently Weeps," "Blackbird," "Come Together," "Something," "Here Comes The Sun," "Across the Universe," "Let It Be," "The Long and Winding Road," "Get Back," Free As A Bird"
Thank you!!!
About the Creator
Writing is a distraction for me. It takes me to places unknown that fulfill my need for intellectual stimulus, emotional release, and a soothing of the breaks and bruises of the day.
https://www.facebook.com/groups/vocalplusassist
Reader insights
Nice work
Very well written. Keep up the good work!
Top insights
Expert insights and opinions

Arguments were carefully researched and presented

Eye opening

Niche topic & fresh perspectives

On-point and relevant

Writing reflected the title & theme
Easy to read and follow

Well-structured & engaging content

Heartfelt and relatable

The story invoked strong personal emotions

Excellent storytelling

Original narrative & well developed characters

Compelling and original writing

Creative use of language & vocab
Add your insights