Disco Covers of Classic Songs
It's like thunder, lightning...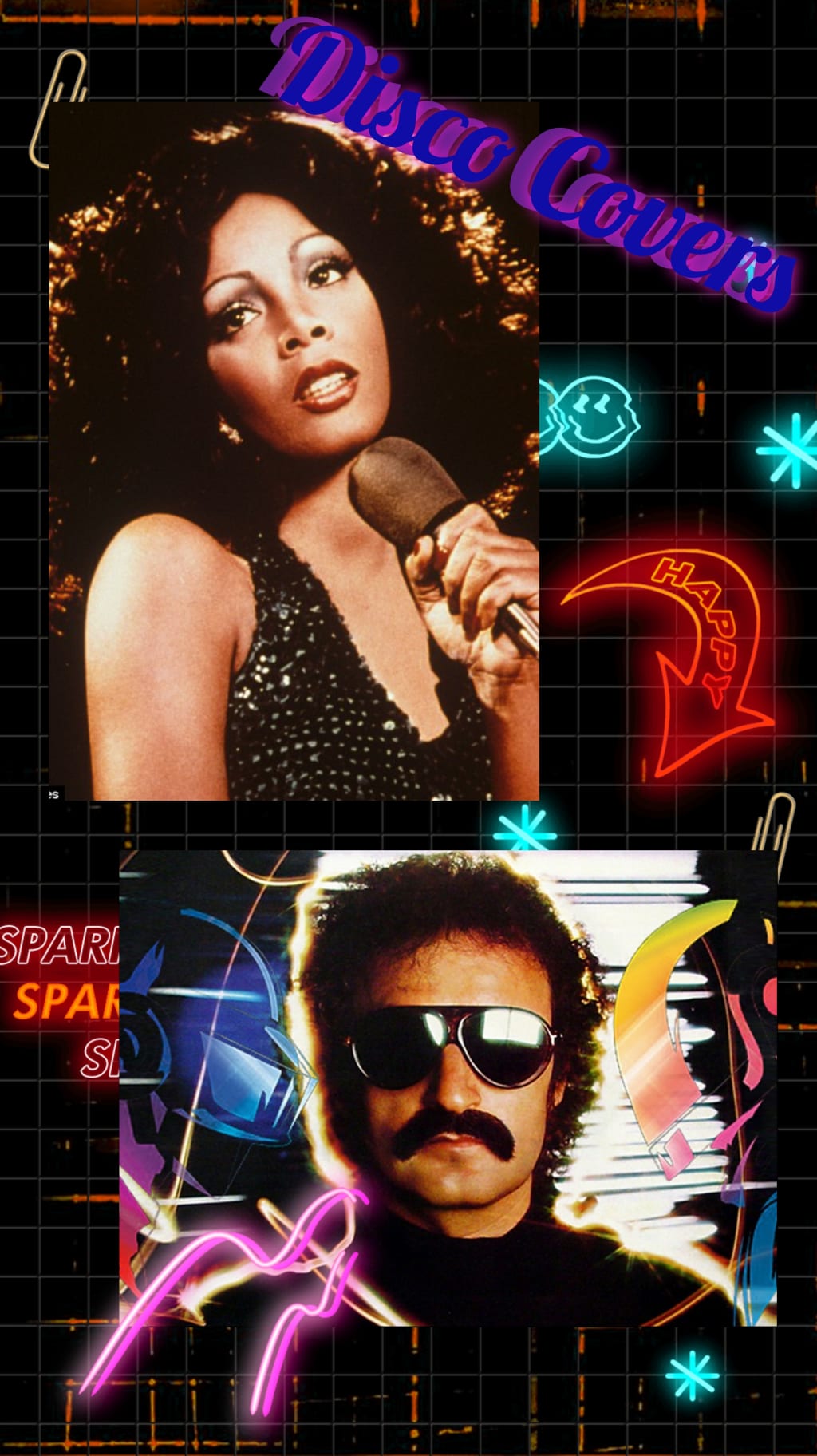 Disco music became all the rage in 1974 and remained extremely popular through 1979. The majority of these disco hits were originals such as "Last Dance" by Donna Summer" and "Stayin'" Alive" by The BeeGees. But to be certain there were tons of songs on the dance charts that were remakes of classic rock and pop songs. Here we explore some of those Disco Covers of Classic Songs.
Bridge Over Troubled Water
Simon and Garfunkel took their classic to #1 on February 28, 1970 and remained there for six weeks. It was the #1 hit of 1970 and is Simon and Garfunkel's biggest hit. The song won an amazing five Grammy Awards in 1971.
Linda Clifford released her disco version of "Bridge Over Troubled Water" in March 1979. Linda belted the the song out in an aggressive Gospel style. The song was a big hit being played in dance clubs around the world. The song made it to #11 on the US Dance charts and #41 on Billboard's Hot 100 Singles. The song also charted in the US, Canada, and Australia.
Heart of Gold
Neil Young has several classic tunes; "Cinnamon Girl," "Old Man," "The Needle and The Damage Done," "Rust Never Sleeps (Hey, Hey, My, My)" and several other. But "Heart of Gold is Young's classic of classics. He took the song to #1 in the US on March 18, 1972. It was also a #1 hit in Canada as well as charting all across Europe, South Africa, Japan, Australia, and New Zealand. James Taylor and Linda Ronstadt provided backing vocals on the song.
Boney M recorded a Eurodisco rendition of "Heart of Gold" for their 1978 album Nightflight to Venus. The song was not released as a single but garnered minor radio and club play. The album includes the hits "Rasputin" and "Rivers of Babylon." It's worth notating Liz Mitchell's lead vocal is exceptional.
Light My Fire
The Doors' "Light My Fire" is a classic which belongs in the league of songs such as The Moody Blues' "Nights in White Satin" and Led Zeppelin's "Stairway to Heaven." "Light My Fire" reached #1 in the US on July 29, 1967 and stayed there for three weeks. The dong was #1 in France and was a Top 10 hit in Canada, New Zealand and the UK.
Amii Stewart gave a powerhouse vocal performance on her all out disco recording of this classic rock classic. She took the song to #69 in the US and burned up dance floors from coast to coast. In the UK the song was a major hit reaching #5.
California Dreamin'
The Mamas and The Papas were known for their fantastic harmonies and "California Dreamin'" is a fine example of those harmonies. The song was a huge hit in 1965 reaching #4 in the US, #3 in Canada, and #9 in the UK.
Grand Tour is a studio disco creation of Canadian producers Willi Morrison and Ian Guenther. Grand Tour did not release "California Dreamin'" as a single. Although the 1977 album title us based on the song; On Such a Winter's Day.
Colorado an Italian disco project recorded "California Dreamin'" in 1978. Colorado's rendition made it to #45 on the UK charts and was a semi-popular club hit in the UK and Europe.
Knock on Wood
Eddie Floyd wrote and recorded "Knock on Wood" in 1966. The song became a #1 R&B hit in the US and was Top 30 in both the US and UK. Floyd co-wrote the song with popular session guitarist Steve Cropper.
Amii Stewart took "Knock on Wood" to heights nobody else has. Her disco cover made it to #1 on the US Billboard Hot 100 Singles chart on April 21, 1979.
But that's not it, the song also made it to #1 in Canada and was in the top 10 and top five all throughout Europe. As well as Top 20 in South Africa and Top 3 in Australia and New Zealand. So with this immense popularity does Amii have the definitive version of the song? One thing is pretty certain Eddie Floyd most likely made more money from Amii Stewart's recording than his own.
These Boots Are Made For Walking
Nancy Sinatra came roaring onto the scene in 1966 with original fight song. Sinatra paved the way for songs like "I Am Woman" by Helen Reddy and "Roar" by Katy Perry. Sinatra reached the top of the US charts on February 26, 1966 with her anthem which was a worldwide hit reaching #1 in seven other countries around the world and Top Three in almost every other country that had a music chart. On the worldwide scale "These Boots Are Made For Walkin'" was as big as any hit by Elvis Presley or The Beatles.
Man 2 Man Meets Jessica Williams / Man 2 Man is a HI-NRG band comprised of brothers Mikki and Paul Zone. The Zone brothers sang backing vocals on several of Bobby Orlando's productions including "Passion" by The Flirts. One of producer Man Parrish's most creative productions. The beat is made of samples of different boots clunking and the hi-hats are the sound of spurs churning like on cowboy boots. This disco/dance club rendition was very popular in metropolitan areas such as New York City, Los Angeles, Miami, London, Mexico City, Johannesburg, Cape Town...
Don't Let Me Be Misunderstood
The Animals had the big hit with this song in 1965. But the song was actually written for Nina Simone. She recorded the first version. The Animals took the song to #3 in the UK and #15 in the US. It was also a Top 10 hit in Canada, France, Ireland, and Sweden. Lead singer Eric Burdon gave a dark and moody blues vocal performance over a folksy blues instrumentation.
Santa Esmeralda took The Animals' basic music arrangement combined with a four-on-the-floor disco beat and added some Latin and Flamenco rhythms. Adding in Leroy Gomez's spirited and impassioned lead vocal lifts the song into a joyous party zone. Santa Esmeralda matched The Animals' chart performance reaching #15 in the US but did not fare as well in the UK only making it to #41. Although overall Santa Esmeralda matched The Animal in chart performance. It's hard to say who's is the definitive rendition of the song.
Nights in White Satin
The Moody Blues' landmark album Days of the Future Passed was a fusion of rock and classical music and launched them as pioneers of art rock and progressive rock. This album also contains their classic #1 hit "Nights In White Satin." Many critics and publications consider this 1967 orchestral rock piece to be one of the greatest songs of all-time.
Giorgio Moroder is known as the "Father of Disco" and is credited with pioneering euro disco and electronic dance music. He produced all of Donna Summer's albums from 1975 through 1980. Moroder took the Moody Blues classic and changed the name to "Knights in White Satin" - now giving the lyrics a slightly different meaning. Moroder took the song to #10 in Italy, #44 in Belgium, #65 in France, and #8 on the US Dance chart.
Have A Cigar
Pink Floyd's classic album "Wish You Were Here" is revered by critics as one of greatest albums of all-time. Both Richard Wright and David Gilmour have said it is their favorite Pink Floyd album. One of the highlight tracks from the album (to be fair all the tracks are highlights) is "Have a Cigar." The song was released as a single throughout Europe, the US and other areas. But, did not fare to well on the charts making it to #126 on the US Record World chart and #15 in France. However, it does showcase one of Davîd Gilmour's best known guitar solos.
Rosebud brought Pink Floyd to the dance floor and people loved it. At this point in time 1979/1980 Pink Floyd was superhot with the release of their classic album The Wall. Rosebud's timing couldn't have been better. The song was a huge hit across the US reaching #4 on the disco chart. The song was featured on Rosebud's 1977 album: Discoballs: A Tribute to Pink Floyd. The album includes a disco recording of "Money" which was the B-side of "Have A Cigar." Despite the album being released in 1977 the single wasn't released until 1979. The album includes mostly lesser known Pink Floyd songs such as "Free Four," "Summer 68," "One of These Days." Rosebud was a group based in France.
MacArthur Park
Richard Harris was a well known stage and film actor who was at the top of his game from the 1950s through the 1970s. He had starring roles in such films as The Guns of Navarone, Mutiny on the Bounty, and Gulliver's Travels. He's best remembered for his role as King Arthur in the 1967 film Camelot for which he received an Academy Award nomination for Best Actor. Harris also had a successful career in music. He charted with six album - four sold fairly well. As for hit singles he is known as a One Hit Wonder. But that one hit was a huge hit. Harris took the classic "MacArthur Park" to #2 on the US Billboard chart. The song made it to #1 in Australia and Canada as well as UK #4, South Africa #5, and Ireland #9. The song also won the Grammy Award for Best Arrangement Accompanying Vocalist. Famed songwriter wrote the dong and sat in as producer for Harris' recording. Webb has written several hits including "Up, Up and Away" a hit for the Fifth Dimension and "By The Time I Get To Phoenix," "Wichita Lineman" and "Galveston" all hits for Glen Campbell.
Donna Summer took this Jimmy Webb and turned it into a sizzling hot burn the dance floor up track. Right from the moment it was released - this song was on fire. "MacArthur Park" embodies everything that is perfect about Donna Summer's voice. The opening showcases Donna's ability to gently belt out a ballad with ease and amazing breath support slowly working into a powerful gospel burst of soul. Then the music explodes into an eruption of disco lava radiating into the minds, hearts, and souls of those fervently keeping time on the dance floor or those just sitting back soaking in the oratory vibes. Whichever way you experienced this song - the first time hearing it was a big event. I put it up there with my first hearings of "Bohemian Rhapsody" by Queen and "Love is Like Oxygen" by Sweet. These songs were an experience - not just four minutes of pop music filler. With "MacArthur Park" Donna Summer went beyond the canvas and came alive within the listener's imagination. The song was Donna Summer's first #1 hit on the US Billboard Hot 100 Singles chart. It made it to #1 on November 11, 1978 and stayed there for three weeks. It was also #1 in Canada and Top 10 throughout all of Europe including #5 in the UK. The song also received a Grammy nomination for Best Pop Vocal Performance, Female.
Here's the pressing question: Who has the definitive version of this very popular song? Is it Richard Harris' very popular Grammy winning version? Or Donna Summer's worldwide #1 dance club single? I would say Donna Summer as through the decades her rendition has remained very popular. It has appeared on various gold and platinum certified Donna Summer compilations and a remixed version of her track made it to #1 on the dance charts in 2013. Not only that Donna's vocal performance of the song is spotless.
Thank you for stopping by my friends...
If you enjoyed this one... you might also like
Black Female Vocalists of the 1970s
... and...
25 Greatest Songs of Stevie Wonder
:)
About the Creator
Writing is a distraction for me. It takes me to places unknown that fulfill my need for intellectual stimulus, emotional release, and a soothing of the breaks and bruises of the day.
https://www.facebook.com/groups/vocalplusassist
Reader insights
Outstanding
Excellent work. Looking forward to reading more!
Top insights
Expert insights and opinions

Arguments were carefully researched and presented

On-point and relevant

Writing reflected the title & theme

Excellent storytelling

Original narrative & well developed characters
Compelling and original writing

Creative use of language & vocab

Heartfelt and relatable

The story invoked strong personal emotions

Masterful proofreading

Zero grammar & spelling mistakes

Eye opening

Niche topic & fresh perspectives

Easy to read and follow

Well-structured & engaging content
Add your insights