13-Year-Old Music Prodigy to Perform National Anthem at Upcoming Sacramento Kings Game
He can already play more than 100 musical instruments perfectly. And next month, Neil Nayyar will showcase his flawless saxophone skills on the basketball court in front of a large audience.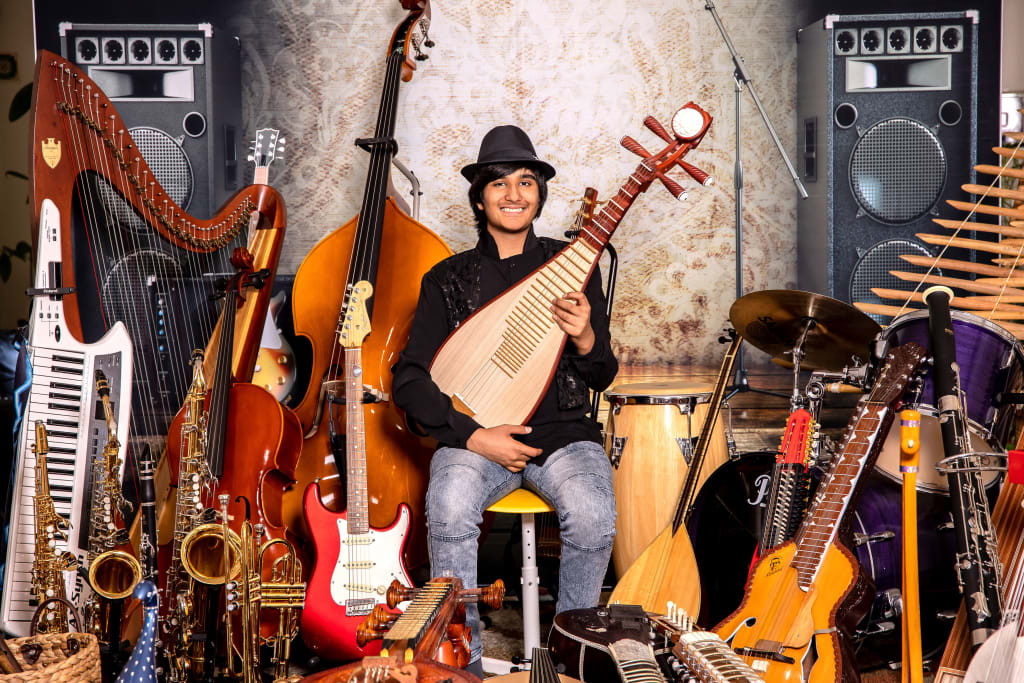 Pictured: Neil Nayyar with his many instruments
ELK GROVE, CALIFORNIA – Neil Nayyar's dream of playing the National Anthem before a large crowd at a major sporting event is about to finally come true. On October 28th, the multi-talented teen will perform the Star Spangled Banner during the Sacramento Kings' home game against the Denver Nuggets.
"I'm looking forward to performing my rendition of the National Anthem on saxophone. It's such an honor to be given this opportunity." stated Neil. "I've been preparing for the big day and can't wait for it to arrive."
October is National Breast Cancer Awareness Month. During Neil's upcoming performance, he will be surrounded by breast cancer survivors to help raise awareness of the deadly disease as well as inspire others to continue their fight against it.
"The women who will be joining me on the court are all very courageous, strong individuals," stated Neil. "It's my wish that these survivors serve as reminders to other people battling life-threatening illnesses and know that there is hope for a better tomorrow. Whatever you're going through, never give up."
Neil joins a coveted list of musicians to perform at the Golden 1 Center Arena during a Sacramento Kings' game, including six-time Grammy nominee B.o.B., pop culture icon and rapper Vanilla Ice, hip hop artists T-Pain, Jay Sean, rapper Tyga and many more.
To date, Neil plays exactly 107 instruments and has plans to learn even more. His love for learning to play musical instruments began when he was about six years old, he stated.
"I started with just one instrument, one became 10, ten became 20, and so on," he explained. "The hardest part of learning any instrument is just finding the time to do it. You must have time, dedication, focus and passion. If you have these ingredients, the journey becomes easy."
According to Neils's father, Rajan Nayyar, he and his wife, Sukhbinder Kaur, knew their son was different from all the other kids early on when they signed him up for a free drum class in his neighborhood about eight years ago. To both he and his wife's surprise, their son played the drum like a pro, not at all like an amateur in training.
"When he hit first beat, he was playing so accurately and perfect, all of the parents and kids clapped were amazed. He was playing far better than other kids who are taking lessons already," stated Neil's father.
Neil's parents' credit much of their son's ability and love of music to Mozart classics he listened to while still in the womb.
"I read in a book, that if you play classical music by Mozart while a child is still in the womb, it will impact the heart and soul of the baby later on. So we did it to see what happens, and as they often say, the rest is history," stated Rajan.
Whether it's classical, Bollywood, jazz, rock, or pop—Neil is heavily influenced by it all. His music inspirations include Miles Davis, Carlos Santana, Bruno Mars, Chris Martin and Billy Joel.
"Their style of music, technique and creativity inspire me to learn and use their ideas and integrate them into my own music style," stated Neil.
According to the young musician, he's looking forward to what the future holds after finishing Connesxus Academy, an online school that offers Neil the flexibility to practice and perform his music. Even with his rigorous schedule, he still maintains an impressive 4.0 GPA.
"My musical goal is to become a music director and composer. Things might change as I grow more and evolve," stated Neil. "After recently signing and acting contract in Los Angeles through Conquest Management, it might open new doors to commercials/TV/movies."
Whatever opportunities come Neil's way, this talented young man is just getting started. Things can only go up from here.
To learn more about Neil, visit his website at: http://neilnayyar.com.
Nikki Gaskins
From southwest Georgia to South Carolina's Grand Strand, Nikki has worked in a variety of markets as a TV anchor, reporter and producer. Learn more about her here: www.spotlightmediapros.com.
See all posts by Nikki Gaskins →