Constable hits the news
After 200 years of decorating toffee tins and having his works cut into 500 pieces for reassembly in care homes, artist John Constable finally gets some attention from the media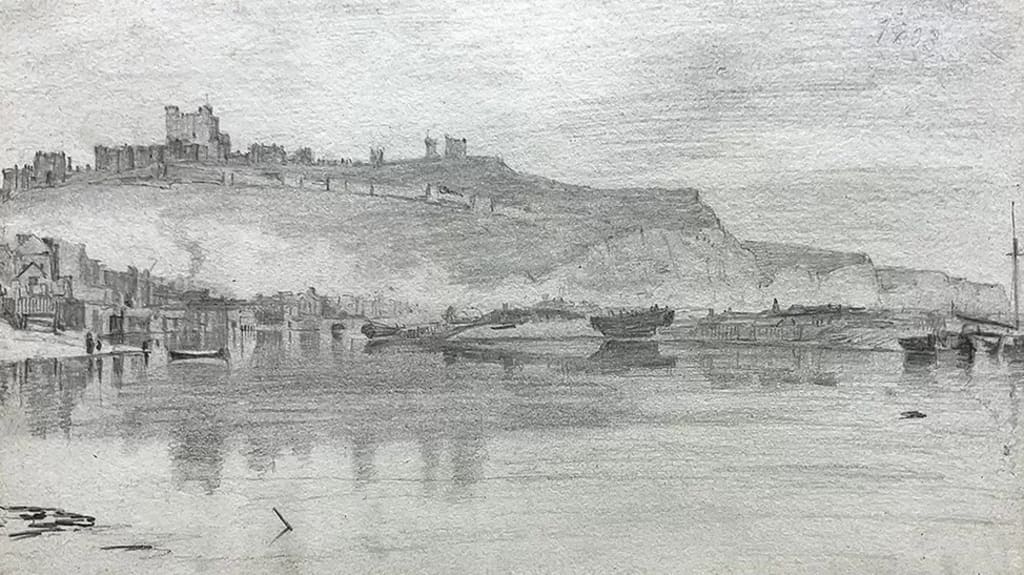 Constable, sketch of Dover Harbor in Kent, England, 1803, David Duggleby Auctioneers
Seems it's been a good year for landscape supremo John Constable, with previously unknown paintings and sketches being found, while old favorites are hitting the road.
A sketch Constable made as part of a series he did from a ship sailing off Dover in 1803, has just turned up in an old suitcase belonging to a deceased homeowner. The sketch was found in a broken frame when the house was being cleared after the owner's death. It will be put up for auction later this week (Friday September 15, 2023).
Constable spent a month on board a ship off the Kent coast in April 1803 and is believed to have made over 100 drawings, possibly as many as 130,

though fewer than 50 are known today. The sketch shows a detailed view from across the water off Dover harbor towards the shore. The castle high above the town can still be seen today, as the above-right photograph shows. The photo takes a more easterly viewpoint but the shape of part of the cliff can still be compared with the same part of the cliff in the drawing.
Although some of the drawings have been sold for huge sums of money, auctioneers estimate £2,000-£3,000 for this one. I suspect it may go for considerably more, otherwise I would be in the bidding.
Lots more recent Constable finds
Last month an oil sketch by Constable which had been missing for 40 years was found in the Channel Island of Guernsey.
The sketch shows the house of a Willy Lott of Flatford, in the East of England county of Suffolk. An image of the house also appears in Constable's best known painting: The Hay Wain, which is on display at London's National Gallery.
This work has been off the radar since 1979, when it appeared in an Italian publication listing Constable's work. The work is dated June 1814, and can be traced back to the artist's grandson.
These are just two of several Constable works that have shown up in recent years. Only last year, a previously unknown Constable was put on public display for the first time since being discovered in another English County, Sussex. Colliers Unloading on Hove Beach was unknown to art experts until owners of a private collection consulted scholars. They sold the work in 2021 to a UK private collector who has loaned it to the Southern coastal city of Brighton for display in the Brighton Royal Pavilion.
Although Constable is one of England's best know and best loved landscape painters, his works often suffer from being too familiar and are sometimes treated as mundane. This might be as the result of over use of the image in the packaging of products in gift stores. Yet for a painter active in the 1800s, his technique should be considered ahead of its time. He brought a great deal of color and light to painting, as well as a bold and sometimes breath taking execution.
If you want to delve further into the delights of Constable's remarkable paintings, you might like to read part one of my series of articles Looking up at Art. Everyone has their own tastes and preferences in art, but sometimes it is good to look beyond the obvious aesthetic value of a painting in order to gain a better understanding of what the artist was trying to say. Why not take a look now and see if you can find something new?
The painting discussed in this article, Constable's The Cornfield, has recently gone walkabout as part of The National Gallery's Visits programme. This glorious depiction of a historic scene from English rural life has so far been seen in shopping malls in Dudley, in the English Midlands, and Tyneside in the North East.
Another important Constable painting was restored last year and is now on display in Cambridgeshire. The Embarkation of George IV from Whitehall: the Opening of Waterloo Bridge, 1817, has been rehung at Anglesey Abbey,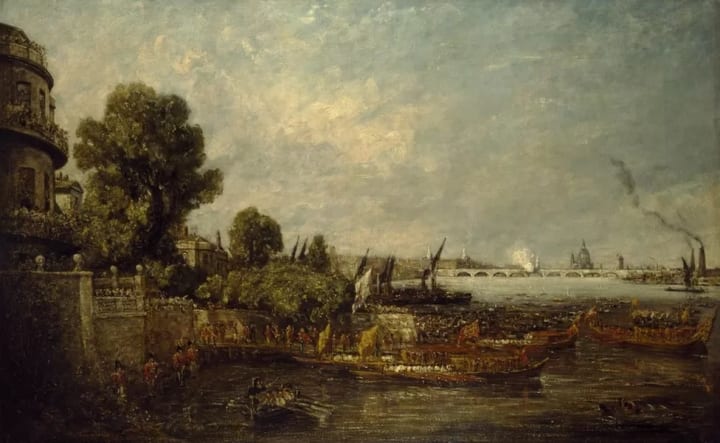 where it can be seen by visitors to this National Trust property.
O ~ 0 ~ o ~
Thanks for reading
If you liked this story, you might like to read more of Ray's arty articles, some of which are listed here:
O ~ 0 ~ o ~
About the Creator
Author based in Kent, England. A writer of fictional short stories in a wide range of genres, he has been a non-fiction writer since the 1980s. Non-fiction subjects include art, history, technology, business, law, and the human condition.
Reader insights
Be the first to share your insights about this piece.
Add your insights