Perspectives on art
Articles, reviews, retrospectives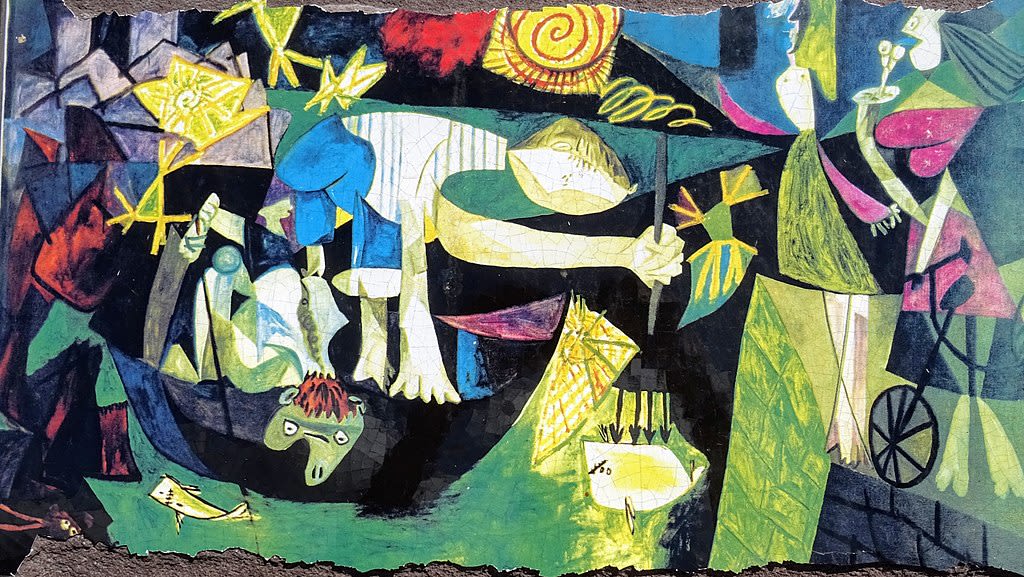 Picasso: Pêche de nuit à Antibes (Wikimedia)
Art views and reviews
Looking up at Art one: Constable
Looking up at Art two: Francis Bacon
Barbara Hepworth: Art and Life
Art-themed short stories
The picture of Elizabeth Moody
Other articles and non-fiction
How to write about witchcraft and witches
Review: Three authors - King, Chandler, Iggulden
Short stories by the author
A married couple take a friend on a weekend trip to an isolated cabin in the snow. A story of betrayal and revenge.
Deep within the cloudy mass of Saturn's E ring is no place to discover your Ship Nav is failing. Particularly if you are accelerating toward an icy world below.
Being told to reset your password can be quite irritating, stressful and frustrating. More so for me...
As the night duty pilot of Ingenuity Mars Helicopter reviewed the previous day's flight data, he knew something was not quite as it should be.
A Distant Dream of Love and Loss
Sedna awakes from a long period in stasis, suspended animation, expecting to be in the final part of her approach to the Comet Chawla. Instead, she finds she has already landed but what has happened to the Sun? Where is she? Or, more to the point, WHEN is she? 
Deep Space Transport Vessel Endurance was a happy ship but one in which a strange psychological phenomenon had emerged.
Some people call him a space cowboy! A lone prospector sets out to mine a field of gold - way out in the asteroid belt.
Spooky, sorcery and supernatural
For me the eerie silence of the secluded sepulchre was a welcome respite from the hustle and bustle of the wicked world outside.
A sword, a sorceress, a swordsmith, a professor, a servant, a winged serpent, a child, a spy, soldiers, peasants, a plague of imps, and a nice cup of tea.
When a young lad turns up at Biggin Hill Airport in Kent for a flying lesson, he is not expecting his flying machine to be a broomstick!
Learning to fly: part two ~ Learning to fly: part three
A tale of witchcraft and a battle against dark forces in the provincial town of Guildford. Suburban sorcery at its best.
Boy meets girl on a random visit to an aquarium. All goes well until boy discovers that girl is not quite what she seems.
Other
~ ~ ~ ~ ~
Raymond G. Taylor is an author based in the Kent suburbs of London. At one time a business press journalist, Ray has launched and run a media company, been general manager of a retail finance business and, more recently, was an officer in a tough London prison. He is currently a part-time, partially retired government security adviser and policy official.
As an author, Ray is best known for his wide range of short stories which range from heart breaking romance to classic adventure tales, witchcraft, supernatural, historical, mythological, spooky, dark, brooding, funny. His work is always intriguing and engaging whatever the genre. Taylor writes with authenticity and true feeling. Reading his work you will feel you are, not just reading a story, but living it.
© Raymond G. Taylor, 2020-2023, all rights reserved. The author has asserted his right to be identified as the author of this work.
https://www.facebook.com/Raymond.G.Taylor.author
About the Creator
Author based in Kent, England. A writer of fictional short stories in a wide range of genres, he has been a non-fiction writer since the 1980s. Non-fiction subjects include art, history, technology, business, law, and the human condition.
Reader insights
Be the first to share your insights about this piece.
Add your insights