Usage of Long Tail Keyword to Improve SEO
This blog post explains how to improve your SEO by using long tail keywords. It covers the different types of keywords and provides guidance on how to research them.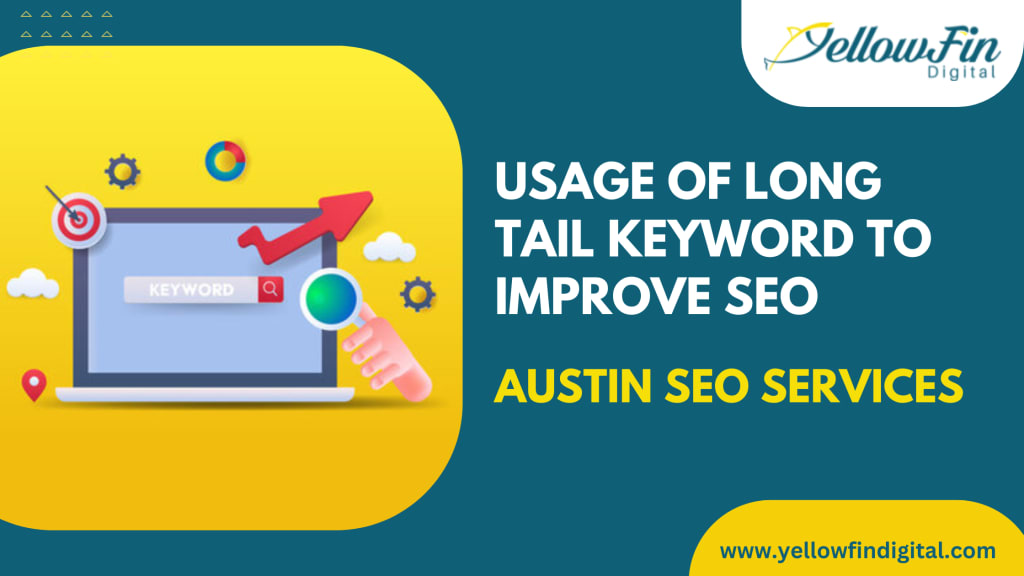 An effective keyword strategy is crucial for optimizing a website for search engines. Long tail keywords, specific and targeted phrases containing three or more words, are particularly important as they are commonly used by people searching for something very specific.
Long-tail keywords can boost your website's search engine optimization (SEO) by targeting a specific, niche audience. They have a clear search intent, making it easier to reach your desired audience. However, some marketers make the mistake of assuming that long-tail keywords are always easier to rank for than shorter ones. This is only sometimes the case, as their effectiveness depends on how they're used.
If you want to improve your SEO with long-tail keywords, this article is for you. We'll explore their benefits and provide tips on conducting effective long-tail keyword research. Additionally, we'll discuss the different types of long-tail keywords and how they can be integrated into your overall SEO strategy. As an experienced Austin SEO company, we have seen firsthand how long-tail keywords can significantly impact search engine rankings and website traffic. So let's dive in and discover how to make the most of these valuable keywords for your business.
What Are Long-Tail Keywords?
The length of the search query does not determine whether a keyword is considered 'long-tail.' Instead, it refers to the keyword's position on the "search demand curve" chart. Common search terms with high search volume are located at the top of the chart, while long-tail keywords make up most searches but have less competition than single words or phrases. Hence, using long-tail keywords can be more advantageous for businesses to rank for than more general terms.
Long-tail keywords are less popular than short-tail keywords because they consist of more words and are more complex. As a result, fewer individuals utilize them while conducting searches. However, they can be more effective for conversion because they are more specific. Although they attract less traffic, visitors who arrive through long-tail keywords usually clearly know what they want.
What is the Significance of Using Long-Tail Keywords for SEO?
1. They Tend to be Less Competitive
When creating content for popular or trending topics, it can be not easy to use commonly searched keywords and rank high in search results. Instead, using long-tail keywords can be more effective. Keywords for popular topics like cryptocurrency, major sports events, and large social media sites often have a great keyword difficulty score, making ranking unrealistic. To overcome this, it's best to think outside the box and research long-tail keywords with a low KD score.
2. It can be easier to Create Content for Long-tail Keywords
According to Austin SEO services, if you choose short-head keywords, you must provide more details to beat the competition. By producing-tail keywords with a low keyword difficulty (KD) score, it is feasible to provide users with brief and relevant responses to their queries without compromising key information. This not only eases content creation but also makes it more scalable.
3. There are Countless Long-tail Keywords Available to Choose From
Focusing on just one long-tail keyword won't bring in a lot of website traffic, but if you target many, it can make a big difference. Luckily, millions of long-tail keywords are available to use, which means you have endless opportunities to attract new audiences.
For businesses, it is crucial to stay updated on the latest industry trends while developing SEO content. This helps ensure potential customers can view their website and enhance their search engine ranking using appropriate keywords.
How to Use Supporting and Topical Long-Tail Keywords
You must note that you can utilize two long-tail keywords: "supporting" and "topical." Let's discuss them in more detail.
1. Supporting Long-Tail Keywords
Supporting long-tail keywords are the variations of popular search queries, meaning if your website ranks for a specific keyword, it will likely rank for the slight variations, too. These keywords can supplement the more popular terms and help provide additional information about your content. For example, suppose your website provides Austin SEO services. In that case, variations of the main key phrases such as "SEO company in Austin," "affordable SEO solutions in Austin," and more can be helpful.
2. Topical Long-Tail Keywords
Using topical long-tail keywords in your content can provide additional context to search engines about the topic you are discussing. These keywords should have something unique that sets them apart from supporting variations. For instance, if you write a blog post about Austin SEO services, using long-tail keywords such as "local SEO strategies," "SEO tactics for small business," and more can help search engines better understand your content.
By incorporating these two types of keywords into your website's content, you can ensure that it ranks higher in search engine results pages. Improving your website's organization will enhance customers' ability to locate information and boost your website's visibility.
What are the Research Methods to Find Long-Tail Keywords?
There are several research methods available to find long-tail keywords. Some methods are simpler than others, but all can be effective. Here is a list of research methods to get you started.
1. Ahrefs Keywords Explorer
You can easily use the Keyword Explorer tool to find long-tail and competitive keywords. To access multiple long-tail keywords, enter one word describing your niche and then use the filter. You can utilize the keyword difficulty score filter for your new website to increase your chances of ranking on search engines. This will allow you to find keywords with lower competition and create original content.
2. Check the Competition
If you're a local business focusing on your local SEO strategy, you can use tools like Moz or Ahrefs to analyze the keywords used by your competitors. By entering their URL into a site explorer, you can generate a report of the keywords driving organic traffic to their website. This can help you find valuable long-tail keywords.
3. Search Reddit and Niche Online Communities
People often use Reddit and Quora to find answers to their questions after using search engines like Google, Bing, and Yahoo. These sites can expose helpful keywords, which can then be evaluated for difficulty using Ahrefs keyword explorer. Similarly, niche online communities and forums can also provide valuable insights from enthusiasts on the latest happenings. Communities can provide knowledge and insights that make staying informed about new developments easier.
Related Posts: Why is it Important to Focus on SEO for Insurance Agents?
Final Thoughts
Long-tail keywords can be a powerful tool for improving SEO and increasing website visibility. Using the research methods mentioned above, you can find valuable long-tail keywords related to your business's niche and help increase organic traffic from search engines. Improving your content marketing through a successful keyword strategy requires time and skill.
If you need help finding long-tail keywords or optimizing your Austin SEO strategy, contact an experienced Austin SEO agency. They can provide the knowledge and resources necessary to improve your website's visibility and generate more organic traffic. With their help, you can take advantage of long-tail keywords' benefits.
Reader insights
Be the first to share your insights about this piece.
Add your insights