Is AI-generated content beneficial or harmful for SEO?
The use of AI-generated content for SEO purposes can be a controversial topic. Find out whether this content has a positive or negative impact on SEO.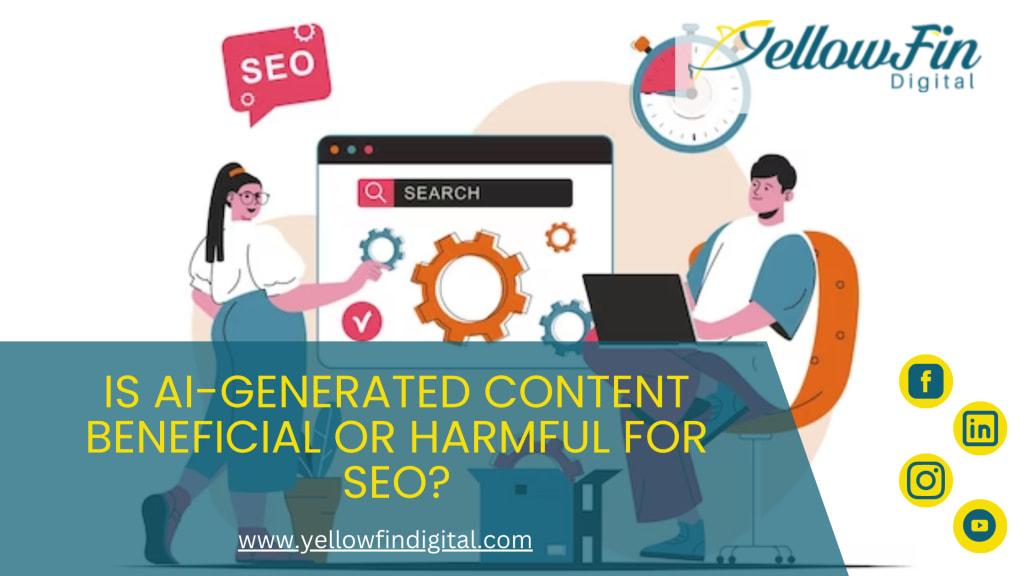 The SEO industry is buzzing about AI content writing, and ChatGPT is at the forefront of this revolution. Business owners know the importance of fresh, optimized content to stay competitive and rank high in search results. However, small businesses with limited budgets often need help to produce enough content. That's why the idea of a free AI tool that can write anything from blog posts to white papers is so appealing. But there's more to AI content writing than just producing content.
Creating helpful content for humans is the essence of content marketing, and original content with a unique perspective tends to rank higher. While AI-generated content can be a helpful tool to support your SEO strategy, it should not be used to generate content solely for SEO automatically. Doing so violates Google's Search Essentials and recent updates to their quality guidelines.
At our Austin SEO company, we recommend using AI tools to support your content creation efforts, but they should never replace human creativity and expertise. Knowing when to use AI tools and when to leave certain jobs to humans is important. This blog will exactly talk about that, so read on.
This article will explore how the growth of AI content writing is affecting the role of human writers in creating content and the resulting impact on the SEO industry.
What is AI Content Writing?
AI content writing involves using an artificial intelligence tool to create online content for your website, social media, email marketing, and other digital strategies. ChatGPT is the latest AI tool to hit the market, and it has impressed users with its ability to produce high-quality marketing content with proper grammar. However, AI writing tools are a concept that has been introduced previously.
Three popular types of AI tools are used in marketing, each with a specific purpose. Let's take a quick look at them:
1. AI Writing Assistants
AI tools have been around for quite some time now, and one popular category of these tools is AI writing assistants. AI writing assistants can help improve the writing process by suggesting edits, catching common SEO Mistakes, and offering new ideas. While the earliest examples of such tools were simple spell-checkers, today's tools are much more advanced and can provide suggestions for grammar, syntax, tone, and more. You've probably used some of these tools without realizing it, like the built-in proofreading assistants in Google Docs, Microsoft Word, and other software.
Even your smartphone and email can have built-in proofreading assistants. In addition to these built-in options, many third-party AI writing assistants are available on the market. Tools like Grammarly and Hemingway provide advanced editing features like real-time error detection, tone analysis, and readability scoring. With the rise of content marketing and the need for businesses to produce high-quality written content regularly, these AI writing assistants have become an increasingly popular tool for professionals and writers.
2. AI Content & SEO Support Tools
These tools go beyond just editing your text. They come with additional features for content marketing and search engine optimization work.
SEMRush offers various tools to improve on-page SEO, including an SEO checker for existing content, content templates inspired by competitors, and an SEO writing assistant.
The headline analyzer on CoSchedule is a useful tool for enhancing your headlines' SEO and CTR.
You can use HubSpot's tools to create blog titles and buyer persona documentation by providing input.
Yoast SEO is a WordPress plugin that grades your content, giving suggestions to improve the quality, readability, and optimization.
Copy.AI and StoryLab.AI can generate social media captions using the input you provide.
Using chatbots on your website can be helpful as they can answer questions at any time, even outside of business hours. This can help retain leads or sales that might be lost when your business is closed.
3. AI Content Writing Tools
And finally there are content writing tools that are an effective way to generate engaging and SEO-friendly content quickly. Some of the leading names in the industry for AI content writing include:
ChatGPT
Jasper
Rytr and many more
These tools use natural language processing and machine learning algorithms to generate unique, relevant, and grammatically correct content. They can also help automate the process of content creation by suggesting topics based on your input or existing material. They can also help eliminate spelling and grammar mistakes and suggest SEO improvements such as optimized titles and descriptions.
Could AI potentially take over the role of content writers in the future?
The emergence of AI-based content writing tools has revolutionized the way content is created and marketed online. These tools offer several advantages such as accuracy, speed, and efficiency. However, they are not yet capable of fully replacing human writers or marketers, as they still lack the creativity and intuition that comes with human experience.
While AI-based writing tools have their limitations, they can certainly be used as supplements to professional writers and marketers. By utilizing these tools properly, one can save valuable time and resources while also gaining insights into their written content. For instance, an SEO company in Austin can use AI-based writing tools to analyze website content, identify keywords, and optimize the content for search engine ranking.
Despite the many benefits of AI-based writing tools, it is important to note that they cannot replace the value of human creativity and intuition. Professional writers and marketers have a wealth of experience and expertise that cannot be replicated by machines. Therefore, it is crucial to strike a balance between the use of AI-based tools and human talent to achieve the best possible results for any content creation or marketing project.
Should you Give AI content Writing a try?
Using AI to support your SEO activities is a good idea. Still, if your only goal is to generate numerous articles on particular keywords and outdo your competitor, then your content strategy needs to be revised. Rather than solely focusing on optimization, prioritize topics that truly matter to your audience, such as frequently asked questions or problems website visitors face.
If you chase after keywords, your content quality will likely improve and positively affect your ranking. Google's updated helpful content policy and E-A-T quality guidelines require content creators to prioritize writing for people rather than solely for keywords. The E-A-T acronym refers to experience, expertise, authoritativeness, and trustworthiness.
AI-generated content can only establish expertise or experience if it has human input. According to Austin SEO services, combining AI with other content creation methods is the best way to achieve optimal results. This is because relying solely on AI can only guarantee credibility and reliability with human involvement.
Conclusion
AI-generated content is a great tool for speeding up the content creation process and ensuring accuracy, but more is needed to replace the artistic skill of human writers.
By combining AI with other content creation methods, you can achieve optimal results and ensure your content is tailored to the target audience. An Austin SEO agency can help you create a successful content strategy that satisfies the readers and improves your website's ranking. ​
Reader insights
Be the first to share your insights about this piece.
Add your insights