How to develop an ecommerce mobile application without coding-2021
Top Platforms to Create your eCommerce Mobile App Without Coding
courtsey:pexels.com
Mobile accounts for 65 percent of all e-commerce purchases worldwide, according to Criteo.Apps are also chosen over mobile websites 70% of the time.An Ecommerce mobile application , on the other hand, usually necessitates technical knowledge or a large budget.
Tools such as codeless platforms enable independent entrepreneurs to create a Shopping app at a much lower cost than an agency.
GoodBarber
IBuildApp
Appypie
BuildFire
AppMachine
Plobalapps
Swiftic
1. GoodBarber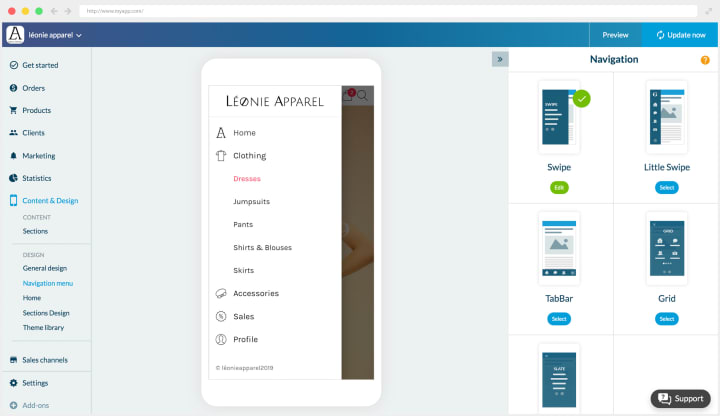 GoodBarber, founded in2011, is one of the world's leading application builders, with over 30,000 active applications on its platform.
GoodBarber offers a tool that allows for the best design as well as a powerful and robust CMS. Shopping Apps are now available on GoodBarber as of 2019.
However, unlike its competitors, GoodBarber has chosen to create a fully dedicated product rather than offering Commerce add-ons or third-party integrations.ie to electronic commerce.Customers can build their ecommerce application from the ground up without writing a single line of code.
Aside from design, GoodBarber distinguishes itself through commerce features (one-click checkout, auto-login, discounts, coupons, permanent cart, push notifications, promotional banners, product import-export, advanced shipping parameters...).Product detail pages, m variant and discount management, and integration of similar products
You can add up to 9 images on each product page.You can also organize your store by creating collections and sub-collections.Various payment gateways that GoodBarber provides are
Paypal, Stripe (credit cards), and Apple Pay.All features are focused toward increasing sales.
GoodBarber applications can be published on iOS, Android , and Web (Progressive Web Apps). GoodBarber's tool, which is available for $35 per month (PWA), is a game changer in the world of mobile-focused e-commerce platforms.
GoodBarber also allows agencies to become resellers and create an unlimited number of Shopping applications for $ 500 per month.
2. IBuildApp
IBuildApp is a small business application builder that was founded in 2011.Because it is mostly drag and drop, the interface is quite simple and easy to use.To promote their company, an entrepreneur can easily develop and publish an app.You can select from over a hundred pre-configured models. Depending on your requirements and the nature of your company.Despite the fact that IBuildApp is aimed at developers, it includes multimedia features such as an audio player, chat, forum, and photo gallery.
eCommerce is available as a separate tab in iBuildApp's feature list.Then you can use the builder to add an eCommerce section and start selling on mobile.The product pages are straightforward, with few choices (one single image, no products or variants).iBuildApp does not have features like abandoned cart management or advertising banners.Paypal is the only payment gateway available.Pricing starts at $ 24 / month with limited downloads. Reseller prices start at $ 395 / month.
3. Appypie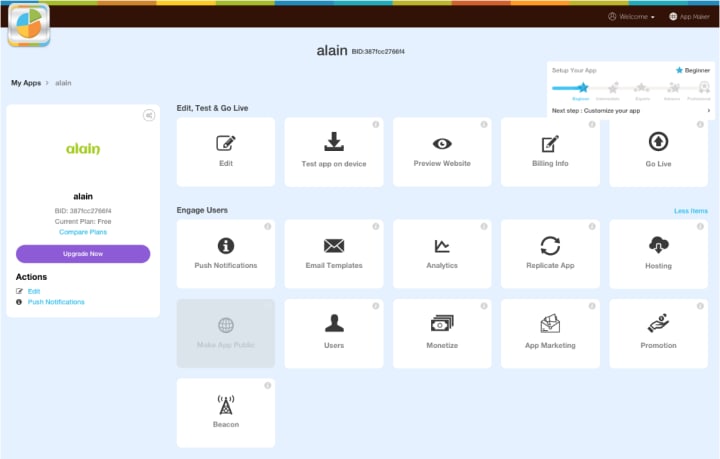 Appypie is one of the most well-known app developers in the world.AppyPie can be used to build almost any form of app, including restaurants, churches, e-commerce, grocery stores, and more.API integrations with third-party applications are possible. Apps produced with AppyPie will, of course, be released on both the App Store and the Play Store. The framework is also available in HTML5 as a web edition.
E-commerce features are included in a separate segment. Importing goods in bulk and setting up shipping conditions are both feasible.The product page is operational, and advanced pricing options as well as variant management are available.The items can be categorized into various categories.Sending targeted push notifications, sharing goods on social media networks, creating discounts, and integrating a loyalty card are all options.payment gateways, Stripe (credit cards) and Paypal are available.
The cost of the package, which includes the eCommerce option, starts at $ 36. However, keep in mind that the AppyPie applications only have a limited number of downloads. You'll need to update your software if it's a success. Monthly reseller plans start at $ 200.
4. BuildFire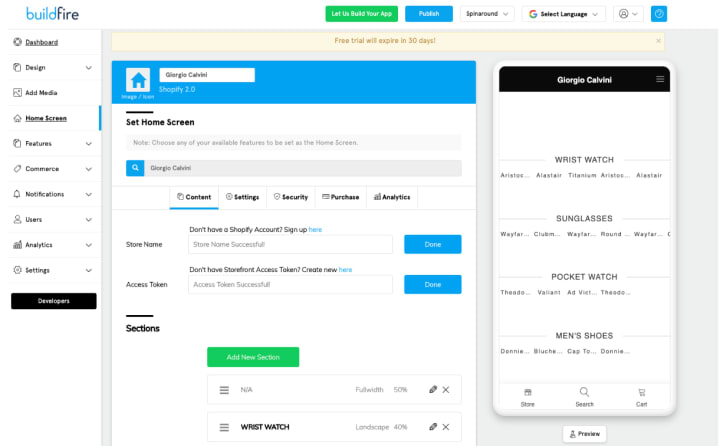 BuildFire is an application builder that allows you to develop and publish apps on iOS and Android without having to know how to code.The platform currently has over 10,000 active applications.BuildFire also provides custom development for a fee in addition to the App Building service.BuildFire's app builder helps you to create ecommerce, event, content, and religion applications. Their architecture is extremely high-quality.
This segment is a Shopify integration when it comes to e-commerce.To use BuildFire for e-commerce, you must have a Shopify website.Push notifications are available, as well as Paypal and Stripe integration. The requirement to use a Shopify plugin complicates the store's setup.If your app has a broad user base, keep in mind that push notifications and downloads are both restricted.Pricing begins at $ 89 per month, plus the cost of a Shopify subscription (which starts at $ 29 per month).
5. AppMachine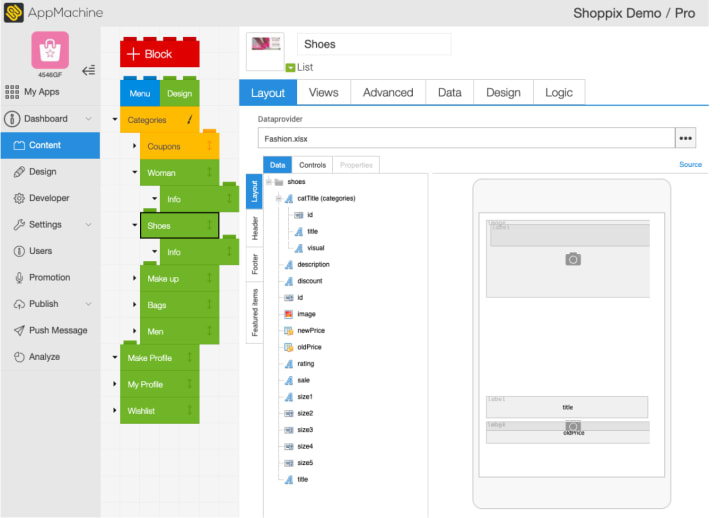 In 2011, AppMachine was created. Their base of operations It is organized around blocks (similar to Lego blocks), each of which represents a different function of the app.Each block manages its own content and design.very easy to use. Products can be imported and exported, and APIs can be used to integrate with other services.It's possible to publish on both Android and iOS, submit push notifications, promote the app with a QR code, and get comprehensive statistics.
The eCommerce section is straightforward but lacking in detail.The personalization of the product page is limited (1 single image, no similar product).There are no revenue figures, and Paypal is the only payment portal that is incorporated.The monthly fee starts at $ 39. AppMachine allows marketing companies to become resellers for as little as $ 99 a month.
6. Plobalapps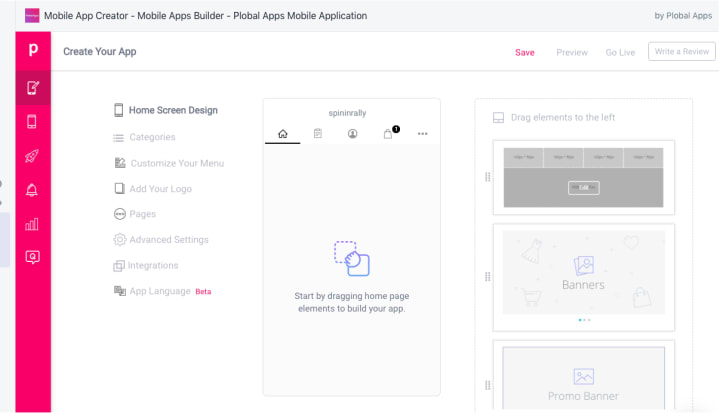 Plobalapps is a Shopify-integrated technology. This means that in order to use this app, you must have a Shopify account.Plobalapps has chosen to partner with Shopify, the world leader in e-commerce platforms, to provide its consumers with the ability to launch native apps from their Shopify store.The GUI is very user-friendly, with drag-and-drop functionality for accessing wind statistics and sending push alerts.Promotional banners, for example, allow you to view unique deals, which is one of their cool features.Likewise, there's the option of adding search filters. If you have a large number of products, this is very useful.The built-in payment gateways are identical to those used by Shopify, allowing for a wide variety of payment options.
Most parts of the world can be targeted. More than 170 currencies are available.
The key issue with Plobalapps is that it must be handled via the Shopify backend, which can be frustrating. Mobile has its specificities and being integrated with Shopify can make you forget these specificities. Pricing starts at $99 / month plus the additional cost of the Shopify subscription (starting at $29 / month).
7. Swiftic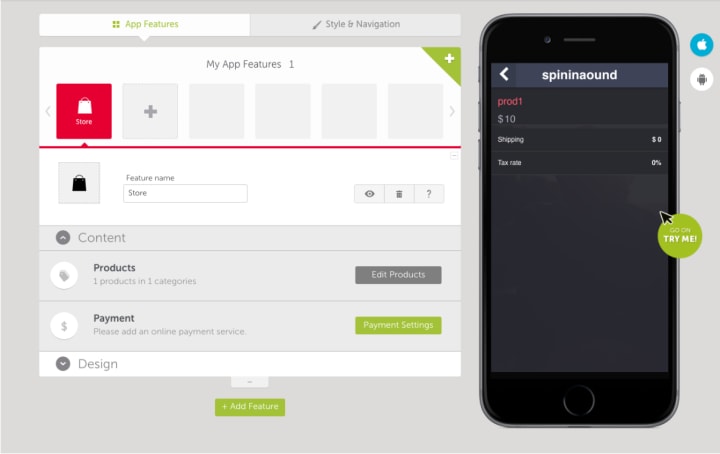 Swiftic is an application creator created in 2014 for retailers and eMerchants who want to publish an app on the Stores (App Store and Google Play).Sales, commercial marketing, and consumer satisfaction are among the functionalities.There are several ways to promote an application (Pushs, social networks, etc.) The application's general design can be customized to suit the company's needs.
An external store integration (Etsy, eBay, Shopify...) is possible for electronic commerce.For entrepreneurs who already have a store on a different site, it's an easy and cost-effective solution.Otherwise, Swiftic allows you to control your store directly, but the choices are restricted.
Only the title, description, price, tax rate, and shipping cost are included. Only Paypal is available as a payment portal, and the interface does not meet current requirements. The monthly fee starts at $ 29.
Most of these platforms offer free trials for a limited time period. Never hesitate to take full advantage of these before deciding which platform you will use. Of course, take into consideration features and pricing. But not only, as launching an app requires a lot of time and effort. Also there are many Ecommerce Mobile App companies like Mobdev that are there to assist or develop a fully functional Ecommerce Mobile app for your business. Consider your options from a growth standpoint so that you are not constrained if your app becomes successful. Finally, marketing options are critical because promoting your app to your target audience is critical to increasing sales and profit.