How to Write a Flashku...
...In 6 easy steps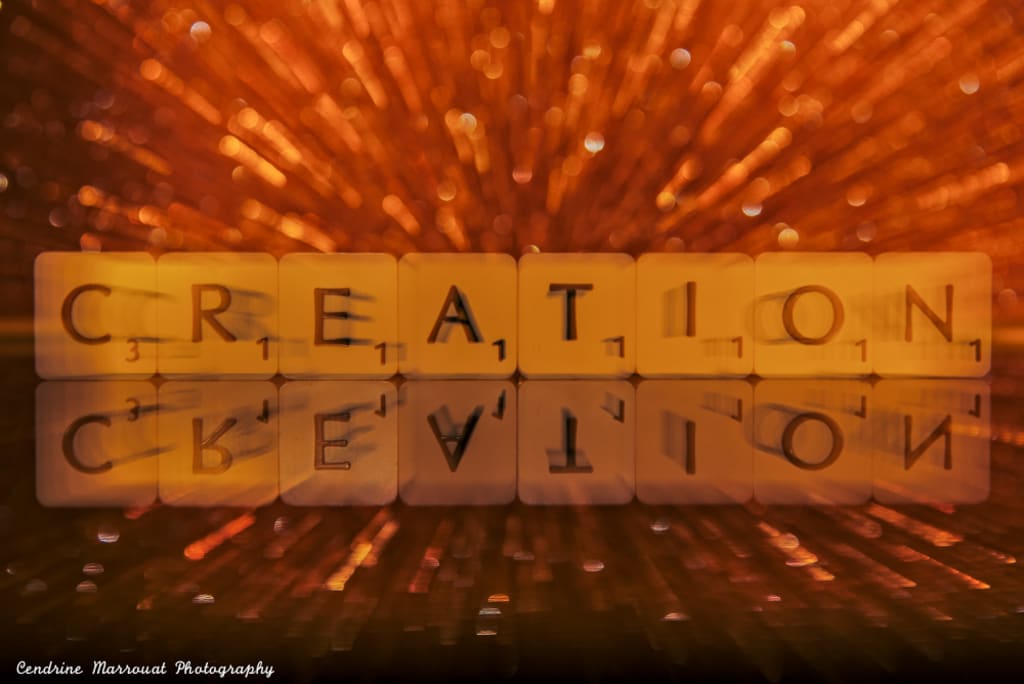 Photo credit: Cendrine Marrouat - creativeramblings.
When I announced my Emotional Moment in Nature Challenge yesterday, many of you had questions about the Flashku. So, I wrote a 6-step tutorial to help you!
1. Review the Rules
The Flashku is a short piece of flash fiction (50–100 words) that is inspired by an image. It contains minimal descriptions and uses seven words borrowed from another written piece. That source can be anything (story, novel, blog post, newspaper article, poem, etc.). It can be your own or someone else's.
The ending of your flashku must have an uplifting / inspirational twist or resolution.
While this is not a hard-and-fast rule, I advise trying to reach the climax of at about 80% through the story.
I like to call the Flashku 'poetic flash fiction', because the limited number of words forces you to think like a haikuist (a person who writes haiku). Descriptions have no "breathing space". But it is not a poem.
NB: You must always credit the image and the inspiration behind your flashku.
2. Select Your Image
I recommend picking your visual before you start writing. It can be anything: a photograph, a drawing, a fractal, a painting, etc.
A reminder: As a Vocal creator, every story you publish falls under the "commercial use" category. So, you cannot just pick anything you find on the internet. You must have permission to use the image that accompanies your words to form your flashku.
Not sure where to find images? Here are a few great resources:
Pixabay — The website allows you to use their images for commercial and non-commercial use, and provides information on how to credit creators properly.
Museums and cultural institutions — For example, the Cleveland Museum of Art, the Art Institute of Chicago, and Wikimedia Commons make thousands of images available to the public for free. Make sure you read their TOS carefully and look for the CC0 mention!
Indie artists — Do you like the work of a specific visual artist? Contact them directly to ask if you can use one of their pieces for your sixku. The more professional / transparent you are about your intentions, the more likely they are to say yes.
3. Select Your Source
As mentioned earlier in this post, the Flashku borrows seven words from a source. (The order you place them in your text does not matter.) For example: a poem or a short story. Prompt words do not equate source.
As a lover of the classics, I usually go for something in the public domain or that was published before the 1960s. My recommendation would be to select a piece that you really like, as it will probably influence the style of your flashku.
4. Write Your Flashku
Remember that the Flashku is limited to 50–100 words and must include a positive / inspirational twist or resolution.
To allow for your creativity to flow more freely, select the words from your source as you write your piece. You may also bold them in order to remember where they are.
Here are a few examples of flashku below.
The Puddle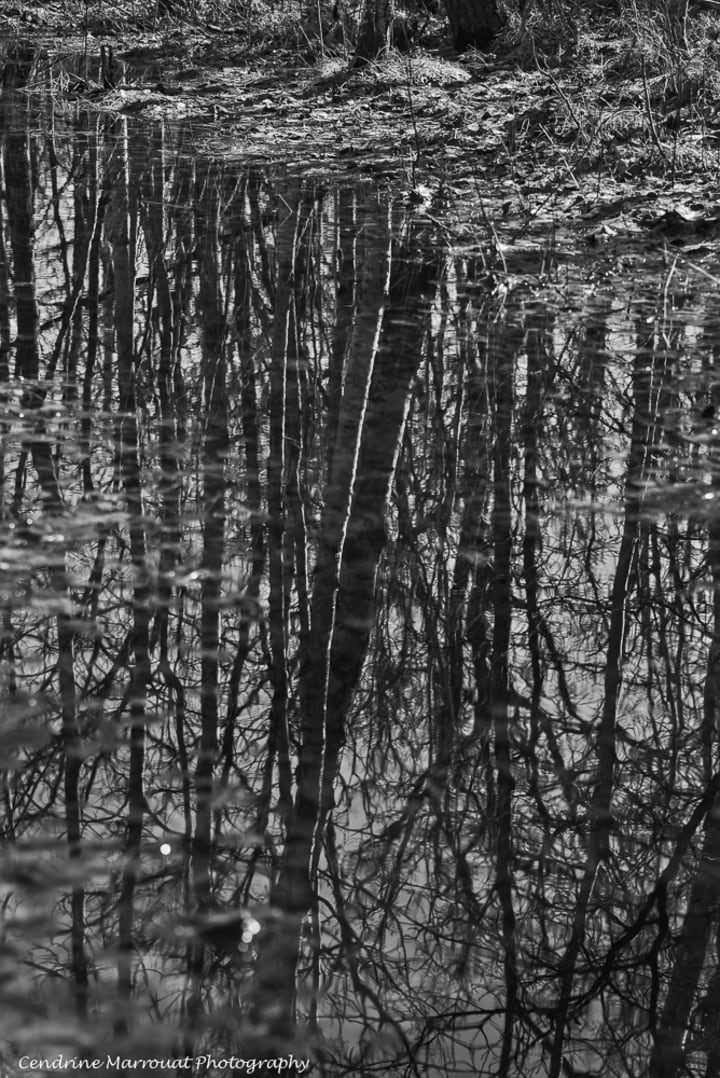 When they greeted each other, she asked herself if it was love.

Suddenly, the reflection in the puddle was disturbed. "Pitter-patter," said the rain. They smiled.

"The garden is not far. Just at the end of the road," he said, gently inviting her to follow him. Their wanderings together always were a unique source of comfort. So, she jumped over the puddle…

Mesmerized by the crackling fire, she remembered the silence of their first kiss.

And now, a lifetime later, as they looked at each other, she finally knew.
© 2021 Cendrine Marrouat
Flashku inspired by Kahlil Gibran's The Wanderer.
The Shed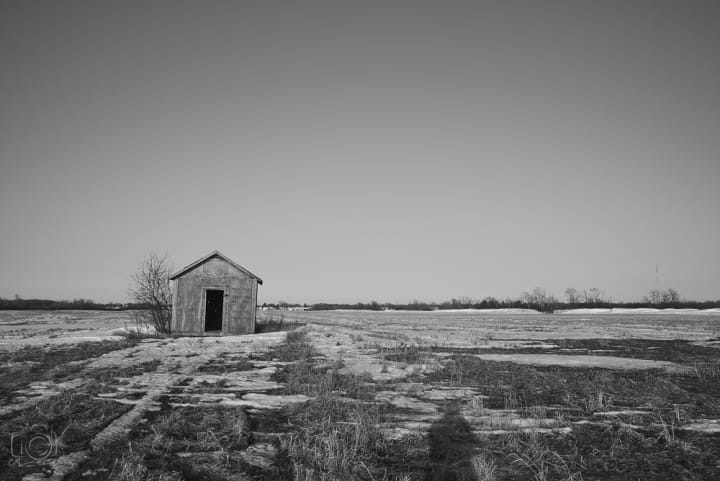 No tree was left. The only thing still standing was the shed built by a friendly man decades ago.

"I think his son teaches in the city," said one bystander.

"Yes, he occasionally comes back here," answered another one. "Not sure why he's never taken that thing down."

"Looks like the roots and branches have found a home," said a third one, pointing at the embrace between bush and shed.

The earth suddenly changed. New fruit seemed ready to emerge from the deep layers of the soil.

Maybe that is what people called hope.
© 2021 Cendrine Marrouat
Flashku inspired by Kahlil Gibran's The Red Earth
The Leaves
She watched the young boy pick up a few brown leaves and put them in his favorite book.

"His laughter is always so contagious," she thought before following him to the bridge.

"Mommy," he shouted. "The geese are leaving!"

She had felt lonelier before.

"Can we stay longer, mommy?"

The echo of his voice felt like a vast sea enfolding her.

We can stay as long as you like, honey. As long as you like.

Despite the pain and longing in her heart, she knew.

She knew that death could not hide him. She had the leaves to prove it.
© 2023 Cendrine Marrouat
Flashku inspired by Kahlil Gibran's The Prophet (Last chapter: "The Farewell")
As you can see, the Flashku is a unique form that focuses on the "Show, Don't Tell" concept. I created it to show that impactful stories can exist without the need for long descriptions. Dialogues and the unsaid become the stars of the show. 🙂
5. Edit
As with every other piece of writing, polishing your words is very important. Make sure that you have your work proofread / edited before publication.
Here are some tools to help you:
6. Give Credit Where Credit Is Due
Please, be a good social media citizen. Give credit where credit is due. Include the following information under the image:
title of piece (if available);
name of creator; and
if possible: link to creator's website or where the image can be found.
Do the same with the written text that you borrowed the words from.
When you share your flashku on social media, you may also want to tag the creators of the image and the source from which you inspired yourself. It's a great way to let them know that you support them.
Last but not least, include a copyright notice at the end of your flashku. Something like "© 2023 your name" works best.
---
Now, time to practice. Here is a challenge for you!
That's it for today! Thank you for reading.
All my forms can be found below:
---
Cendrine Marrouat is a writer, photographer, podcaster, blogger, anthology editor, and the co-founder of Auroras & Blossoms and A Warm Cup of Cozy. She has authored and co-authored more than 40 books, including The Train: A Short Story (2023), In Her Own Words: A Collection of Short Stories & Flashku (2022), After the Fires of Day: Haiku Inspired by Kahlil Gibran & Alphonse de Lamartine (2021), Rhythm Flourishing: A Collection of Kindku and Sixku (2020), Walks: A Collection of Haiku (2019-2020), and In the Silence of Words: A Three-Act Play (2018).
Cendrine's work has appeared in many publications. She is the creator of the Sixku, Flashku, Sepigram, and Reminigram; as well as the co-creator of the Kindku, Pareiku, Vardhaku, and Hemingku.
About the Creator
Writer & Author⎜Photographer⎜Artist⎜Co-founder of Auroras & Blossoms / A Warm Mug of Cozy⎜(Co-)creator of literary forms
"The Train: A Short Story" is out!
Website: https://creativeramblings.com
Donations: https://ko-fi.com/cendrineartist
Reader insights
Outstanding
Excellent work. Looking forward to reading more!
Top insight
Expert insights and opinions

Arguments were carefully researched and presented
Add your insights