The resurgence of Richard Childress Racing
How one driver helped the rebirth of a historic organization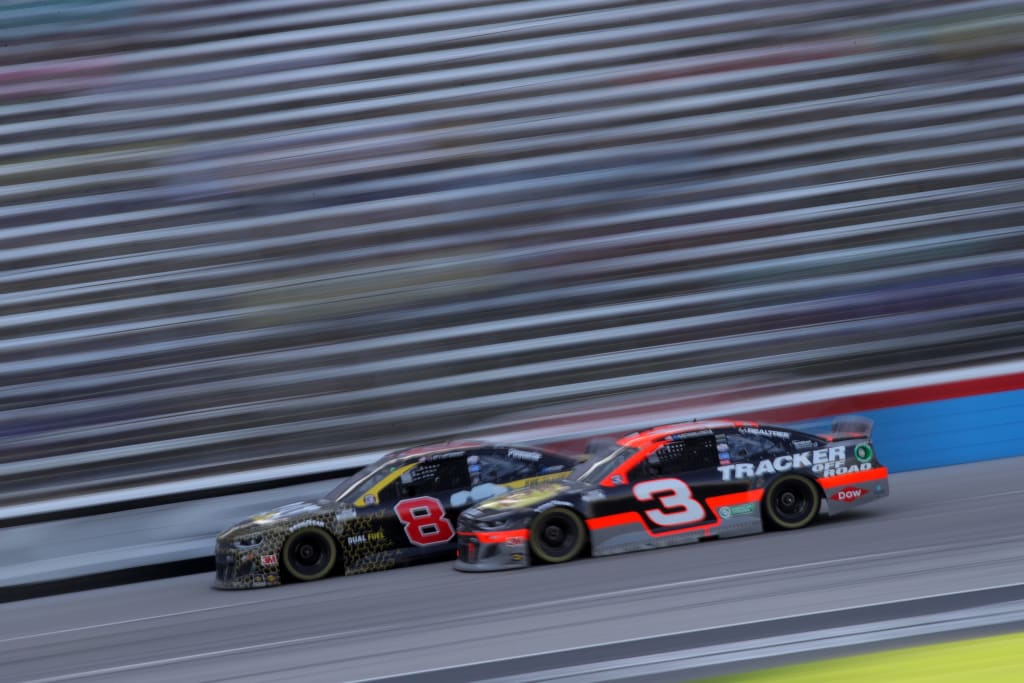 Daniel Hemric (Number 8) and Austin Dillon (Number 3) fighting for the lead at Texas Motor Speedway
One of the teams that has been struggling these past few years in Nascar is Richard Childress Racing. A team that has housed the likes of Ricky Rudd, Dale Earnhardt, Kevin Harvick and Jeff Burton in the past has struggled since losing Harvick to Stewart Hass before the 2014 season. Since then the team has recorded only three wins, 37 top fives, 104 top 10s and outside of Ryan Newman's runner up finish for the championship in 2014 (which was the year Harvick won his championship) their best points finish was 11th twice.
After losing both Burton and Harvick, who had been with the team for 9 and 12 years respectively, RCR brought up Xfinity Series Champion Austin Dillon and signed Ryan Newman. This duo, along with Paul Menard who was still under contract, didn't have a lot of success. The trio wouldn't win a race until 2017 when Dillon would win the Coca Cola 600 on fuel strategy and Newman would win at Phoenix. Dillon would also win the 2018 Daytona 500, but outside of some small bright spots, this trio was largely unsuccessful. In their four years together, Newman, Dillon and Menard would have the stats that were mentioned in the first paragraph, Menard would leave at the end of the 2017 season, they had only two wins. By comparison, in that same time span Harvick had 14 wins, 68 top fives, and most importantly a championship in 2014. RCR needed to make some sort of change, and they would make one for the 2019 season, but they would regress severely.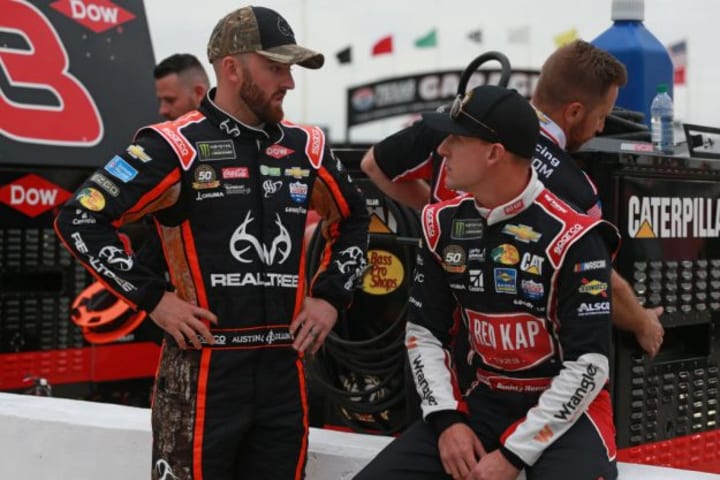 In a decision that is still perplexing to me, RCR decided to not re-sign the then 18 year veteran in Newman and brought up Daniel Hemric, who did have 37 top 5 finishes in his four years across the then Camping World Truck Series and the Xfinity Series, but he had yet to win a race at any level. That lack of experience was on display for all fans to see during the 2019 season, as RCR would only have one top five (Hemric at the spring Talladega) and nine top 10's. One of those belonged to Tyler Reddick at Kansas. Dillon's best finish was a pair of sixth place finishes at Richmond and the fall Talladega race. The points finishes would reflect these struggles as Dillon would finish 21st and Hemric would finish 25th. Even though things seemed bleak for RCR, there was a shining bright for the team, and that was two time Xfinity series champion Tyler Reddick.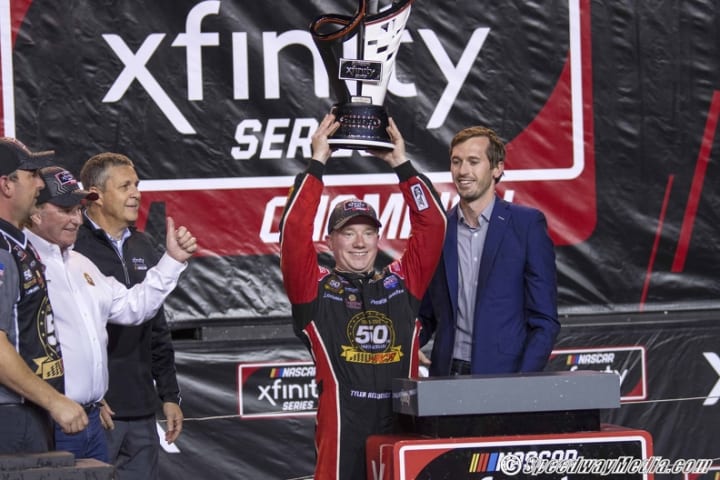 After back to back top 10 points finishes in the Truck Series, including a runner up finish in 2015, Reddick made the jump to the Xfinity Series in 2016 with Chip Ganassi Racing, splitting time with Kyle Larson, Justin Markes and Alex Bowman in the 42. After a third place finish at Kentucky and a 10th place finish at the first Kentucky race, Reddick would find Victory Lane at the second Kentucky race. He would follow that win with a second at Kansas and a fourth at Homestead. Seeing the potential in him, Reddick took the 9 ride at JR Motorsports and would go on to have an amazing sophomore campaign. He would amass seven top fives, 20 top 10s, and two wins at Daytona and Homestead that bookended his season, along with him winning the series championship in his first full season. After losing Matt Tifft to Front Row Motorsports in the Premier Series, Richard Childress gave Reddick the wheel of the 2 car and he would have a season for the ages in 2019. Reddick would win six races, record 24 top fives and 26 top 10s all in one season. He would go on a stretch from Phoenix to Michigan where he didn't record a finish worse than fourth place. That's ten races in a row where Reddick finished in the top five, and he would have another stretch of eight straight races from Kentucky to Darlington of top five finishes. It's safe to say that after a season that only saw Reddick finish outside of the top 15 only three times all year that he would win his second championship, making Reddick the first back to back champion since Ricky Stenhouse Jr. in 2011 and 2012. RCR saw this and thought that they might have the solution to the Premier Series teams issues.
RCR would ditch Hemric for Reddick in the Premier Series, and saw some results early in the season. Both Reddick and Dillon would finish in the top 20 at Las Vegas, with Dillon getting a fourth place finish. Both drivers would have some small hiccups along the way with Dillon finishing 37th and 39th at Martinsville and Talladega respectively, and a blown right front tire ending Reddick's great day at Phoenix after he had finished in the top 10 of both stages. But ever since Darlington, it seems like something has clicked for RCR, as both Reddick and Dillon have recorded 23 top 20 finishes and 11 top 10s. Both also have a pair of top fives as well. After back to back top 10s from Reddick and a top 15 from Dillon at Kentucky, we saw a major step in the right direction for RCR. After early trouble, Reddick was able to get back on the lead lap and was able to get back to the top 15 and Dillon had been a midpack car all day. It was going to take a bit of luck for the duo to have the results they wanted from the race, but that's just what Randall Burdett and Jusin Alexander would do for their respective drivers. They decided to stay out and get the track position. This worked for Reddick to take the lead and for Dillon to take second. After a few restarts, Dillon would take the checkered flag for his first win since 2018, and locked him into the playoffs.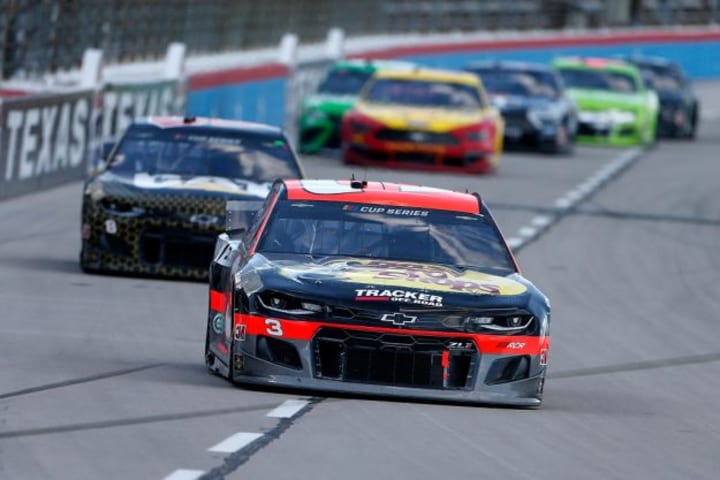 While one win isn't going to fix all the issues with a whole organization, the improved results have been a very bright light for this season. Reddick has been touted as a very talented driver and with a stacked rookie class that has had it's big four of Reddick, Cole Custer, Christopher Bell and John Hunter Nemecheck all competing for wins, and Custer actually getting a win at Kentucky, it only feels like a matter of time for Reddick to find Victory Lane himself. Dillion has had a bit of consistency issues since moving to the Premier Series, but has seemed to find his stride once the season resumed this year. I fully believe that we could be getting ready to see an old fan favorite return to its former glory.