The History of the Christmas Hess Truck
Have you ever wondered where the Christmas Hess truck came from?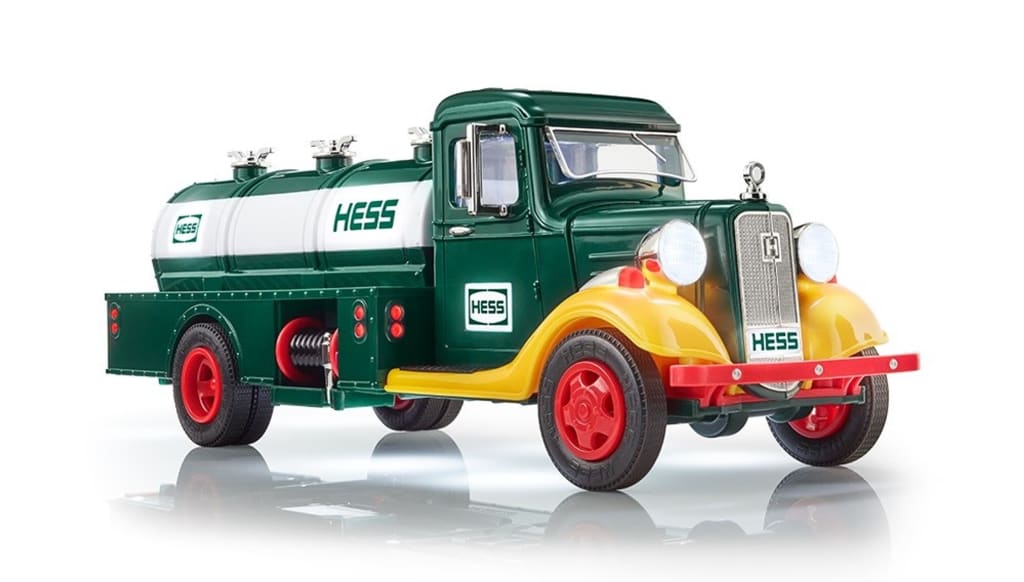 "The Hess Truck's here and it's better than everFor Christmas this year! The Hess Truck's here!"
I heard that jingle burst through the radio when I was a little kid back in the 90s. Next door, my neighbor had a tradition of giving his kids a Hess truck every holiday season.
Looking at my stuff under the tree, I grew confused. Trucks had nothing to do with Saint Nick! Back then, I dropped it and forgot about it, as kids are wont to do. During Christmas, a kid's attention span isn't going to be that big.
Recently, I heard the old jingle once more and the memories flooded back. What the hell does a truck have to do with Christmas? Surely, there had to be some kind of story behind the Christmas Hess truck.
I decided to take a look at what started this strangely cute tradition. Here's the heartwarming tale I found.
It all started in the 1960s, when Leon Hess noticed how pricey toys were.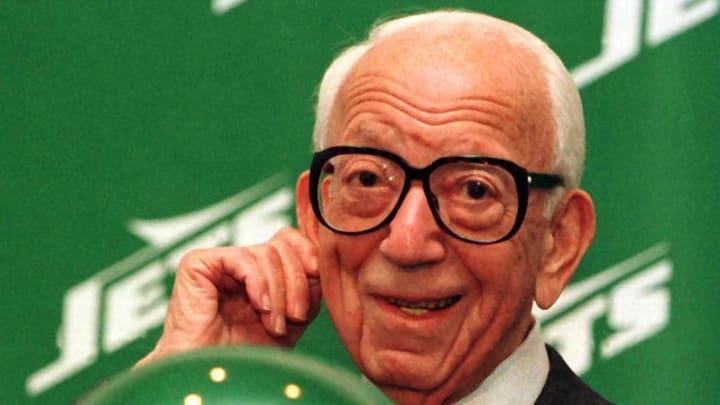 Leon Hess, if you didn't know, is the CEO of the Hess Corporation—yes, the same corporation as the gas stations you see dotting the nation's landscape.
During the 1960s, Hess began to realize that the toys of the day weren't very affordable for many families. Many parents struggled to afford the toys they wanted to offer their kids, and some were just too busy to actually go shopping for their Christmas gifts.
So, Hess decided to create a toy that was affordable and fun to help ensure that kids didn't go without a toy during the holidays. Little did he know that the truck would become one of the best-selling toy brands in America!
The difference between the Hess Truck and other similar toys was the quality.
It's not like there weren't cheap toys in the 1960s. There were plenty of cheap toys, but the issue with them was that it was clear that they were also cheaply made. They'd break in an instant, or they just wouldn't do anything.
What made Leon Hess' concept different was that it was an upscale toy at a low-scale price. Working class families loved this tradition, and quickly started to gift trucks to their children to give them a luxurious Christmas present they otherwise couldn't afford.
The first Christmas Hess Truck debuted in 1964.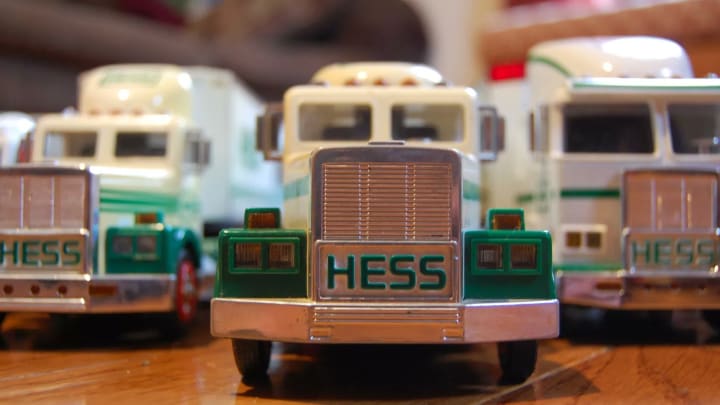 It was the 1964 Hess Tanker Trailer, and it was designed to be a perfect replica of the company's B61 Mack truck. The truck had working headlights and taillights, as well as a tanker that could actually be filled with water using a rubber hose.
Surprisingly, there was no fanfare about the Christmas Hess Truck's reveal. The company didn't air commercials on television or even mention it on the radio. Only a couple of newspaper clippings were used to promote it.
The hard plastic trucks were sent out with a price tag of $1.28, a very cheap price for toys of the time. Despite the lack of coverage, the truck was a hit.
The truck quickly became associated with Christmas, though you can buy them year-round.
Every year, Hess would roll out with another truck to add to their fleet. And, every single year would herald a new cool feature kids could enjoy. For the first decade or so, every single truck the company made was a replica of a truck the company actually used.
If you got a Hess truck model, it was extra cool because you could see real-life models driving by on city streets. The only exception to that rule was the first Hess fire truck model, which was debuted in 1970.
It didn't take too long for kids to ask for a Christmas Hess Truck by name. By the mid-1960s, Hess rolled out with "Hess Trucks" that took the shape of oil tanker ships, fire trucks, as well as cool combination trucks.
The current Christmas offering for 2018 is an ATV that comes with a motorbike and car that you can pull out from the back. In past years, it's been just about every vehicle under the sun.
Each Christmas Hess Truck undergoes a serious design process.
Making a high quality toy on the cheap isn't easy, which is another reason why Christmas Hess Trucks are so coveted. Each design takes about two years to finalize, with some of the more complex models taking as long as six years to invent.
The earlier models were made of no less than 75 individual pieces of hard plastic, wiring, and other materials. These days, it's not uncommon to hear of Hess Toy Trucks that have as many as 300 individual parts that need to be assembled.
Once the parts are individually tested, they undergo quality assurance so that they can remain held to the highest standards. The Hess toy line actually has one of the most stringent toy testing policies out there.
Think about it. Every single Hess Truck you own took years to make and develop. That's really awesome.
Once the toy is assembled, it's placed in a Hess box.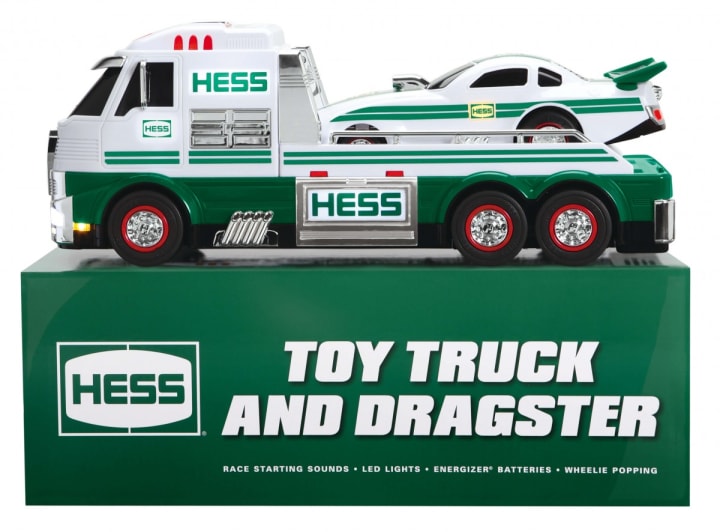 Taking a cue from the truck's design process, the box undergoes some design care too. Over the years, the Hess Truck box has had velvet lining, extra padding, a wide range of different logo designs, and more.
These days, the boxes are a bit more simple. However, that doesn't mean that the care isn't there; it's just that design has become a lot more streamlined in recent years.
Once in a blue moon, you'll also see Hess unveil surprise releases alongside their truck line.
Though it's never done at a regular pace, Hess has been known to unveil accessories and commemorative gear to celebrate the toy line. These releases aren't trucks, but they are coveted by truck collectors.
For example, the company released a series of drinking glasses with favorite trucks in 1996. More recently in 2014, the company sent out a 50th anniversary poster showing the best models to be released.
This year, the surprise release was an 85th Anniversary Collector's Edition Christmas Hess Truck toy. Believe it or not, the demand was so high, it already sold out!
The story of Christmas Hess Truck toys is one that was born out of a desire to see kids happy in the holiday season and to provide parents with inexpensive gifts for kids. By bringing the joy of toy trucks to kids who didn't always afford good presents, Leon Hess created a new holiday tradition for tons of working class families.
It's been decades since the first Hess Truck was found in gas stations across the nations, but in some ways, not much has changed. These days, kids still look forward to the Hess Truck unveiling—even those who are parents themselves.