The Car Shipping Gurus from California
Move Car Auto Transport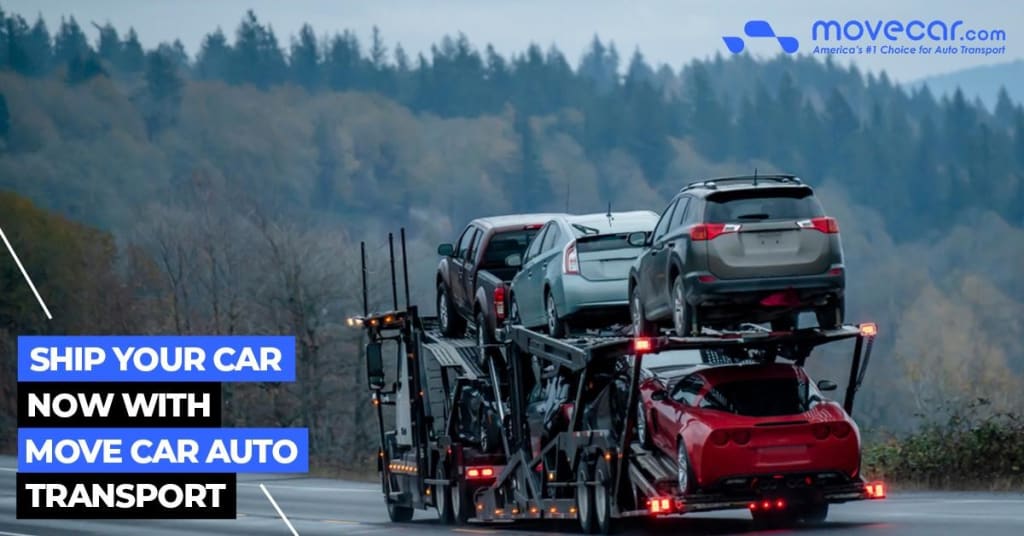 Move Car Auto Transport is yet another successful business from the state of California. Based in Sunnyvale, CA, the success story of Move Car reigns over decades of car shipping experience ranging from simple daily usage ones to the expensive and exotic ones. Additionally, the company is also famous for offering easy vehicle transportation deals to students and military personnel.
The state of California and its residents have a number of vehicle transport companies at their disposal, yet Move Car auto transport tops the chart in terms of popularity and high revenue. There should be something unique for a company to have this much popularity and revenue in the presence of numerous other competitors.
Therefore, we decided to evaluate their services in order to check whether they have earned the spot because of quality services or it is just an exaggeration. To our surprise, the claims of the highest popularity amongst general consumers and business partners and quality services are true and beyond our expectations.
We analyzed the services of Move Car auto transport while considering a number of factors to reach a reasonable conclusion. The factors that were considered while evaluating the services of Move Car are given below:
The Experience of Decades:
The foremost concern of a general consumer before choosing any vendor is the experience and with Move Car auto transport at service, you have got decades of vehicle transport experience. According to their CEO Mr. Yasin Arif, "Our beginning was very humble as we started our journey from a small car garage based in Concord, CA, but now we are one of the leading auto transport companies across states with multiple terminals across the entire US and provide shipping to almost every place across the states". Moreover, he said, "We have a generation of the family business with practical experience and a motive to transform the industry for good with quality services and advanced technology". We think these stats are enough to urge any general consumer to trust a vendor for once and the rest is on the quality of services provided by the vendor, which is where Move Car really makes the difference.
Satisfying Various Customer Needs:
Looking at the objective of Move Car as an auto shipping company, it is pretty simple, "Keeping the customer as hassle-free as possible" as said by their CEO. In fact, they have really proved it by offering multiple auto transport methods to fit the various needs of their customers. They offer multiple car transportation types including open car transport, enclosed vehicle shipping, door to door car shipping, and the expedited auto transport, all are there as a probable choice for the customers who want to ship their cars through Move Car. A little background about all these auto transport methods is necessary here, the open car transport refers to the vehicle transportation type in which open vehicle transport carriers are involved, your vehicles are expected to arrive at their destination in a quick time, enclose auto shipping referred to the added safety for exotic and luxury vehicles through enclosed auto carriers keeping the vehicles safe from slightest of damages, scratches, or even weather elements. The door to door transport, on the other hand, is all about the minimum effort from the customer where the car is picked and dropped at the doorstep, making the customers sit back and relax without worrying about anything while the professional Move Car team handles the entire process. Lastly, there is expedited vehicle transport that is all about prioritizing the delivery of a particular vehicle even if the process involves the change of schedule and route.
Super Friendly Customer Support:
We heard a lot about the friendly and helpful customer support of Move Car and decided to take a couple of words from their CEO regarding their customer support, and he was extremely proud of the performance of his customer support team. He said, "Our customer support is a unique selling point for us and gives us an upper hand over all our competitors. There is a reason why hundreds of people vouch for our customer support team, they deserve to be called the best customer support in the car shipping industry across states". This is why they have trademarked their support as "Zealous Support".
While wrapping up, all we have to say is there are a number of other factors as well that makes Move Car-the car shipping gurus from California, but the aforementioned factors are enough to give people an idea about how efficient and superior services Move Car auto transport is offering to its customers.