Porsche 911 Turbo S
High Performance Daily Car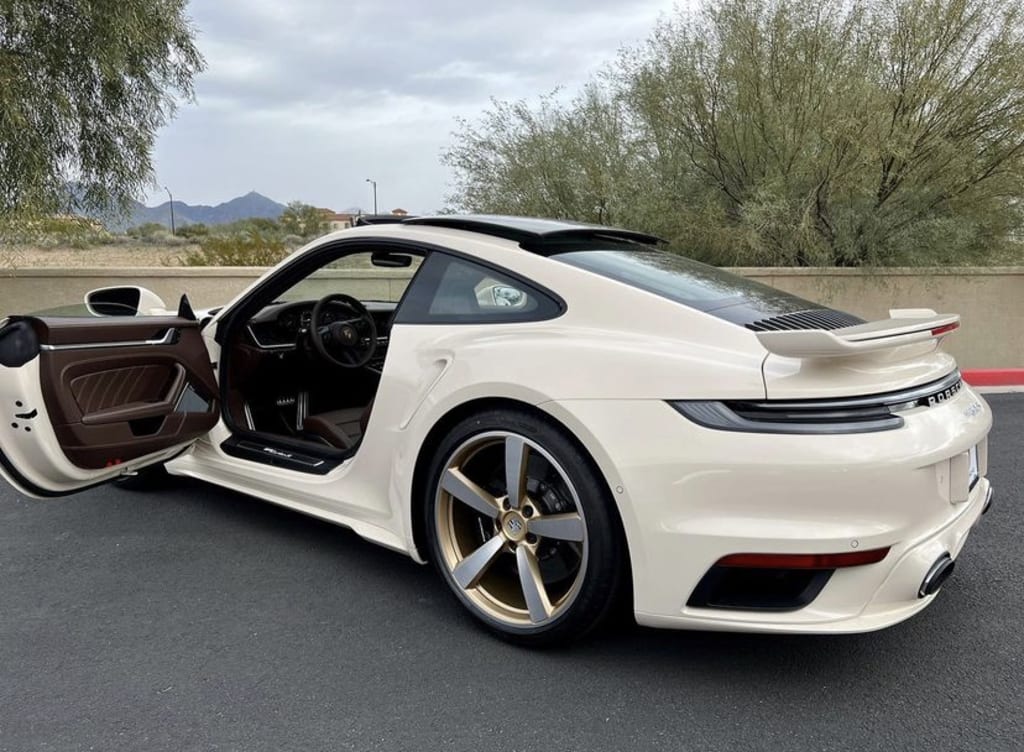 The Porsche 911 Turbo S is a high-performance variant of the Porsche 911 sports car. It is the top-of-the-line model in the 911 lineup and is renowned for its blistering speed, exceptional handling, and luxurious features.
The current generation of the 911 Turbo S, introduced in 2020, is powered by a 3.8-liter twin-turbocharged flat-six engine that produces 640 horsepower and 590 lb-ft of torque. It is paired with an eight-speed PDK dual-clutch automatic transmission and all-wheel drive, allowing the car to accelerate from 0 to 60 mph in just 2.6 seconds and reach a top speed of over 200 mph.
The 911 Turbo S features numerous performance upgrades over the standard 911, including larger brakes, a more advanced suspension system, and active aerodynamics that improve stability at high speeds. It also has a unique front bumper with larger air intakes and a rear spoiler that automatically adjusts to provide additional downforce as needed.
Inside, the 911 Turbo S features a luxurious cabin with high-quality materials and advanced technology. It has leather sport seats, a 10.9-inch infotainment display, and a Bose or Burmester premium sound system. Optional features include a sport exhaust system, ceramic composite brakes, and a range of driver assistance features such as adaptive cruise control and lane departure warning.
Overall, the Porsche 911 Turbo S is a highly capable and luxurious sports car that offersexceptional performance and driving experience. It is one of the most iconic sports cars in the world and is highly sought after by automotive enthusiasts for its combination of speed, handling, and luxury.
Can you tell me more about the driver assistance features available for the 911 Turbo S?
Certainly! The Porsche 911 Turbo S offers a range of advanced driver assistance features that are designed to improve safety and convenience while driving. Here are some of the features available:
1. Adaptive Cruise Control (ACC): This feature uses radar sensors to maintain a safe distance from the vehicle in front of you and adjust your speed accordingly. It can help reduce driver fatigue on long journeys and improve safety in heavy traffic.
2. Lane Departure Warning (LDW): This feature uses a camera to monitor the position of the car within its lane and alerts the driver if the car begins to drift out of its lane. It can help prevent accidents caused by driver distraction or fatigue.
3. Lane Change Assist (LCA): This feature uses radar sensors to monitor the blind spots on either side of the car and alerts the driver if a vehicle is detected in the blind spot. It can help prevent accidents caused by sudden lane changes.
4. Night Vision Assist (NVA): This feature uses thermal imaging cameras to detect pedestrians and animals in the dark and display them on the dashboard display. It can help improve visibility and safety when driving at night.
5. Surround View: This feature uses multiple cameras to provide a 360-degree view of the car's surroundings, making parking and maneuvering in tight spaces easier and safer.
6. Porsche InnoDrive: This feature uses adaptive cruise control and predictive speed adjustment to optimize your driving experience. It can automatically adjust your speed based on the road ahead and provide a smootherdriving experience. It also includes a lane-keeping function to help keep the car in its lane.
7. ParkAssist: This feature uses ultrasonic sensors to help the driver identify suitable parking spaces and provides visual and audible alerts to help the driver park the car safely.
Overall, these driver assistance features can help make driving the Porsche 911 Turbo S more convenient and safer, while still maintaining the driver-focused nature of the car. It's worth noting that some of these features may be optional or available as part of a package, so it's important to check with your Porsche dealer for specific details.
Reader insights
Be the first to share your insights about this piece.
Add your insights