Paul R Johnson
Can I make a Difference?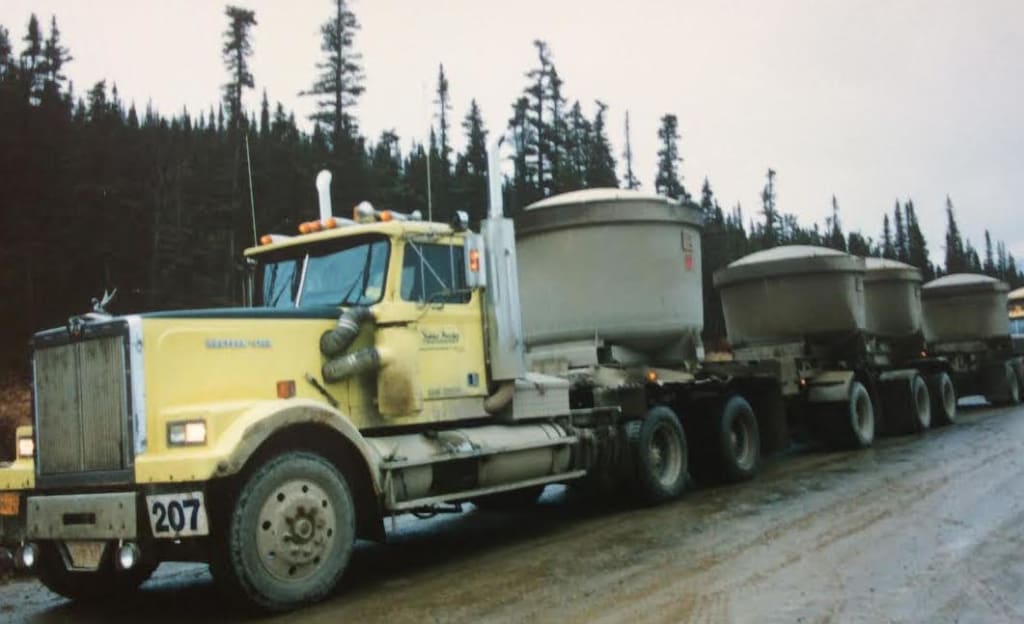 Yukon Alaska Transport
In 1987 through 1989, while I drove for Yukon Alaska Transport, I wrote and published short stories about my times on the road, for the Northern Journal in Whitehorse. We were hauling Lead and Zinc ore from Faro Yukon to the Shipping ore sheds in Skagway Alaska. This was an actual trip and the people are real. Only my Christmas story was partially fiction. Come ride with me as I haul this load of Lead Ore to Skagway Alaska.
Life With A Roar
I woke this evening to the alarm.
I looked out the window to check the weather. To the north to visualize what was happening at the mine, then to the south for an idea of what was happening in Skagway.
I can then imagine the road conditions, between here and there, for which ever way I am to travel on this night. Once I've made my lunch and prepared to leave the house, I say my goodbyes and drive up to the shop. Passing through downtown Whitehorse, I see people on their Saturday night fun, I realize that I'm not missing anything and I continue on my way to work.
I check in at dispatch and punch the time clock 17:45.
I make sure my papers are all in order and my bills are correct. Then I check the equipment, and the truck that I am to take out tonight. Looks like I got 204. Tonight I go to Skagway, so that means this truck is loaded. Paperwork says, I have on Lead, and the loaded pot placards show Lead. A thorough walk around pre-trip and it's all good. I spark a fire to the engine and it comes to Life with a Roar. I check the radio and the tape deck, because in some trucks, the tape deck doesn't work, but tonight in this one, it does. I tap my shirt pocket to see that Tanya Tucker, Randy Travis, and Lacy J Dalton, are with me tonight, and they are.
I have done my pre-trip papers now, I'm all set to go. I grab the mike and call dispatch. "204 leaving the yard."
"OK have a good trip", is the reply.
I pull onto the highway southbound. In a few minutes I'm at the scales. I have to add air to my tag axle, to even the weight just a bit. I pick up my weight slip and the green light flashes to go.
Back on the highway, I have to travel at 50K for the next 1.5 km. Now I am cleared and I call dispatch once more. This allows the next truck following me, enough time to roll out without us bunching up on the road.
The company, and the public doesn't like it when we travel to close together. These trucks are 85 feet long and at highway speeds, with the curves and hills, it's difficult for anyone to safely pass one of us. As I turn on to the Carcross Road (The South Klondike Highway), the radio barks, "210 clear of the scales".
Looks like light rain starting. This old Cat is pulling good tonight. Last night I had truck number 15 down here and I had to shift down on this hill. This one pulled up and over, no problem. Randy Travis is good company on this trip. 'The Storms of Life', reminds me a lot of myself. Coming through Carcross now, I have to slow down to 15 km to pass over the Nares Lake bridge. Carcross is a nice little town, with the mountains on one side, and the way that Nares Lake meets Lake Bennett, on the other, the fall colours right now, make it a real pretty site.
One more gear down and I'll be up and over top of this hill, that was a long hard pull. It sure will be nice when the construction is finished out here.
I wonder why the government lets out road construction contracts in the fall instead of in the spring. when they have all summer to be working on it. This way it seems they just get things all tore up and it freezes. Then we have to drive over this rough mess all winter long.
"Venus mine loaded" I called on the radio, "BC border empty" comes back. I'll meet this truck within the next 10 minutes.
Time to change the tape, Lacy J Dalton, 'Highway Diner', sounds good. Here's a truck coming now.
"How's it going tonight there a Jim"?
"Good PJ".
"How's the construction looking at Fraser?"
"It's kinda soft, but if you drop the air in your tag, you won't have a problem. They had to pull 2 trucks through earlier today, but it's not bad now".
"Ok sounds good, was it raining in Skagway?"
"Yeah it sure was. You'd better have your web feet on tonight at the ore shed. What have you got on tonight?" "Lead," I say.
"Well it's not too bad at that end of the shed, but the Zinc door, it's about 6 inches deep."
"Ok, sounds good, thanks Jim, you have a good ride home and we'll talk to you tomorrow."
"Ok, you too PJ".
"Railroad tracks loaded", I call. I have to go pretty slow now here's where the construction starts, again.
"How about it there Pilot car, are you out there Virginia"? "Yeah I'm here", she says.
"I'm just coming down to the lights, where are you?"
"I'm just leaving the Customs, coming north".
"OK thanks", this gives me 15 minutes to check my brakes and see that all the Ore pots are secure, and I'll have a coffee. "White Pass Summit loaded", I call.
I had better get down into the third and second now as I crest over the hill, or I will have a runaway. This hill is 26 miles long from the Summit to the waterfront. With 80 ton pushing you, the is simply no room for mistakes.
The retarder works real good on this truck tonight, I come all the way down to the US Customs and didn't have to touch the brakes, until now, to check through Customs. We're passing the fuel pumps now, one truck in there fuelling up, so I should meet one between here and the Ore shed.
Oh, what was that? The Troopers parked in that driveway, they must have their radar on, they like to check our speeds, coming into Skagway and especially on this bridge.
I have to punch the clock for my arrival time, 22:15. I check my unload time on the trip sheet, 22:00. I lost that time in the construction. I have to get under the electromagnet lift, to get the lid locks off the pots now and unlock the pots from the trailers.
The rain seems to be easing a little, that's good. I wonder who's on the forklift tonight.
"Oh, Hi Doug, how are you tonight"?
"Just fine, there PJ".
Well that didn't go too bad, we didn't drop anything.
I have to get my tag axle lifted now and I'm out of here. My God! This mud is ridiculous. I'm soaking wet. Oh well, those are the hazards of the job, I guess.
Punch the time clock for my departure time, 22:45 and that's not bad time tonight.
Well, now I have to go fuel up, and if I don't get stuck too long at the construction. I'll be home by, say 02:30.
"217 you copy"?
"Yeah, go ahead".
"Hey, watch for the rocks on the road there, just below Customs, looks like a small slide came down there".
"OK thanks, you have a good trip home".
"Yeah you as well". "Empty on the Summit".
"Hello Virginia, are you out there"?
"Yeah, I'm here at the south end right now. Where are you"?
"I'm about 3 miles from the Canadian Customs".
"OK I'll wait for you".
"Thank you", through the construction now, "you have a wonderful night, and I'll see you tomorrow".
"You have a good trip home and a good night",comes back the reply.
Time to plug-in Tanya Tucker, I bought her new tape today, let's have a listen to that. 'I Won't Take Less Than Your Love'. Real good Tanya, once again you have renewed my faith in your music, you just keep getting better.
"BC border empty", I say, "Rock Cut loaded", comes back. Woe! I better slow down he's just around the corner. And there he is!
The northern lights are out good tonight.
I'm starting to get tired. I'll pull up on top Emerald Lake where I can stop. After a few laps around the truck and I am a little more refreshed. "Dispatch", I call no answer. Where are you Rick? I'm thinking. " Dispatch, are you there"?
"Dispatch go ahead".
"Yeah, this is 204, I'm 25 to 30 miles out".
"OK, is the truck good to go north"?
"Yeah, I'll give it a run through the wash and change a broken headlight, then she's good to go".
"OK, I'll call another driver, See you when you get in".
"OK Rick".
Pulling by the scales, I have to watch out for drunk drivers at this time at night. The bars are just closing down now. I almost got hit coming in last night.
Well, will you look at that, the red and blue flashing. I don't believe it, they have that same red van pulled over, that almost hit me last night. I guess justice does prevail.
"204, back in the yard".
Post trip complete, parked in the good to go lineup.
Punched out 02:48.
I'll head home now and I'll sleep real good tonight, today.