How to Choose the Right Tonneau Cover for Your Truck
Features that you should look at in your truck bed cover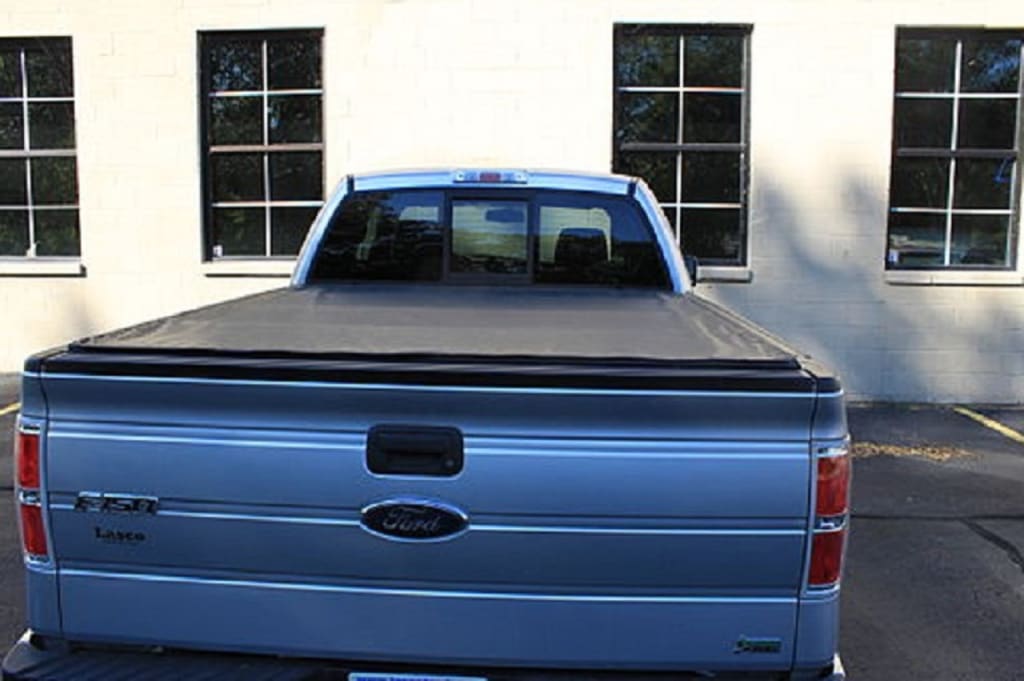 Tonneau cover on pickup truck (Source: wikipedia.org)
A truck tonneau cover is also called a truck bed cover, which increases the lifespan and keeps the condition at the perfect state. It also increases the versatility of the truck. This tonneau cover provides various benefits for your truck bed, such as weather protection, higher mileage of gas, and security. However, this tool is most important for the truck owner who carries important equipment that requires optimum safety.
Here comes the question of choosing the right tonneau cover for your truck, as there are lots of different card bed cover in the market with different benefits. When thinking about buying a truck bed cover, you should know that not all covers are made with similar features. That's why here we are giving proper tips to choose the right tonneau cover for your truck.
Important things to consider for buying a Tonneau cover:
There are a few things you need to take into consideration before buying the right tonneau cover for the truck. The proper combination of those things will give you the most use of the accessory.
● Security: Security is the first thing that you want to keep in mind before buying a truck bed cover. Best secured cover or tonneau will provide you with pressure less service. A hardcover and A tight latch will give your truck the capability to prevent any unwanted access.
● Durability: Another important matter of fact is to determine the durability of the truck bed cover. This will depend on the fact how you use your truck or to keep what types of things. Smooth and careful use of you're truck may provide a longer lifespan.
● Budget: Budget is the most important factor for buying anything. You should choose the product according to the affordability of your spending. You have to find a suitable truck cover based on your need and the price you want to pay.
● Weather Protection: Weather is an uncertain event that may happen anytime and anywhere. Worse weather may destroy your things and damage your truck bed. For this reason, you have to find out the best suitable tonneau for your car based on the weather.
● Easy to use: Ease of using any accessory is the most matter fact one should consider. Because how well a truck bed tonneau will perform depends on how easily it can be used.
● Truck Bed Access: If you want to put larger things in the back of your truck, you should have a cover that will give you full access to fit your things.
● Enhanced look: Look also an important feature of any accessory. People want to get hold of the best quality products with proper color and finish. This will give the truck cover an incredible look.
● Expanded capabilities: You should look for expanding space capabilities for keeping your extra things on your adventure trip.
Features that you should look at in your truck bed cover
1. Choose a tonneau that will match your requirements.
Truck bed cover or tonneau are made up of different materials such as fiberglass, vinyl, aluminum, canvas, and polymer. There are also different types in opening the truck bed cover, such as tilt-back, roll-up, snap, retractable and folding tonneau.
A Few truck bed tonneau also comes with a rack system that will give extra space to keep your ladder or any other things. You will also have other features and options to choose from.
You have to determine your necessity and pick the appropriate one. If you want a truck bed tonneau to prevent the thief from stealing, then you should find a cover with a high-end lock system. On the other hand, if you want to buy a truck bed tonneau for easy access tan o your accessories, you should find a folding or roll-up tonneau.
2. Choose a cargo that will save your truck bed and tools from elements.
You are required to keep your cargo safe from mother nature and its different elements. Different elements can ruin your cargo and damage things. If you are living in a hot or cold area, you should protect your cargo from the excessive condition.
If you live in an area that has heavy snowfall, you should buy a strong cover that will sustain the excessive load of snow. If you are in an area with heavy rainfall, you should find a waterproof cover with a tight seal.
3. Choose a cover that is compatible with other accessories.
A truck bed tonneau or cover is important also the accessories of the truck bed. There different accessories that require access at any moment, such as anchors, hooks, and locks, which may be covered by the tonneau and make it inaccessible.
So you have to find a compatible truck bed cover that will sustain access to important accessories of the truck bed.
4. You have to check the level of maintenance required by the cover.
Generally, most of the truck bed cover doesn't require any special maintenance or settings. But a few covers require maintenance, such as a retractable truck bed cover.
A retractable card bed cover needs some mechanical maintenance to make sure long life and good condition. A retractable truck bed cover has a railroad that requires lubrication from time to time for smooth movement. Also, a few other truck bed cover require special maintenance. For that reason, you should be aware of any maintenance requirements.
5. You need to check installation requirements.
In addition to checking maintenance, you should also check the installation requirements of your truck bed tonneau. Every truck bed cover has a different installation process.
A few covers require simple 5 to 10 minutes to set up the truck bed tonneau. On the other side, a few require a complicated setup process, so you should be aware of that.
Final Words
How to Choose the Right Tonneau Cover for Your Truck? And you've a got a clear demonstration of the important factors to consider before selecting one. A perfect tonneau cover will increase your truck's lifespan from rust, dust, or other rough weather conditions. Tonneau Cover information source links are below

Your car is a statement about yourself. It says who you are, how you will likely drive, and what kind of life you live. Have you ever wondered what your car says about you, or what people think about your car?

Driving is easy. But how do you maintain your vehicle? Most will consider you as a responsible car owner when you have your car serviced at least a couple of times in a year. Auto repair shops and service departments will do the usual services – change oil and oil filter, check the brakes, replace spark plugs, examine the belts and the hoses, etc. With all the things your mechanic needs to see and touch, it is a wonder if your steering wheel remains unscathed from dirt and grime. They most likely used Disposable Plastic Steering Wheel Covers before they did any work on your car.

The top items every off-roader should have are not only necessary for your safety, but will make your off-roading experience easier and more fun. From a recovery kit to mud tires and a light bar, each of these products will improve your weekend trip filled with adventure and fun.

Will Electric cars save the world? We are living through a period of change. The ancient Chinese philosopher Lao Tzu said the only constant thing in the universe is change. What we have learned in the last 3,000 years is that all change has a price. Who pays the price and who gains the benefits, are questions that should be considered when evaluating any and all changes.

Car accidents can happen to anyone, at any time. You do not need to be speeding, nor do you need to be near another driver for them to happen to you. Even the most attentive drivers can end up having a serious accident that may not have even been in their control.

I'm a huge fan of looking at cars that are heavily modified — and really, who isn't? Ever since Pimp My Rideon MTV, it seems like car mods have become a part of American youth culture. Car mods are a status symbol. They're edgy. They're neato, and often push the engineering capacity of the car to its limits.