Truck Driver Behavior That Could Cause an Accident
3 dangerous actions by truck drivers that could lead to a car crash.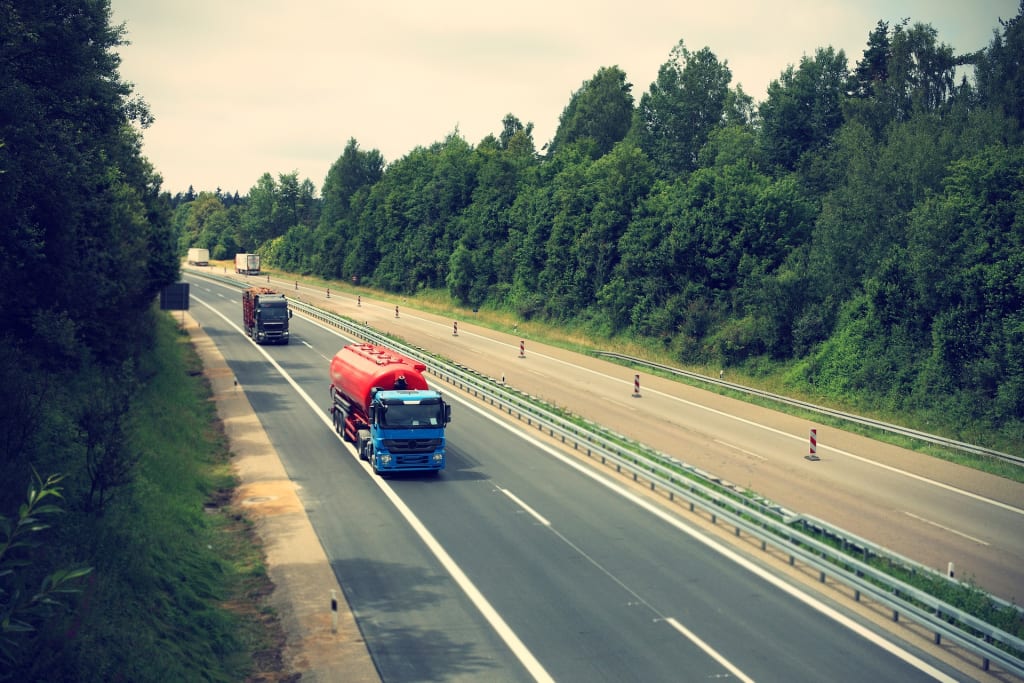 Infractions by motor vehicle drivers are committed every day, whether it's speeding, not following traffic signs or using a cellphone while driving. This is risky behavior that puts road users' lives at risk. However, commercial truck drivers that engage in the same risky behavior not only put lives in danger, but their commercial driver's license could be suspended if they break some of these traffic laws. We have outlined some of the most common actions that could cause a truck accident.
Driving Tired or Drowsy
Driving tired or falling asleep behind the wheel is a dangerous behavior not only for the truck driver but for other drivers on the road as well. Unfortunately, commercial truck drivers are more likely to drive drowsy, due to strict delivery goals, night, or long shifts. Studies from the Sleep Foundation show that sleep deprivation has similar effects on your body as consuming alcohol, this means that when you are drowsy driving, your body will react the same way as if you were driving drunk. A drowsy truck driver could cause a serious accident by not paying attention to the road or other drivers, speeding, missing turns, or falling asleep at the wheel. Pay attention to your body when driving, especially at night, since this is the time when it is used to getting some sleep. Some signs your body gives you that you may be too tired to drive include:
• Trouble concentrating on the road
• Constantly yawning
• Trouble keeping eyes open
• Missing road signs or turns
• Inability to remember driving the last few miles or how you got to your destination
• Constantly bobbing your head
Driving Distracted
Texting and driving is banned in 48 states in the U.S. however some drivers still engage in this risky behavior. A truck driver using a cellphone while driving could be riskier than a smaller motor vehicle driver. Trucks take a longer time to slow down and break, if a distracted driver doesn't notice a car in front of them or another hazard, they may not have enough time and space to safely break and avoid an accident. The consequences for a truck driver that is found texting and driving are also more severe than for car drivers. According to the FMCSA, texting and driving could lead to a commercial vehicle driver being disqualified, and fines of over $2,000. Don't jeopardize your job and avoid texting while driving.
Speeding
Some commercial truck drivers have strict delivery goals to reach and may be tempted to speed to meet these deadlines. Speeding can pose a great risk for drivers on the road, not only does speeding increase the chances of an accident but it can also cause more severe collisions resulting in serious injuries. A speeding ticket for a CDL holder could result in their license being revoked. The penalties for speeding depend on if this was a first, second or third violation, but they're all considered a serious violation.
If you are involved in a truck accident caused by a distracted, drowsy or speeding truck driver, the driver or the company that they work for can be responsible for the damages that the accident caused you. Truck accident attorneys Panish Shea & Boyle suggest that accident victims should speak with an attorney after being involved in an accident. Legal professionals can help you determine what or who caused your accident, what your claim is worth, and guide you through the legal process. If a faulty component or mechanical failure in a truck caused the accident, then the liable party could be a manufacturing company.
Your car is a statement about yourself. It says who you are, how you will likely drive, and what kind of life you live. Have you ever wondered what your car says about you, or what people think about your car?

Driving is easy. But how do you maintain your vehicle? Most will consider you as a responsible car owner when you have your car serviced at least a couple of times in a year. Auto repair shops and service departments will do the usual services – change oil and oil filter, check the brakes, replace spark plugs, examine the belts and the hoses, etc. With all the things your mechanic needs to see and touch, it is a wonder if your steering wheel remains unscathed from dirt and grime. They most likely used Disposable Plastic Steering Wheel Covers before they did any work on your car.

The top items every off-roader should have are not only necessary for your safety, but will make your off-roading experience easier and more fun. From a recovery kit to mud tires and a light bar, each of these products will improve your weekend trip filled with adventure and fun.

Will Electric cars save the world? We are living through a period of change. The ancient Chinese philosopher Lao Tzu said the only constant thing in the universe is change. What we have learned in the last 3,000 years is that all change has a price. Who pays the price and who gains the benefits, are questions that should be considered when evaluating any and all changes.

Car accidents can happen to anyone, at any time. You do not need to be speeding, nor do you need to be near another driver for them to happen to you. Even the most attentive drivers can end up having a serious accident that may not have even been in their control.

I'm a huge fan of looking at cars that are heavily modified — and really, who isn't? Ever since Pimp My Rideon MTV, it seems like car mods have become a part of American youth culture. Car mods are a status symbol. They're edgy. They're neato, and often push the engineering capacity of the car to its limits.