Best Car Spoilers You Can Buy in 2018
Even if car spoilers aren't your thing, you'll find at least one or two you love from this listicle.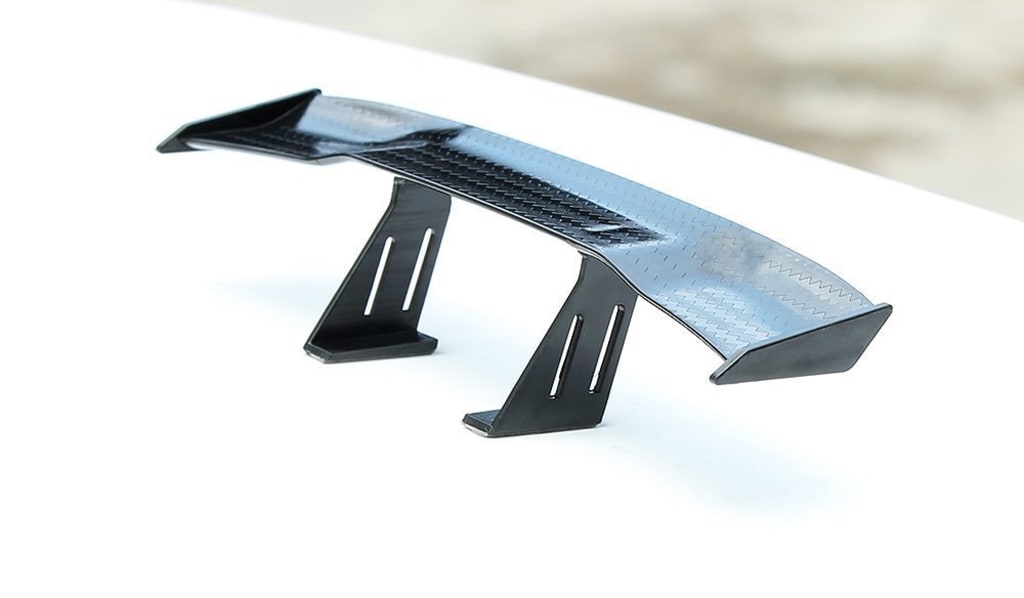 They're called car spoilers for a reason: because they're an exterior upgrade that has the capability to increase the speed of a vehicle, hence why they are placed on a majority of professional race cars. It's not something everyone will want, but for those who do, it's something special for sure.
I admit, not every car looks attractive with a spoiler, and not every spoiler itself is attractive. But when coming across some of the best car spoilers on the market, there are some that you just can't pass up.
If you're on the fence between getting a rear spoiler or not, this article will help make that decision easier for you (and hopefully in the direction of getting one).
This first spoiler we have for you is tiny but mighty. Priced at only $9.99, one would think that the COGEEK Mini Universal Decorative Spoiler Wing would not hold up well, but it has been proven to provide a strong grip.
One may think that this rear spoiler is all for show, but it truly does assist with the speed of your vehicle. Most importantly, this little guy doesn't need to be drilled and can be placed on a plethora of vehicles.
For 2012 to 2014 Honda Civics, opt for this Spoiler Authority spoiler that comes in 14 different factory style colors as well as unpainted. This rear wing is simple, yet the extended corners will help give your Honda Civic a more masculine edge.
It's a decent price in the $60 price range. Many buyers have stated that it's a high-quality spoiler and perfectly matches the color of their vehicle. To make installation a breeze, Spoiler Authority includes a deluxe hardware kit and instructions.
Even Volkswagen Beetles can rock a spoiler. This Spoiler and Wing King factory style rear wing for 2012 to 2015 Beetles is a little different appearance-wise, but it gets the job done.
Because Spoiler and Wing King designed this exterior wing with high-quality OEM grade blow-molded ABS plastic buffed and polished with a showroom finish, the product has a lifetime warranty.
Truck owners will be pleased by this UV-protected EGR® truck cab spoiler. The sleek matte-black finish and lightweight polyurethane material of this rear wing make it equally as eye-catching as it is functional.
It does cost approximately $230, but what's nice about it is that it doesn't have to be drilled during installment, and it has a limited lifetime warranty just in case something does happen.
Because EGR® is a well-known automotive styling accessory company, the higher cost is well worth it considering the durability and overall design quality this spoiler has. This is one of those must-have pickup truck accessories.
Coming to one of my personal favorites, this 2014 to 2017 Camaro STEALTH Wicker Bill spoiler just can't be beat. It's on the pricier end of car spoilers, but it's nothing less than dope.
From the polished edges to the center Lexan, there isn't another spoiler just like it. All appropriate hardware is included with purchase, and installation is easy-peasy.
For something a little more subtle and less sporty for your 2008 to 2012 Honda Accord, opt for this factory style car spoiler in a variety of paint colors, another great, 5-star option from Spoiler and Wing King.
Like other spoilers from this company, their Honda Accord Spoiler is made of OEM Grade Blow Molded ABS Plastic and includes a lifetime warranty. 3M tape and all other installation materials are included. It's like a way to modernize your car like you wouldn't believe!
Another one of my personal favorite rear wing spoilers is IKON MOTORSPORTS' trunk spoiler for 2013-2016 Dodge Darts. This rear spoiler is simple without being too subtle. Best of all, it won't make your Dodge Dart appear too sporty or over-the-top, which is what many prefer when it comes to rear wings.
This bad boy is constructed with heavy-duty ABS plastic and is offered in a non-finish matte black. It can be found on Amazon for a decent cost for what you receive.
Unfortunately, this spoiler does not include an instructional guide and is recommended to be installed by a professional, but once it's equipped on your vehicle, you won't regret it.
Here we are back with another factory style spoiler from Spoiler and Wing King. This one is for 2015 to 2018 Dodge Challengers. While simple, it's a nice sporty exterior upgrade. Best of all, one can't complain about the price as you get 100 percent of what you pay for in terms of both quality and appearance.
Spoiler and Wing King is known for great quality, wonderful lifetime warranties, incredible service, and durable spoilers. If you aren't happy with your Challenger spoiler, you can return it for a full refund.
Regardless of your make or model, this Universal Type S Adjustable Aluminum GT Style spoiler brought to you by Auto Dynasty is straight-up bad. Install it on a newer or older model of any make, and you'll have all eyes on you.
Being constructed of aluminum, your rear spoiler will look hefty. While aluminum does scratch easier than steel, a benefit of going aluminum is that it isn't as heavy.
Unfortunately, the Universal Type S Adjustable GT Style Spoiler doesn't come with installation instructions with purchase, but being a quality and visually-detailed rear wing, you'll be pleased with your $100 purchase.
If you're anticipating on another smaller and more affordable rear spoiler like number one on our list, here it is for only $10.99 on Amazon for Nissan models. However, they only arrive in black; if you prefer another color, you'll have to paint them yourself.
Overall, these shark fin-like vortex generators are a little more unusual than other car spoilers on the market, but they still help guide airflow over your vehicle, reducing drag. It's a surprisingly useful car accessory under $100!
Regardless of the spoiler you may or may not decide for your own vehicle, it's clear that there is an abundance of styles, prices, materials, and methods of installation.