Why You Should Go to the Rose Parade
Pasadena, California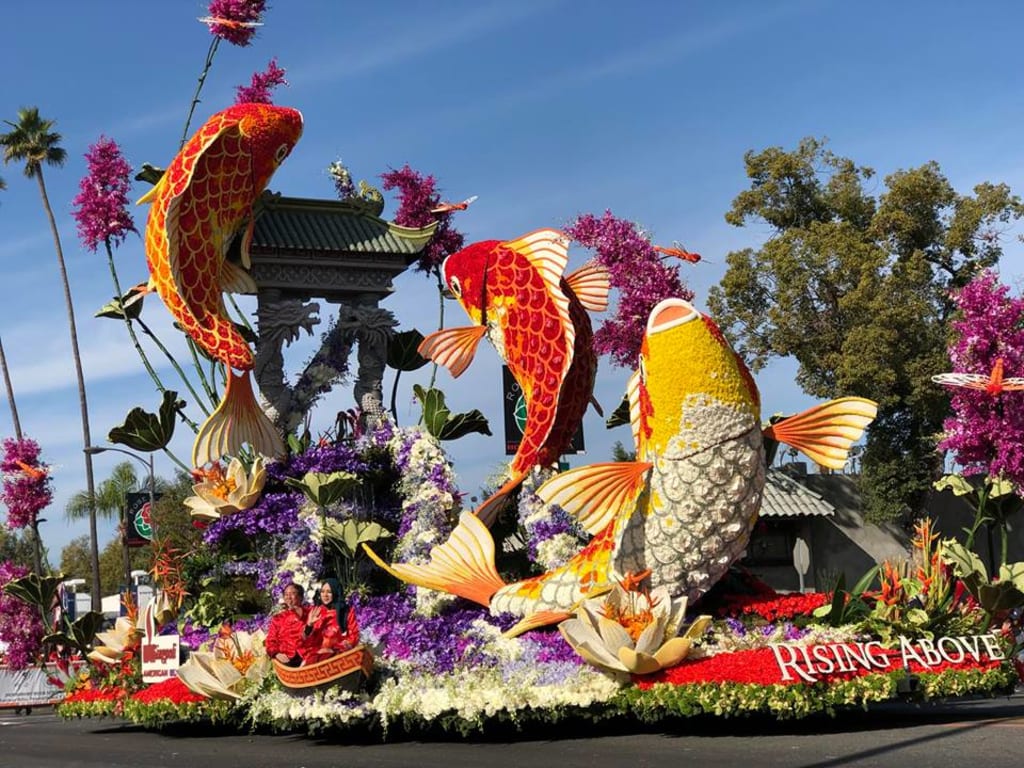 The Rose Parade is a celebration on New Years in Pasadena, where people can watch floats, bands, an even see celebrities. It always starts at 8 AM and you can sit where ever you want. You can either buy seats on the bleachers or just sit on the curb of the street like most people. I love going to the Rose Parade because it's so much fun every year and I love to sleep over along with other people. I am going to tell you why you should go too. In a different story, I will tell you tips and tricks if you plan on going to The Rose Parade. It's free if you plan to sit on the curb, but it costs money if you want to be on the bleachers.
During the Middle of the Night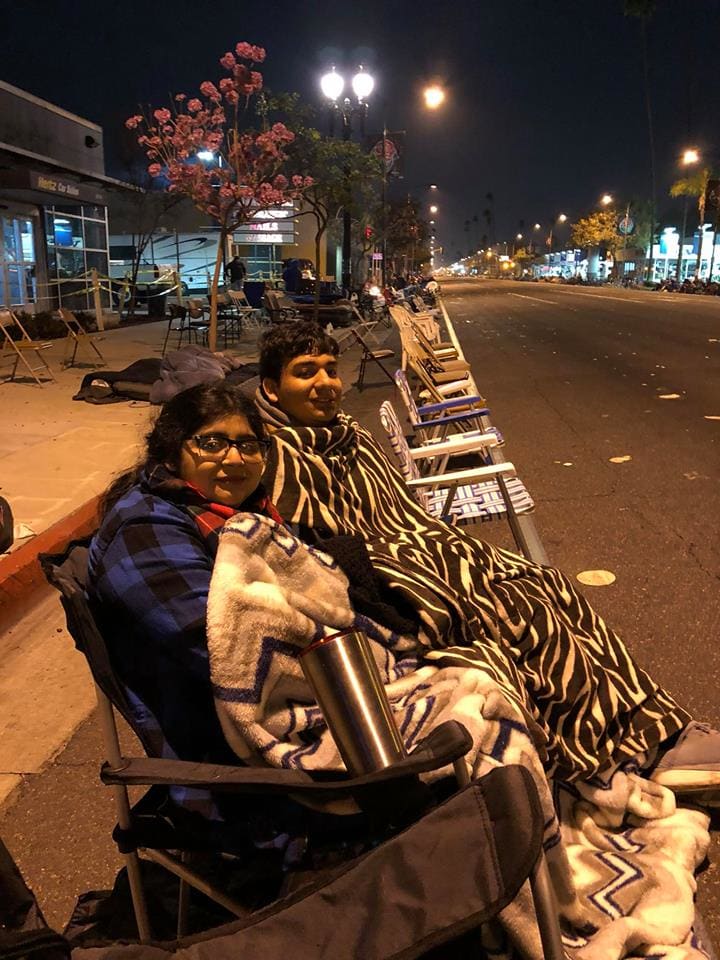 My boyfriend and I like to go on New Years Eve, around 10 PM, and stay there and wait until 8 AM, which is when The Rose Parade starts. It is always so cold in the middle of the night during winter and so many fun things happens which is why we love to go early. There are some people who will go one week early just so they get good seats, because the space on the curbs gets taken the morning of.
The Food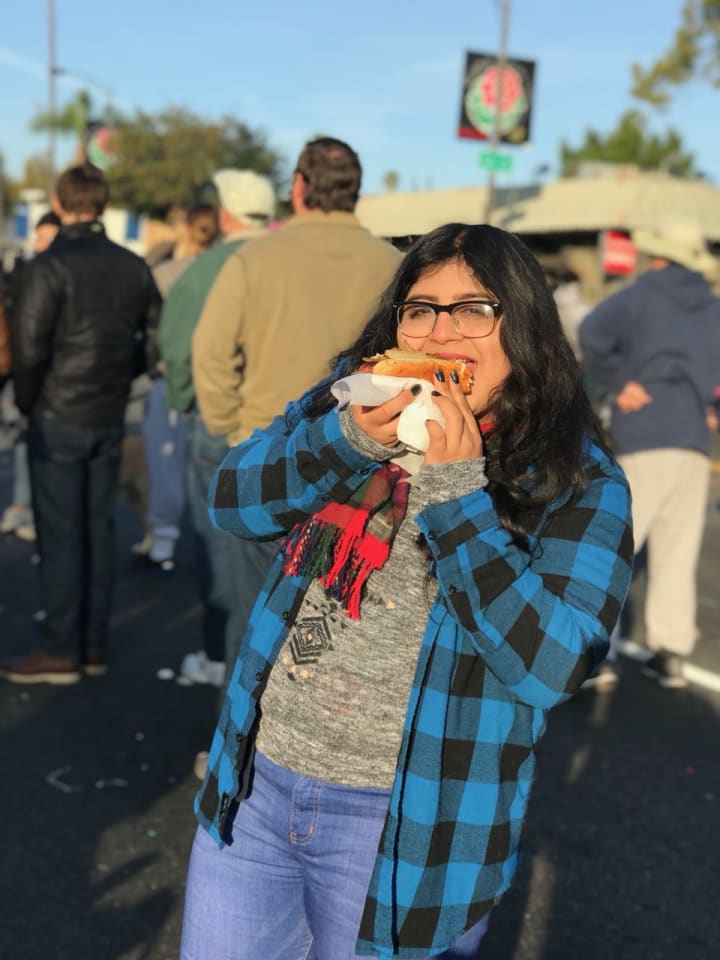 The food is somewhat expensive. This hot dog for example, was really good so I think it was worth it. It was so good that I decided to take a picture with it. During the morning there are some people that pass out hot chocolate, hot dogs, tamales, and other things. All you have to do is walk up and down the streets until you find something. It's nothing fancy, just some street vendors trying to make money.
The People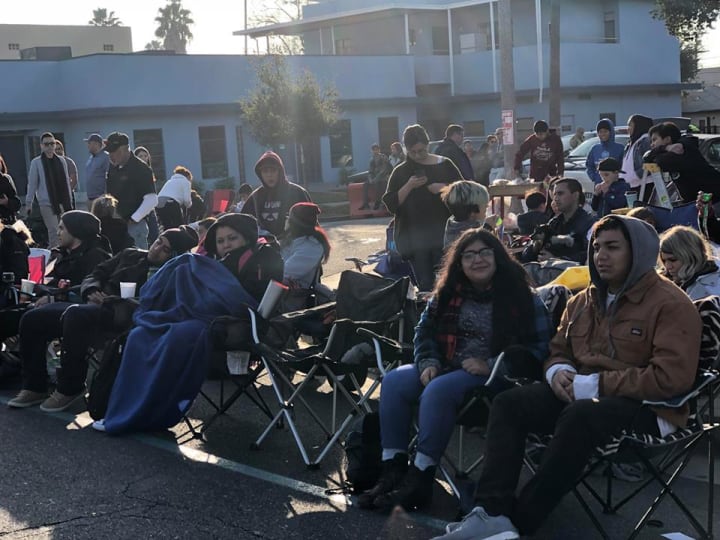 You will meet amazing people around you. People who live within the city or people from a different state. I have never met a rude person from all the years of coming to The Rose Parade. Everyone is so nice and we are all there for the same purpose, to have fun. If you forget something like napkins, you can ask someone and people will be more than helpful to give you some.
The Police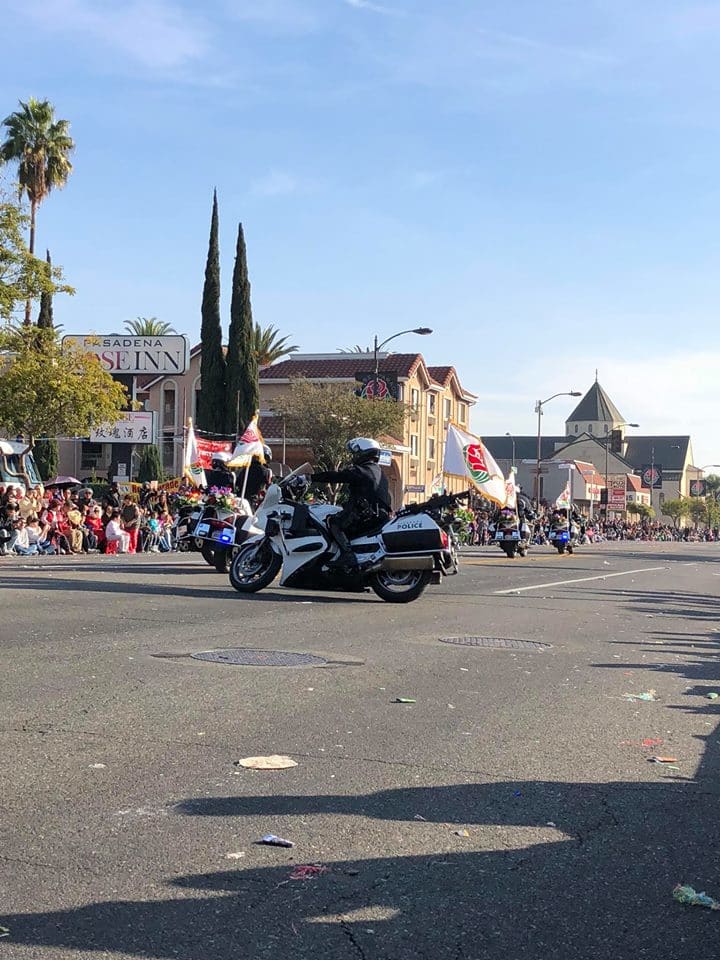 Before the parade floats start rolling in, police officers from the Pasadena Police Department wow the crowd riding in formation down Colorado Blvd. It gets everyone excited and it kind of reminds me of the derby when you think they will crash when they do figure eights, but they don't and it just gets you excited.
The Planes and Blimps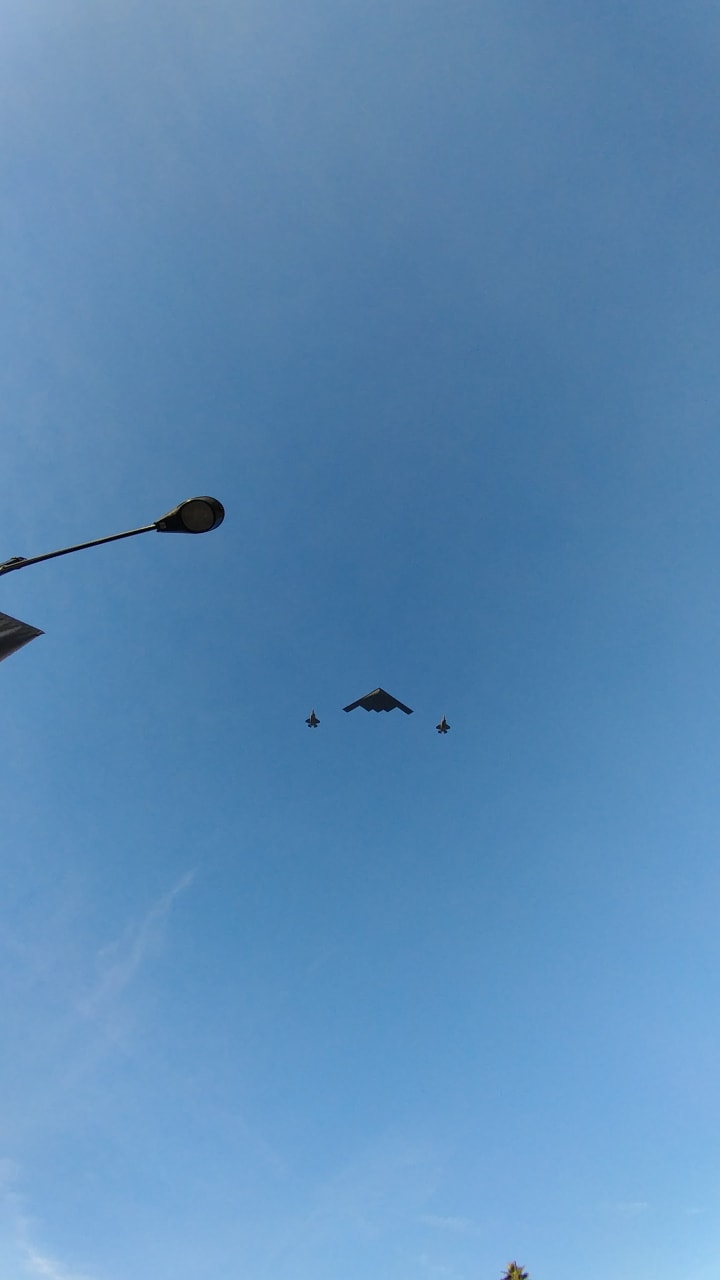 This is a B-2 Stealth Bomber & F-35's flying over Colorado Blvd. They do it to kick off the year and it is so loud that you can not miss it.
The Floats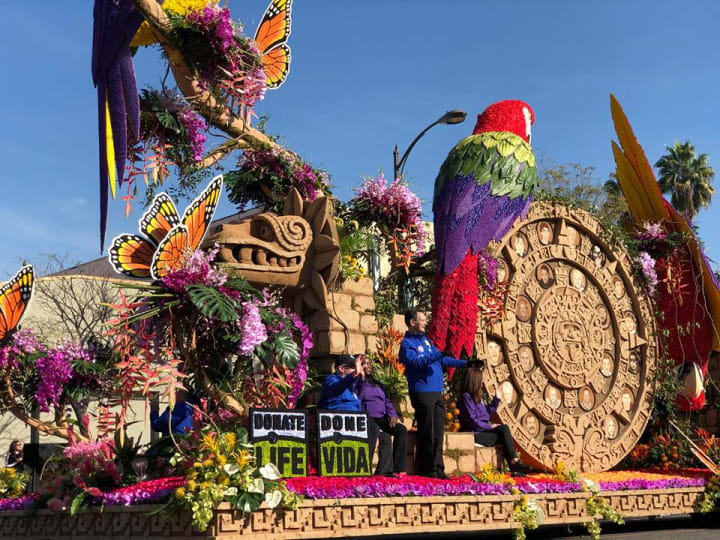 The floats are the most beautiful things there. It is such a perfect way to start the year. Seeing the floats on television is one thing, but seeing them in person just blows your mind. There are floats that will represent every race, gender, religion, bank, and even charity. These floats really don't discriminate. You can volunteer to work on the floats and watch the process being done. There are about 44 floats to view.
The Celebrities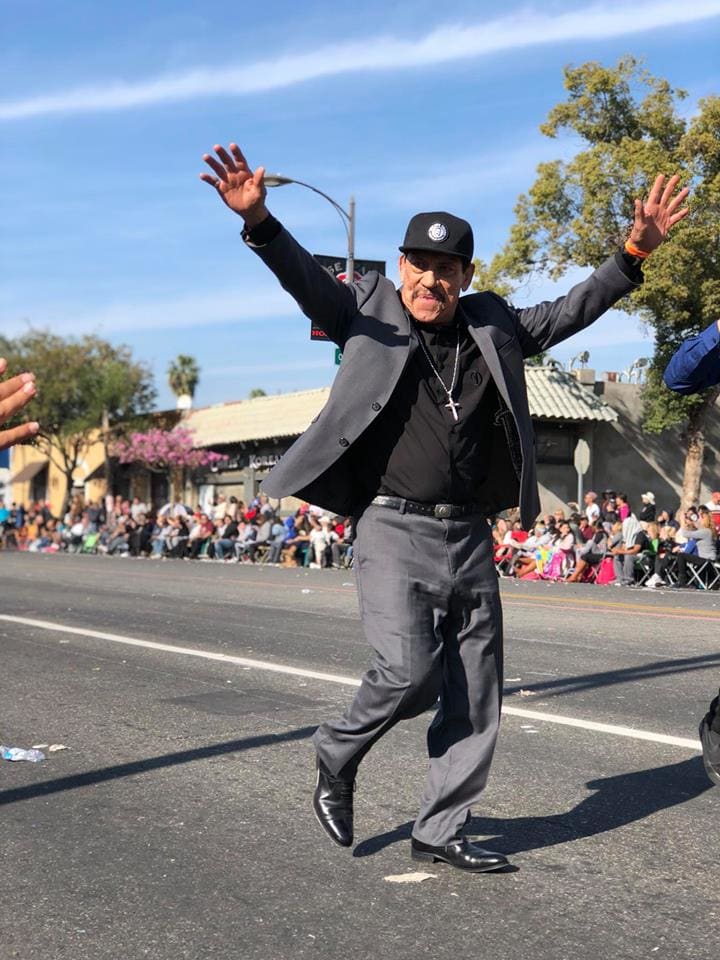 Every year, there are many different celebrities. At the 2018 Rose Parade, Todrick Hall, performed a dance number. Earth, Wind, & Fire sang September. Even Machete was there. The picture above was a picture I took and he literally was in front of me. If seeing your favorite celebrities or singers doesn't convince you to go, then I don't know what will.
The Bands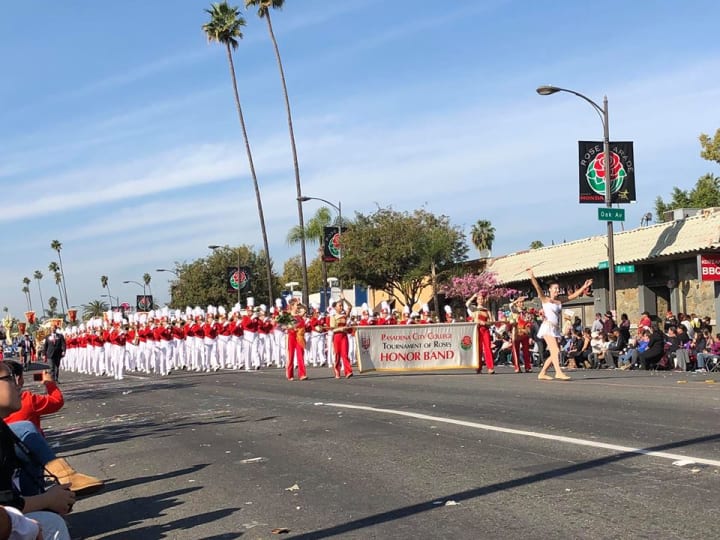 There are 21 marching bands from around the world. Some bands are creative and incorporate a dance. Some are even in the army. Along with the bands is the color guard and it gets you dancing along with a song you know. Watching them in synchronization will get you excited and you will have a lot of fun.
The Horses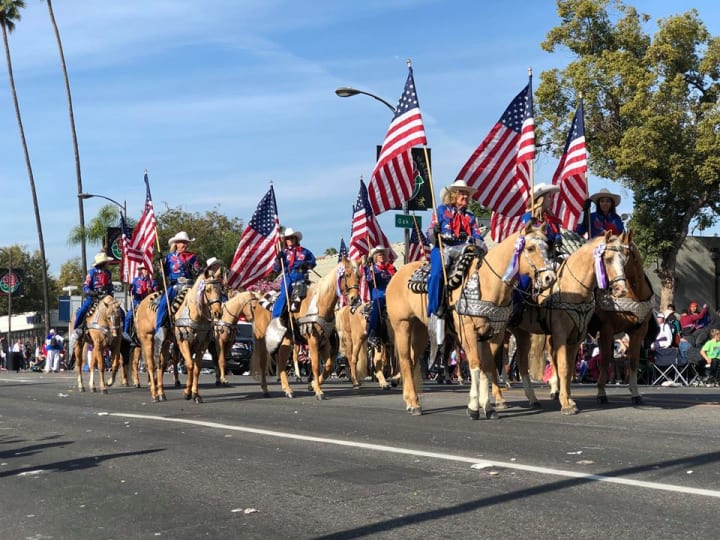 There are 20 equestrian units with approximately 400 horses walking down Colorado Blvd. Some of them include the police department, some of the military, and some just in groups. These horses are so beautiful and trained so well.
The Clean Up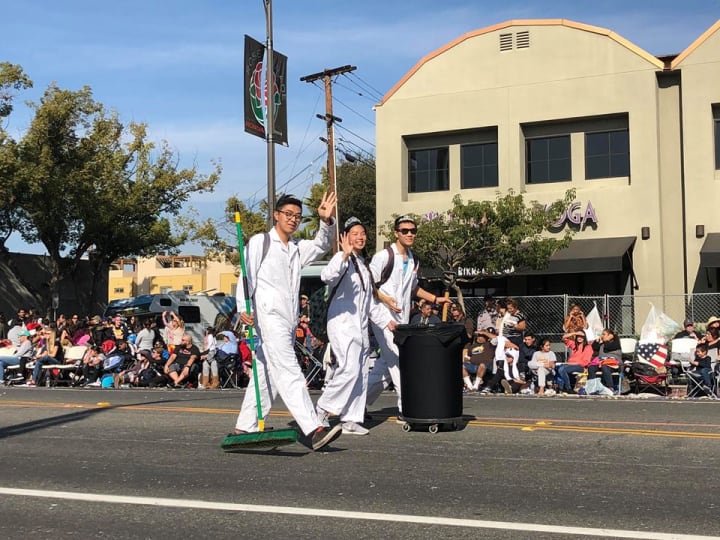 Walking for more than 4 miles, of course the horses are going to have to use the restroom. So what happens? The horses just go in the middle of the street. Behind a group of horses is the clean up crew like the ones above. I included these people. They help keep the streets clean by picking up anything that the horses drop and it's tradition to cheer for them because why not. Sometimes they will ride the trash cans if you cheer loudly. Yes, literally go on top of them and ride them.
The Diversity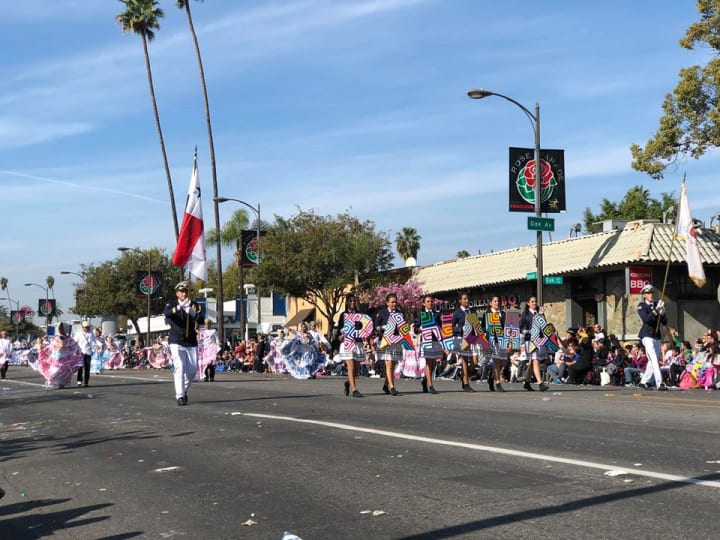 The Rose Parade is not just any parade. It is a parade that brings people from around the world together to have fun together and make memories. I have never had a bad experience here and will keep on going in the future. I am writing about this to you because I really love it and you will too.