Why I Chose Haiti...
(How Haiti Chose ME)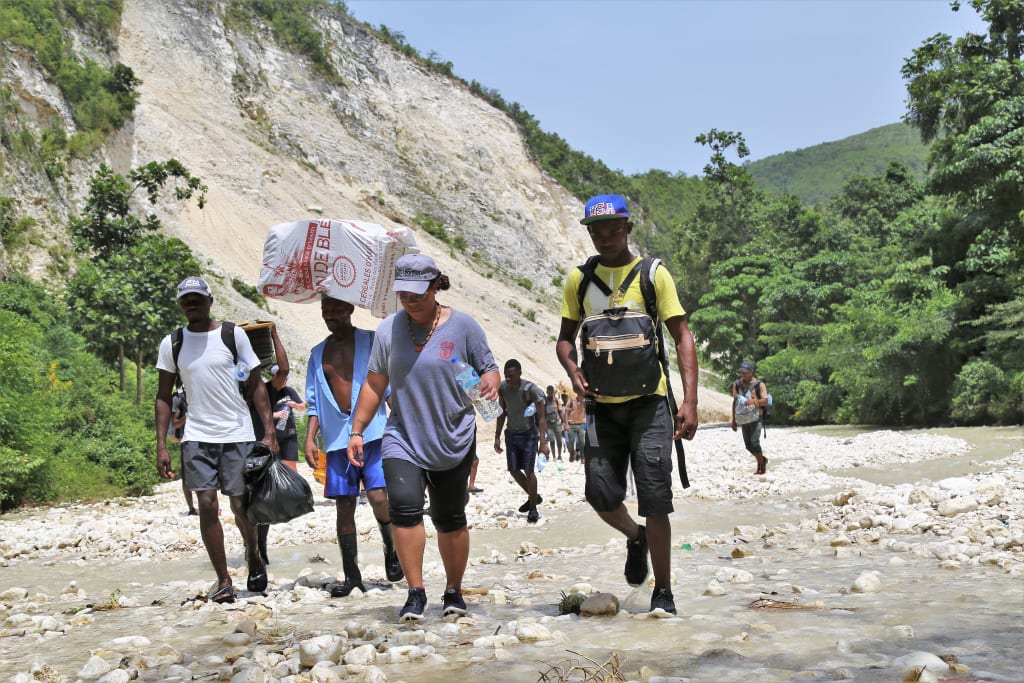 Trekking up the mountains with locals - Photo by David Moye, September 2017
Ayiti, beautiful Haiti!
​I love Haiti for a number of reasons, all tied to how this nation changed my life. Although the country is known for being poverty-stricken and high in human trafficking, there are so many beautiful things about this country that we fail to openly discuss. My goal is to share Haiti's magic and explain to you why I chose to give my heart to the people here. I am forever grateful for my time and opportunity in the land of high mountains!
Although 70 percent of Haitian people do not have regular jobs, and those that do only make an average income of $2.75 a day, the country is composed of the most hard working and diligent souls that I have ever encountered. Everything from their loving spirits to their "We will get it done" mindsets embodies favor and I am honored to have been a part of that type of environment.
Even though I was only there for two short weeks, it felt like a lifetime. When I returned home to America, I felt different. I felt... BETTER! In two weeks, my heart had changed and I knew it was Haiti's quest for hope that changed me. Little things did not seem to hurt me and my "realist" attitude became more optimistic. My connection with the universe was strengthened by trekking up the mountains to provide aid. I was granted several signs that led me to understand that Haiti is where I need to be.
The Mountains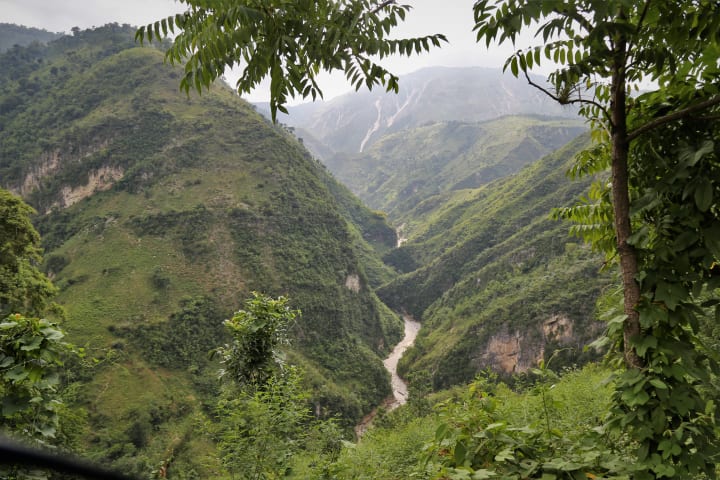 The first sign appeared when I had stopped to take a break. I felt weak a couple of hours into the trek. I had no idea how far I had walked and no idea of how much longer I had to go. I just know that at that point, I did not think that I would make it. Despite daily 20 minute walks and participating in a 5k race, I was not ready for the strenuous activity at hand. "I'm going to die," I told myself, "I am simply going to die." I could not believe that I had started this task. I stopped and took a deep breath. Cheryl, my fearless leader, turned me around and said "Look Beautiful Alyssa! That is how far you have come. You are meant to be here."
I instantly started crying. I was consumed by amazement. How could I be so selfish and powerless when I was standing right in the middle of what felt like the entire universe? How could I be ready to give up when my biggest blessing was about to occur? I was overpowered by joy and a rush of determination. That igniting of my soul was just what I needed to not only continue on, but to light my life back home. That spark, that flame, is still burning within me.
The Little, Blue House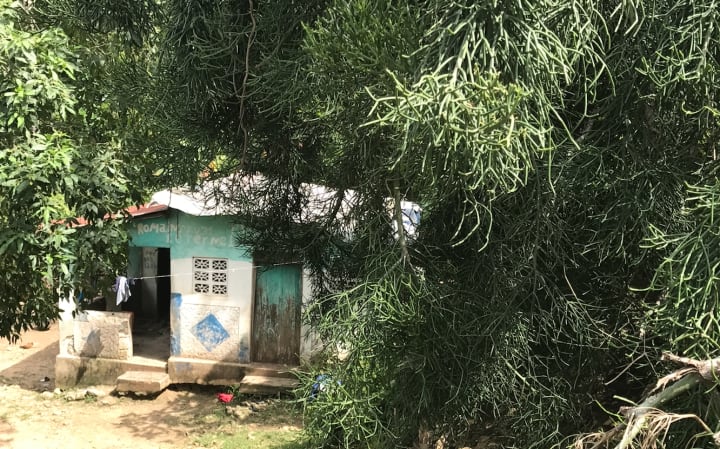 My next sign was at another resting point on the way up the mountains. There was this quaint little blue house in an opening. Nobody seemed to be home and I couldn't exactly tell if anybody lived there at all. What caught my eye, though, was the painted words at the top of the house. In the middle of nowhere, this house was there to encourage me. "Who could be against me," I asked myself? I knew then that great things were about to happen in my life. Cheryl and I stopped at that house and waited for more signs. I believe in my heart that confirmation was granted shortly after.
The Rivers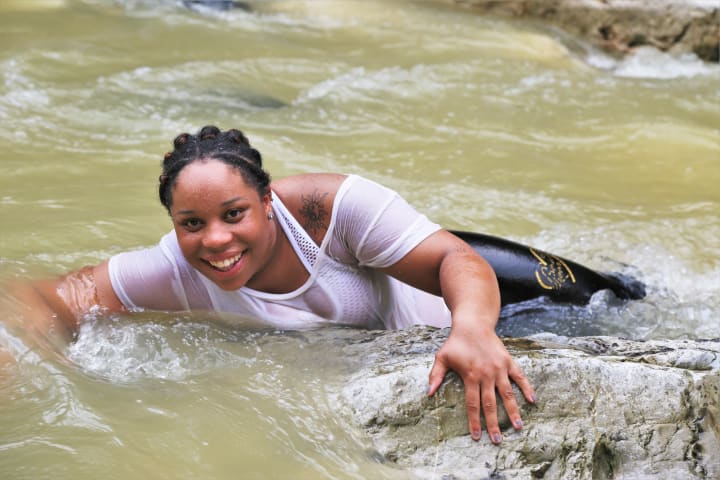 Lastly, let's consider my very first point: "70 percent of Haitian people do not have regular jobs, and those that do only make an average income of $2.75 a day..."
They (whoever "they" is) say that due to the country's poverty, you are blessed and lucky if you happen to find money. Realistically, there is not much money to find, so it seems like a difficult thing to do. I, however, must have been chosen by Haiti's natural wonders because I experienced miracles!
On our way back down the mountains, we had to cross a river to get to our destination. I had gotten to that point quickly and wanted to swim in the purest water. I took off my socks and shoes, set my book bag on top of a rock, and got comfortable in the cool flowing river. It was a great time. The water was running so fast the the current carried me down. Cheryl and I raced while others showed up and hopped in. I felt so free and so happy. I felt at peace in the river that day.
As I jumped out and began to gather my belongings, something in the water gleamed. I thought it was the sun reflecting, but I'm nosy. I had to look further. I was putting my sock on as I saw the gleam again. It was coming from a small opening under a rock that was placed firmly in the sand, under the water's current. I reached in between the space and pulled out a coin! It was a Haitian gourde. Even though the value of the coin was minimal, I looked past that. In that moment, I was holding onto money that I had found in Haiti! It was not about the amount of money, but more-so about the promise of hope. I had found hope for myself; hope for my soul; hope for Ayiti, the land of high mountains.
My Promise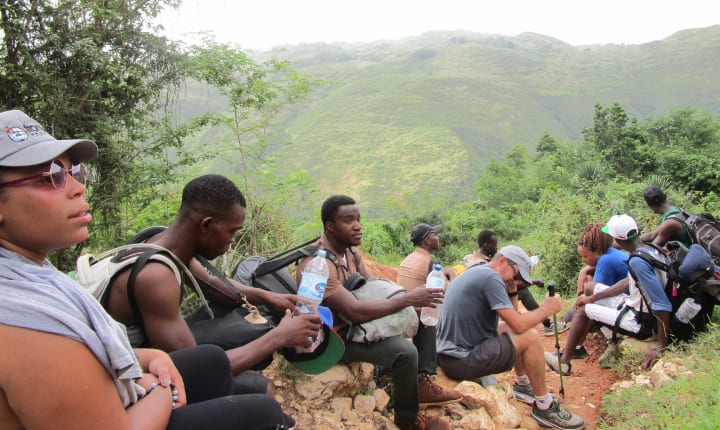 I decided then, that I would go back to the Nation of High Mountains; the nation with so much promise and love to offer. On that particular journey, Haiti chose me and I accepted its calling. I found myself and I am now one month away from the biggest move of my life. I am thankful that I have been granted the opportunity to travel back to the Ayiti, to teach and to aid. The mountains called for me, and I answered. Always remember to answer your calling.
About the Creator
Hey, I'm Alyssa Renee! I am an artist, blogger, teacher, philanthropist and travel enthusiast that needs a new platform to talk about life! I'm excited to share tips and goals and I look forward to growing with my readers.
Reader insights
Be the first to share your insights about this piece.
Add your insights