Guides
What Netflix Won't Tell You About Medellín, Colombia
You're going to be a drug mule they said…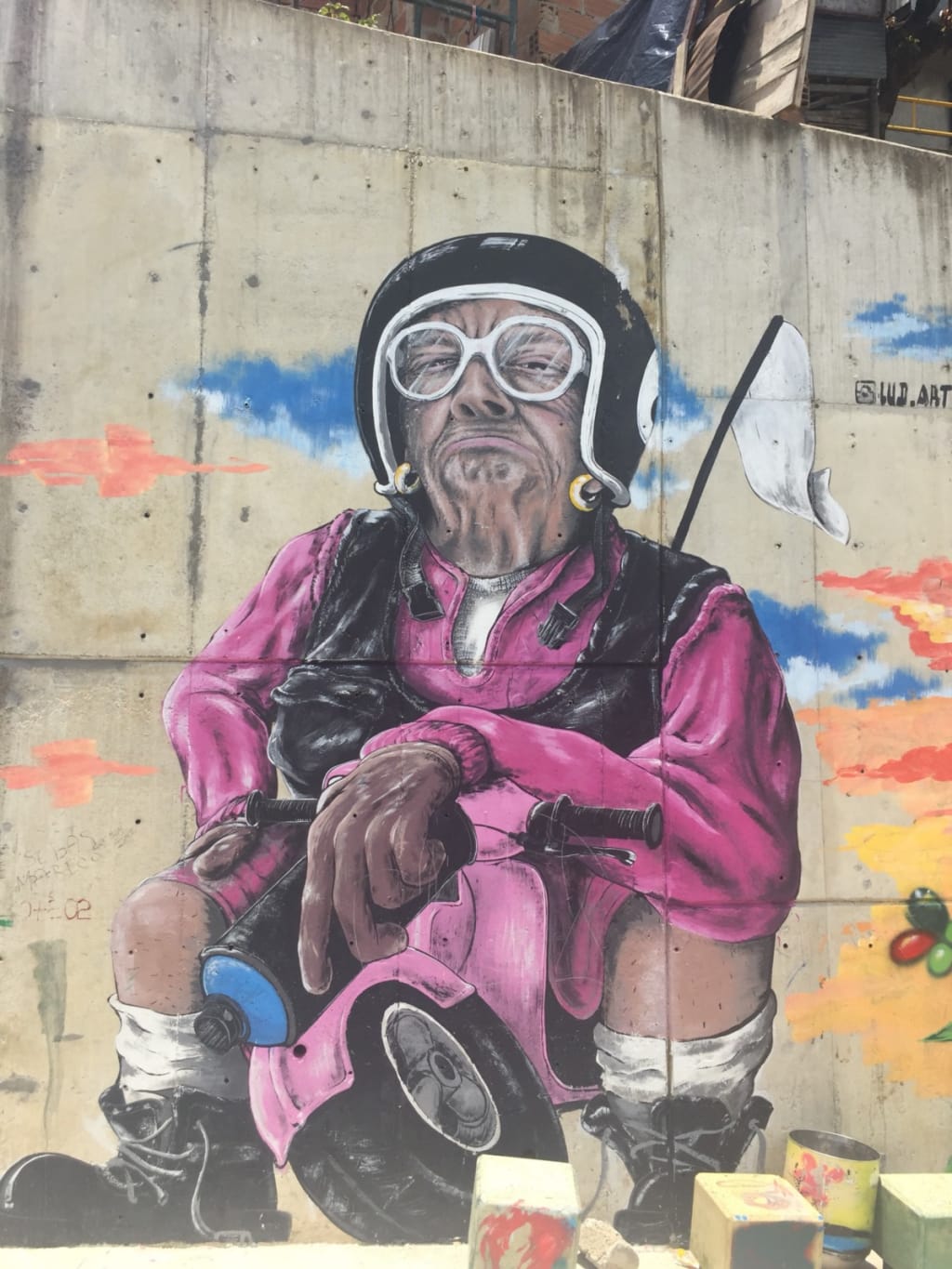 Mural in Communa 13 via Instagram
It's 3:54 AM on Tuesday 17th April.
I'm sitting in Medellín's José María Córdova International Airport. I'm awaiting our flight back home, through Miami, quietly contemplating the last 30 days my family and I spent here. Like everyone else that I told in the weeks leading up to the trip, I too had my reservations about Colombia. My girlfriend suggested the trip as I was transitioning out of a job. It would be a good opportunity to change gears and figure out our next move. We'd take our three-year-old out of school for the rest of the term and check it out. It took some convincing from her, but I was eventually sold (she also had my credit card information, so all the chips were against me). My family and friends, not so much. Their comments ranged from:
"They kidnap people there."
"Take care you become a drug mule."
"You're going for the drugs?"
To my favorite, just… "COLOMBIA???? WHY????"
It safe to say by these comments, Narcos and all its variants on Netflix have done an excellent job shaping the narrative of Medellín. The status of a country a couple of decades ago is still front and center - and on-demand - today. As my tired eyes waited for our flight out, I contemplated all the things they don't tell you about Medellín.
It's really safe
It's honestly the safest I've felt in any country. There are policemen on bikes (and bicycles) everywhere. Walking the streets in the night felt comfortable. The town we stayed in, Envigado, is actually where the most notorious cartel leader and his family lived for many years. Envigado is now reformed, with several barrios filled with townhouses and upscale apartment complexes. The Air BnB condo we rented for the month was cozy. I spent many mornings on the balcony kicking my feet up, enjoying Colombia's "Eternal Spring."
Poblado, where all the action happens is awash with restaurants, bars and activities to participate in. Walking through Poblado also felt safe. It's where most tourists and ex-pats hang out. I suggest you stay there if you're going for a week or two. Any longer and it wouldn't hurt to stay in one of the towns outside of Poblado.
We also ventured into Communa 13, once one of the most dangerous communities in Medellín, now a continually reformed area, opening its doors and hearts to fellow paisas (locals) and tourists alike. The people are generally nice and are willing to help you, especially with a poor command of Spanish like we had.
Of course, in every country, there are places where you shouldn't be, but that doesn't discount the work done by Medellín to make it safer than St. Louis, New Orleans and Baltimore in the US and to remove itself from the top 50 of most dangerous cities in the world.
There are beautiful outdoor spaces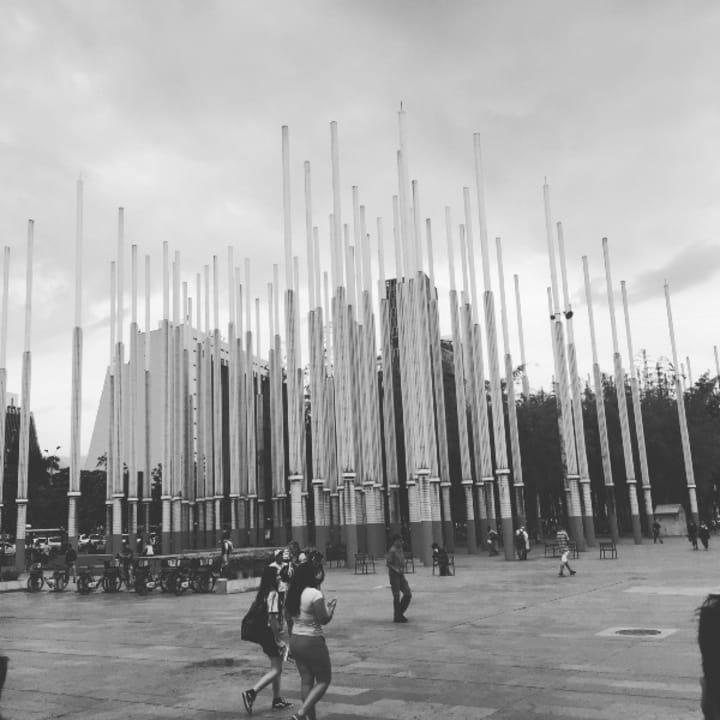 Each outdoor space we visited was better than the next. From Plaza Botero, to Parque de la Luz, the Botanical Gardens to Barefoot Park, we took some time to visit them all. The great thing about some of these landmarks is that they were once spaces that represented a bad part of history. They are now transformed to uplift the area and people.
There are also a number of Parks, Eco Reserves, Bike Trails, and Bird Sanctuaries located both in and around Medellín.
It's easy (and cheap) to get around
For about 2,400 pesos (less than 1 USD) you can travel on the Metro from one end all the way to the other. Or stop off at San Antonio and take another train to San Javier. At San Javier, you can transfer to the Metro Cable Car and take a scenic ride over the mountains to La Aurora. Or you can decide to head East instead. Another train and two Metro Cable Cars later and you will end up at Parque Arvi, for another 5,000 pesos or so. The tramways, buses and even complimentary bicycles make this a robust transportation system that any city would be proud of.
Taxis and Ubers between 6,000 to 15,000 pesos depending on the distance. The exchange rate makes that between $2.50 and $6.00 USD a ride.
There are lots to do
Take a walking tour through Medellín to get a bead of the city. There are other tours through barrios, Communa 13 and Parque Arvi.
Parque Explora is great for kids and adults, with a planetarium, indoor aquarium, museum, and um…dinosaurs. There's the zoo, Fernando Botero's museum, and The Museum of Modern art. The cable cars double as a tourist attraction. A must-do before you leave.
Our three year old did not allow for much nightlife, however, there are some great restaurants we got to such as Voila Vinos, Lemoncillos and my favorite spot Monsieur Burger.
Although we didn't get to, take a day trip to Guatape. There's a big ass rock out there that's interesting.
They don't glorify "that guy" on Narcos
The city is still split amongst the events of the 80s and 90s; those who adore him, those who don't and the indifferent. For some, he provided some hope during a time where poverty and lack of opportunity were rampant. For others, he destroyed lives, families, and communities. The aftermath of his death was evident for years to come in areas such as Communa 13.
There's nothing about him anywhere. It's like he (almost) didn't exist. Don't get me wrong, there are tours done by locals to some of the areas where most of what happened went down. Most of those tours are frowned upon, as they are seen as exploiting a dark part of Medellín's past for profit. Narcos has also not done much to help in closing off the narrative either. Paisas (locals) will tell you that most of the events are exaggerated or in some cases untrue. Nevertheless, they have accepted what has happened and are forging ahead to be the change they want to see.
No one tells you "Go to Medellín." So I will…
I know my account pales in comparison to the actual value of the city, the work that has gone into its transformation and all that Medellín has to offer. Besides being a great place for a vacation, it's a great place to visit if you are trying to change yourself. Medellin is a testament that despite one's circumstances, you can rise above. You should add it to your list of places to visit and go there. You won't regret it.
On our way to the airport - a foggy 45-minute ascent to Rionegro from Envigado - our driver, Freddy asked us the million-dollar question:
¿Cuándo vuelves a Medellín? - When are you coming back to Medellín?
Pronto, Freddy. Muy Pronto.