Welcome to Chicago
The "Windy City"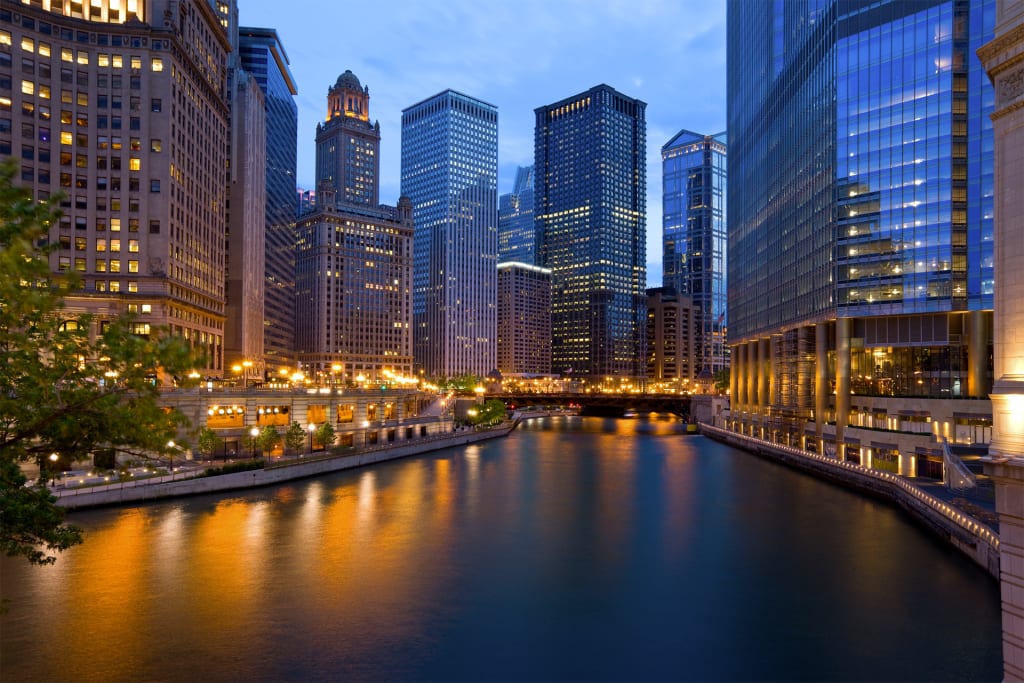 Dusk falling on Lake Michigan in Chicago Illinois
Like any large city, Chicago has an abundance of places to go, people to see, and things to do. Just a matter of what your interests are and where to start when you get there.
Food was my passion growing up and when we went to Chicago to visit my Aunt we would travel forty miles south to St. Charles and eat at Al Capone's Hideaway. Al Capone's was built in the 1920's and was used (obviously) as Capone's hideout from the law. As years passed his hideout was turned into a steakhouse and was closed in 2012. It has now been turned into a night club with some restrictions though as the surrounding neighbors had issue's in regards to the noise factor when the new owners took over and started making the transition. Another place I enjoyed going with my Aunt was Lookingglass Theatre Company. At the time we enjoyed a nice dinner while watching the stage performance of EVA. For the gangster or murder mystery enthusiast, the dinner theatres to go to are Tommy Gun's Garage which is a gangster themed dinner theatre, The Dinner Detective Murder Mystery Show and The Murder Mystery Company in Chicago.
Now, if dinner theaters aren't your cup of tea yet you wish to experience a nice dining atmosphere, I will suggest making your way through The Magnificent Mile on Michigan Ave. Here, there is a wide aria of shopping and restaurants for you to go to. After a few hours of shopping at The Disney Store, Patagonia Chicago The Magnificent Mile, Gap or the many other clothing stores that line Magnificent Mile you can relax, have a few drinks and enjoy a nice dinner at any of the restaurants in this area. The Grand Lux Café and Copper Fox Gastropub are the most popular along Magnificent Mile. There is also Michael Jordan's Steakhouse for the steak lover in you or the Coco Pazzo Café with sidewalk seating for those who enjoy italian food. Might also try a day at The Pier, which is along the river. This area as well has many shops and fine dining for all to see. Whichever meets your fancy, have fun and enjoy.
Like many cities, Chicago has a plethora of activities for just about everyone. For those who like to dabble in the gambling, there are several places to go in order to "Make it or break it" so to speak. Ameristar East Chicago is a Hotel & Casino, Grand Victoria Casino, which is riverboat-like gambling and dining, finally there is the Horseshoe Hammond for all your gaming, entertainment & nightlife hub.
For those who rather take in a day at a museum than moonlight with Casinos or shopping, there are several museums to go to in the Chicago area. A couple are said to be haunted as well. There is the Glessner House Museum, which is Chicago's oldest building. It's a 19th century house built between 1886-1887. Jane Addams Hull-House Museum which was built in 1856 and the institution was founded in 1889. The Hull House served as a settlement house for immigrants until said visitors were able to get on their feet and find a home of their own. This museum also has innovative social, educational and artistic programs as well. The Addams-Hull House museum is also said to be haunted. One can also visit the Richard H. Driehouse Museum, which is filled with posters and paintings for the artist in you. The last Museum is the Children's Museum on the pier which has many programs and interactive educational areas for the kids'.
Now, we can't forget the ghost adventurer who has experienced Chicago's shopping and night life but wants to be scared before they leave. As stated above the Addams–Hull House Museum is said to be haunted. According to Zach Nechvatal's article on the haunts of this house, there is a legend of a "Devil Baby" born to a devout Catholic woman and her atheist husband. The husband didn't want the baby so Addams took the baby in which had pointed ears, scaly skin and a tail. Room 441 of this hotel has had reports of a shadowy outline of a woman... No other activity other than the woman has been reported in this room. Patrons of The Congress Hotel have also reported pianos playing on their own, two young boys who had jumped out a window with their mother tend to appear and when wedding photos have been taken there have been unexpected guests appearing that weren't physically at the festivities. The last haunted place to speak of is the Oriental/Ford Theatre. On December 30th, 1903 a fire broke out in what used to be Iroquois Theatre killing 572 people. Now, footsteps can be heard as well as sounds of many other visitors past.
Whether it's dinner and a show, gambling, or ghost hunting; Chicago is a spectacular place to visit. I go back every few years or so in order to be surprised by what the city has built and to seek out the Ghostly encounters.
Safe travels my friends and happy haunting!
About the Creator
I have worked in the Medical field for 13 years before continuing on to working in several business offices as an Administrative Assistant. My passion though is writing; with the hardest part, for me is what to write about.
Reader insights
Be the first to share your insights about this piece.
Add your insights