Visiting Iceland in Autumn or Winter
Hopefully Helpful Tips—What to Take and What to See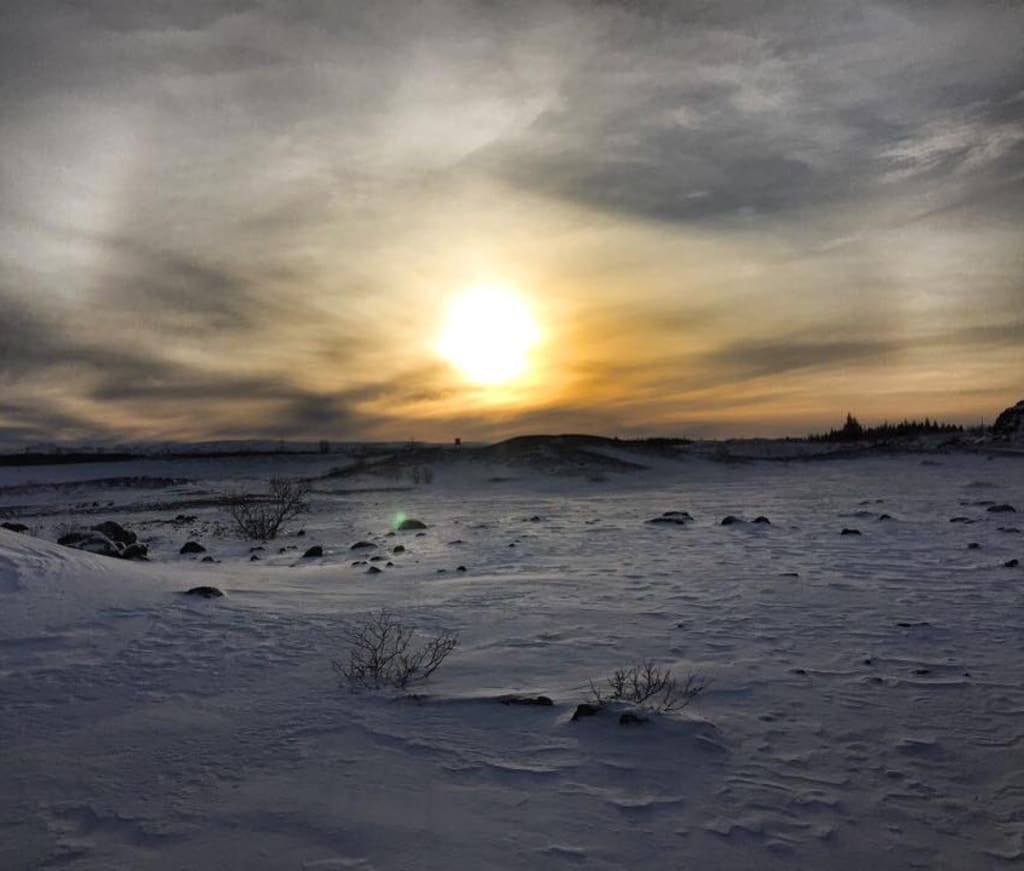 The land of ice and fire, hot springs, and moody skies. White steam billows from black lava fields, covered with ancient acidic green moss. The road cut around a craggy elf stone to avoid angering the temperamental faerie folk. Mount Esja looms in the distance, snow-covered and forbidding. And you haven't even arrived in Reykjavik yet—welcome to Iceland!
This is a platform to write about what you love and I absolutely love Iceland. My first visit was back in February 2016, when I visited on a whim with a friend for a five-day mini-break. We both thought that we'd like to see the northern lights and Iceland seemed more affordable than Norway or Sweden. I know it's cliché but it's more than fair to say that a love affair began. Well actually, two love affairs began. A drink in a bar and another chance meeting at the airport coffee shop meant that I was back in Iceland a few months later, this time with my own personal local guide.
But back to February 2016! My friend and me booked our trip on the spur of the moment, and then spent the next month or so googling everything we could about visiting Iceland in February. I found a lot of good blogs but they were all quite stylish with lovely OOTD pictures and close up photos of coffee. I love an arty blog as much as the next man, but at heart, I'm a planner and love organising my trips to make the most of my time on hols!
So in this blog, I thought I'd write some hopefully helpful tips for visiting Iceland in autumn or winter; here goes! These are only my personal opinions and everyone enjoys different things, but I really hope this is handy. I've tried to remember all the things I researched before my first trip.
Packing
Given the name, it's probably no surprise that it's going to be pretty cold in autumn or winter. This is pretty relative though, if you're coming from Canada it probably feels pretty balmy! I'm a soft English person and found it freezing!
On top of my normal jeans/t-shirts/underwear I took:
Thermal base layers, top and bottom.
Ski socks.
Good walking/snow boots.
Ski/waterproof trousers to keep your jeans dry near waterfalls or in the snow.
Layers—thin t-shirts, fleeces, jumpers—layering definitely keeps in the warmth.
A good cold weather coat. The one I took on my first trip wasn't up to the Icelandic winter AT ALL. I upgraded and got a Didrikson Lena Parka which has been absolutely amazing!
Gloves, hats, scarf, snood.
Hand warmers—lifesaver!
Swimsuit/bikini—the hot springs are amazing, and there are tonnes of other options if you don't fancy the Blue Lagoon
You might want to take something nice for the evening if you're going out in Reykjavik. This isn't essential by any means and you'll see plenty of tourists in walking boots, but Icelandic people are pretty snappy dressers
Cash—Iceland is pretty much a cashless society, but there are a few things you might need cash for. I usually get about £50 out in Icelandic Krona for emergencies.
Waterproof phone case.
Camera.
Portable battery pack.
A reusable water bottle. The tap water is really good, so save your money and the planet and take a reusable!
Travel
There are so many amazing budget flights and layover options for Iceland at the moment! I usually fly from London Heathrow but I've heard that there are some great deals on Icelandair for my friends across the pond. I think flights are too broad a subject to go into, so let's imagine that you've landed at Keflavik airport and you're strolling past the giant poster of the witch's hat of a mountain, Kirkjufell. The airport is tiny and it shouldn't take too long to get through security and grab your bags.
Keflavik (Reyjavik) airport is about an hour drive to the city of Reykjavik. If you're visiting in the early autumn, you might consider hiring a car to get around. There are plenty of hire companies to choose from; I've always gone with Blue Car and they're brilliant. There are quite a few petrol stations close to the airport, so it's easy to fill up on your way home.
However, if you're only staying for a few days or you're visiting when the weather is less than friendly for driving, you can hop on the Fly Bus for about £25. It'll take you to your hotel (or the hotel nearest to your air b and b) and you can purchase your tickets at the airport desk. I believe it can also stop at the Blue Lagoon. Tagging your Blue Lagoon trip on to the outward or return journey is a great way to save time if you're on a tight schedule, as the lagoon is only ten or fifteen minutes from the airport.
Trips and Tours
As I'm writing about winter, I'm going to concentrate more on day trips from Reykjavik than on the ring road or road trips further afield. I'm going to write another blog on things to do if you're visiting in the spring or summer because the better weather and a car gives you the freedom to do and see so much more. There are some amazing day trips from Reykjavik and sometimes airlines include them if you're doing a package deal. If you are booking independently I would definitely recommend Iceland Guided Tours, as they use smaller minibuses which means smaller groups.
The two most popular tours are probably the Golden Circle and South Coast tours. The Golden Circle tour visits the national park, Thingvellir, the Geysirs and the amazing Gullfoss waterfall. It is an incredible tour but is likely to be very busy, especially at Geysir.
The South Coast tour is very beautiful and you get to see a lot of the countryside on the drive which I personally really enjoyed. It feels to me like you see the less touristic side of Iceland on this tour. It's definitely a long one, in the winter you'll leave in the dark and get back in the dark! You'll get to see the very beautiful Seljalandsfoss, one of mine and my friend's favourite waterfalls. You'll also see the amazing black sand beach and basalt columns at Reynisfjara which you might recognise from Game of Thrones. It's awe-inspiring and also very deadly, apparently, the beach drops away rather than gradually deepening which creates a dangerous riptide. Sadly several tourists have died on this beach. The natural environment in Iceland is raw, powerful and dangerous; we can't treat it like an amusement park. You'll also visit Skógafoss and catch a glimpse of some traditional turf houses—so cute but imagine living in one during an Icelandic winter!! When we did this tour for the first time the weather was too dicey to go on to Vik. I have since visited and it's very pretty, but there's not a tonne there so don't worry if you do miss it.
If you're a horse rider or keen to try something new, I'd 100 percent recommend going horse riding whilst you're in Iceland! The stables will collect you from your hotel or Air B&B and drop you back again. The horses are tiny, but very definitely horses not ponies! They have five gaits which is really interesting and different to other horses, including the tolt which is a super smooth trotting gait. I'd recommend Íslenski Hesturinn if you're a beginner or want to learn a lot about the horses and gaits, or Laxnes Horse Farm if you want something a bit more exciting! Both will provide kit and warm fleecy suits, so you don't need to worry about the cold.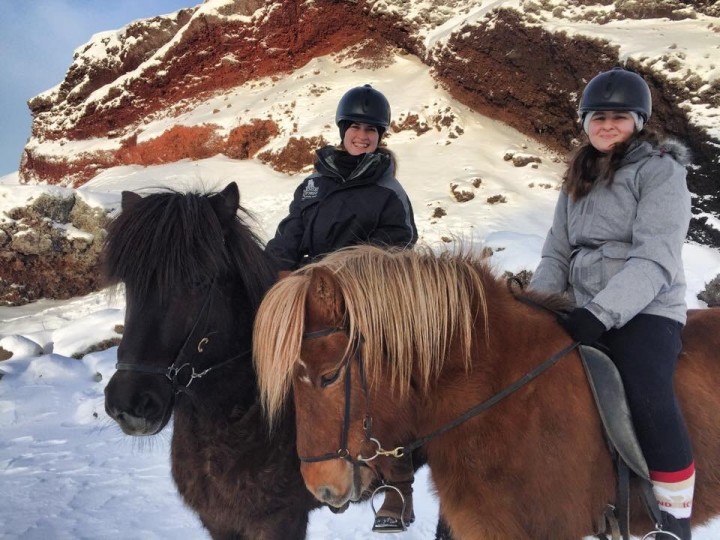 Hot pools in Iceland are absolutely amazing! If swimming or just relaxing in a hot tub sound good to you after a hard day sightseeing then there are a tonne of options apart from just the Blue Lagoon. The Blue Lagoon is amazing, a great bucket list experience and a fab place to take photos. However, it is pricey and busy! You have to book your tickets in advance, and I'd recommend booking either very early or late in the day to avoid the worst of the crowds. It is a lovely experience and the blue colour of the water is amazing! There are warmer and cooler parts of the lagoon so explore the whole thing.
However if it's a bit pricey or difficult to fit into your schedule then there are a lot of pools to choose from in Reykjavik that you can walk to. Laugardalslaug is my favourite, and I think it's the biggest one in Reykjavik and costs about £8 to enter. I've always heard more locals than tourists there when I've been, and I love that! There are four or five different temperature hot tubs and a lovely salt water hot tub too. It's so nice to sit and relax in the warm water under the stars. Also there's a plunge pool for the brave, a big swimming pool with lanes (I've never actually been there to properly swim!) and a steam room. Steam rooms in Iceland always smell sulphurous, as does the tap water, but if you can get used to this then it's lovely.
There are also some pools further afield that I absolutely love, but you might need a car: Fontana and the Secret Lagoon are both definitely worth a visit. The Secret Lagoon is amazing, a proper natural hot pool where you just sit on rocky shelves and watch bubbling the hot springs that surround the pool.
Also, you do have to get naked at the local pools - it's all true! Not only do you have to shower naked, but there are attendants watching from a little office to make sure you do! It's so easy to spot the shy English folk wiggling out of their towels and dashing to the showers. Just embrace it, no one's looking (except those attendants ha ha)!
Another great tour is the Northern Lights tour. They start at different times each night depending on the aurora forecast, so you might need to check the providers facebook or your hotel may provide this information if you're on a package deal. Seeing the lights is amazing but it's so weather dependent, try not to be disappointed if you don't, it just means you'll have to come back! Also, I've seen some amazing green lights in the North, but in Reykjavik I've only ever seen pearly shimmery lights, they're still beautiful but only show up green in photos!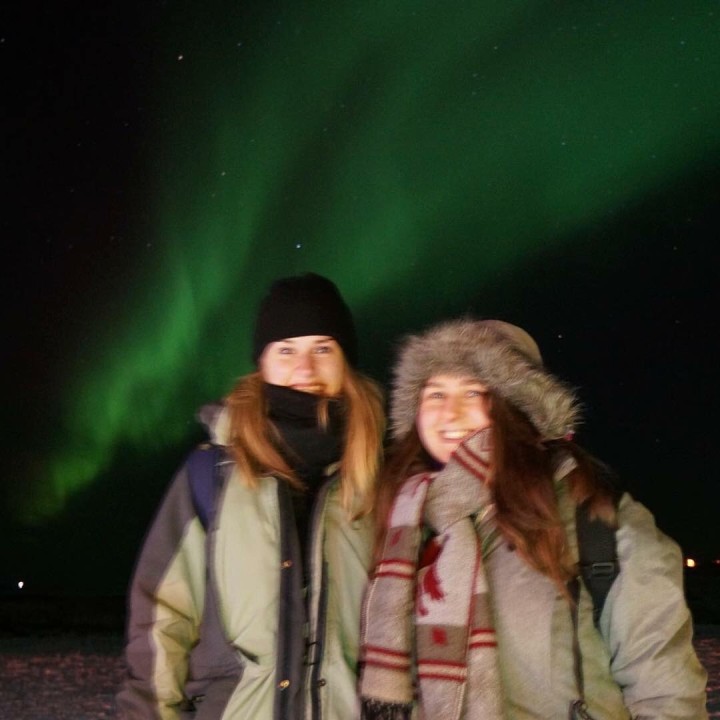 Whale watching is another tour you can do from Reykjavik and I have mixed feelings on this. I've been whale watching out of Akureyri and it was one of the best experiences ever. However, I believe that the whaling trade operates out of Reykjavik and that personally makes me feel a bit strange about whale watching there too. If you are against the whaling industry then please do not eat the 'traditional' Icelandic menu that includes whale. The sad fact is that the whaling industry only exists because of tourist demand, locals don't eat it.
Reykjavik Town—What to See and Where to Eat!
I absolutely love Reykjavik! It's so colourful and unusual, and so super easy to navigate—you can see the cathedral, Hallsgrimskirkja, from anywhere in town. It might be tiny, but if you have a day to explore the town you'll find plenty to do and you'll probably end up extremely caffeinated; there are so many cute coffee shops to try!
Things to Do
Visit Harpa, the beautiful colour changing concert hall.
Visit Solfar, the Sun Voyager—the ship sculpture with amazing views over the harbour.
Visit Hallsgrimskirkja—the beautiful and imposing Cathedral. It's designed to look like the natural basalt columns in Iceland. Climb the tower for 1000 krona, it's 100 percent worth the money for the view.
Visit the Phallus museum—WELL, maybe! I never have but it's quite famous and I believe it's the only one in the world (shocker!)
Reykjavik Zoo—it's near the main swimming pool and it's tiny—but you can see arctic foxes and it's reasonably priced.
There are also free walking tours of the city to help make sure you see all the sights!
Places to Eat and Drink
Babalu—sooo quirky, a must visit and reasonably priced.
Braud and Co.—a brightly coloured bakery selling the best cinnamon rolls in the world, a bold claim but 100 percent true.
Reykjavik Roasters—quirky coffee shop near the church—amazing coffee.
Mokka—oldest coffee shop in Reykjavik, great waffles!
Prikid—great in the evening and serves food all day! A great breakfast and not expensive by Icelandic standards.
Rosso Pommodoro—we go here a lot! Good Italian food and reasonably priced, for Reykjavik.
Eldur—crepes! Not cheap but worth a visit, bets vegan pancake I've had!
Joylato—really cool gelato shop, they have ready made or can make your ice cream right in front of you using liquid nitrogen. I love their spicy hot choc.
Glo—vegan restaurant of dreams—a must visit for veggies or vegans.
Kaldi—a cool locals bar, less touristy than other places on the main street.
Bonus—a supermarket chain. If you're self-catering or want some road trip snacks then it's worth a visit, as it does get expensive eating out every night in Iceland. Sometimes doesn't open until 11 AM and closes pretty early too!
I don't know if you can tell, but I really could talk about Iceland forever. I haven't even covered the tip of the iceberg here but this article is getting pretty long! I'm sure that the minute I publish this I'll think of 100 things I should have included.
I've really enjoyed spending a long time on this article and I really hope these tips have been helpful! I'm planning on doing another article on a spring/summer trip, including the ring road, the incredible North and the Westfjords. I'm heading back to Iceland in a few weeks so I'll have plenty of fresh ideas. Takk so much for reading and I hope you have an amazing time visiting this fascinating country. Bless bless!