Unofficial Japanese Calendar Anniversaries (Jan-Jun)
Corporate/organization created "holidays"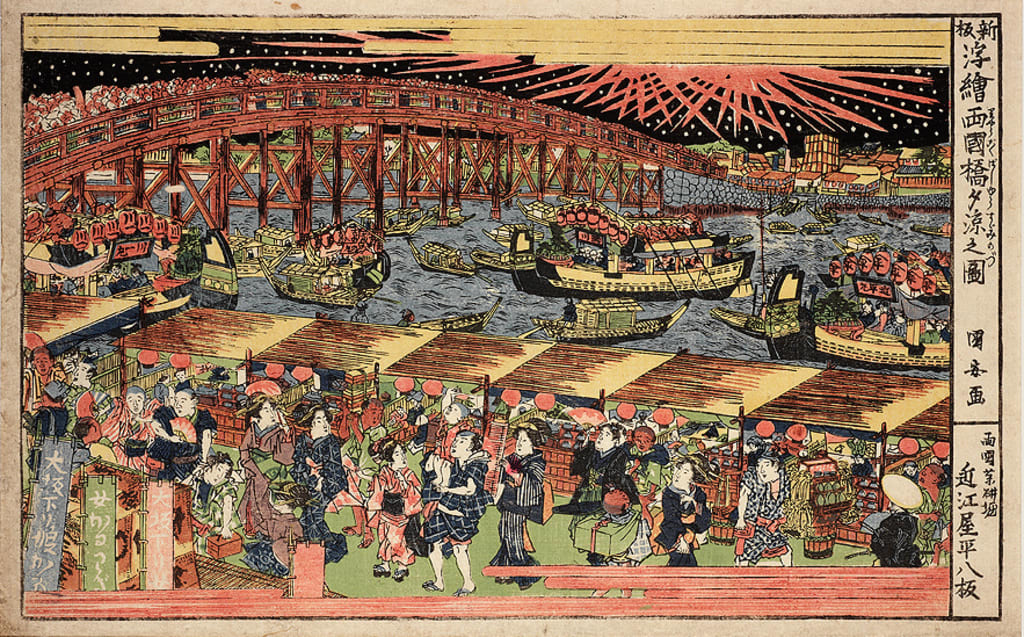 "A New Perspective Picture of the Enjoyment of a Cool Evening at Ryogoku Bridge" by Kuniyasu Utagawa
Everyone loves to celebrate something, and the Japanese are no different, but a few Japanese companies and organizations have taken this to a whole new level. In an effort to promote a product or event, they petition the Japan Anniversary Association for certification. Perhaps the most well-known of these in the West are White Day (3/14) and Pocky Day (11/11).
White Day is a promotion of men giving (read: returning as they do not give on Valentine's Day which is women giving to men) confections or gifts to their significant other (but is technically not restricted to just those women specifically as Japan has a strong obligatory gift/return gift culture). White Day was created by National Confectionery Industry Association.
Pocky Day (technically Pocky and Pretz Day) is an obvious plug of Glico's famous chocolate-dipped baked cookie treats. Grocery stores across the nation pimp their stock and pass out giant blow-up Pocky balloon sticks.
But looking at the Japanese calendar, there are literally hundreds of these anniversaries, and some of them would really surprise you. So without further ado, here are just a few Unofficial Japanese Calendar Anniversaries (covering January to June) as promoted by companies or organizations.
Starting at the beginning of the calendar year...
January 19 is Singing-Voice Pride Day. First started by NHK (Japan public broadcast media outlet) in 1946 as an amateur singing contest, the popularity has spawned 70+ years of continuous broadcast across the nation.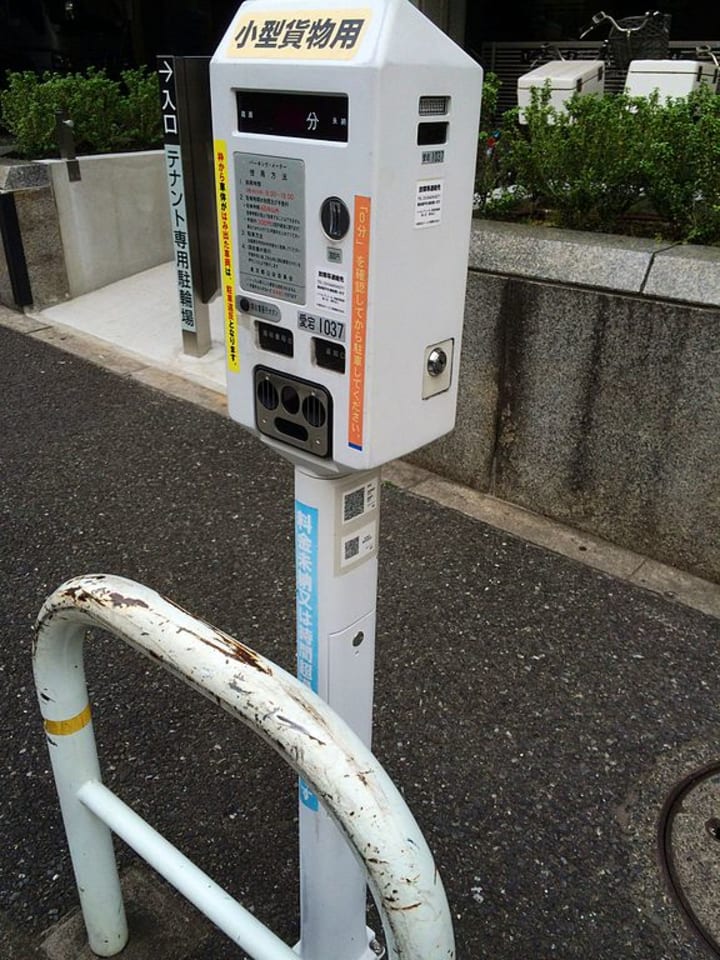 January 26 is Parking Meter Day. On this day in 1959, Tokyo established the first public parking meter parking lot in Japan in the Hibiya and Marunouchi areas.
February 13 is Bank Robbery Day. Japan is truly a unique country, not only does it celebrate events within its own history, but here's an example of the celebration of an international event, specifically, February 13, 1866. What day was that, you ask? Why that's the day that the James Brothers, Jesse and Frank, succeeded in robbing the first bank – said to be the first committed in broad daylight, no less.
February 22 is Cat Day and Ninja Day, because both are puns on the number "two", which is pronounced "ni" as in "ni-n-ja" and, well, "nyaa" as in how cat's meow... yeah, okay, I'm not really sure why the Japan's Pet Food Manufacturers Association chose 2/22, but I'm sure it's the closest they could get to "nyaa." Actually, 2/22 has five "anniversaries" in total associated with it.
March 3 is Ear Day because the number 3 can be pronounced "mi" in Japanese (so two 3s sound like "mimi," the word for "ear"), and moreover, look like a pair of cartoonish ears. Otorhinolaryngologists, rejoice.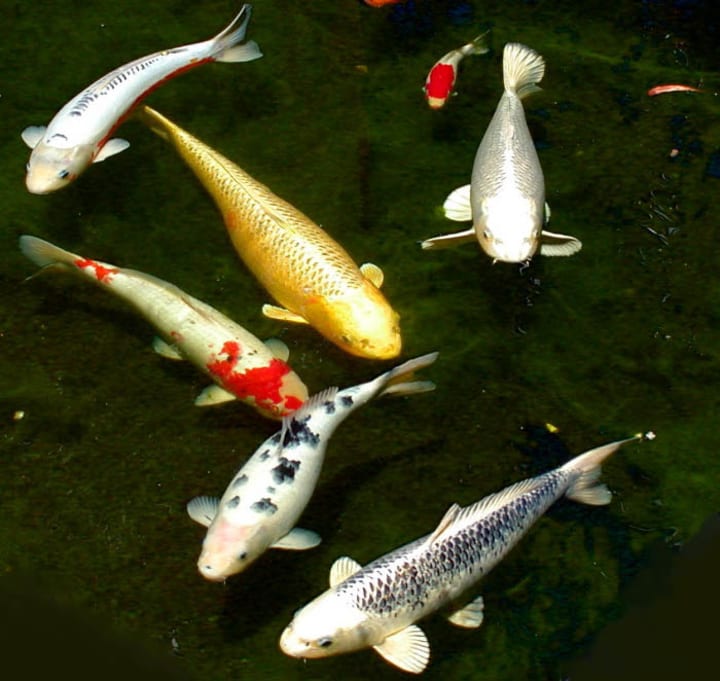 March 3 is also Goldfish Day. The Japan Fishkeeping Promotion Association started this one. This day comes as no surprise as Koi Goldfish have been the pride and joy of Japanese throughout history, and their keep and care has been raised to the level of art. Though designated as "goldfish" day, the day actually covers all kinds of fish.
April 7 is Suchie-Pai Day was certified in 1997. The Idol Janshi Suchie-Pai series of games, developed and released by Jaleco (now possibly defunct), are beautiful girl fighting mahjong games with characters by famed manga artist Kenichi Sonoda. Mahjong being Chinese in origin and the numbers 4 and 7 being pronounced "su" and "chi" respectively in Chinese makes 4/7 a shoe-in for the honor of the anniversary.
April 25 is Guillotine Day. Not sure who proposed this anniversary in Japan, but it comes on the heels of convicted felon Nicolas-Jacques Pelletier's execution – he being the first person on which it was used. Physician Joseph-Ignace Guillotin, a member of France's National Assembly, proposed that the death penalty should always be carried out in a simply and humane way, and thus the guillotine was born.
May 4 is Ramune Day. On this day of 1872, Tokyo businessman Katsugoro Chiba received permission to manufacture and sell ramune candy (a lemonade-flavored confection not unlike Smarties tablet candy). He hired a Chinese manufacturing engineer and learned the technique for making lemonade (aka "ramune") flavoring. On a side note, May 4 is one of the busier "anniversaries" in Japan as it also is the date for Business Card Day, Music Day, Race Boat Day, Family Day, Plant Day, Nostradamus Day and Emerald Day. (Phew!)
May 23 is Kiss Day. This day in 1946 saw the release of Yasushi Sasaki's movie Hatachi No Seishun which is credited as being the movie with Japan's first kissing scene. Though Shiro Osaka and Michiko Ikuno were said to have only touched lips, viewers packed movies seats for days on end. The actual honor of the first kissing scene in a movie goes to Yuzo Kawashima's Oitsu Oharetsu, a short work debuting in a film festival, four months earlier.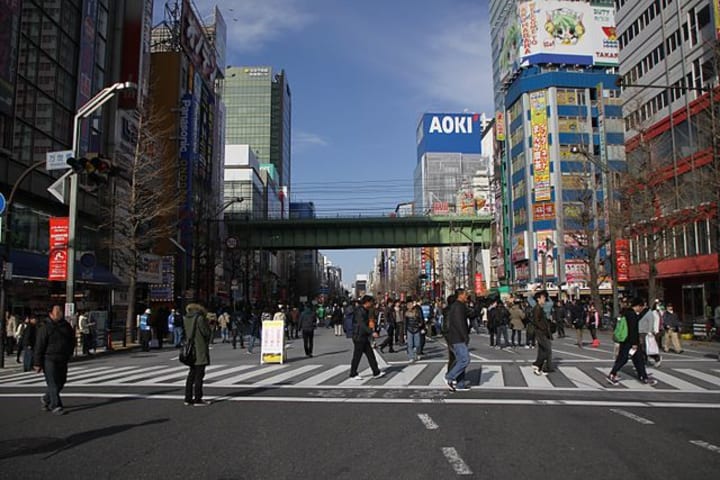 June 10 is "Pedestrian Heaven" Day. "Pedestrian Heavens" are pedestrian zones, usually shopping zones that have been either closed permanently or temporarily. Many in larger cities that have become permanent are now covered shopping arcades (i.e. older neighborhood shopping streets in Tokyo) in which the entire buildings are covered. Ginza and Akihabara are among the most famous "heavens," closing off several blocks of four-lanes traffic on Sundays, holidays and during special events.
June 22 (summer solstice) is Candle Night, a slow life movement (inspired by the Canadian movement of the same name) started in 2003 in Tokyo by the two NGOs (non-governmental organizations) the Association to Preserve the Earth and Sloth Club. In conjunction with a myriad of other groups, this voluntary evening of "lights out" has grown over the years and even spread to other cities and other seasons. (Osaka holds one in winter.)
June 30 is Half-time Day. Despite the name of this date, Japan doesn't enjoy American football that much. Half-time Day is a "celebration" (recognition?) of the passing of half the year. (And to tell the truth, you'll be hard pressed to find anyone who knows about it, so this is some great trivia to wow your Japanese friends with.)
...and Half-time Day is the perfect wrap to the first half of the year. Click to continue onto July through December!