Tips for a New England Whale Watch
Going whale watching during your next Cape Cod vacation? Here are some tips on how to make the best of it.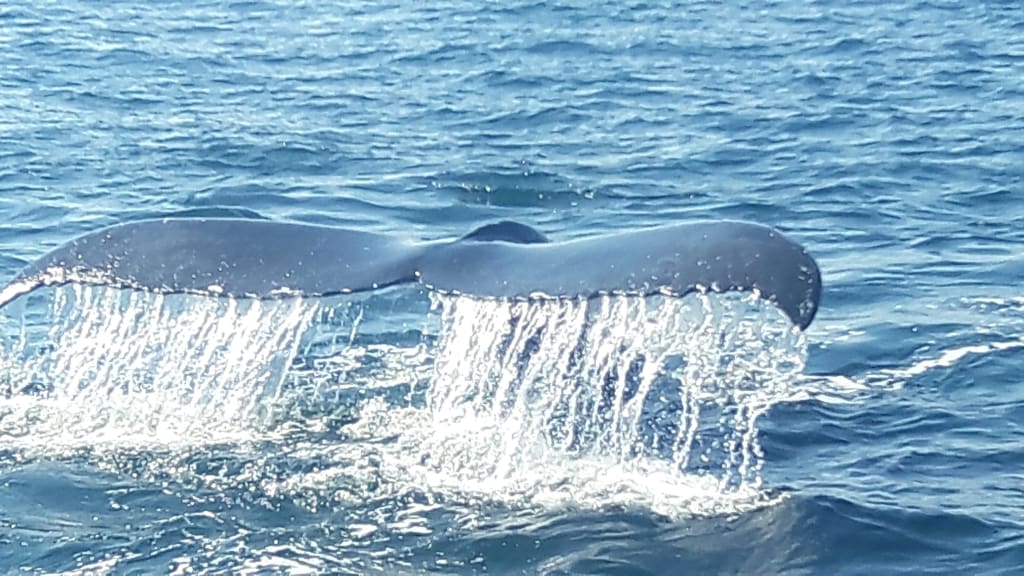 Humpback whales frequently visit Stellwagen Bank off of Cape Cod every spring and summer.
Cape Cod is regarded as one of the most popular places to go whale watching in New England as daily tours leave from Provincetown at the tip of Cape Cod as well as Boston, Plymouth, Barnstable, and Gloucester. From the end of April, all the way through October, whales can often be seen from shore along Cape Cod beaches like Race Point near Provincetown. I personally have done some shore-based whale watching in Race Point on multiple occasions, observing right whale and humpback whale mothers returning to Cape Cod Bay with their young calves and believe me, it was quite an incredible experience. I would totally recommend it to anyone who plans to go to Cape Cod before late April since that's the time when the whale boats first begin seasonal operations. Back to the whales, the mammals spend the months between March through October in Stellwagen Bank, a shallow mound of sand and gravel that's a remnant of retreating glaciers from the last Ice Age. There, nutrient-rich waters that flow from the Gulf of Maine helps create major upwelling of nutrients while creating a bloom of plankton at the same time. The result is a complex ecosystem that provides an abundant of food for various baleen whales such as humpback whales, minke whales, fin whales, and Northern right whales. Yet, the more often you go whale watching, whether if it involves walking along the beach, standing on a headland, or on a boat, finding whales and other marine mammals not only requires good luck, it also requires a good dose of knowledge on the animals and the ecosystem they live in. So here are some tips on how make the best of your New England Whale Watch.
1. Do your research.
Before considering going on a whale watch in New England, please be sure you do some research to find out what might the best time or location to see a targeted animal species, or to combine your whale watch experience with other activities in the area. For example, say you want to see grey seals during your time on Cape Cod. This would mean you would have to look up information on Chatham, the area where grey seal colonies are often found, as well as Monomoy Island, which has come to be regarded as primary habitat for grey seals and their main predator, the great white shark.
2. Find information on whale watch trips.
Once you have decided on a perfect location for your whale watch trip, it's now time to try to Google information on which operators are offering ongoing whale watching trips. While literature has been a traditional method of obtaining information on whale watch operations, the internet, via, social media, has become a far more effective method of finding them.
3. Choose an operator.
All whale watching experiences will be influenced by the operator of your choosing. Again, please use Google or social media to research the operators and take the time to read the reviews before settling for the one that stands out as being the "best" for your personal whale watch experience. In addition, be sure to ask the operator some questions like the cost of the trip, how long it lasts, the size of the boat that is used for the trip, if it's just a typical whale watching trip, or is it just part of the tour, and so on.
4. Make reservations in advanced.
Once you have chosen an operator to go on a whale watch trip with, be sure you call and make a reservation ahead of time. It's best to reserve tickets in advance since in some places like Gloucester, MA, whale watch trips are very popular, especially with out-of-state and international tourists.
5. Dress warm.
There is no worse feeling than feeling cold, and wet during a whale watch trip. This is because while it might be warm and dry on land, it's not really the case for when you are out at sea since offshore weather conditions can range from cool, or changeable. So, it's best to play safe by dressing in warm clothing like jackets, sweatshirts, long-sleeve pants, socks, sneakers and on some occasions, hats, gloves, or mittens.
6. Bring snacks.
The last thing you need is to feel seasick during what should be an incredible experience seeing whales out in the wild. To avoid being miserable at sea, it's best to bring with you some snacks and drinks to avoid feeling seasick. My personal suggestion would be to bring some apples, crackers, water, ginger ale, grapes, and some pretzels to last you through the day.
7. Bring binoculars.
When it comes to watching whales and other marine mammals that call the New England coast home, there is nothing more important for watching trips than having a pair of binoculars on hand. You can use them for observing subtle behaviors or detect identification features of individual animals.
8. And finally, bring a Camera.
The last thing you will need for your New England whale watch trip is a good camera to take good photos of all the animals you'll encounter. While taking photos requires understanding, craft, and patience, you don't need to be a professional photographer with a super "expensive" camera to provide permanent record of animal encounters at all. If you have a smart phone on you, then you are good to go when it comes to taking photos and video of your whale watch experience and best of all, you can post them to your social media account right away as soon as you take the photos. Because your chosen operator may have a social media page, they may often encourage guests to share their own photos and videos with them on their pages, so if you like, you can share with them your own photos and videos with them.
Anyway, I hope these tips will help you have a whale of an experience the next time you decide to vacation on the New England coast. Have you gone whale watching off the New England coast? If you have, feel free to share your story with me at jenna.de[email protected] and I would love to hear about your experience.
About the Creator
Zoo and Aquarium Professional, Educator, Cosplayer, Writer and B.A. in Psychology whose got a lot to share when it comes to animals, zoos, aquariums, conservation, and more.
Instagram: @jennacostadeedy
Reader insights
Be the first to share your insights about this piece.
Add your insights