The Tongariro Alpine Crossing
From this month's trek across the 19.4 kilometer alpine track in New Zealand.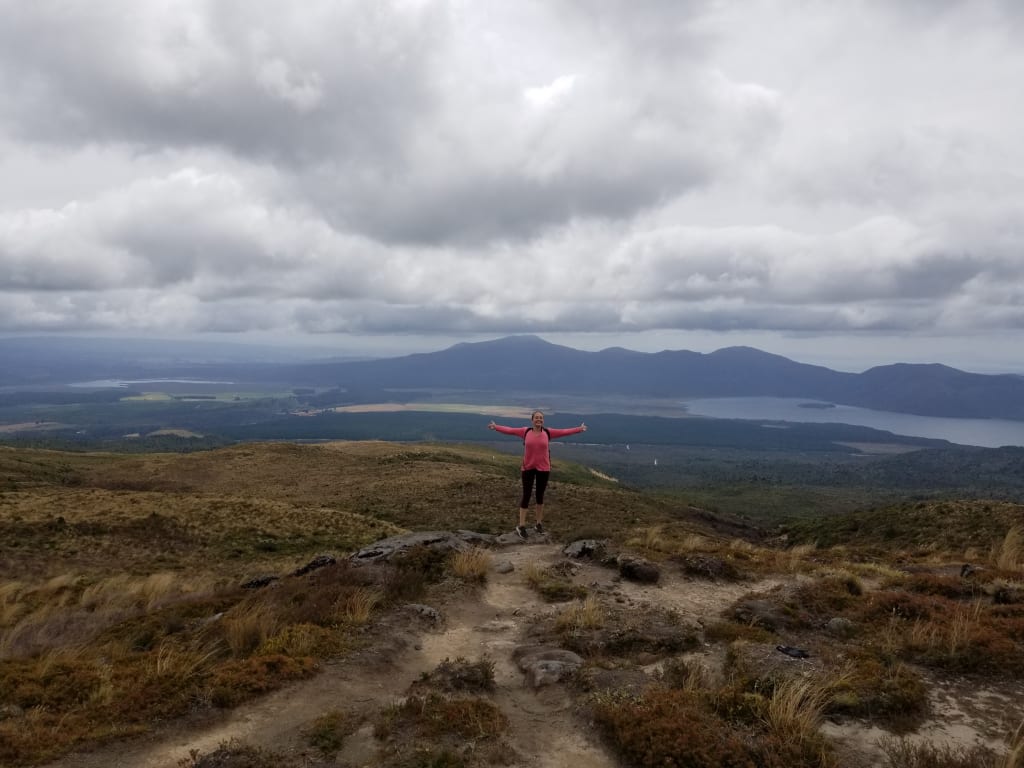 Darcy's alarm went off at 5 A.M. as we had discussed the night before. I'd chosen not to wake him up at two when I had decided I was no longer going for an early morning swim. We'd spent the entire night curled up under our towels trying to keep warm and turning over in the car seats in an attempt to get comfortable, the last thing I wanted was to dip into what I confidently assume would be the ice cold water of the river at the campground. I had already changed my alarm to ring at 5:30, but he groggily reached to silence his.
The damage had been done, and we were both awake, so I suggested we get a jump start on our morning and head off earlier than planned. It was an easy decision; we were too cold to get back to sleep and a group nearby was belligerently belting Valerie. We rolled up our seats and rejoiced in the warmth that came with turning on the car heaters.
First stop was a Mobil station in the hopes of a coffee and a place to humanize. I packed my face wash and toothbrush into my purse and shoved my compact towel in as well. We approached the night payment window and inquired about a fix. The man didn't hear us clearly, but the look on his face seemed to indicate that he wasn't familiar with the concept of early morning caffeine in general. "You want a hot coffee?" he grumbled. But he was only just starting to open up and was kind enough to make the coffees anyway. Although he did let us in, I felt as though ducking into the facilities was a bit too cheeky so we just waited.
Whilst the coffee did help to thaw us out and wake us up, it also added to the cocktail of cheap cider residue and morning breath. We only had another hour and a half in the car before we would reach our destination. Another hour and a half of grimy, gremlin existence, but today wasn't a day to be attractive anyway.
Today was the day I had most been looking forward to, what had drawn me to visit New Zealand in the first place: its natural beauty and sense of adventure. And today that would materialize for us in the form of the Tongariro Alpine Crossing.
If I'm being entirely honest, I did absolutely no research on the crossing whatsoever. I looked on my map first, then Googled "best hikes NZ north island" and picked the one that made me the most tingly. I knew it was 19.4 kilometers, there were lakes and "stunning views" at the top, and that it was best to arrange shuttle drop off and pickup, but that was the extent of my foresight.
We weren't completely unprepared. I had bought a jumper in an op shop a few days prior and we had more than enough food and water to keep us going. Our backpacks were rearranged the night before so when we arrived we would be ready to load up and go. We had booked tickets on a bus that would pick us up at a parking lot in the area, drop us off at the track starting point, and pick us up at the finish. What more did we really need?
We arrived at the park-and-ride lot an hour earlier than we needed to and took the opportunity to eat our "breakfast" (tinned tuna on rolls) and clean ourselves up a bit. We layered on as much clothing as we had. We were freezing just sitting in the car and it would only get colder from there. For me that meant leggings with jeans pulled over them, a singlet, my jumper and a wind-breaker that was packed up in my bag. Darcy on the other hand, had layered a singlet, t-shirt and a thin jumper, but only had shorts to wear.
We filled the rest of our wait time flicking through the local radio stations and taking full advantage of the car's climate controls. About five minutes to eight we walked to the section of curb that sat under a sign for our shuttle company. A bus arrived promptly at eight where we stood, though it was labelled as a volcanic adventure shuttle. I had nearly dismissed it when I noticed the Tongariro Crossing Shuttle poster taped along the side. We boarded and were on our way.
We pulled up at the start of the track just before half eight and our bus driver stopped and stood to address us. She reviewed where the return bus would meet us and at what times, the emergency numbers to call and then proceeded with something more unexpected. The rangers waiting at the trailhead would be advising us not to do the hike today due to severe weather conditions. She gave us the number for the shuttle company in case anyone decided to turn back, but assured us that she would be fine to do the hike on a day like today.
Confident, and excited by the air of danger, Darcy and I bypassed the rangers and stopped only to briefly look at the warning signs posted. High winds and temperatures dipping to -2° with the wind chill. Darcy posed for a photo by the sign, slightly puffed chest and smirk. Neither one of us was phased, we set forth full steam ahead.
We were absolutely on a high. Everything we had done up until this point, while still incredible, had felt safe and standard. We were entering the unknown and cockily accepted any challenges it might bring. I felt my heart skip as we reached the marker for the first kilometer. No, I actually skipped. "Hey, guess what?" I called back, and then proceeded to trip over myself. I caught the fall before I hit the ground and we both doubled over laughing.
We approached kilometer three mere minutes after kilometer one. The world around us was surreal. Black volcanic rock and bright red streams made up the vast landscape, the sky above us grey, everything above us hidden. A wooden pathway covered by mesh lay raised above the ground, snaking its way beyond sight, leading us closer with each step to the Devil's Staircase. The steps came in small sets to begin with, winding up through small hills.
We overtook group after group, gaining confidence each time. This had been the easy part of the trek, but we laughed and took photos with the sign that said not to proceed in weather identical to what lay ahead, masking the mountains. As we began our ascent, we let a group coming down pass by us. A woman asked us what the rangers had told us at the start. When we replied that we knew it was cold and windy, a man in her group said rather sharply that the winds near the top were blowing 90kph and that it was very cold.
They all had warm coats and trekking poles and I looked at Darcy's bare legs and treadless sneakers. At least I had some layers I could add on, that was it for him. But we wanted to see for ourselves, we were unwilling to admit defeat on a stranger's word.
We pressed on up each set of steps, the wind slowly becoming more aggressive. I pulled on my packable windbreaker as we reached a stretch of flat path and silently thanked my mum for insisting on buying it, despite the fact I would be traveling back to Australia in the summer. For a moment I was six again, at a winter camp, trudging through the snow in jeans and off-brand Converse with a snowsuit and boots packed away in my bag that I had deemed too ugly to wear. But much older, wiser and less stubborn now, I pulled my turquoise hood up over my ears to protect them from the wind.
We looked ahead of us and the world was flat, much flatter than it had any business being in the mountains. With the fog settled above us, all we saw was hikers on the path before us and beige wasteland on either side. It was eerie, but we were energized. We exchanged enormous, toothy smiles and broke into a jog. "Trying to warm up?" came from our left, and being a much easier explanation in passing, we agreed.
The wasteland dipped down and ended meeting the base of a steep hill. Still feeling invincible, we smugly greeted the sign headlined "Decision Time!" in colours making it reminiscent of caution tape. Above us was a large family with children of varying ages slowly pulling themselves up the loose rocky path. If they were going, surely we would be just fine.
We passed the mother and her youngest bringing up the rear. He was about four, wearing shorts and his legs were bright red with the cold and lashes from the increasingly brutal gusts. It was painful looking at him as we climbed by. We chose this for ourselves, but he was just along for the ride. He wouldn't care about the view at the top, his entire existence right now was his discomfort.
Each step up slipped back half the distance it gained. Some larger rocks offered more stability, but others were deceptive and sunk into the dirt. We made quick work of reaching the next plateau, but didn't find any rest at the top. I had drastically underestimated the power that 90kph winds held. Despite having both straps on, and three litres of water in it, my backpack swung to my right shoulder, pulling me with it. I took a step to regain my balance and looked down the slope to my right. Nothing would stop me if I was to fall, and with the fog I couldn't quite see how far down it went, not that I wanted to lean close enough to try, but it wasn't the kind of fall you recover from.
About a meter ahead there were two young boys, I assumed from the family we had come past. I watched as the wind pushed them closer and closer to the edge. They giggled, too young, too invincible to see what I saw. I stepped a bit closer to them, to the edge. I got the first tingle of a tremble in my knees and dug in my heels. Their little feet slipped a bit further before two arms reached out and pulled them back toward the rest of their group. My breathing restarted and settled, and I made my way in toward a place to hold onto.
I turned behind me to check how Darcy was. His legs were starting to look red as well and he held his arms in tight across his chest. I asked if he was alright and assured him it would be okay if he wanted to go back. "I'm fine," he said, trying to be reassuring. But I wasn't at all convinced.
Darcy took hold of my backpack as the wind spiked and I wasn't sure if it was comforting or more terrifying. We hiked another three meters forward and ducked behind a rock just large enough to shield us both from the gales. My mind was racing, there was a part of me that started to think that we might get stuck up there. I found myself paralyzed by my fear and I looked at Darcy. We both knew that at this point it would be too unsafe to try to go back the way we had come and I knew we needed to move soon as he must have been freezing. But he just smiled and I remembered the other side of fear. The rush of adrenaline, excitement and adventure. This was exactly what I wanted from my travels. This was why so many treks before had seemingly fallen flat. Walking well beaten tracks on sunny days is great, it's relaxing, but this was the type of moment that I craved.
The corners of my mouth reached outward and my fear turned into pure energy, which lasted all the way to the next rock we used to brace ourselves. Not quite large enough to hide behind, we crouched down and held on until the wind slowed. The next part of the climb was fairly steep with no rocks to speak of for stability or cover, so we would have to move quickly. As soon as we could stand straight against the wind, we trudged up the hill ahead, digging our toes in like ice picks to keep from sliding back down.
At the top, we crouched in front of an information sign for the red crater. We had reached the summit of our climb and now sat at 1868 meters above sea level. We paused there for a moment, basking in our victory and taking advantage of the relative calm to refuel. A comparative breeze blew in just as we stood to read about where we stood and cleared the fog just enough to catch a brief glimpse of blue sky and expansive red mountainside that made up the far wall of the crater. But the mountain's veil returned as quickly as it had gone and all of the colour was once again shrouded in grey.
The muscles in my legs were relieved to have a break from climbing as we began our descent. The slope was as steep and slippery as the path we had come up, but the path down was much wider. The fear of falling had its brief moment until Darcy actually did fall and absolutely nothing bad happened. From there it was all fun. Sliding down, I was able to pick up an ice skating like rhythm sinking my heels into the dirt with each step, not caring that my shoes were filling with dirt and rocks. I forgot the cold, I forgot any fear. I just laughed and floated down the mountain.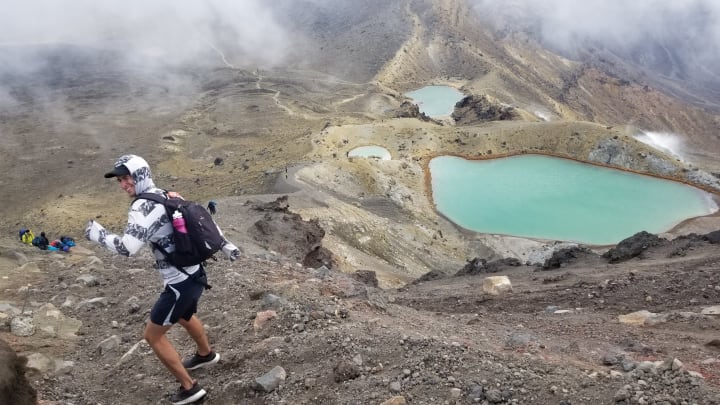 Below us lay the three emerald lakes of varying sizes, the closest being the largest. As we drew closer we could see steam rising up around the edges, and though I knew they weren't actually a safe temperature, I still found myself enticed to go for a dip. Groups sat beneath a ridge just below us along the edge of the first lake, enjoying the shelter as they ate their lunch. Despite wanting to stop, I knew if we did I would find it more difficult to pick myself back up to continue.
As we passed over the fourth and final lake up on the mountain, the Blue Lake, we saw the ten kilometer marker. We had made it halfway and were filled with a mixture of pride and relief. The first ten kilometers had absolutely taken it out of us and despite still enjoying the hike, we were both ready to reach the final marker. We walked through the fog, taking little note of the world around us.
Suddenly the landscape opened up. The sky cleared, the winds settled, and we found ourselves perched above the left side of a valley overlooking the towns and lake below. The air around us warmed up, so I stuffed my windbreaker back into my bag. Steam rose from cracks running up the mountains across from us on the right. The trail ahead began our slow descent from about 1700 meters above sea level to 760. We zig zagged down on the path set into the ground stopping only a few times to take photos. We were surrounded by volcanic rock and dry, brown and beige plants that contrasted well with the blue of the lake and green of the small towns below us.
Our feet carried us down the path, up steps and small slopes and up to a small stream. My toe caught in the hexagonal grate set in the path and I snapped back to attention just in time to keep from falling into the water. Darcy may not have, but I had mentally checked out and I hadn't even realized it.
The kilometer seventeen marker sat above a set of steps that led down onto a path significantly greener than anywhere else we had been so far that morning. Only having gone a few meters further down, we were transported into an entirely different world. All around and above us was lush, green jungle. Twisting, creeping branches and vines. Tree trunks coated in moss. The temperature dropped a bit again, but to a comfortable cool rather than an aching cold. We settled into the serenity nature offered us and allowed our pace to slow.
The sounds of birds above and running water alongside us filled the silence. We didn't need words, and it was unlikely that either one of us had the mental capacity to compose a full sentence in our current state. We passed by side tracks, disinterested in anything other than finishing, sitting down, and finding a decent hot chocolate.
The last distance marker, the one for kilometer nineteen, was a welcome sight. Darcy hugged the post it was attached to, leaning his weight against it. We had less than a half kilometer left. We had actually done it. "I'm tired, I think we should go back" I managed to suggest with a smirk. Even the muscles in my face were only functioning at half power. Darcy swung a quick half turn, humouring my joke, before turning back in the right direction.
The trees ahead thinned and finally cleared into a grassy slope above Ketetahi Road. We stumbled forward and sat on the ground to wait for the return shuttle. Both of us took a few bites from the salami we had packed and collapsed into each other. Finally having stopped, both our physical and mental exhaustion took hold. The shuttle arrived at a quarter to two, much sooner than we expected it to. I swear that bus seats never felt so comfortable. I scratched a few notes from the day into the Tasman Sea near Marlborough Sounds Maritime Park and then shut my eyes, welcoming the darkness and releasing the tension from each of my limbs before slipping into a deep sleep.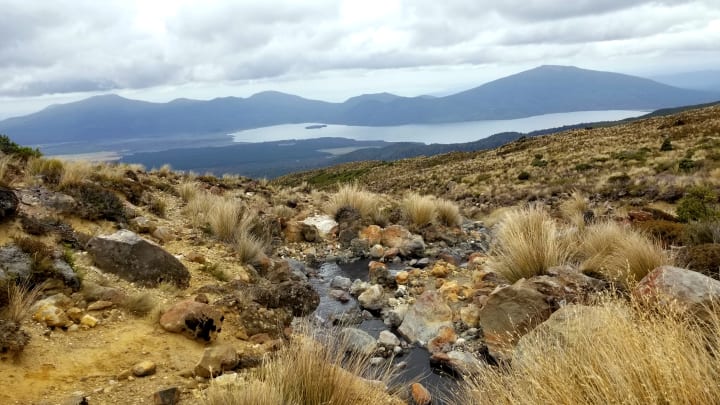 new zealand
Traveler, adventurer and occasional author. Have a look at my works and take part in my life on the move.