The Red Centre Down Under: Why it needs to be on your bucket list.
Need travel inspo? I have your next destination right here.
When you think of the Northern Territory, Australia…
Do you think of red dirt, crocodiles, and flies?
If you answered yes to the above, I can't blame you. I thought the same for the first half of my career in travel before I had the opportunity to explore the hidden jewels of outback Australia.
As soon as the borders open up, this will be my first post-iso holiday destination. You can get as muddy and grimy as you want, camping in the valleys and getting up close and personal with wildlife, or you can spend it in 5 star luxury and wonder why the hell you've been spending your years flying over this place in order to get to Asia?!
My first tip? Get a window seat.
It's worth the hassle of climbing over two people if you need to pee, I promise.
My first stop was Yulara, the small town nestled right beside Uluru. When the plane circles around the Yulara airport, ready to land, you get a first glance at the breathtaking monolith of Ayer's Rock.
Nothing quite prepared me for the size of the rock, easily dwarfing other wonders of the world like the Great Pyarmids, Big Ben, and the Eiffel Tower (for some comparison, the Eiffel Tower stands 324 metres tall, while Uluru is a whopping 348!).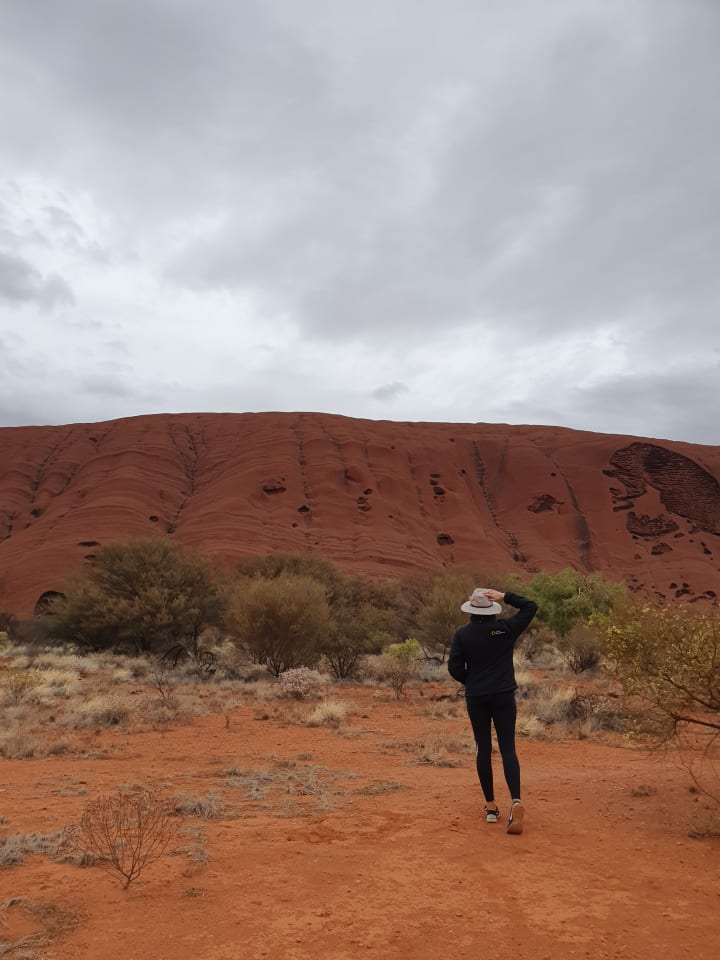 While climbing Uluru has been banned to tourists to restore respect of the sacred indigenous site, it certainly doesn't detract from it being a must-see stop on everyone's trip. I recommend staying at least a night in the resorts nearby, as you can spend the sunset sipping on champagne and watching the colours of the sky explode around the rock.
My personal favourite activity was the walk through the critically acclaimed "Field of Lights" by internationally celebrated artist Bruce Munro. It's an immersive experience with a sit-down dinner, or a pass that allows you to wander through the art piece that spans for more than seven football fields. Get lost under the milk way, and feel as though you're a part of a beautiful, multi-coloured constellation.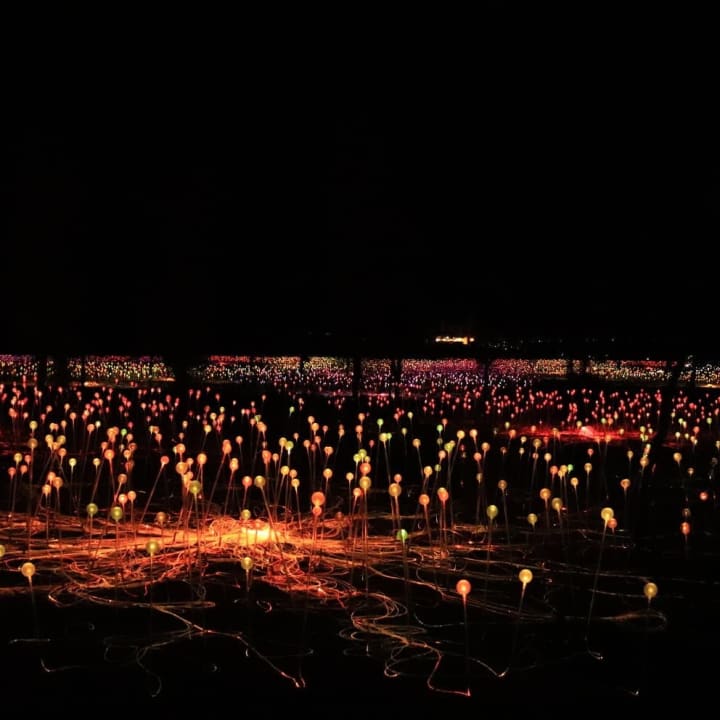 But don't stop there…
It's no barren and flat landscapes between there and Alice Springs, however. National parks that are packed with ancient mountain ranges tower over you throughout the red centre, and it's definitely worth the hike.
Can't see America's Grand Canyon?
Easy, explore the MacDonnell ranges instead. Gaps, gorges, and waterholes decorate the parks and make for some picturesque hikes that will well and truly take your breath away. I was lucky enough to take part of an Intrepid Australia tour, where the tour guides take you through the paths and find you the best views, plus with some incredible facts about the landscape!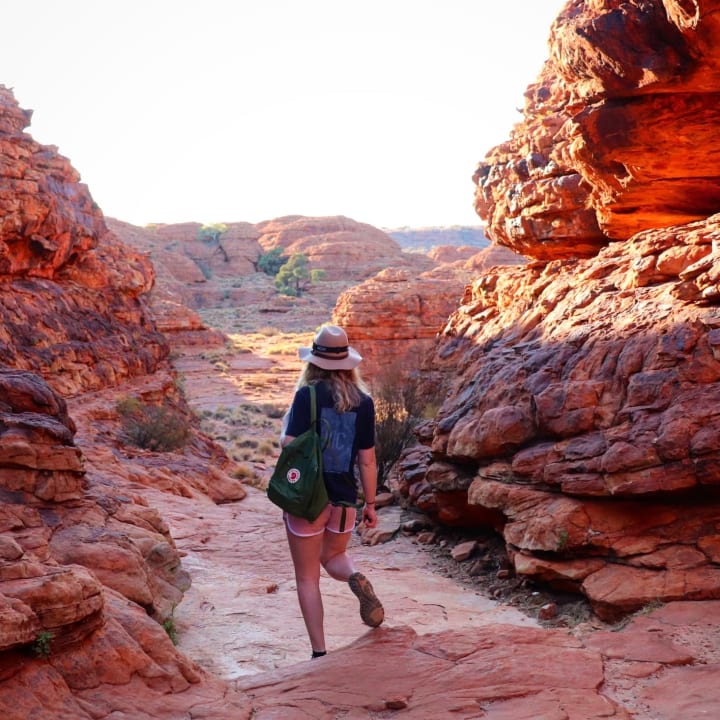 It's no wonder many indigenous dreamtime stories stemmed from areas like the Macdonnell ranges. Spanning for kilometres and towering over the valleys, unchanged for centuries, there's a sense of sacred magic that is instilled upon you.
A day trip from there, Alice Springs.
Yes, the same Alice Springs that's featured in 1994's Priscilla Queen of the Dessert. If you haven't seen this fine piece of Australian cinematography, then I definitely suggest you watch it on the long bus ride between sites. It's worth it to see a frocked up Hugo Weaving in heavy makeup.
This small, laid back town is a wonderful way to unwind after a heavy day of hiking. You can get more of a taste for the outback from the many activities that leave from the town centre, like camel treks. But if you're more like me, hitting up the nightlife and relishing in their air conditioned cafes the next morning are definitely an option.
Alice Springs also has the most galleries per capita than anywhere else in Australia, so glimpsing at the stunning Aboriginal art is an absolute must.
I have one single "do NOT recommend"…
Do not try and drive from Alice Springs to Darwin.
It's a logical way to end your Northern Territory adventure, but it's no easy feat. On a bus, it'll take you roughly 15 hours to drive from Alice to the top end.
There are countless worthy stops along the way to break up that ride, or for those who enjoy the finer things in life, The Ghan is a way to travel in luxury between Adelaide, Alice Springs, and Darwin.
But for the more budget conscious, probably just grab a flight.
Darwin is your beach city that really makes the trip worth it. The relaxed vibes, heavenly beaches, and markets that sell Laksa so good that it even gives Malaysia a run for it's money, I would happily replace my Bali trip for a Darwin getaway anyday.
Darwin is also a gateway for the massive Kakadu and Litchfield National Park. If you're hanging on the hope to glimpse at a croc, I'd definitely suggest jumping on a wildlife tour and immersing yourself in the Aussie wildlife until your heart's content (or until it says 'catch you later, alligator', and you say 'in a while, crocodile'?).
So take a piece of advice from me…
Take the jump, and explore your own backyard if you're an Aussie. It will be a trip of a lifetime.