The Incredible Slave Trade Defense Wall of Gwollu, Ghana
Ghana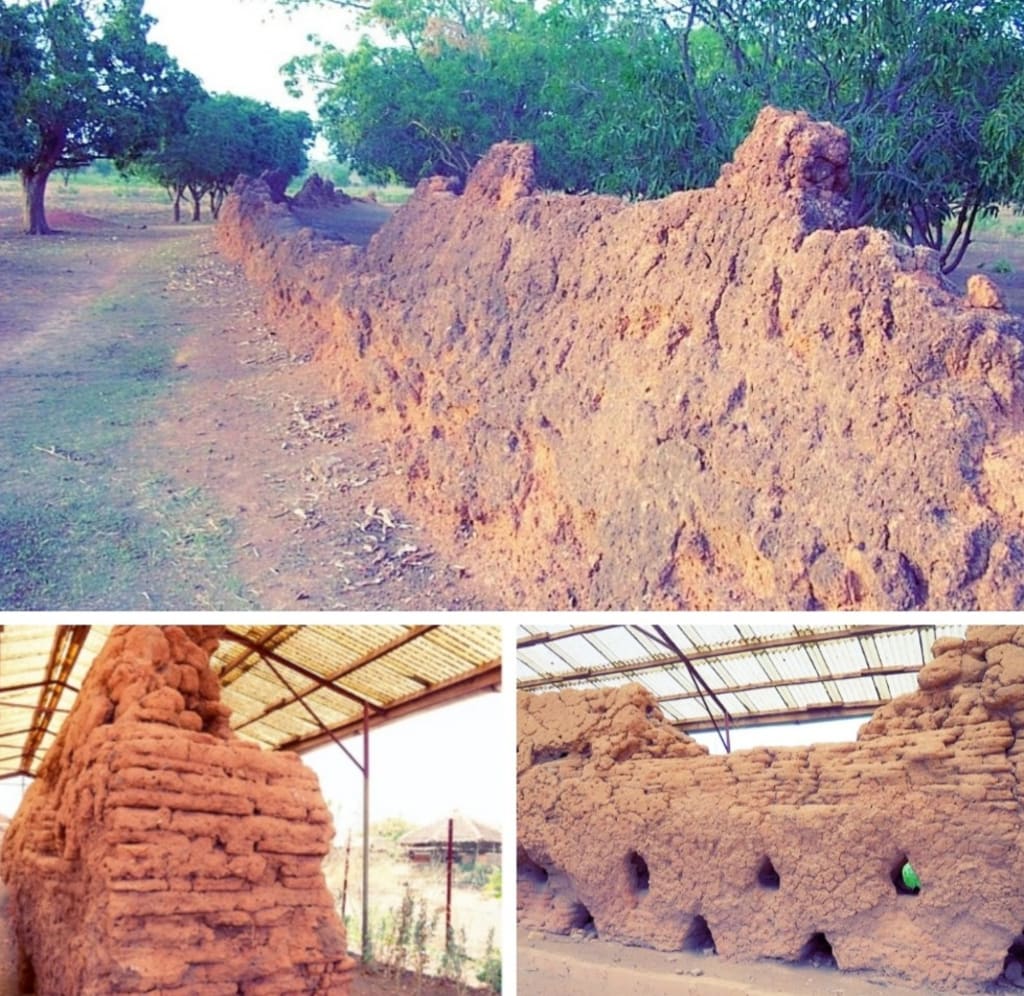 As usual, the sun was shining, the territory was calm, and the turkeys were running around. We found ourselves looking around, as our eyes were fixed on a variety of fastened woods with splints on a walled hill. After a long trip, we were finally at the 300-year long slave trade wall. The defense wall of Gwollu is located 70 km north of west Sissala district of Wa, and provides relevant information about ancient slaves operating in the northern region. Gwollu is a common environment in Burkina Faso, adjacent to West Africa. Burkina Faso benefits not only from this, but also from other neighboring countries where slaves were traded. The Gwollu defense wall is used for slave descendants of the diaspora. Gwollu covers an area of​411289 km, which slightly exceeds 25 percent of the total mass of upper west region of Ghana.
Upshot of Wa and Gwollu
Economic Activity: Farming
Food: Tuo Zaafi (TZ)
District: Sissala West
Capital: Wa
Major Language: Sissali and Kusaal
Population: over 55,000
Geographical Area: 18,478 square Km
Area rank: Ranked 8th
History
300 years ago, Gwollu defense wall was built in the 19th century by the Chief of Gwollu, Korro Liman, to protect slave traders from city dwellers, especially legitimate children and women. He created a very powerful double wall that can protect them from deadly attacks. Solid interior walls were built to protect the area's homes, whilst the external walls surrounded their farms and the water source. Gwollu defense wall is always under the supervision of a community leader. Although, additional help is needed to increase the level of protection, they are very well protected. According to a passed on tradition of the Gwollu people, the construction of the wall took three years. Decades have passed in the United States and Great Britain since the slave trade was destroyed in 1807. This clearly led to the fact that for several years Gwollu people experienced "pain" in the heat of attack. These are the dark days of history.
The defense walls protected slavers who hunted them. Unfortunately, Sissalas and Dagaabas (in upper west region of Ghana) were arrested, and most of them were victims of slavery. Mosques are abundant, including the ancient Sudanese mosque in the capital of Wa, Nakore and Dondoli (cities of Wa). The magnificent palace of the Chief of Wa was built in the 16th century in a unique way in the architecture of Sudan. People of Gwollu's heroic endurance was very aggressive. This heroic move was under a great Chief, Tanjia against the slave trade. The remains of broken structures in the slave firewalls were well preserved by the city rulers. The special walls are of great historical importance to the people of Gwollu. This is because, it is one of the few evidences of organized resistance and slave trade in the world and in Ghana. Organised to follow the steps of the slaves, a durbar is made every year by leaders, and people of the town to climax all activities to celebrate Liberation Day in Wa.
The Caves
In addition to the defense walls of the slaves of Gwollu, there are other sights in the area, including the ancient Wa caves. These caves were discovered in Bulenga, Dahili and Sankana. They move quickly to protect themselves from slave attacks when there's an attack on them at the villages near Gwollu.
The Slave Camps
During the attack on Gwollu, the people hid in the surrounding villages, but most of them were arrested in forced labor camps. Visitors can learn about the history of camping in the area at slave markets in Pizaga, Dolbizon and Kasana. Strangely enough, most of the concentration of visitors has been on the three camps mentioned above. Beyond this, there are other beautiful places in this area. Some of them are mentioned below.
The Gbelle Game Reserve
Gbelle Game / Bird Sanctuary is located about 565 km south of Tumu. Here, live elephants, buffaloes and the largest roan antelopes are in the area. If you are obsessed with birds, you should be here. You can see very colorful birds with Wechiau hippopotamus sanctuary being an extra sight to see. The Hippopotamus Sanctuary stretches along the Black Volta River near Wechiau. The sanctuary also serves as a habitat for other reptiles.
The Mushroom Rock
When you arrive at Wuling, you must first take a walk to see this attractive mushroom shape. It looks really stunning. And I can put my bet on this—your eyes will definitely turn it over.
The Gothic Stone Cathedral Church
This church has been here since 1936. It is located in a random area of​northern Ghana and is the largest building in West Africa. It is completely made of stones. The building is very durable and well polished. There are many rooms connected to the main building, with an antique view. Next to this building are impressive traditional houses. You must be here to witness it yourself. In addition, people of Lawra are able to make ear pleasing xylophones by using bamboo, gourds, calabash and other natural products. The end product of the xylophone give flawless sound.
Transportation to Gwollu
After arriving in Ghana, the fastest way to get to this historic city is to begin your journey from the capital of Ghana, Accra, and then to Navrongo in northern Ghana. Continue from Navrongo to Tumu and finally to Gwollu. From Accra it's about eight hours and three hours from Tumu to Gwollu. Best means of transport include commercial buses, special tourism buses and passenger airlines at Wa airport.
Accommodation
There are comfortable and inexpensive lounge rooms in Wa that warmly welcomes visitors, especially first time foreigners. They have the best of facilities that everyone crave for.
Fiesta Royale
Hotel Sissilis
Hotel Espoir
Bemmie Last Spot Guest House
SILAP Guest House
Nuoyong Empire Hotel
These and other outstanding lounges are available for your relaxation.
Paying Respect to Chiefs And the Elders of Gwollu
When you arrive in Gwollu, it is best to visit Kuoru Kuri-Buktie Limann IV, the Paramount Chief of Gwollu and his elders. It is believed that when you honour them, you are given a spiritual backing and blessing by visiting all the glorious places without any obstacle. In addition to the permission granted, you also get the opportunity to visit the grave of the late third President of the Republic of Ghana, Dr. Hilla Liman. Gwollu happens to be the hometown of the erstwhile president. With the body close to the palace of the Chief, you can capitalize on this to pay respect to his memory.
Preservation of the Gwollu Defense Wall
Despite facing few challenges, the Chief of Gwollu makes it a point that the site is well preserved and attracts visitors from all over the world. In July 2000, the US Ambassador to the United States, Pamela Bridgewater in Ghana, visited this place and provided resources for the preservation of this historic walls. The Ghana Museum and the Monument Board are also very helpful.
Photography
A tour without photographs is a worthless one. Photos are always allowed in Gwollu. Gwollu's defense wall vacation is such that, it cannot be done without pictures. After receiving permission, you can take as many photos as possible, including traditional shrines which is within the Chief's palace.
There are several places in Gwollu where you can visit evenly. One of them is the beautiful palace of Wa Naa, the capital of upper West region of Ghana, Wa. Architectural design is really outstanding. It was built in the 16th century. Another attractive palace you can visit is Jirapa Naa'a, the first high-rise earthen building in Ghana.
About the Author 🇬🇭
Osei Agyemang is a passionate and creative content writer / editor who is an expert in writing interesting and innovative content. Osei is also an addicted travel enthusiast who likes to visit and tell the stories of interesting places around the world. He is an award winning National Artist who studied Psychology, Journalism and Global English Language at University of Strathclyde and the University of Glasgow respectively.
Email: [email protected]
africa

Osei Agyemang
A passionate writer & editor with a zeal for creating exciting and innovative contents. Osei Agyemang is also a junkie fan who loves to visit and tell interesting sites around the world. He has studied Psychology and Journalism.
See all posts by Osei Agyemang →