The CDC Has Relaxed COVID Protocols on Cruise Ships
Here's what changes have come to cruise ship travel.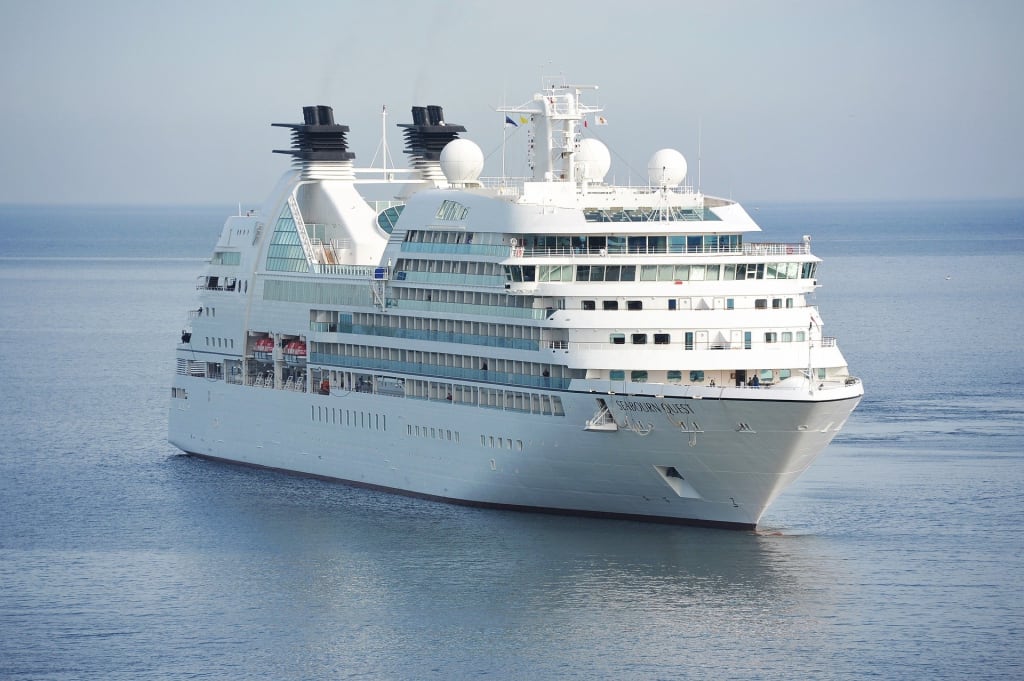 In early 2022, the coronavirus protocols for cruise ships set by the Center For Disease Control (CDC) expired. Going forward, the mandatory rules which made up the Conditional Sailing Order will now become voluntary, due to the assessed lower risk of contracting the virus onboard ships. The CDC ranks international destinations into four tiers based on risk level, and as of February, cruise ships moved from the level three to the level two, or the "moderate" tier.
In the early parts of the pandemic, outbreaks on cruise ships were rampant, and many lines were not taking the proper precautions to protect their passengers and staff. Traveling via cruise ship was considered to be high risk, and cruises were suspended temporarily. However, the Conditional Sailing Order enacted when cruise travel resumed has shown to be successful in reducing the number of cases contracted onboard.
What COVID Protocols Will Be in Effect on Cruise Ships?
For those cruise lines which will continue to opt-in to the Conditional Sailing Order, which is most of those based in the United States, not much will change. They will still continue to follow the CDC's Operations Manual, which has protocols regarding testing, mask use, social distancing, and quarantining of infected passengers.
In addition, the CDC added a Cruise Ship Color Status system for the ships participating in the program. This will allow passengers to check before booking their travel plans which ships have active or previous outbreaks, what safety measures are being taken, and which ones need further investigation. Ships that have opted out of participating will show a gray color, but will still be required to submit to CDC testing and mandatory reporting of infection cases.
In terms of the safety protocols that will be taken onboard ships, this will vary from line to line. While they are all recommended to have testing and medical treatment available, individual lines will have their own policies regarding mask use, testing, quarantining, and vaccination status. If you are concerned with contracting the virus during the cruise, it is recommended to visit the website of the line you are wanting to travel on to review their guidelines.
While previously it was required for guests and staff to be masked in shared indoor spaces while not actively eating or drinking, those requirements are now optional. Individual cruise lines can decide for themselves how stringently they prefer to enforce masking.
Do I Need to Be Vaccinated or Tested To Take a Cruise?
While COVID-19 vaccinations are important for helping to contain the spread of the virus, they are generally not required for cruise ship travel. However, cruise ship travel without vaccination is risky and is still not recommended. In addition, many lines are now incorporating vaccinated-only cruises or areas of ships, and have less stringent testing and insurance requirements for those who have documentation showing that their COVID vaccinations are up to date.
Most lines are still requiring some sort of negative COVID test before allowing passengers to embark. However, the type of test required can vary from line to line, the port of departure, and whether the individual is vaccinated or has previously tested positive. Some lines also require all passengers to take an antigen test at the terminal, and have complimentary on-ship testing available for longer cruises.
Can I Sue If I Get Coronavirus on a Cruise Ship?
While there were a string of lawsuits against cruise lines towards the beginning of the pandemic, it is very difficult to win one if you contract coronavirus while on a cruise. First of all, many have waivers that are a part of the ticket that reduce the company's liability. These include restrictive clauses that prevent passengers from bringing class action suits, define the jurisdiction where claims can be sought, or enforce a statute of limitations. In addition, it is difficult to provide evidence that the virus was actually contracted on the cruise.
To make matters even more difficult for travelers, many states are also enacting laws to protect businesses from COVID liability. Bills such as SB 51 in Missouri and 87(R) SB 6 in Texas provide sweeping protections for businesses from those who would hold them responsible for contracting the virus on their premises. While the specifics vary by state, more than half have already passed legislation of this nature.
In order to have a case against a cruise line, you must be able to prove that they were grossly negligent, willfully failed to notify passengers of active cases onboard, or otherwise did not follow public health orders. The bar for holding cruise lines accountable is high, and since cruise ship travel often crosses state or country lines, it can be difficult to figure out which jurisdiction to bring the claim to. Due to the complexities involved in this type of litigation, if you believe you have a case, it would be wise to consult with a cruise ship injury attorney that specializes in COVID cases to discuss your options.
Reader insights
Be the first to share your insights about this piece.
Add your insights