The Ancient Coin Scam
When one of you wants to humour the scammer and one just wants to escape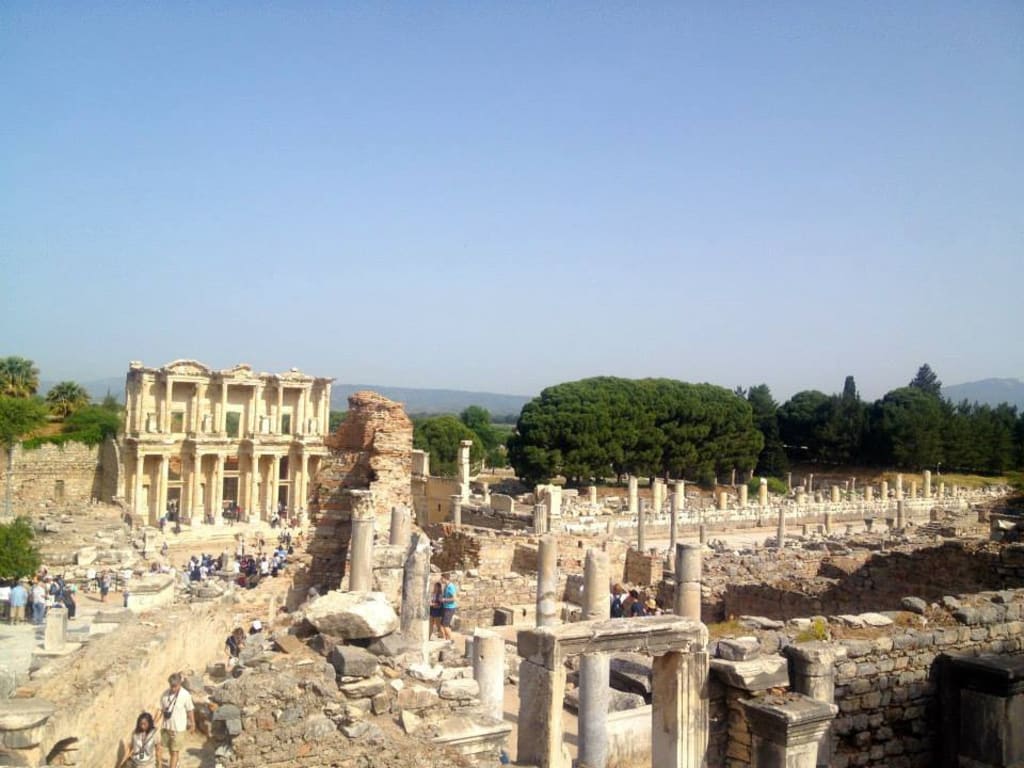 View of the Celsius library at Ephesus
I always like to do my research on common scams in places I'm visiting and yet, somehow, I avoided finding out about the ancient coin scam that is not too uncommon around ancient sites in Turkey. I had worried that Turkey was going to be a tough destination in terms of pushy sales people and scam artists but had found I felt far less hassled than I did back when I was studying in Paris. Sure, there were plenty of people trying to get you to buy their wares but saying a simple no and wandering off had always ended things. While I still feel this way about Turkey in general, I formed this opinion before we visited Ephesus.
Ephesus was by far the most touristy place we visited in Turkey. As a popular excursion for those in cruises stopped in Kuşadası, it was full of plenty more potential suckers than anywhere else we'd been. Since we visited in the shoulder season, there had always been people around but nowhere had been too busy. Once we began wandering around Ephesus, though, the streets were clogged with a bevy of landyard clutching cruise passengers. And we had arrived as early as possible to avoid the rush! I can't imagine what visiting the ancient city is like at the busiest time of day in the middle of the busiest season!
When we exited the site we came upon a huge area of souvenir stores set up outside of it. As a side note, I'd generally recommend avoiding these! Most of the stuff is pretty tacky and, if you must have a souvenir purchased at the very site you're visiting, there's a decent higher quality selection available in the official store inside the complex. These official stores aren't badly priced either, I bought a gorgeous scarf at Ephesus for 30 something lira and a book and pair of earrings from the store at Troy.
We had a good bit of time to kill before we'd be meeting the rest of our group to leave so I mentioned to Zak that I wanted to take a look in some of the stores. It'd kill time and I was still looking for a bowl for my mum — I'd bought her a top quality ceramic bowl in Cappadocia, but it wasn't blue and she'd requested something in that colour.
We'd only just begun browsing the store when the storekeeper said he wanted to show us something special out the back. This is often not a good sign but we both became sort of paralysed, brains addled by our previous positive experiences, and followed him to a little room at the back of the store.
The room was plain white, in stark contrast to the brightly coloured store, and a work bench ran across one wall. The man produced a selection of coins and started showing them to us, flipping them over and jabbing at the faces repeatedly, saying things like 'this one from Alexander the Great time,' 'this one, Ephesus, first money. First money.'
Zak and I are history nerds and he especially knows a lot about ancient Greek and Roman history. Alexander the Great is probably his favourite historical figure, and he reads some pretty obscure books on a variety of classical subjects. So, we were probably the wrong audience for this scam.
But to my horror I realised Zak was nodding along with the man! They looked so fake, far too large and in far too good condition (he'd made some effort to make them look used but it looked so perfectly done — like in school when you burnt the corners of or spilled coffee on paper to give an old look to assignments). I knew Zak couldn't possibly believe him so I sighed, knowing he often finds it really amusing to humour people in these situations. I didn't feel like I could tell the man off or leave when Zak seemed so in to it. How could I have gone from the girl who roughly shook harassing scammers off her shoulders in Paris to just standing there dumbly smiling and nodding?
Zak then remarked that he had already purchased some similar ancient coins, in Antioch. Oh, I wish we'd really been to Antioch, another time… I thought before snapping out of it and thinking, Zak! Now they know you're at least interested in coins! The man pointed to another one of the coins, 'this one, only in Ephesus,' and offered it to us for 50 Euro.
I had to do something. But what? I was definitely not going to confront the guy. I don't know what I was thinking but I turned on my heel and just walked out of the little room and out of the shop entirely. I guess I was hoping that would give Zak a prompt to make some excuse and leave himself. A few minutes later that still hadn't happened. I spied a couple of people from our tour group walking through the throng and then it came to me. I made my way back to Zak, amazed to see he still seemed to be keeping up the interested buyer act!
'Murat is looking for us, he's ready to leave. They're leaving in 5 minutes if we don't get there,' I adopted a slightly panicked tone to make the lie seem more authentic.
'Oh, ok. Sorry, we have to go!' Zak replied, taking my escape branch and striding out of the shop with me.
In the years since our visit to Turkey, I've learned a little Turkish and can now say I have a few remarks up my sleeve to bring out if anyone tries to scam us on a return trip! Have you ever run into someone trying to sell you fake antiquities while overseas?
This was originally published on a now-defunct blog in 2015. I will be periodically republishing posts from that blog here.
middle east
About the author
I write mainly about animal rights philosophy and veganism, while dabbling in travel, psychology, self improvement, and politics. I'll also share plenty of delicious plant-based, vegan friendly recipes.
Reader insights
Be the first to share your insights about this piece.
Add your insights