Textile Time Traveling on a Trip to Gettysburg
A quest for reproduction fabric reveals more than expected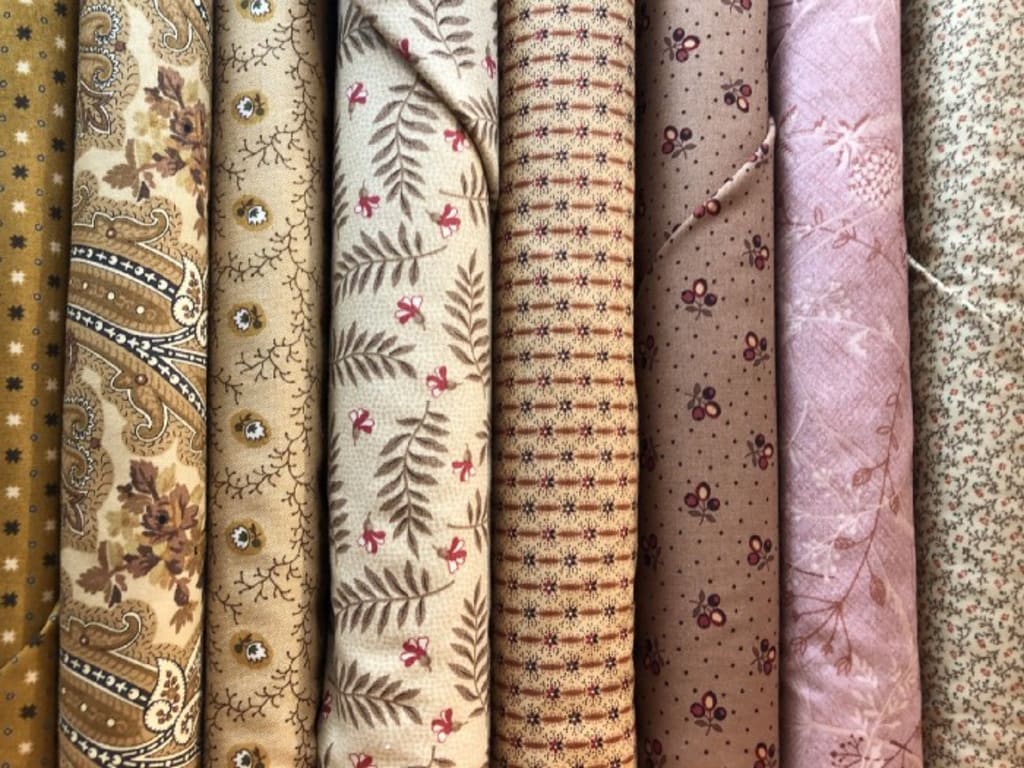 Reproduction quilting cottons at The Sew'n Place. Photo by author.
On the hunt, I follow up on a tip from a quilter I know. Gettysburg. Yes, Gettysburg is the spot. Of course. It all makes sense. What better place to find fabric designed for time travelers, cloth which replicates the material and patterns of the past?
Though less than eight thousand souls now call it home, Gettysburg has an outsized place in the American conscience. Over three days in July 1863, the Union and Confederate armies clashed in and around the town. Horses reared and neighed, sabers clashed, and people died — including one young woman killed by a stray bullet as she made bread. Not only the largest battle of the American Civil War, it was the largest battle ever fought in North America. Today, over nine square miles of the main battlefield are preserved as the Gettysburg National Military Park.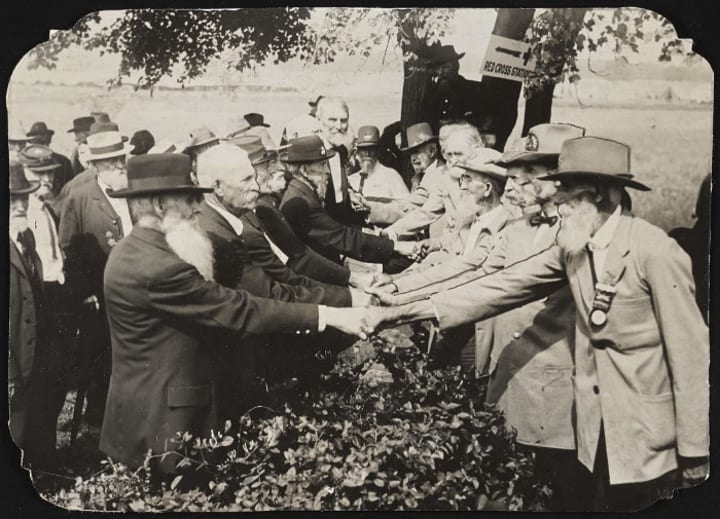 Americans began to visit the battle site as soon as the dust settled. They came and still come, as if by standing on the rolling hills they can put the horrific battle in context, lay it to rest, grapple successfully to make sense of it. Two days after the fighting ceased, Alexander Gardner, Timothy O'Sullivan, and James F. Gibson photographed the carnage. Within two weeks, famed photographer Matthew Brady came with his team to take more pictures. Abraham Lincoln arrived a few months later to exhort the country in his Gettysburg Address to "have a new rebirth of freedom." In 1913, over 53,000 Confederate and Union veterans met together in the largest ever Civil War veteran reunion. President Eisenhower bought a farm and spent his leisure time adjacent to the battlefield. One of my friends drove the battlefield each November. Slowly edging along, he and his wife viewed the 3512 candles glowing in the misty dusk, each at a soldiers' grave, as part of the Remembrance Day Illumination. Although about 60,000 people visit the Eisenhower farm each year, that is a drop in the bucket compared to the one to two million who come to the battlefield.
Most visitors are content to walk the battlefield in casual clothes and listen to tour guides. Others — reenactors — go much further. They want to come as close as possible to reliving the battle. As early as 1922 US Marines recreated Pickett's Charge for President Harding and his wife.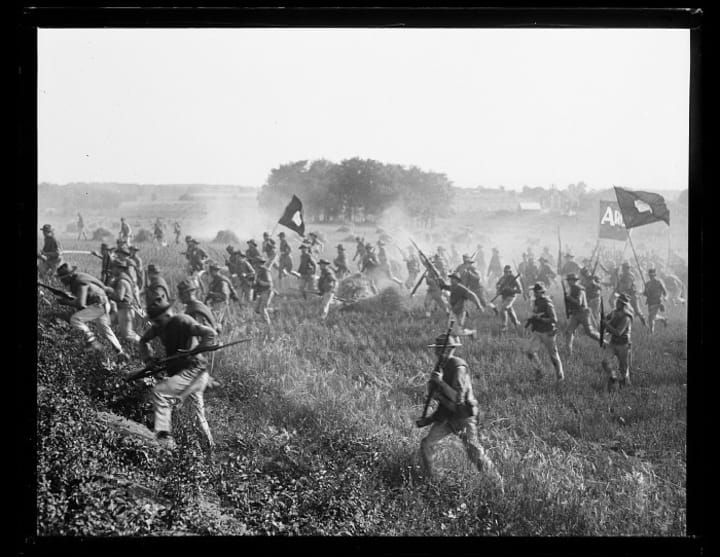 Today's reenactors want to feel exactly what a Confederate colonel felt, right down to the rub of butternut cotton on their chest. They want to sweat and suffer in July heat in their authentic wool uniforms, fire long guns, and give a rebel yell or a Union Huzzah. Women reenactors want their one-hundred percent cotton dresses to reflect the colors and authentic prints of the time. The organizers of these reenactment events publish standards. There is no room for Gore-Tex or polyester in the world of reliving the past.
Pennsylvania has long been a haven for quilt makers and quilt lovers, fueled at least in part by the Amish and Mennonite quilting tradition. Fabric shops dot the bucolic landscape. Most include a selection of history-inspired cotton prints. The charming Sew'n Place, a few miles outside Gettysburg, had several shelves of coordinated reproduction quilting fabric when I stopped by.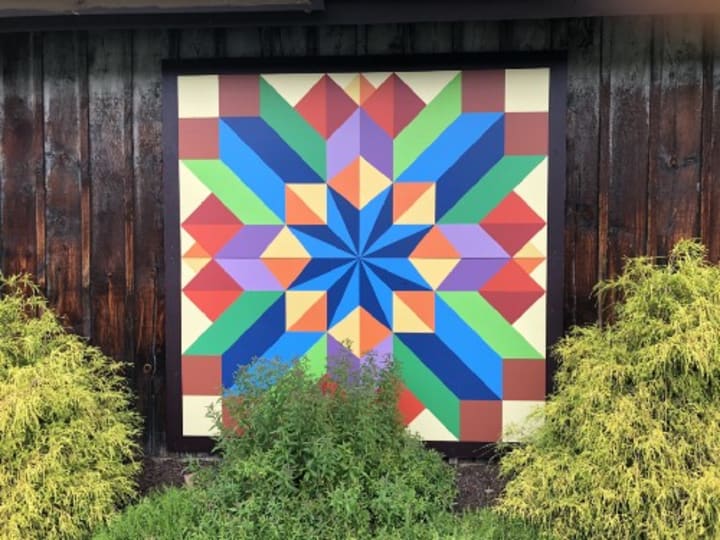 Needles & Thread, however, is in a class by itself. The one-story industrial building presents a windowless face to cars whizzing by on Baltimore Street, only four miles from the battlefield and two miles from the center of Gettysburg. The story starts at the front door, plastered with an array of notices, fliers, and Bible verses. Inside, the brain boggling ramps up. The owners (and curators and experts) Karl and Darlene Grube reign from a central ring of counters. They claim their store is the largest source of reproduction fabric and items in the United States. I believe them. The shop is chock full of neatly arranged and organized material, notions, samples, and patterns along with all the bric-a-brac dear to needlefolk, quilters, and reenactors. With an artistic eye, the Grubes offer period silks, cottons, uniform-worthy wools, linen, and…well, just about everything. Need a bell-shaped frame for your crinoline? Needles & Thread has their exclusive Caged Crinoline Kit. They also let you know it is specific to the timeframe of the 1850s to early 1860s.
The Grubes opened the shop 36 years ago. They have adapted to the digital age as they see fit and have adopted only what they need. Yes, they have a website. Yes, they take online orders for home delivery. But they have no email address to share. Contact them by fax or phone or come to the shop. My purchase receipt is an old-fashioned one — a slip of red-printed thin newsprint the proprietor filled out by hand. In the corner is printed "Proverbs 31: 10–31." I looked it up and was delighted and reassured to read about the "wife of noble character" who "selects wool and flax and works with eager hands."
Reproduction fabric is an old story, older than you might think. Anyone who creates knows how much artists mimic each other's work. The day after weaving was invented, the pattern was copied. Once the textile industry mechanized, patterns could more easily be replicated. One story tells of a French toile pattern first seen in the 1700s, then reprinted multiple times in the 1800s.
Manufacturers also create patterns based on the decorations of historic remnants such as pottery shards. Other reproduction fabrics are designed by artists inspired by a time period, done "in the style of" rather than created exactly like an older design. Here are a few examples of reproduction fabric designers and manufacturers: Jo Morton, Morris and Company, Primitive Gatherings, Pieces From My Heart, Pam Buda, Kaye England, Betsy Churtchian, and Kim Diehl.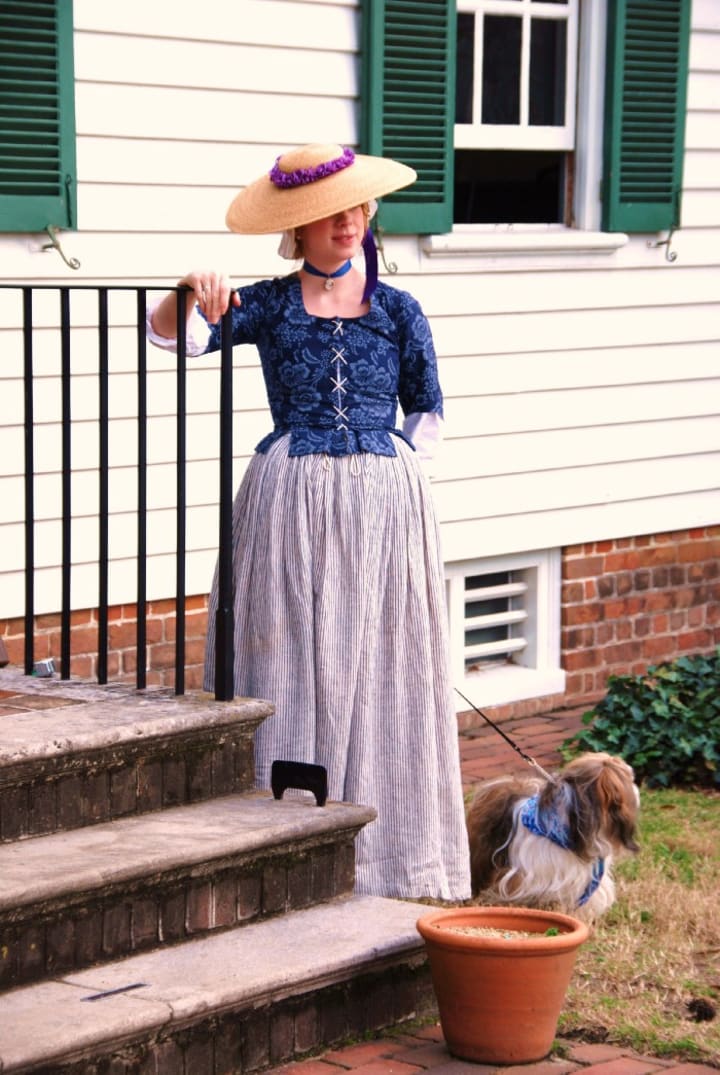 While the quilting world tends to seek 19th century inspiration, interior decorators often go back to colonial times. The Shops at Colonial Williamsburg creates and licenses designs researched from American colonial items. These fabrics are popular for upholstery, curtains, pillows, and other décor. Other sewists seek fabric harking to eras such as maybe a 1940s cherry print for a diner-style apron.
Costumers seek fabrics over an even wider time period. Maybe only an Italian baroque silk inspired by the 17th century will do. Something with real gold thread. Or 13th century Mongolian cloth of gold with winged lions and griffins inspired by cloth at the Hermitage Museum in Russia. A Prague company, Sartor Bohemia, sells these flamboyant offerings online.
Having completed my quest for historically-inspired fabric in my trip to Gettysburg, I bought what I needed and, of course, a little extra. It's great to know I have online options, too, although I would love a trip to Prague.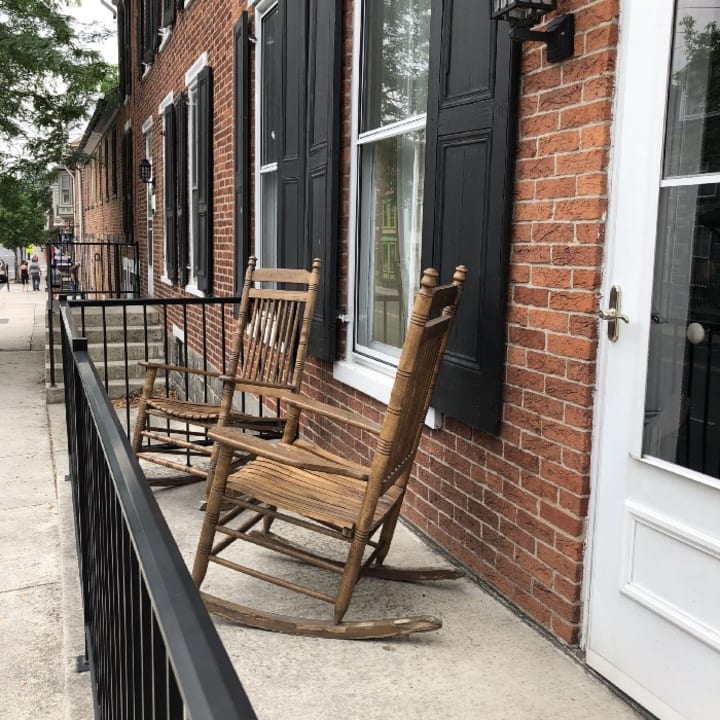 About the Creator
Diane Helentjaris uncovers the overlooked. Her latest book Diaspora is a poetry chapbook of the aftermath of immigration. www.dianehelentjaris.com
Reader insights
Be the first to share your insights about this piece.
Add your insights