Temples in Tamil Nadu Series
Meenakshi Temple in Madurai: This is a historic temple dedicated to the goddess Meenakshi and is one of the most famous temples in Tamil Nadu. It is known for its intricate architecture and colorful gopurams (tower-like structures).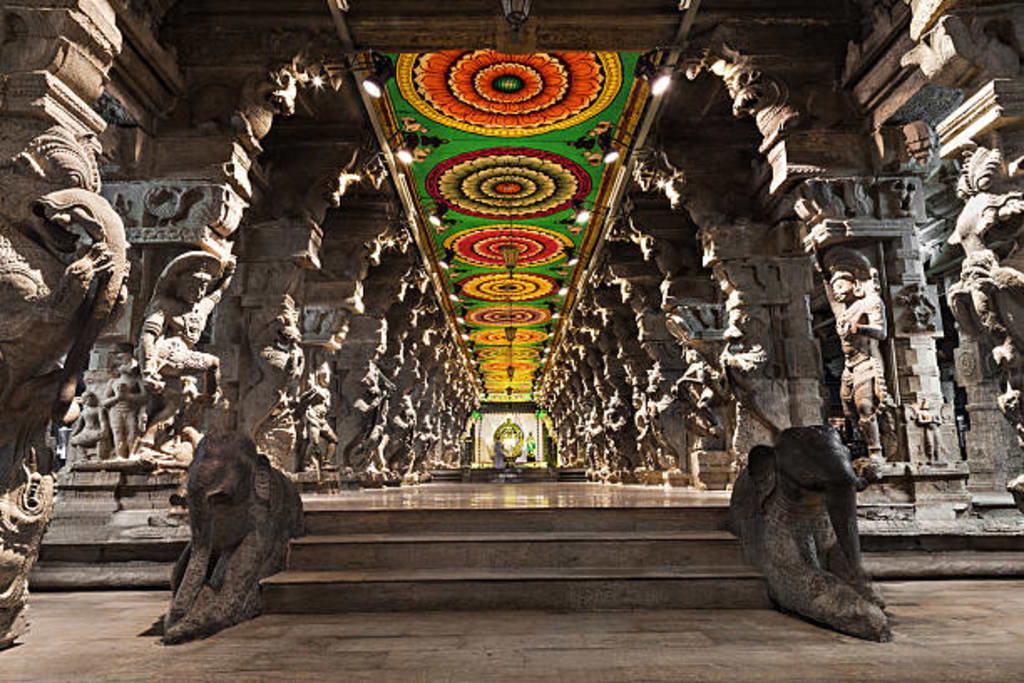 The Meenakshi Temple in Madurai, Tamil Nadu, is one of the most famous and historic temples in southern India. It is dedicated to the goddess Meenakshi, who is an incarnation of the Hindu goddess Parvati. The temple is known for its intricate architecture, colorful gopurams (tower-like structures), and vibrant festivals.
The temple complex is a vast one, with four main entrances and many smaller shrines dedicated to various deities. The main attraction of the temple is the Meenakshi Sundareswarar Temple, which is dedicated to Lord Sundareswarar (Shiva) and Meenakshi (Parvati). The temple is known for its impressive 1000-pillared hall, which is adorned with intricate carvings and sculptures.
The temple is also famous for its annual Meenakshi Tirukalyanam festival, which is celebrated in April and May. During this festival, the wedding ceremony of Meenakshi and Sundareswarar is reenacted in a grand manner, with colorful processions and cultural performances.
The temple is considered as one of the most important pilgrimage sites in India and it is also a UNESCO World Heritage Site. It is not just the temple but the entire Madurai city is considered as one of the seven sacred cities of Hinduism and known for its rich history and culture.
Some facts about Meenakshi Amman Temple in summary:
Location: Madurai, Tamil Nadu, India
Dedicated to: Hindu deity Parvati, known as Meenakshi
Built: 14th century AD, with later additions and renovations
Architecture: Dravidian style with gopurams (tall towers) and intricate sculptures
Notable features: Golden Lotus Tank, Thousand Pillar Hall, and Meenakshi Nayakkar Mandapam
Religious significance: One of the most famous and revered Hindu temples in India, attracts millions of pilgrims every year.
Festival: Meenakshi Thirukalyanam, a grand celebration of the divine wedding of Meenakshi and Lord Sundareshwar.
Declared as: UNESCO World Heritage Site.
Legend: According to legend, Madurai was founded by the divine Lord Shiva, and the Meenakshi Temple was built to commemorate his marriage to the goddess Meenakshi.
Size: The temple complex covers an area of 6.9 hectares (17 acres)
Gopurams: The temple has four main gopurams, with the southern gopuram being the tallest, reaching a height of 50 meters (164 feet).
Sculptures: The temple walls are covered with thousands of intricate sculptures and carvings, depicting Hindu mythology and legends.
Hall of 1000 pillars: The Hall of 1000 Pillars, also known as the Chithirai Naachiyar Mandapam, is known for its stunning architectural features and sculptures.
Cultural center: The temple is a center of Tamil culture, music, dance and education, and hosts various cultural events and festivals throughout the year.
Dining Hall: The temple also has a large dining hall, where free meals are served to pilgrims and visitors every day.
Museum: The temple houses a museum displaying various artifacts and sculptures related to the temple's history and mythology.
When South Indian temples are discussed, sculptures hold a lot of significance. Lets have a look why sculptures are awesome.
Mythological scenes: The temple walls are adorned with sculptures depicting scenes from Hindu mythology, including the Ramayana and the Mahabharata.
Gods and goddesses: Sculptures of various Hindu gods and goddesses, such as Lord Vishnu, Lord Ganesha, and Lord Shiva, can be found throughout the temple.
Divine creatures: The temple also features sculptures of divine creatures, such as lions, elephants, and horses.
Dance poses: Sculptures of Hindu dancers in various poses and gestures can also be seen in the temple.
Intricate details: The sculptures are known for their intricate details and vivid depictions of Hindu legends and mythology.
Metal images: In addition to stone sculptures, the temple also houses metal images of Hindu deities, including bronze and silver idols.
Iconography: The temple's sculptures follow traditional Hindu iconography and styles, showcasing the rich artistic heritage of South India.
Restoration: Many of the sculptures have been restored and renovated over the years, to preserve their original beauty and detail.
Religious significance: Indian temple sculptures hold great religious significance and serve as visual representations of Hindu mythology and beliefs.
Cultural heritage: They serve as important artifacts of India's rich cultural heritage, showcasing the country's artistic and architectural traditions.
Aesthetic value: The sculptures are considered works of art, renowned for their intricate details, vibrant colors, and beautiful depictions of Hindu gods and legends.
Ritual purposes: In Hinduism, temple sculptures play a crucial role in religious rituals and ceremonies, serving as the focus of worship for devotees.
Storytelling: The sculptures tell the stories of Hindu mythology and serve as a way for people to connect with their religious heritage and beliefs.
Education: They also serve an educational purpose, introducing people to Hindu gods and legends, and teaching moral and ethical values.
Tourist attraction: Many Indian temples and their sculptures attract millions of tourists from around the world, making them important economic drivers for local communities.
Preservation of culture: By preserving the beauty and intricate details of Indian temple sculptures, the country is able to preserve and promote its rich cultural heritage for future generations.
Note: For common public it is not allowed to click pictures inside Meenakshi Temple. The above image of Meenakshi temple is taken from google to make the content visual as much as possible for the readers.
Reader insights
Be the first to share your insights about this piece.
Add your insights