Super Nintendo World!
Universal Studios Hollywood!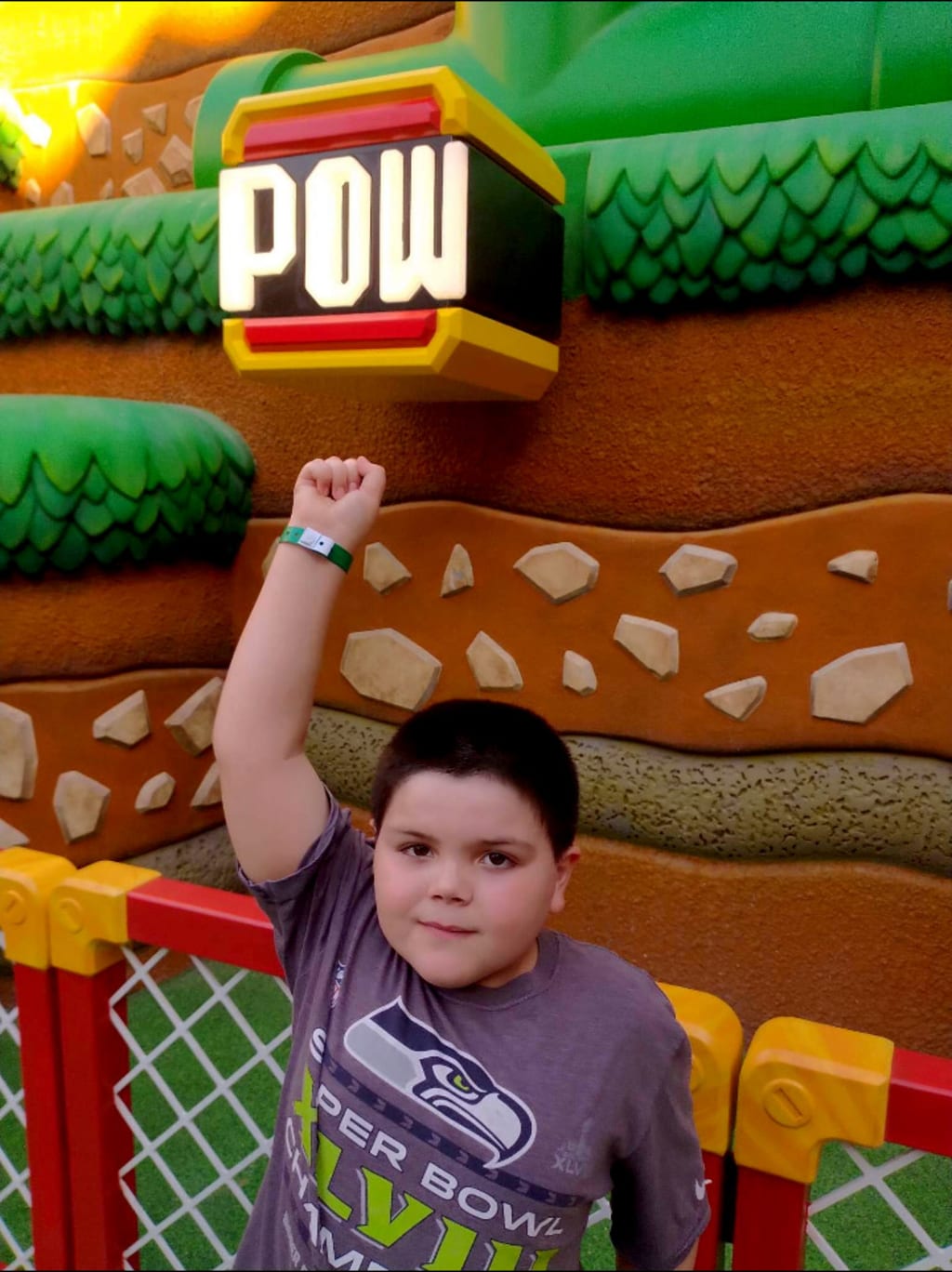 Hunter Hitting a POW Button at Super Nintendo World
Let the fun begin. After mass confusion with the reservation system to visit Super Nintendo World at Universal Studios in California, We as pass holder members got our reservations to view the land before it opened to the public. We showed up early and got our wristbands for the experience.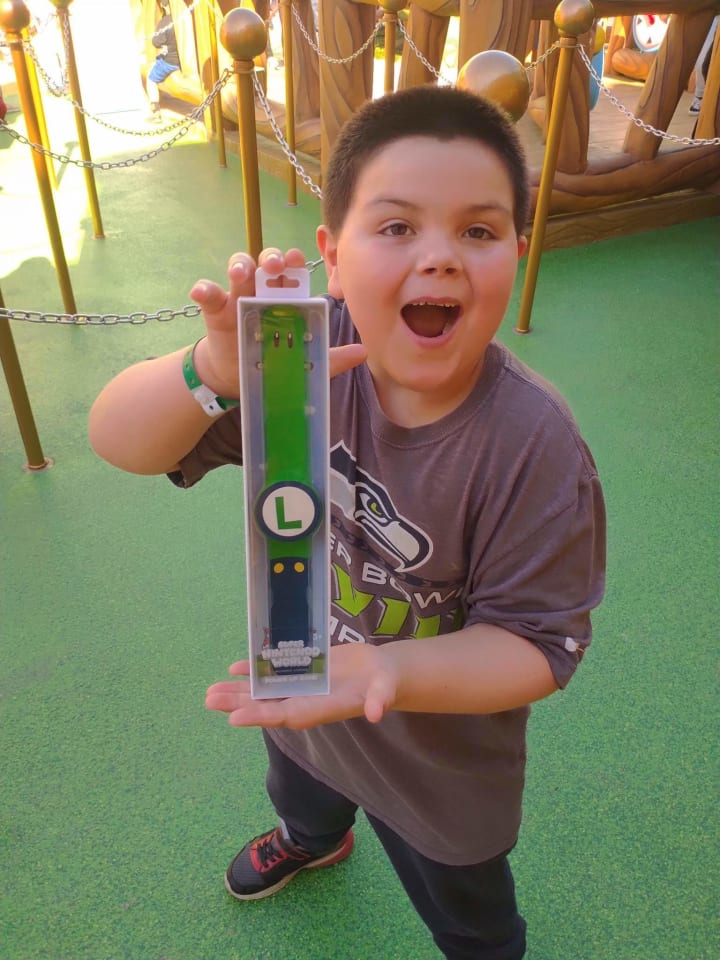 First thing we did was head to the kiosk to buy Hunter his Power Up Band. His favorite color is green and favorite character is Luigi. Next time I will get my Yoshi Power Up Band. They where $40.00. They are also available in the 1Up store in the land and the other Super Nintendo stores. Apparently they will work in Universal Japan and in Orlando at Epic Universe when that park in built in 2025.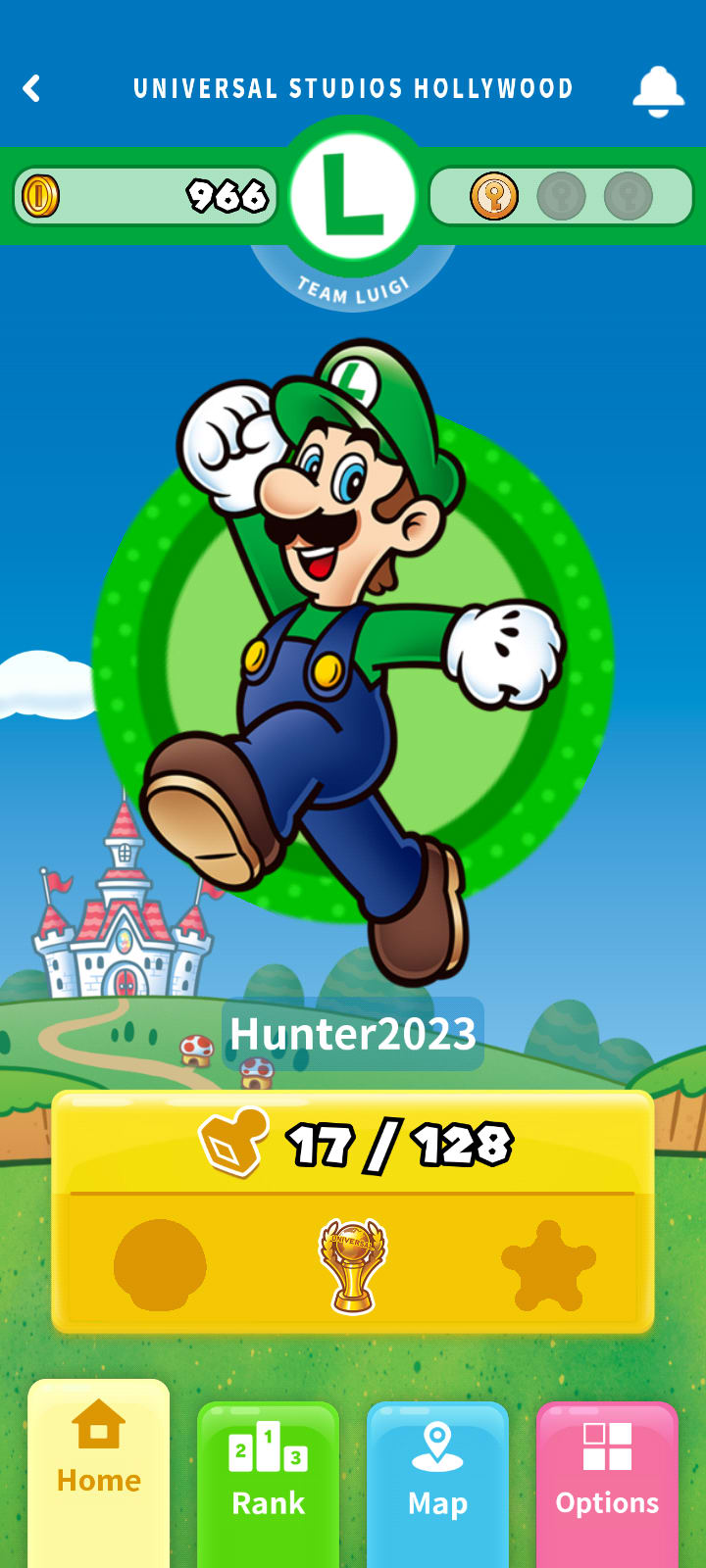 We then had to click on the Super Nintendo World button on the Universal App. Scan the QR code on the back of the Power Up Band which allowed us to create Hunter's account for all the interactive activities throughout the land. You can play mini games, use it on the Mario Kart ride and collect coins from smashing blocks.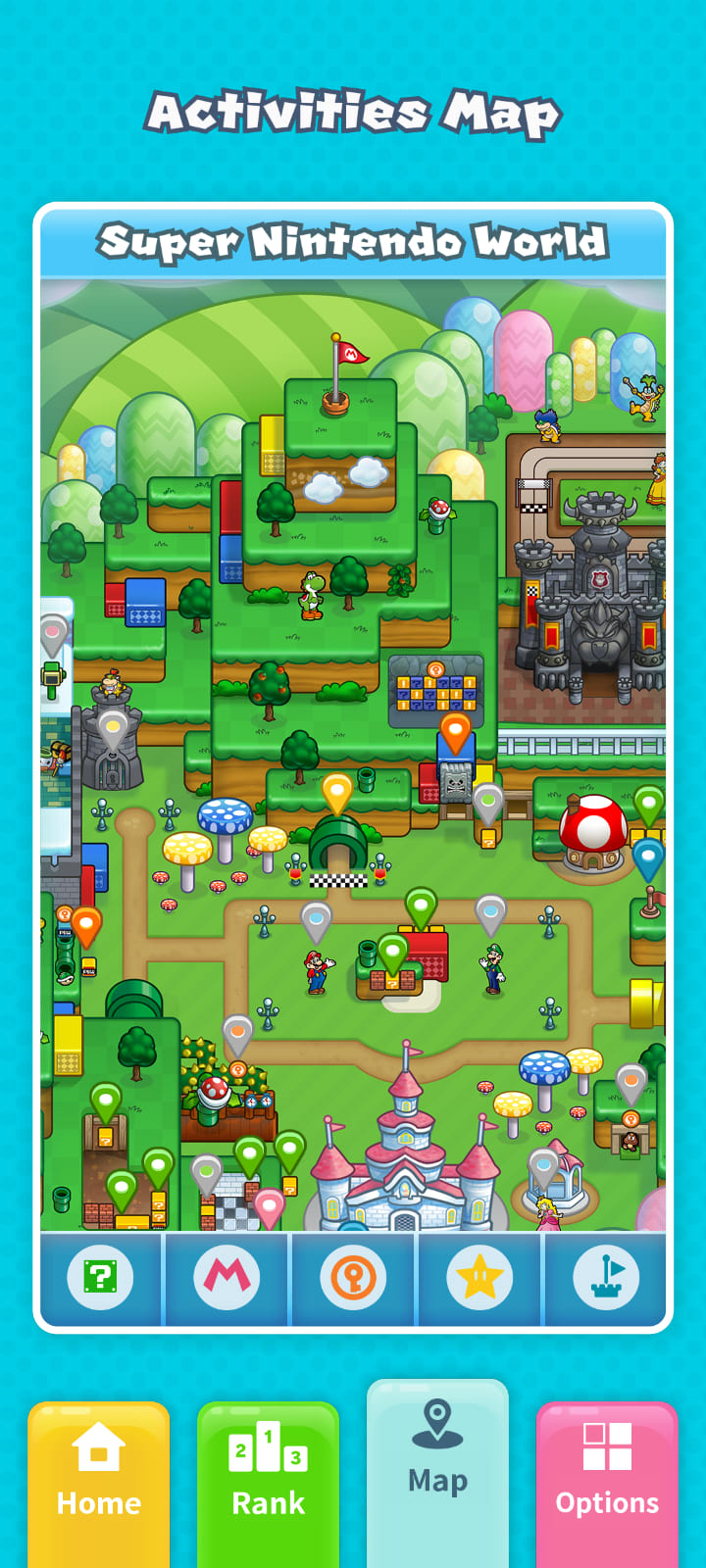 The Universal App shows you where all the activities in the land are where you can use your Power - Up Bands.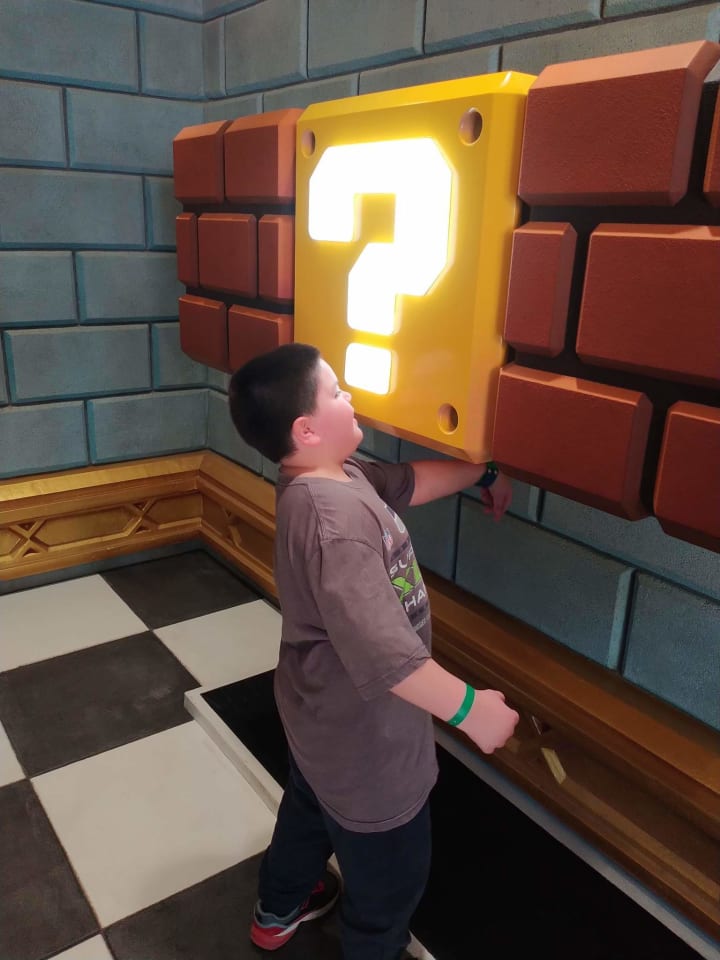 Hunter is playing a mini game to match all the blocks. He unlocked a Key after this game.
While we where in the park you had to collect 3 keys to unlock a mini boss fight. As we where only allowed in on a two hour preview we will have to go back to complete these games.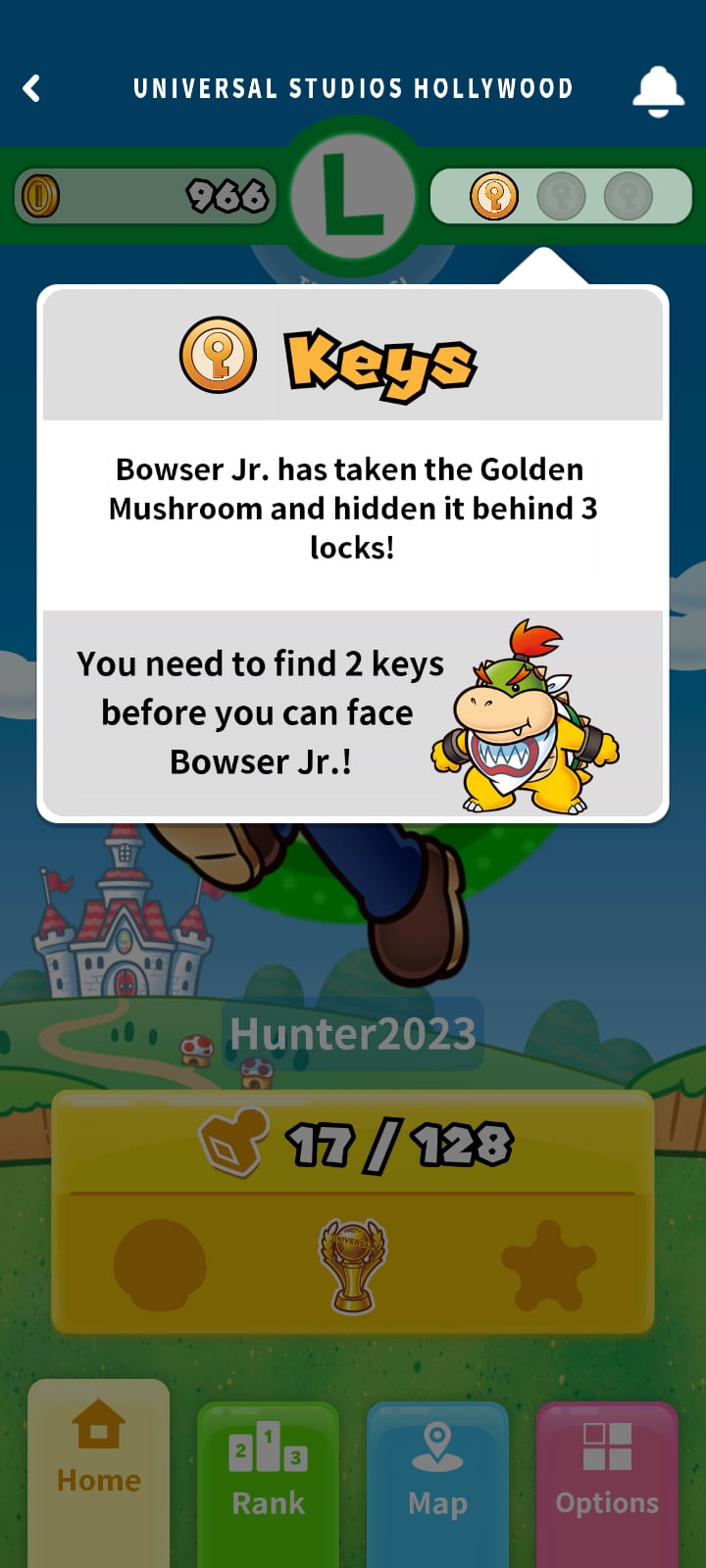 Not only do you collect coins and keys but you also collect stamps when you complete a ton of tasks.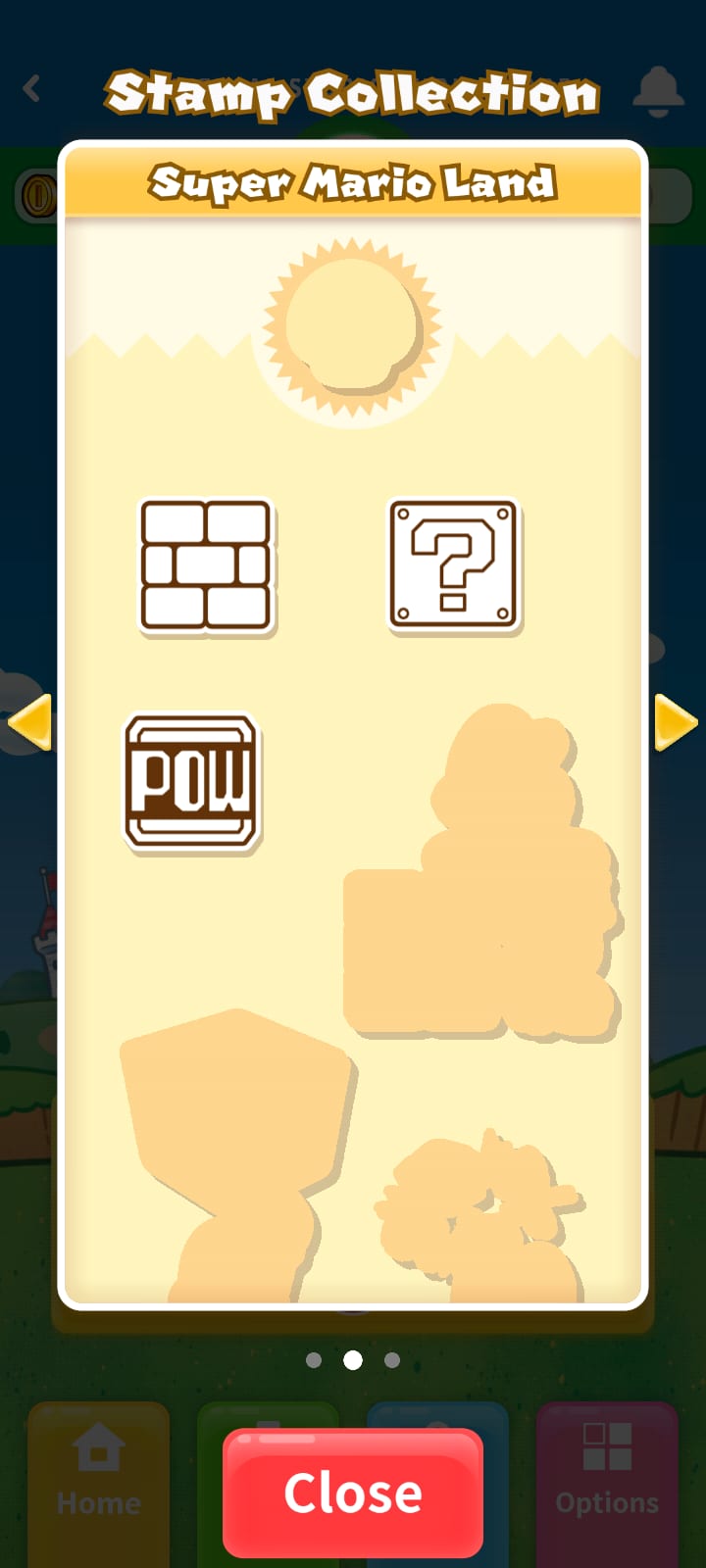 And of course you can collect trophies on the Mario Kart Ride. You can also check on how team Luigi, Mario, Peach, Toad, or Yoshi did throughout the day.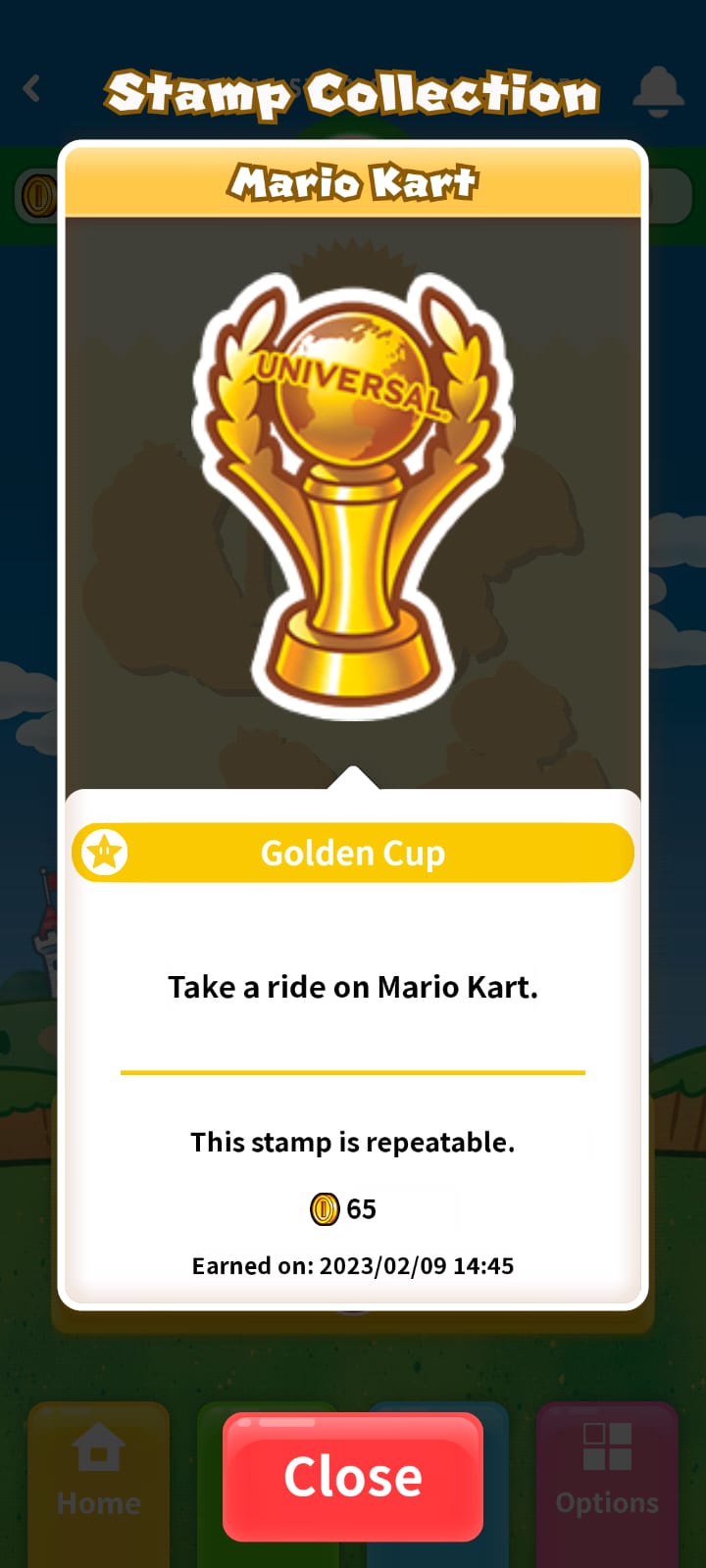 Is the band worth it? Absolutely. The entire land, the ride all kinda need it. You can choose to ride without it or skip all the fun games of course but a one time investment that can be used over and over again is worth it. Now let's talk about the Ride. You can finally experience the game we have been playing since we were kids in real life. Being a new ride expect a long cue. Even though we had a preview we should have done the ride first. So we ended up waited 70 minutes in the cue. They did have a single ride and eventually the express pass will certainly come in hand to skip to the front of the line. We did the cue and I cannot believe how well themed everything is inside Bowser's Castle.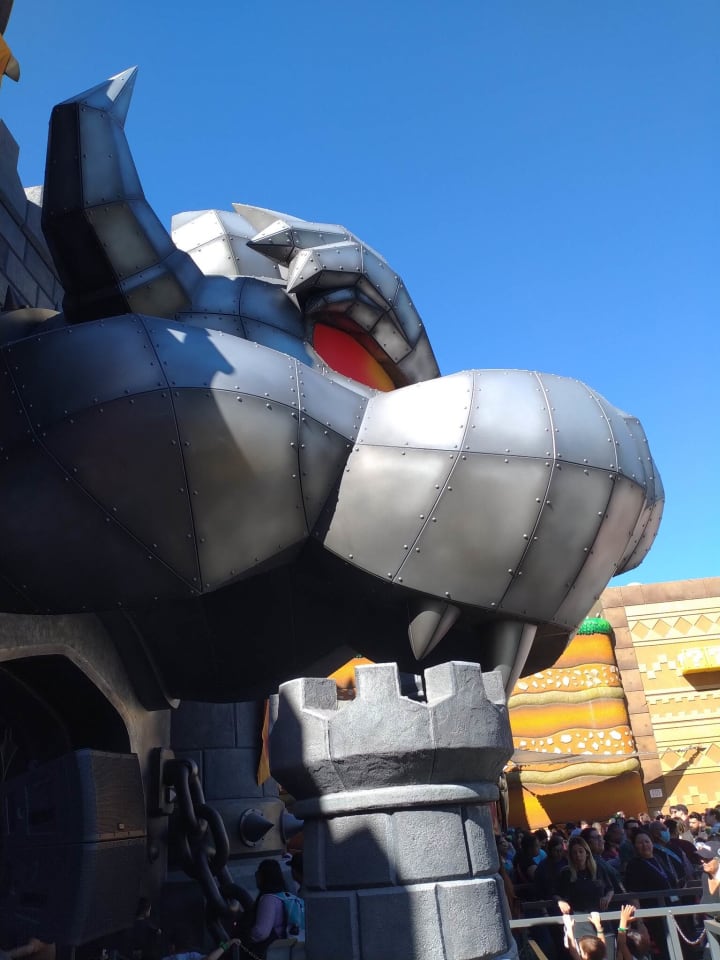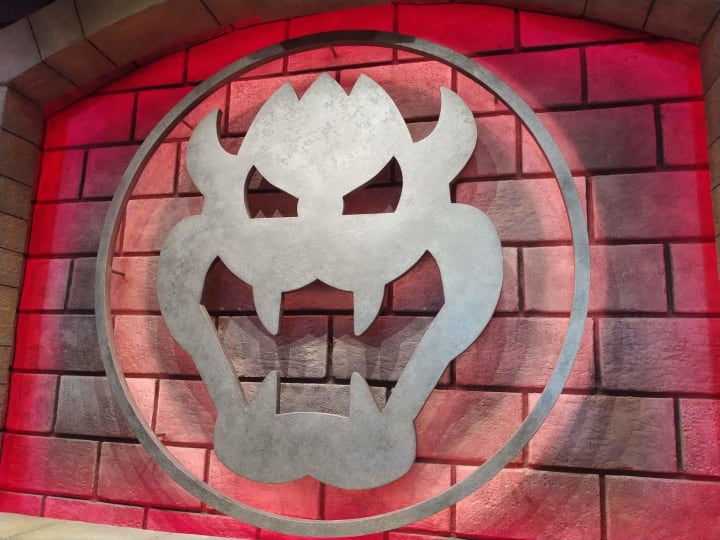 The line is so incredibly long so it was room after room of incredible theming.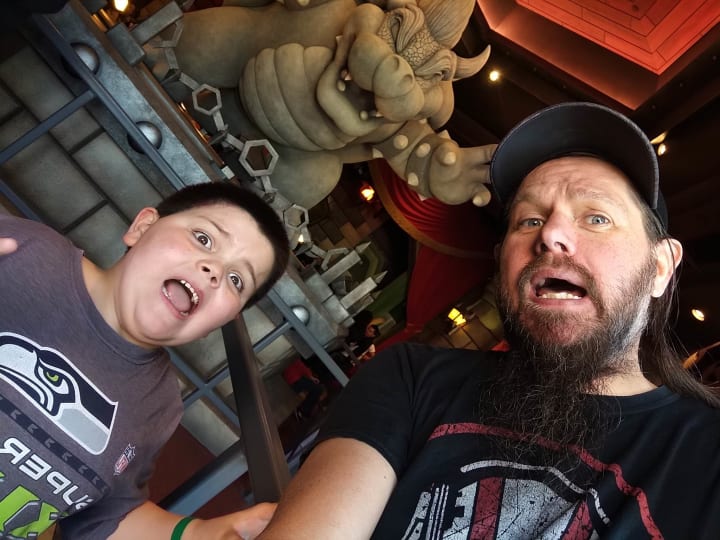 We won't give away all the cool stuff as we took about a thousand pictures. But let's move on to the ride itself.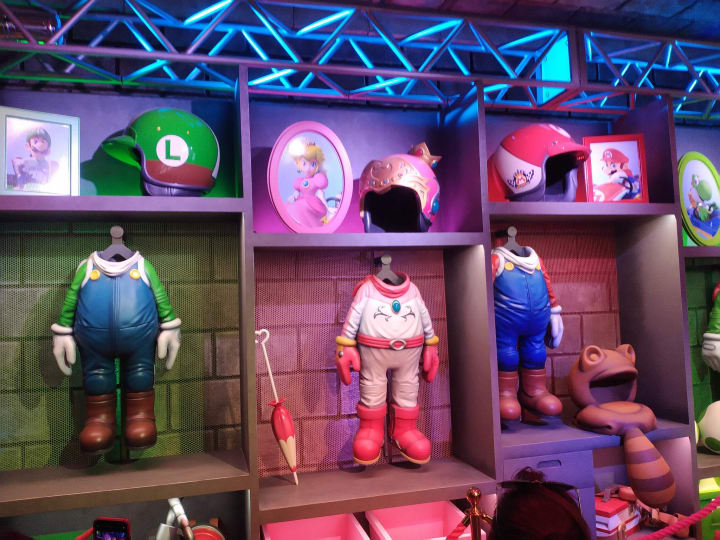 There is a quick safety and instructional video like most rides of course.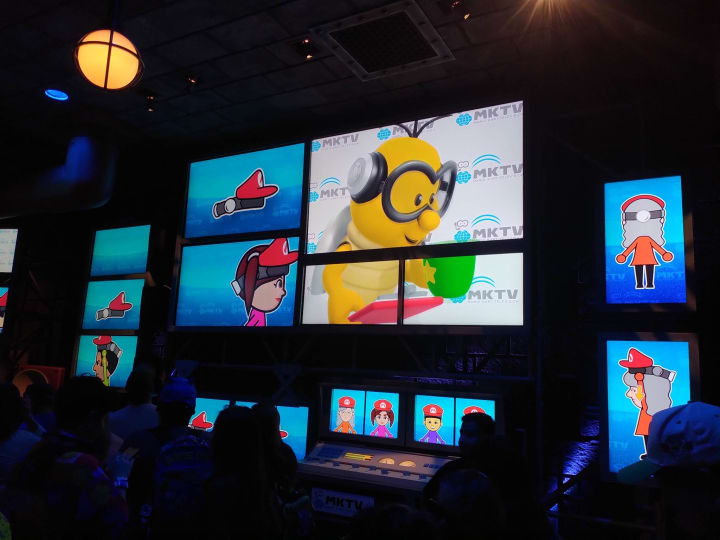 Initially you are given a head set you adjust to fit your head. Once you get on the ride, the clear V.R. visor clicks onto your head set.
Admit it, we are cool.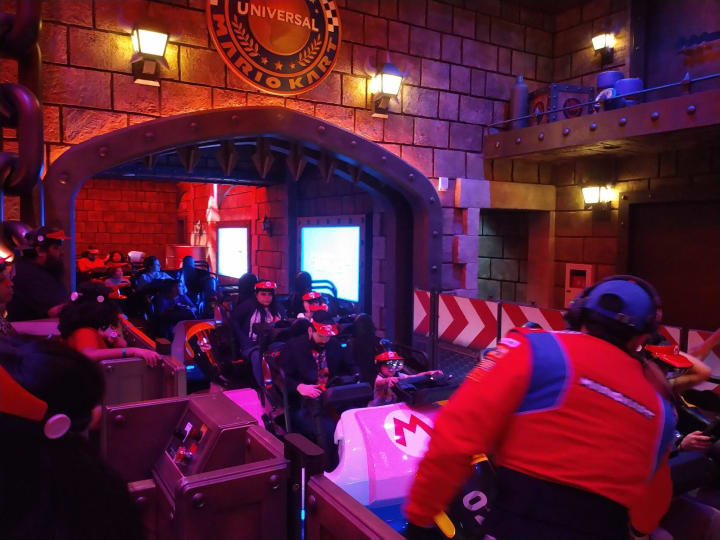 Each Kart has 4 seats. 4 Steering wheels as well with buttons to fire your shells. After you click on your V.R. Visors. You tap your Power up wand on your steering wheel. This connects your race to your account. When you look down you can see your coins and what kind of shells you have.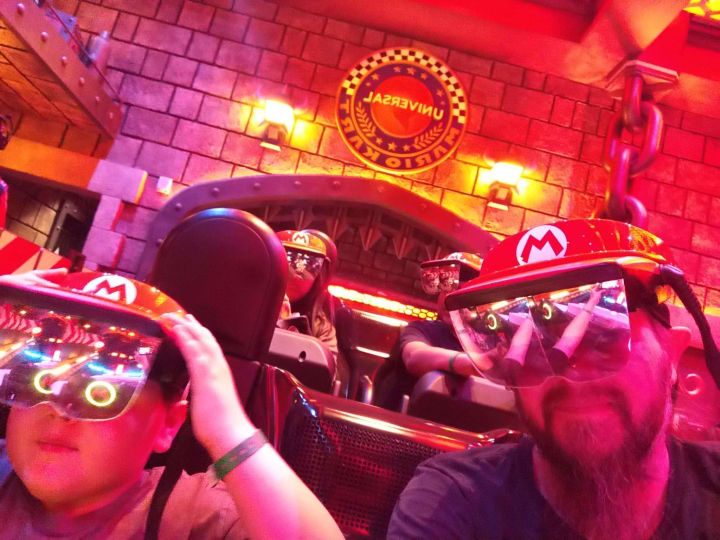 Throughout the ride you collect items to shoot at other drivers and bad guys. You aim by moving your head around. If you all turn and drift at the same time you get 100 bonus coins. The ride is on a track so you can see the turns coming. Some animatronic enemies throughout but it's mostly through the V.R. that you will see other bad guys to shoot. Though the ride itself is a little slow, there are a couple parts that the V.R. take over to appear to make you go faster like on the rainbow road. And of course the final battle with Bowser was epic. We can not wait to go again. But next time with express passes. It was a very different kind of ride. The kids will love it along with Adults who grew up with Mario. It was a little slow here and there but the rest of it made up for that.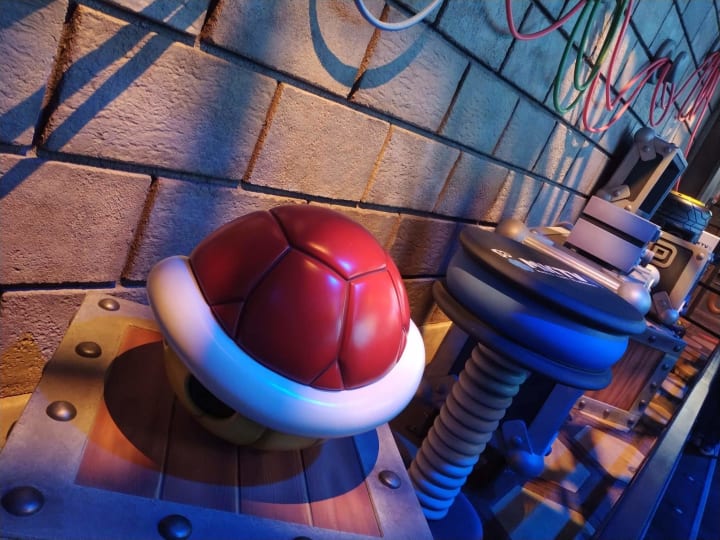 The Wizarding World of Harry Potter is impressive but wow they went all out, above and beyond in Super Nintendo World. Every little detail was so incredible. I'm 41 but I felt like I was 6 like Hunter.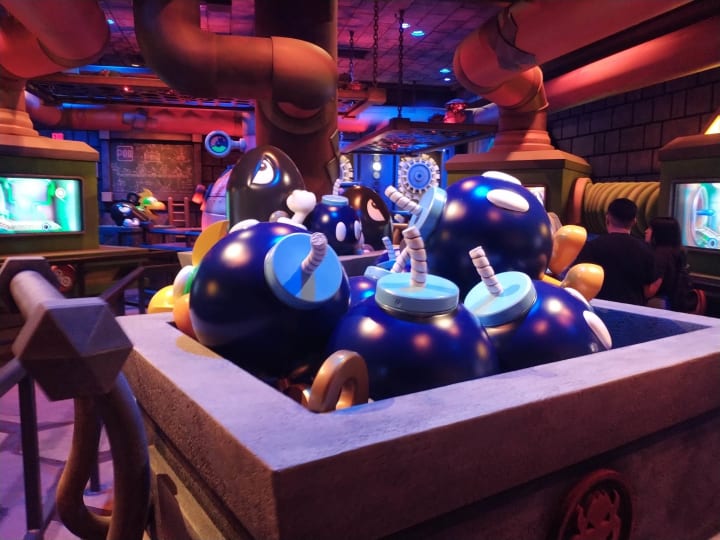 The Land itself is small due to Universals Hollywood's confined space and I can only Imagine what it will look like in 2025 at Epic Universe in Orlando with Mario Kart, Yoshi's Omni mover ride and the Donkey Kong Coaster where space is not an issue. That world will be huge.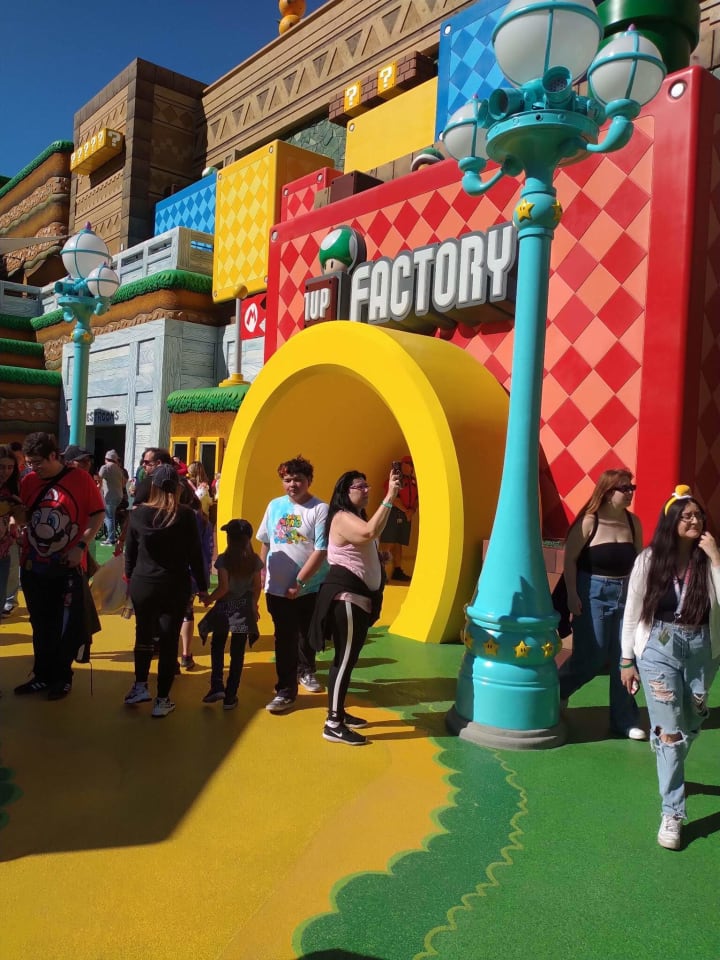 Eating in Super Nintendo World. Well there is a Virtual Reservation Cue that fills up in seconds. We had not planned on eating inside Toadstool Café but from what I hear you better show up when the park opens to get a reservation once you are in the park.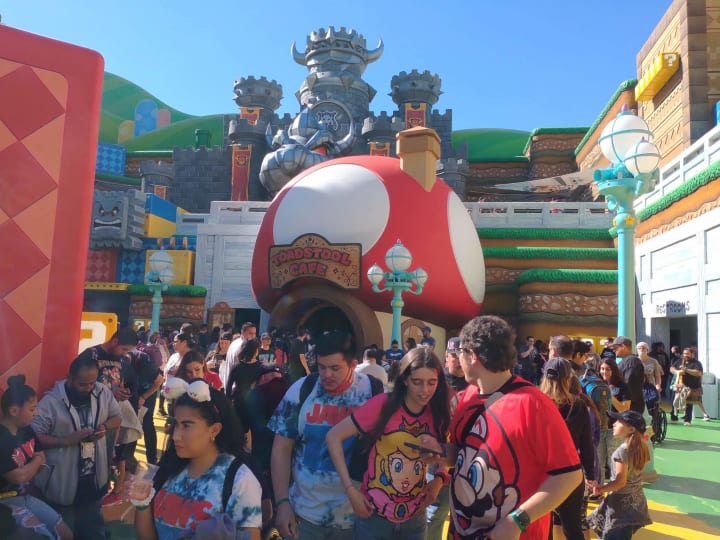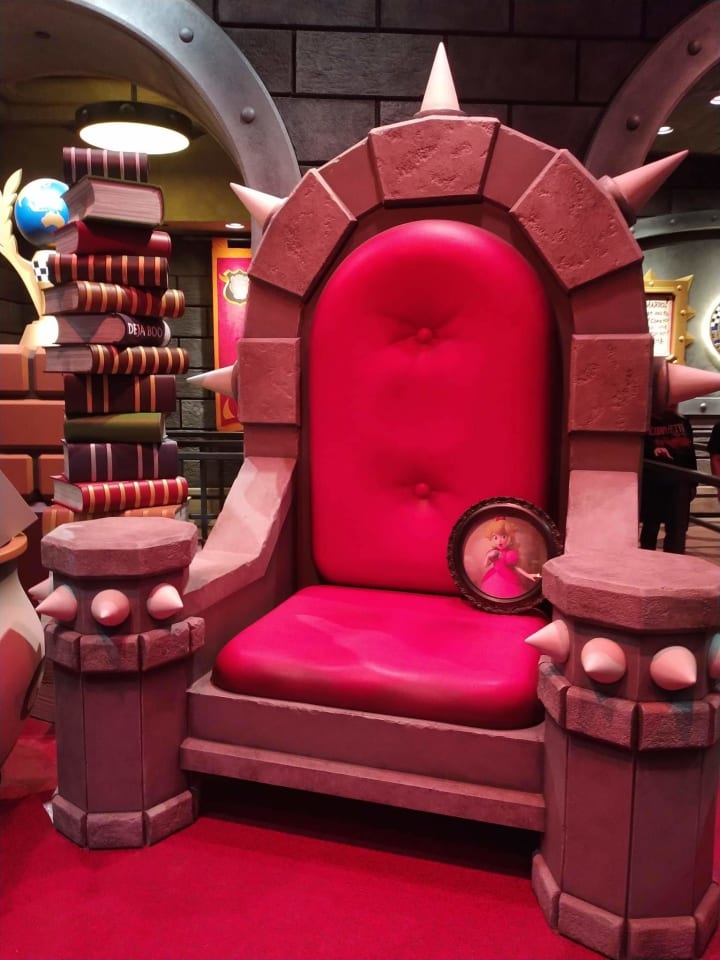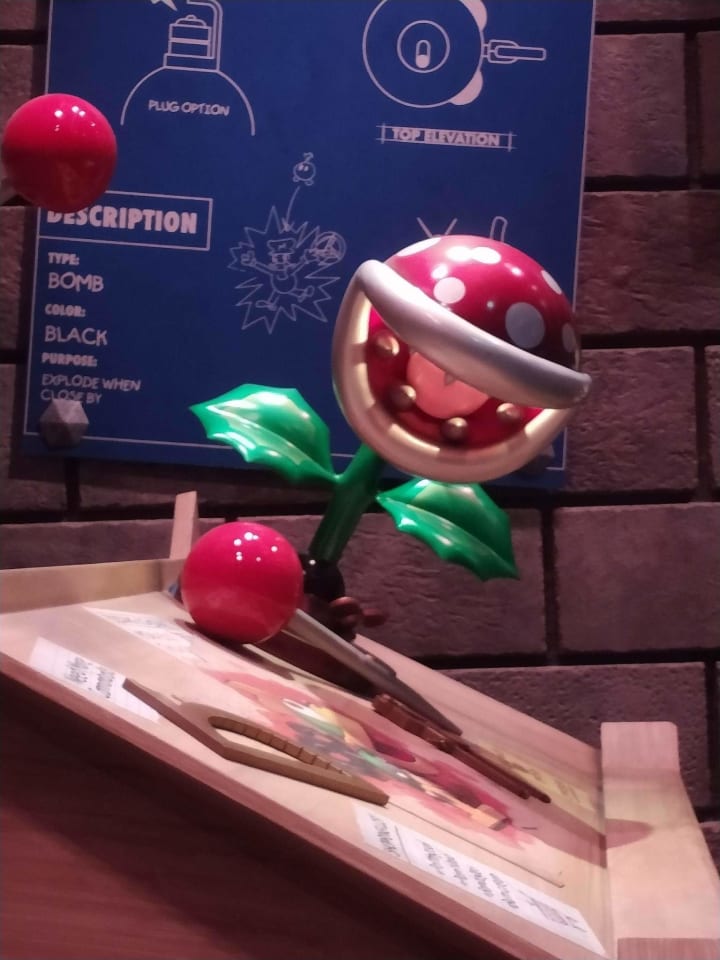 Overall. The land is perfect. Just expect big crowds for a while and take the opportunity in the rest of park with very small cues.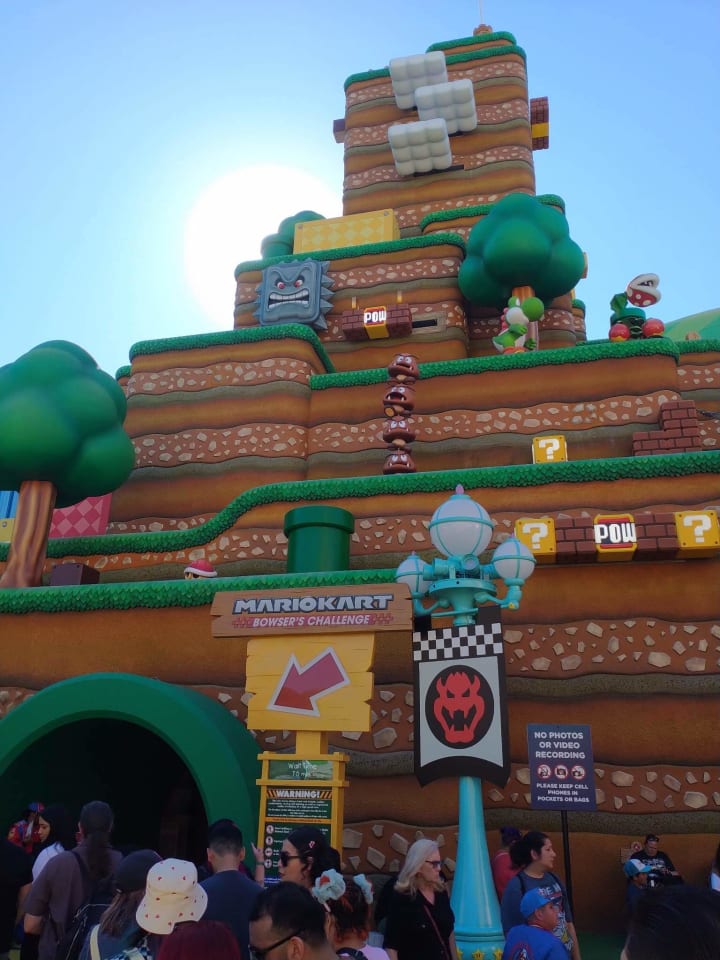 SUPER NINTENDO WORLD OPENS TO THE PUBLIC FEB 17/2023
Hunter and Evan Travel The World. Please like and Subscribe on Vocal and over on our Facebook page. https://www.facebook.com/HandETravel/
You never know where we will end up next.
About the Creator
Film Writer, Director, Producer, Props Master and full time single Father. My Son Hunter and I travel the world together. We both make movies together. Here we will show you the coolest places to visit with travel tips and reviews and more
Reader insights
Be the first to share your insights about this piece.
Add your insights