Guides
ROMANCE IN THE CANALS OF AMSTERDAM
Canals in Amsterdam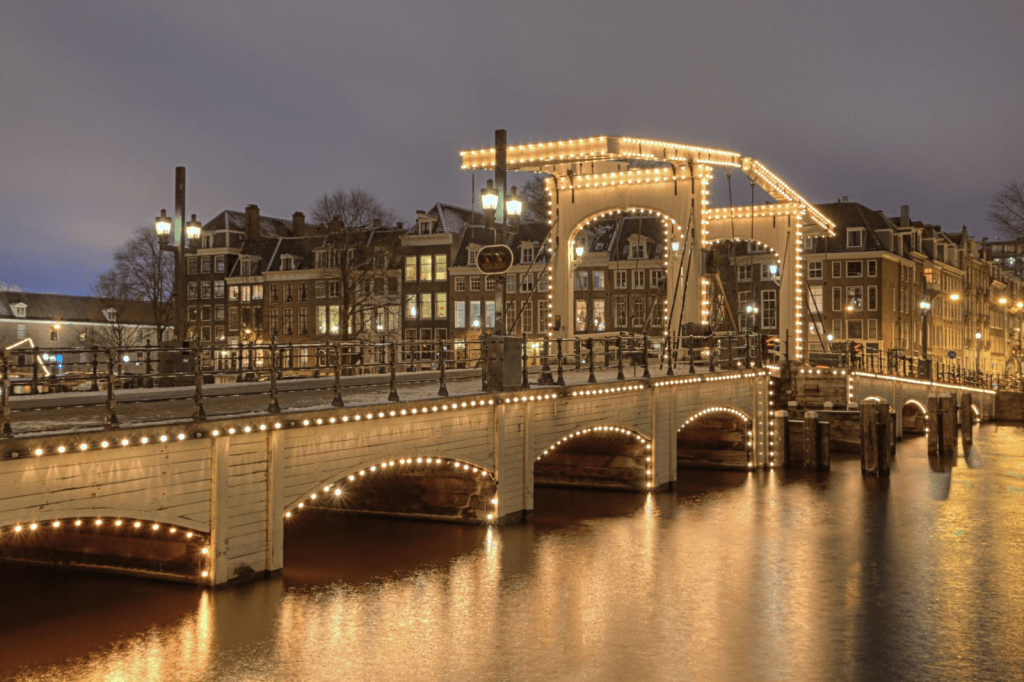 Amsterdam is one of the most dynamic cities to visit, it has a lot of things to do as a family or as a couple, and even for a bunch of friends. If you're looking for a wide variety of couple activities to do on your trip to Amsterdam then look no further! Here is a short guide on the things you can engage in with your partner in this pretty little canal city. And if you thought Amsterdam is not romantic enough, reading this will prove you wrong!
1. Boat Ride on the Canals- if you need a private experience, then your answer is to rent a private motorboat rather than going on the big tour boats. And also make sure you have the places you want to see planned out. I would recommend you to keep the canals of Prinsengracht, Keizersgracht, Herengracht and Singel, as they run almost parallel to each other which makes it easy for you to cover without any rush. Do this during the sunset and it will be the most romantic ride ever!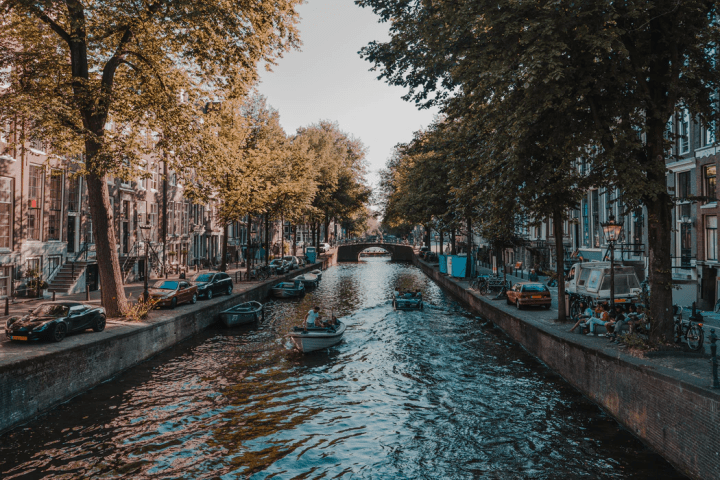 2. Bike ride inside the Vondelpark- unlikely to run out and to make reservations - what am I talking about? Cute bikes here in Amsterdam. Hope on a bike here and explore the largest park Vondelpark. You can also catch the open-air theatre if you get lucky with your favourite shows or you could also pause at Cafe Vertigo for a bite! Cycling around the beautiful park and just enjoying nature along with your better half is surely calming and romantic at the same time.
3. Munch on 'special' brownies- located near Leidseplein, is a cute coffee shop of Easy Times where you can munch on these yummy special brownies. With an incredible range of flavoured eatables, the most liked one is the Space Brownie. You can also try Coffeeshop DNA - the experience will be yummy and trippy for sure.
4. Brewery tour at Heineken- beer everywhere! You can find this green logo all around the city no matter where you go. You can take any of the brewery tours to learn about the process of the world-famous beer! You can also sample one if you want to, but does not come for free. Exploring the brew while being a little buzzed, sounds fun with your partner right?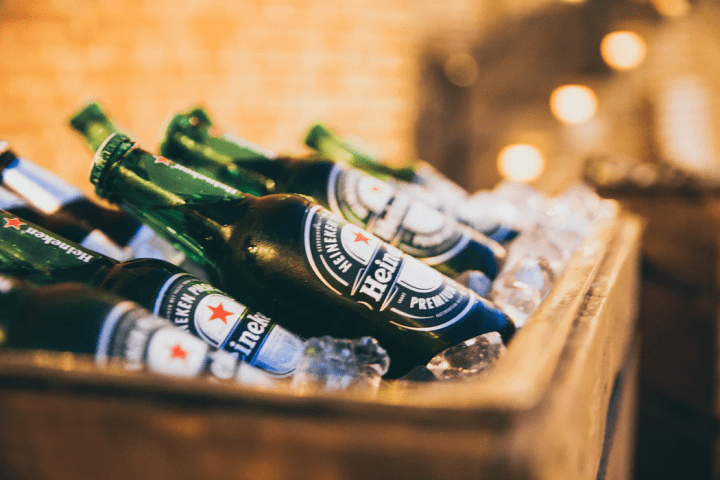 5. Take a swing on Europe's tallest swing- with 22 stories, and a combination of dining, shopping, entertainment and great views of the Amsterdam skyline - A'DAM Toren is one of the most visiting places here. There is no denying that A'DAM lookout will be the most exciting spot of all, but the swing is what adds more fun to it! You will be sitting high along with your partner on this tallest swing having great views and a few romantic moments with your loved one!
6. Discover Magere Brug at night- the Amstel River offers the most romantic spot of all, with its skinny bridge aka Magere Brug is an insta worth bridge as it's beautiful when it's all lit up with its reflection on the river! Go out for a walk here, and just enjoy the little things that come with great views to create a magical moment for you and your partner.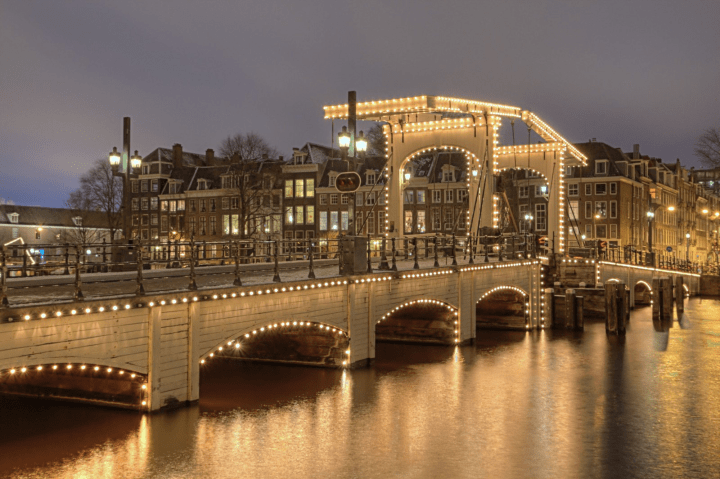 7.Grad a fresh Stroopwafel- a dutch classic cookie that originates from two slim waffles with yummy and gooey caramel in between, you can top it off with anything. But it sure is lip-smacking good. If you want one that is dipped in chocolate and is the yummiest then go for the Van Wonderen Stroopwafels- surely will be the best one yet.
8. Visit Albert Cuyp Market- Albert Cuyp Market gives you a truly authentic experience as it's the most visited largest daily street market which has been in the game since 1904. With over 300 vendors in this street, you can find various goods like fresh produce, cheese, yummy chocolate, clothing and what not! This market is open on all days except for Sundays and the prices are very much affordable and cheap when compared to rest markets in Amsterdam.
9. Pay a visit to the iconic dancing Houses- a ditto replica of Venice, Amsterdam is also a canal city that will leave you wanting for more. Built on top of wooden poles, most of the houses lean on each other for support and some of them are even a little unstable. But the dancing houses are a sight to behold especially in Amstel 106. No wonder why the Amsterdam canal is regarded as the UNESCO World Heritage site.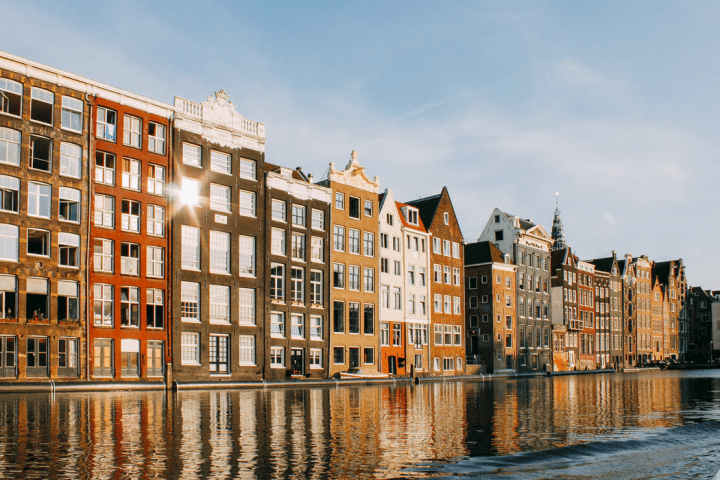 Apart from the above few more suggestions that would be great for couples is to visit Zandvoort Beach, getting flowers for your lady from the famous flower market, climbing the tower in the West Church for stunning views of the canals and visiting the tallest wooden windmill. As said earlier, there is no shortage of things to do here in Amsterdam for couples, you can choose from a very long list and curate your customised Amsterdam packages and make your experience the most romantic one. Seek expertise from companies like Pickyourtrail who specialise in creating customised packages.