Rifle Falls - The Tropics of the Rocky Mountains - Colorado Waterfalls
There are Really 80 Foot Tropical Cascading Waterfalls in the heart of the Rocky Mountains! AND Caves Too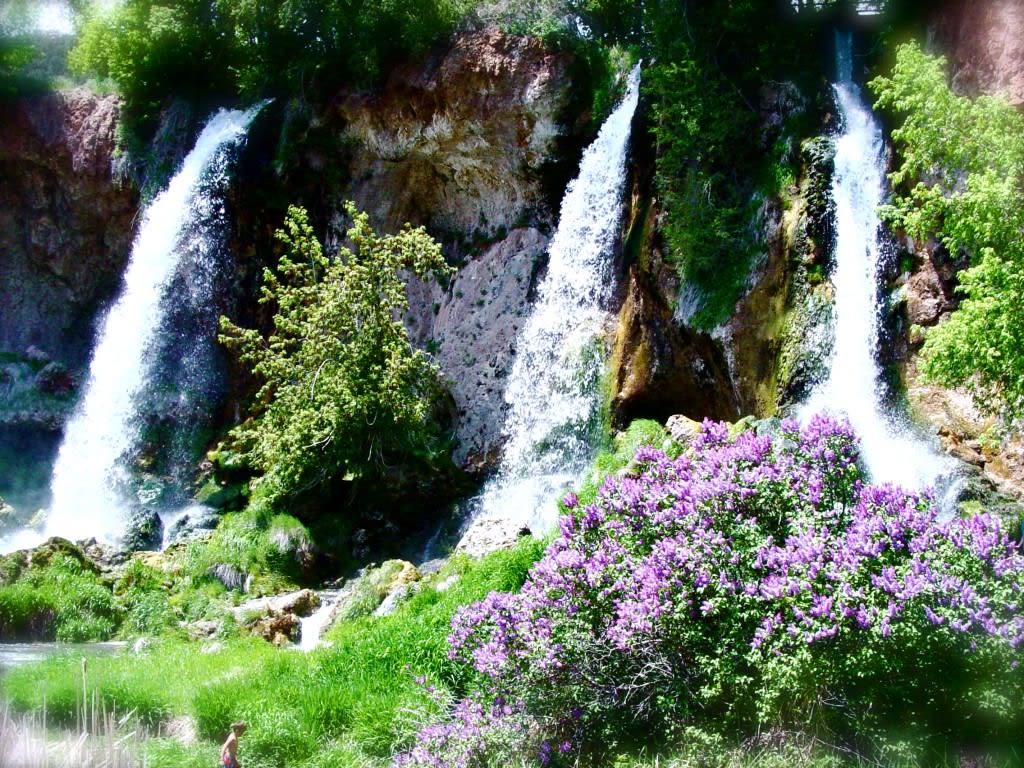 Rifle Falls State Park, Colorado - The Tropics of the Rocky Mountains - Photo by: Chance Buell (For Scale: see kid at lower left side of frame - Click on Photo)
The Colorado Tropics?
Did you know..? A hidden gem nestled into the mountains outside of Rifle, Colorado is a place of wonder.
Somewhat mysteriously, the tropics still exist in a small desolate place in the middle of the Colorado High Country, offering a scene straight from a National Geographic's rainforest waterfall calendar.
For Real...
Three individual 80 foot waterfalls cascade from the ledges above. Gathering into a small, natural, clear pool before running down the small valley into the town below.
The gentle roaring ambiance of the waterfalls cascading into the mossy rock below is both relaxing and alluring.
I could spend all day here.
----------
Green shrubs live here also with vibrant Colorado Wildflowers that share the home with this special place. the chipper of small chipmunks scurry the landscape while some mountain water snakes take a cool bath in the streaming waters of Rifle Falls runoff.
A variety of wildlife visit these waters. Turkey vultures, mule deer, great blue herons, plus a deciduous riparian forest and wetlands keep a watchful eye over Rifle Falls.
This is a treasure of an escape.
Spend the day exploring the trails and dark caves, or spend a few nights here at Rifle Falls in a quite serene setting.
Breathe in the Colorado air, and take a hike with your dog around the park. Rifle Falls will leave you with a unexpected memory. Thanks Colorado.
"Aahhh!"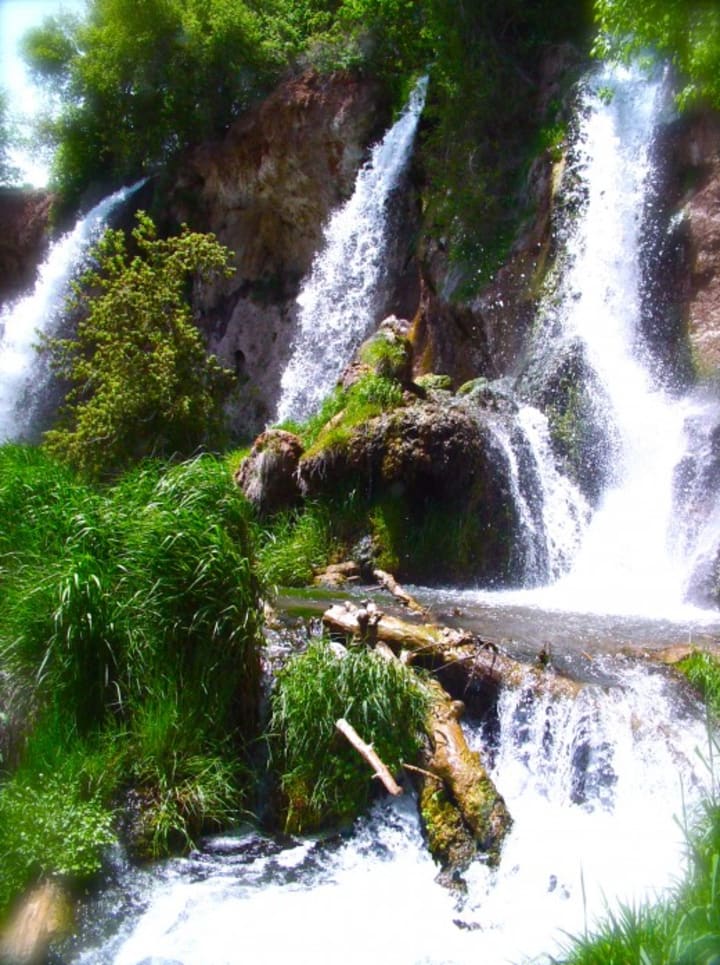 Spelunkers Explore!
Behind the mist of the waterfalls lies another world in itself. A dark, cool world carved into the rocks caused by thousands of years of water erosion creates a number of small caves that dig into the cliffs that surround the falls to the West.
The white limestone rock that resides here is fragile and carved only by the thousands of years of time.
Rifle Falls has been attracting visitors since 1883 and today still offers a unique experience that seems out of place, unique, and timeless.
Beware: Some tight squeezes are the only way into this underworld. These small caves are pitch black, seriously lacking any light for your eyes to grab hold.
Take a head lantern and prepare to get down on your hands and knees to get a full experience as only a few Spelunkers come back to report the narrow passages which lead into the mountains a few hundred feet. Some arise into large caverns.
On both sides of Rifle Falls you'll find these openings to explore. Take risk, but have fun..!
The Squeeze is On..!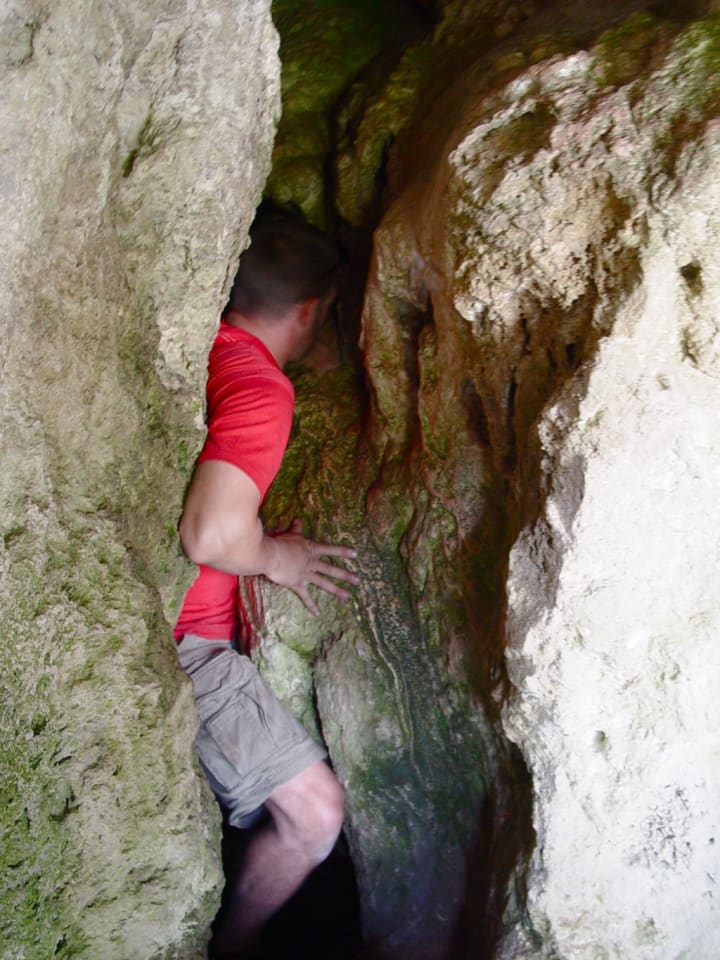 Inside the Caves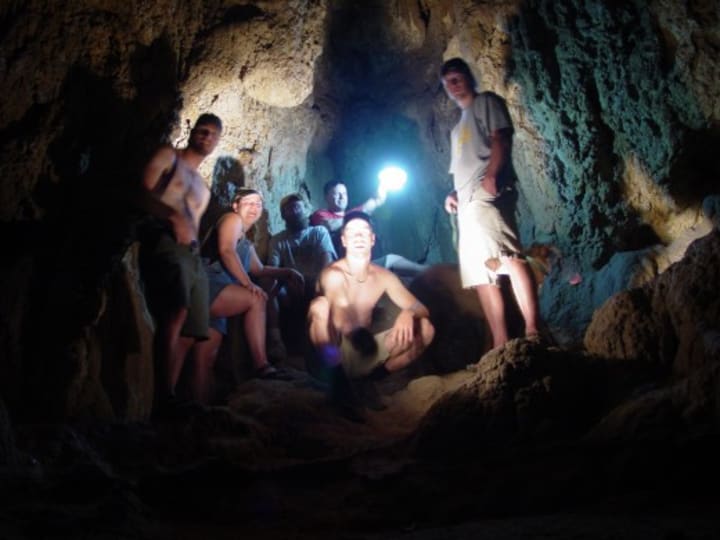 Clean Clear Crisp!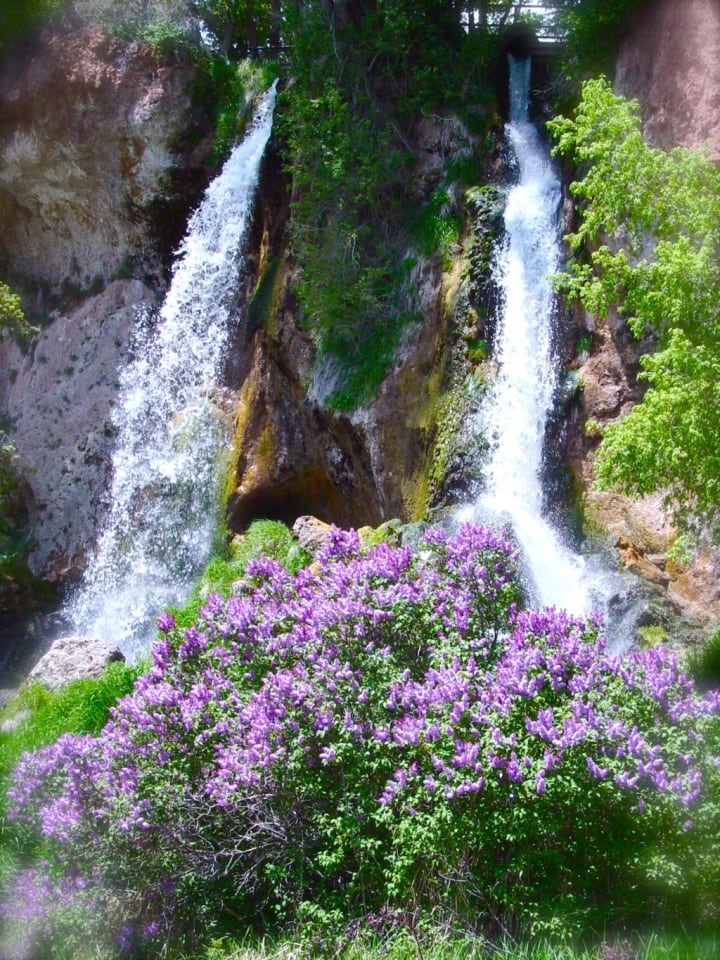 Get Wet!
The water at Rifle Falls is clean, crystal clear and taste like the high country. Just miles from the source of fresh Rocky Mountain runoff is the snowcapped peaks that slowly melt off pure heavenly waters flowing into the streams filtered by limestone, one of nature's purest water treatments.
Take advantage of this limited experience of actually being at a waterfall you can touch, absorb, and taste. Climb up to the pounding break of the falls and take a refreshing natural shower in some of the Colorado elegant goodness.
Families can splash around in the natural pool and mildl flowing stream for a break from the dry heat on a hot Colorado Summer day.
Bring water with you. You'll end up exploring a little longer than you expected - Up, around, inside... Bring some light and bring your camera to prove that you've seen the Tropics of Colorado.
Splash at Rifle Falls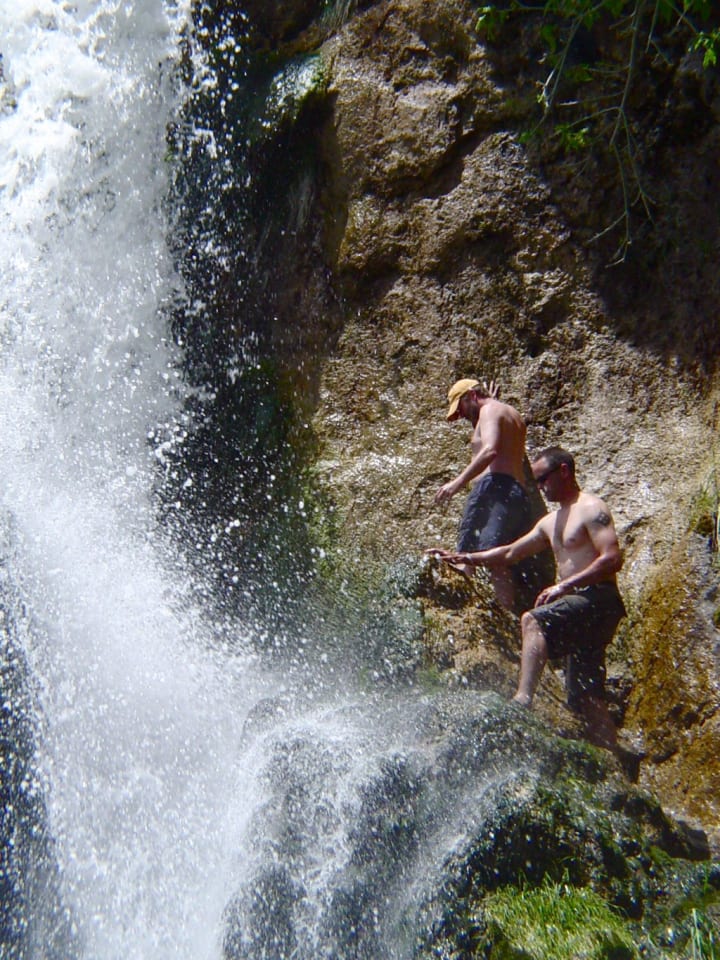 Go Hiking!
Because of the misty spray of the waterfall, the surrounding trees are richly green and lush. Hikers can enjoy a variety of trails that lead up, around, and down the creek at Rifle Falls. A number of trails can give you a variety of views on some of the rarest falls of the region.
Enjoy the views from trails like the Bobcat Trail, the Squirrel Trail, or the Coyote Trail. Pets are permitted on these trails that offer views of the falls below you. Bring your flashlight as you may find an entrance into another small limestone cave.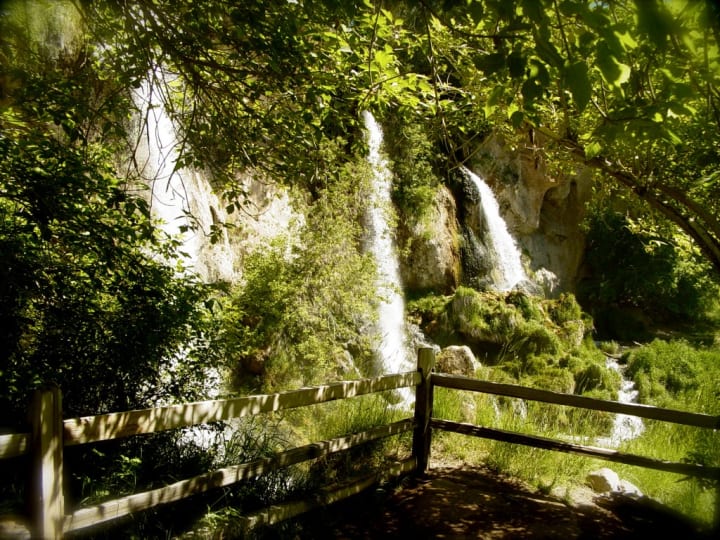 Colorado the Great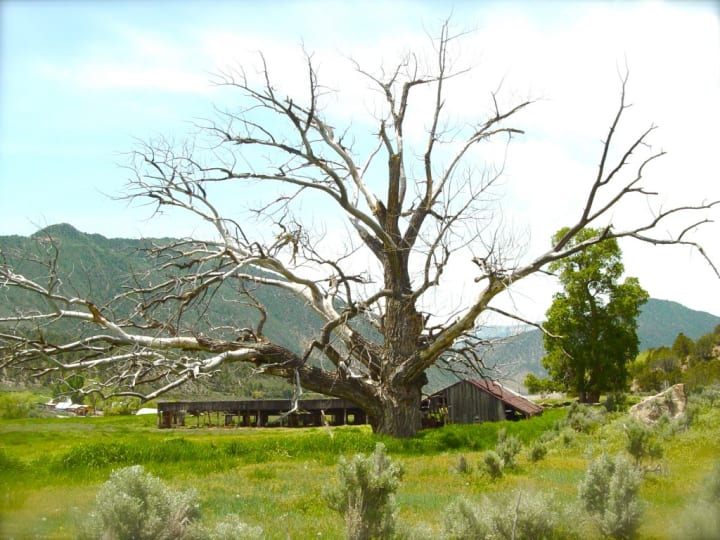 Rifle Falls History
As far back as it has been recorded, James Watson created Rifle Falls Ranch in 1884 and shared visitors an admission to explore the falls and caves. From 1890 - 1922, a local business man creates cabins to share with overnight travelers to the area. Since them, time and weather has decayed these historic businesses.
It was in 1910 when the town of Rifle, CO discovered the power of Hydroelectric energy of which they built and supplied hydroelectric power to their town with the aid of Rifle Falls.
It was operated by Public Service until 1952 and became a Colorado State Park in 1966, carrying that same title today.
Enjoy the fresh waters of the falls...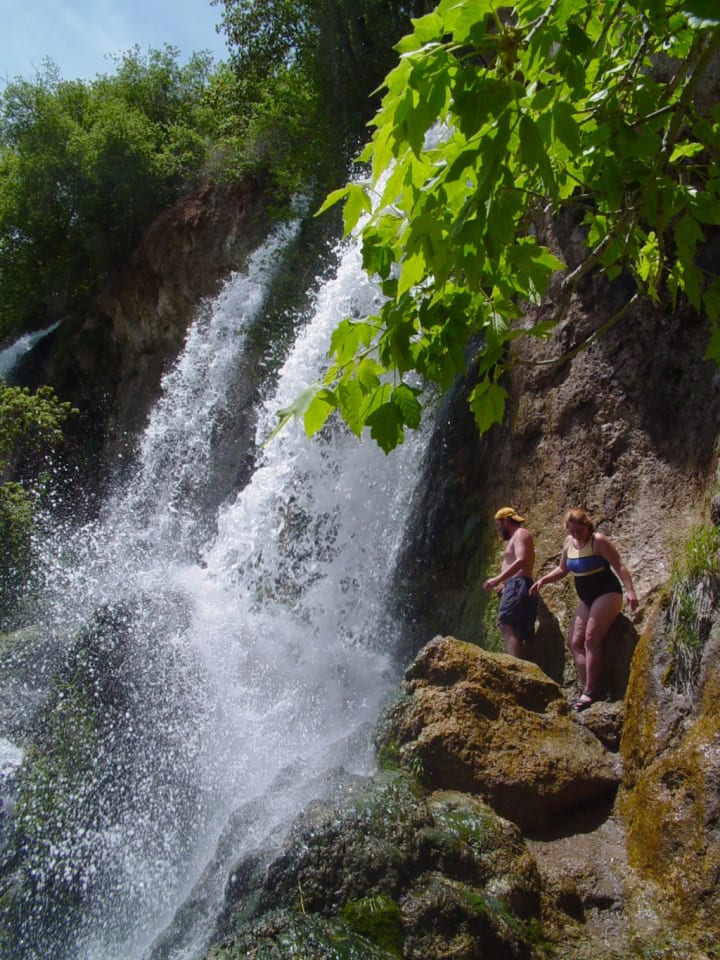 Rifle Falls Information:
Rifle Falls State Park:
Rifle Falls State Park offers its visitors 13 drive-in & 7 walk-in campsites. These sites rest next to East Rifle Creek. Guests can spend and share a lunch on any of the picnic tables, learn some new information with the interpretive signs, and enjoy the view with improved handicapped access.
RV camping is popular in the few spaces at Rifle falls make it a little easier with electricity at many campsites. Facilities are on site.
Rifle Falls State Park:
Park Office
5775 Highway 325
Rifle, CO 81650
Park Hours
5 AM-10 PM,
anglers and campers have 24 hour access
---------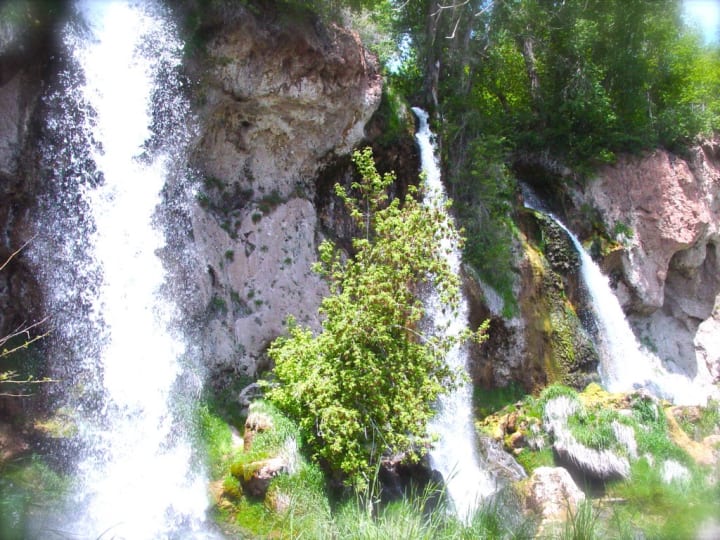 PLEASE SUPPORT US IN ANY WAY YOU CHOOSE!