Part VII : Memorable Plattsburgh Moments that Extend to New York City
Seinfeld Owes Us One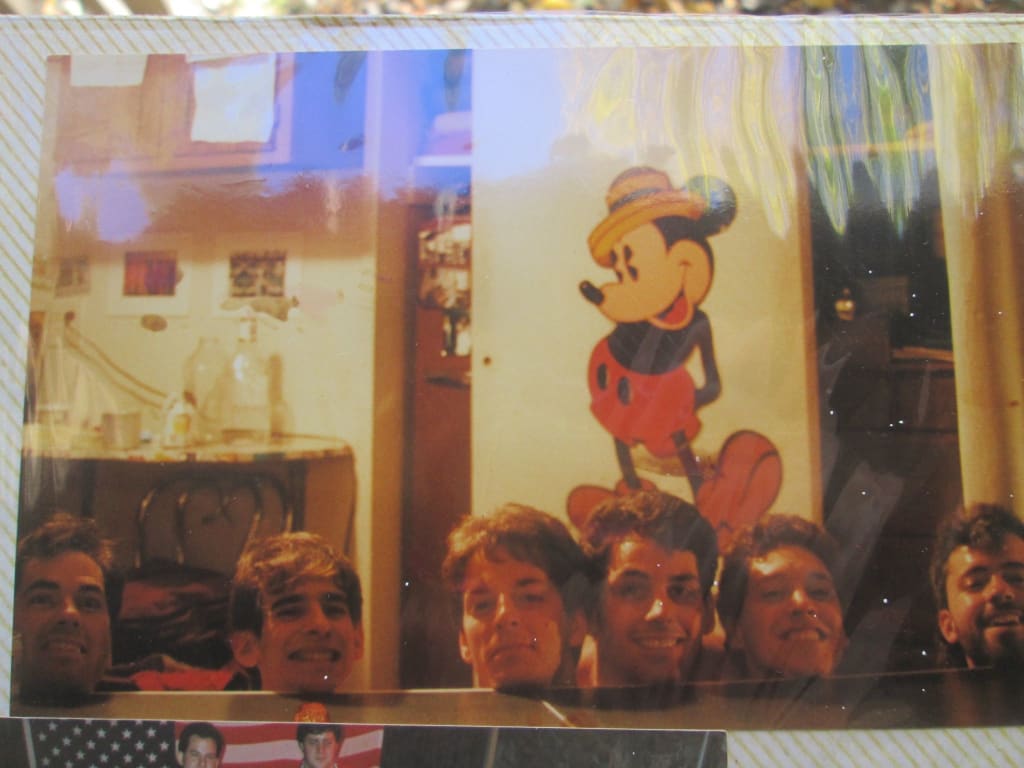 Johnny, Rich, Tim, Matt, Steve and Buck at the Cave
I was recently reading an article about Seinfeld and how we should stop embracing the 90s comedy for its sheer insensitivity. Horrible people the article droned on but the show was actually providing real social commentary. I know because I was there in 1989-90, and living on East 83rd Street with three of my college buddies, we were young, selfish and only looking out for ourselves. Sorry, that's what young people do. Of course, we perfected those skills in Plattsburgh, and we were proud to bring them to NYC before Seinfeld cornered the market.
So to start, did we ever go to a play, a museum or lecture in the cultural epicenter of the world? Of course not, because we got all the cultural enrichment needed by furnishing our apartment. In other words, we never paused to scoop up a piece of street furniture - no matter what corner of Manhattan it came from.
Thus, if we had a party, the apartment could comfortably sleep eleven, and remarkably, we had a huge cello case as a closet. On the cheep, $333 each for rent gave us ample disposable income to stay in shape. So did any of us join a gym? There was no reason to.
The one bedroom, basement apartment was all the gyration needed. We played indoor wiffleball, hockey and a makeshift game of racquetball that we called Euroball. The games were epic, and Steve usually getting home first, I can still hear the words. "Suit up Rich."
We also had a little courtyard and had a mini hoop set up outside for some serious banging. Just picture the scene in Big where Tom Hanks invites his little friend over to mix it up, but of course, the larger concerns were the same. Where's are the beverages, and how can we get it done as cheaply as possible?
Murphy's on 86th street was as Woodstock's as you could get, and we actually put $1 midnight buzz to shame. Wednesday night was pitcher night and buying the first for $10 dollars meant free refills for the rest of the night.
So did we pony up the $3.33 each? Of course not… We waited for someone to leave their empty pitcher alone and drinks were on the house. Jerry and George couldn't have drawn it up any better.
We did however take advantage of NYC as the sports mecca of the world. The Yankees, Mets, Knicks, Giants and Jets were all there for the taking, and despite the outrageously low rent payment, the same frugal agenda guided us.
So in our corner was a guy named Mahoney. Not sure how we got connected, The Irishman worked the gate for the Mets, and if he was feeling generous, Mahoney was at the turnstile at Yankee games too. Either way, the approach was laid out well in advance. We'd deftly give Mahoney the look, and when the precise moment came, he'd give us the nod to come forward.
A few dollars a piece, and we were in. We got so good at the handoff that we once gained entry, and Mahoney wasn't even there. It was game three of the 2003 ALCS, and we stood off to the side in hopes that are glances would be recognized. Sure enough, one of the gatekeepers waived us forward, and we were sitting at field level for five bucks a piece.
God rest Mahoney's soul, that is some serious NYC mastery. But the selfish tendencies primarily had our attention spans directed at the opposite sex, and in this regard, we definitely rivaled our TV counterparts.
NYC so much to offer, I don't think any of us ever went on a date. We just defaulted to Plattsburgh, and coaxing the night, we tried to do whatever possible to extend our subterranean services to whoever was willing.
The most egregious example came under the false umbrella of facilitating post party cleanup. So instead of mopping the floor of the excess beer that got between the wooden cracks, we really put ourselves in the weeds. "Hey, let's cover the floor in sawdust, and then all we have to do the next day is sweep it up."
Picking up the dust at a hardware store, the cleanup wasn't quite as seamless as hoped. But I'm pretty sure the girls were impressed when we were diving headlong into the granulated cushioning. Ok, maybe not but we were pretty impressed and isn't all that all that really matters?
So not for nothing Jerry, you definitely owes us one.
Please Like My Page on Facebook